England and the Hammer
The use of simple hammers dates back millions of years ago according to the discovery made in 2012 by Sonia Harmand and Jason Lewis of Stony Brook University. Various shaped stones were used to break down bigger stones, wood or bones.
In Sports, there exists a similar concept. Teams or individuals analyze opponents and spot a weakness. Then, they keep pressuring until the other team breaks.
Going into the semi-finals of the European Championship, the ultimate question posed for England and Gareth Southgate was whether they would revert back to a back three to match Denmark, just like they did against Germany or would they continue with the same shape that managed to annihilate Ukraine who also played with a back three.
That concern resulted from the threat of Denmark's wing backs, especially Joakim Maehle on the left side who is one of the best performers in this tournament. However, it was the space behind Maehle that England targeted heavily throughout this game.
Since the beginning of the game, the English forwards were making runs behind Maehle. Seeking to exploit Jannik Vestergaard's lack of pace.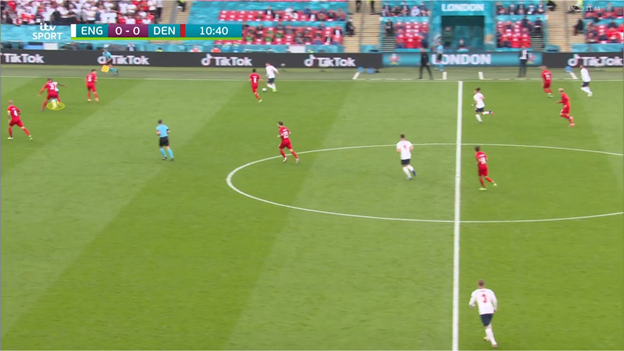 Vestergaard though, was well positioned in the majority of England's attacks down that side. He would always adjust his position before the pass was played….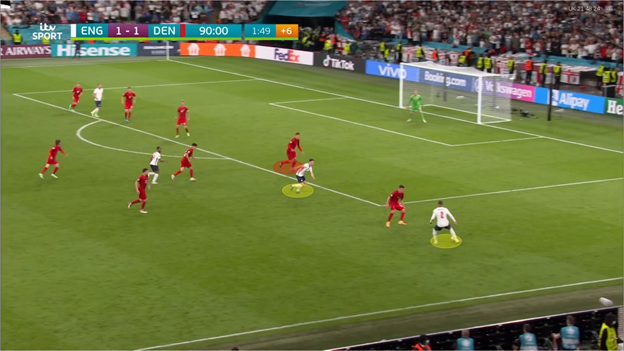 …..so that the English player seeking to attack the space behind Maehle doesn't have the luxury of space or time on the ball.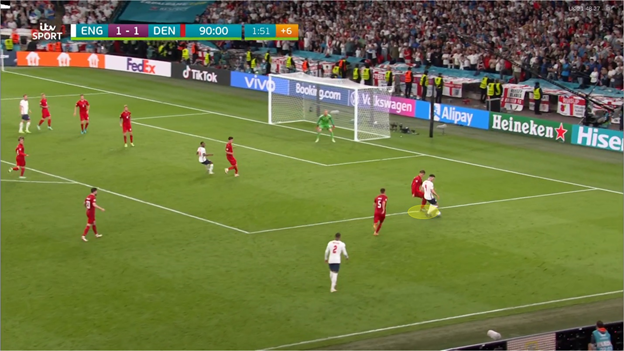 The Southampton defender was a colossus on that side of the pitch, constantly anticipating these passes behind Maehle…..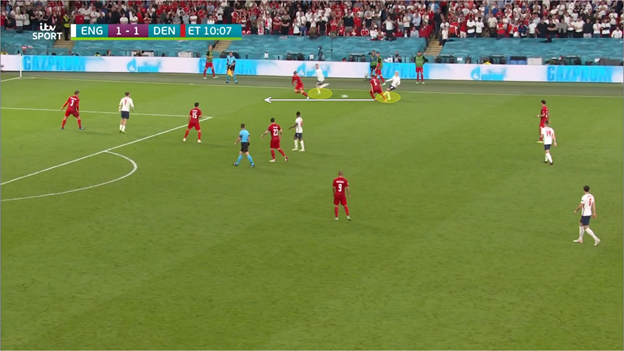 ……making it hard for England to create even when they went behind Denmark's left wing back. Here, he blocks Jordan Henderson's cross.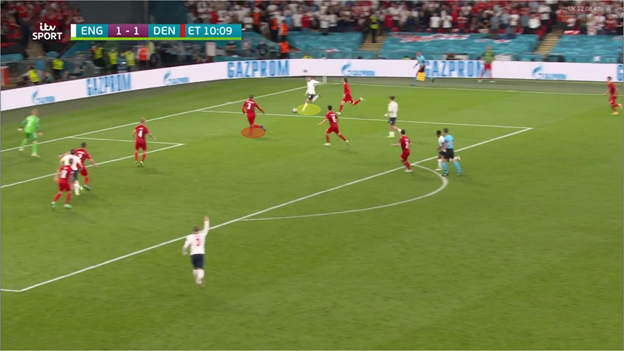 And again, here when Raheem Sterling takes another approach to beat Maehle by dribbling past him…..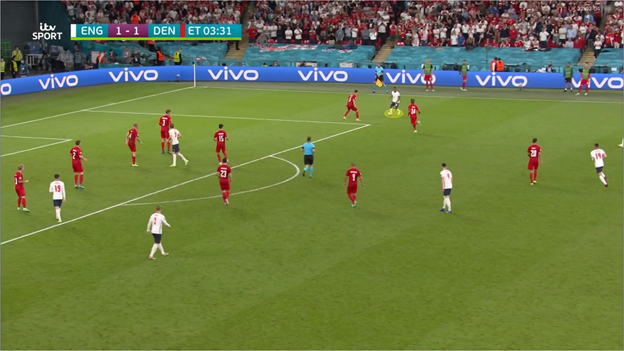 ……Vestergaard is there to block Sterling's cross.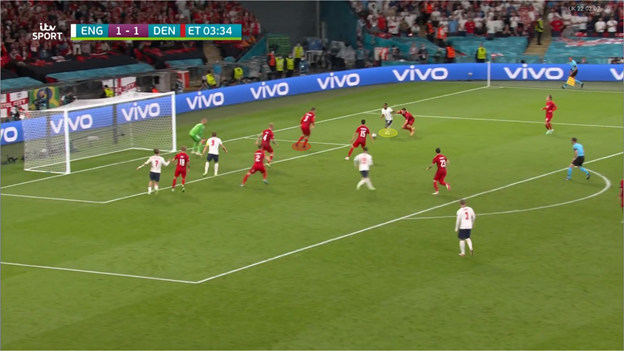 Even when Maehle was out of position, meaning that Vestergaard had to cover a bigger amount of space….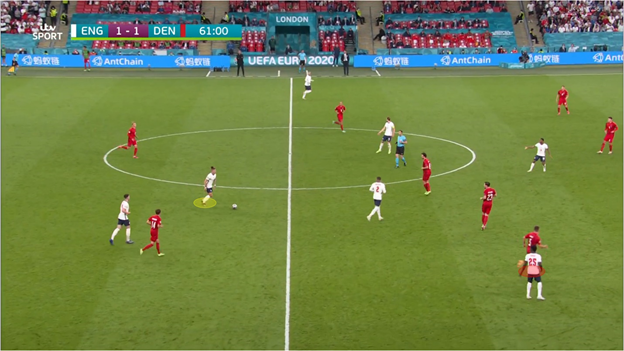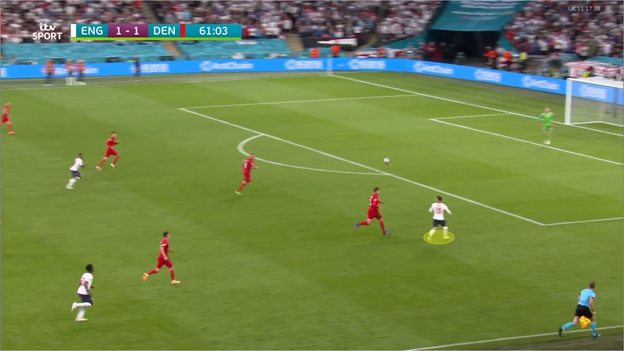 ……he still managed to recover and close down on the England forwards. In this example here, Vestergaard manages to block Mason Mount's shot with the help of Simon Kjaer.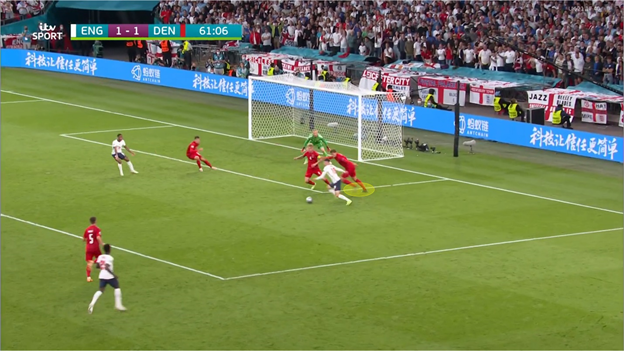 Despite Vestergaard's immaculate defensive performance, England kept attacking the same space throughout the game. Here, Jack Grealish is trying to find Sterling who is making a run behind Maehle with Vestergaard not near enough. So it was another Danish member who stopped England's threat as Pierre-Emile Hojbjerg intercepted the pass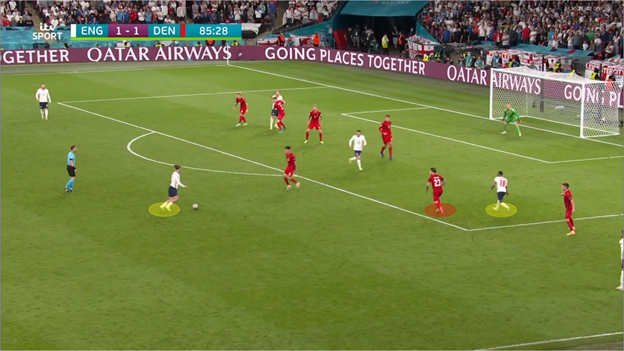 There were times however that England managed to penetrate and get beyond both Maehle and Vestergaard. A minute before scoring the equalizer, Bukayo Saka found Harry Kane's run behind Vestergaard with Maehle nowhere to be found.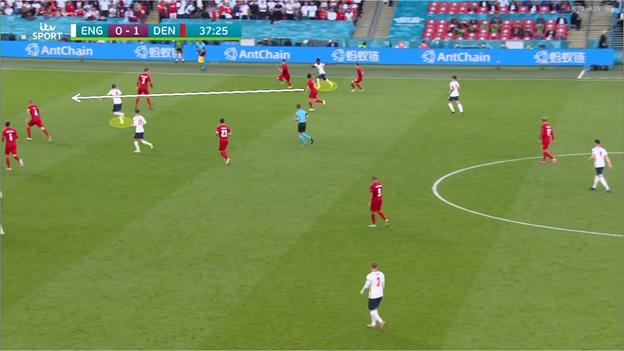 Kane then tried to play it across the penalty box for Sterling, and he was fortunate as the deflection off Kjaer set it up nicely for Sterling….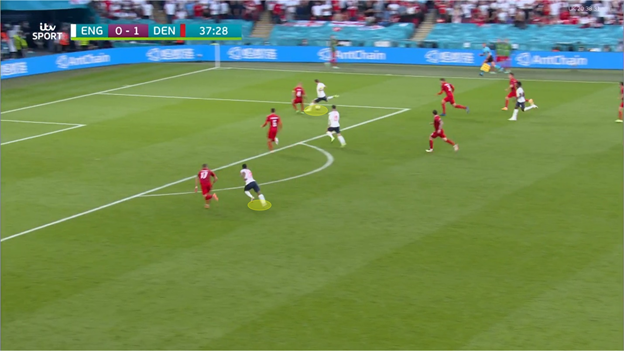 ……but the Manchester City player struck his shot straight at Kasper Schmeichel.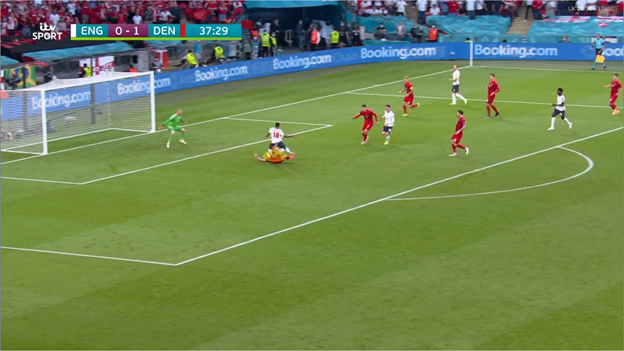 Then the equalizer itself after Mikkel Damsgaard gave Denmark the lead, came from the exact same move but this time it was Kane dropping to find Saka behind Maehle and Vestergaard…..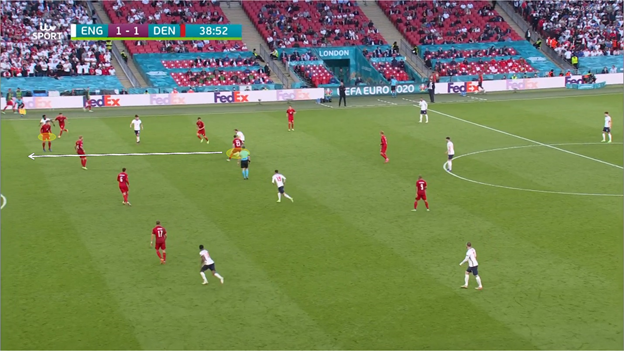 ….before Saka's cross for Sterling hit Kjaer to go into the net past Schmeichel.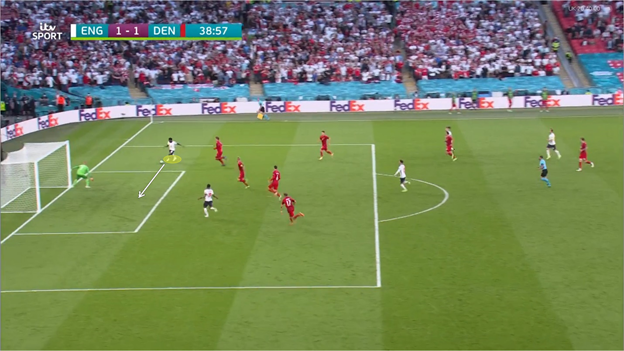 In the second half, England's threat from this attacking move faded and most of their attacking opportunities came from set-pieces. It wasn't until extra time that they started hammering down that area of the field again, seeking to break down Denmark.
Three minutes in, they were close to finding the winner. Kyle Walker's pass was directed towards the space England intended to attack all the game….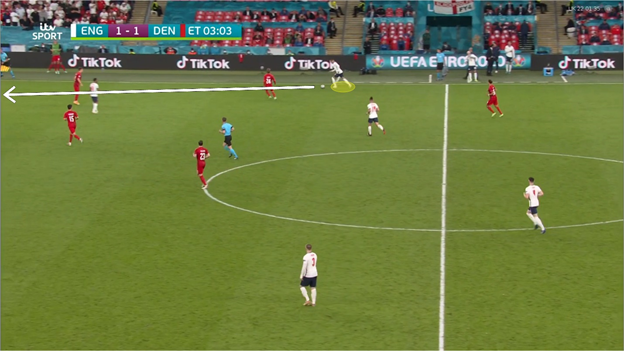 …..finding Kane who made the correct run behind Vestergaard just like in that Sterling chance in the first half….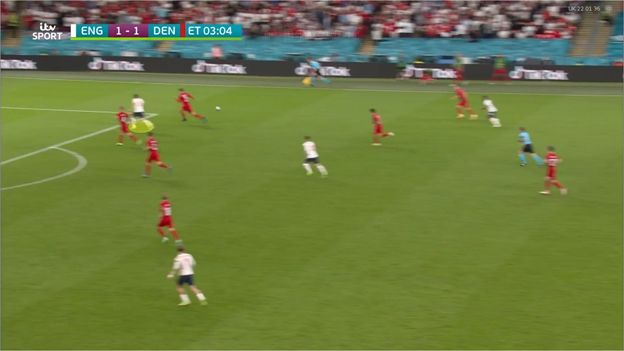 ….Kane's shot however was saved by Schmeichel who again managed to stop England.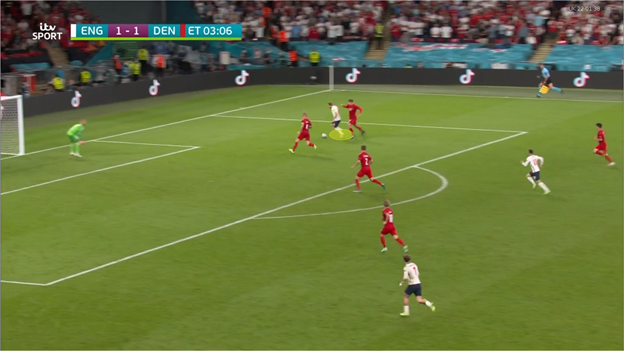 In the end, England managed to get past the great Dane despite the winner coming from a dubious penalty that might not have been given in another situation. The build up to that penalty though, followed the same pattern. Looking to get behind Maehle.
Sterling who moved to the right after the introduction of Grealish mesmerized Denmark's defence with his dribbling throughout this game and come extra time it was Maehle's turn…..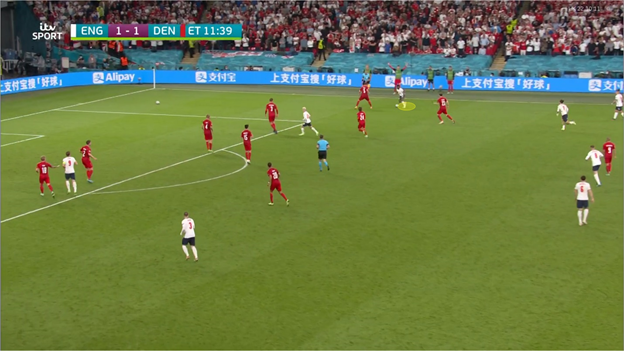 ……going past the left wing back to earn a penalty through which Kane missed then scored the rebound to take England to their first major final since 1966.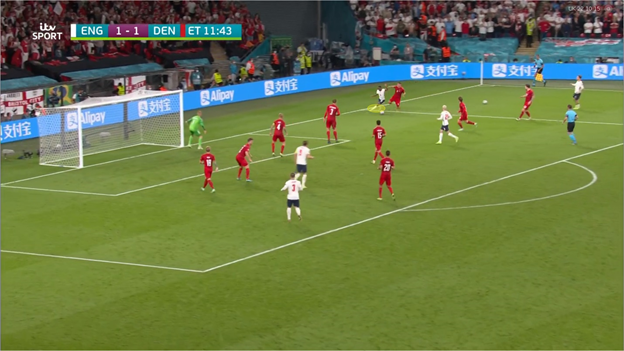 There is a tendency to lessen of Southgate and his staff's tactical abilities, but part of how the English national team improved is their defined set-ups going into games. Creating space for midfield runners brought England the win against Croatia as seen in the only goal in the game, balls behind the Czech Republic defence accompanied with switching of positions from the front players caused problems for the Czechs in the first half and then four man combinations in the wing area against Ukraine helped England penetrate Ukraine's block multiple times in the first half, before trademark set-pieces killed the game.
On the other hand, there are still some unanswered questions regarding changes in approach when the opponent's set up catches England off guard like Scotland's pressing scheme in the second game of the group phase, or the damned World Cup semi-final against Croatia when Zlatko Dalic adjusted his attacking approach in the second half pushing his full backs forward while Luka Modric and Ivan Rakitic dropped a bit to orchestrate the wing play, shifting play as fast as possible from one Croatian full back to the other.
Here, England once again had a defined set-up of how to attack this impressive Danish side. It could have worked out better if not for Vestergaard's gigantic defensive display, but the key was to keep applying pressure till Denmark break.
This piece was written by @Walid_4.