England's center-backs and the parallel timelines
In a parallel timeline, Timo Werner scores his chance and Germany are through to the Quarterfinals. Gareth Southgate is ridiculed, and England are once again out of a major competition.
That is one parallel timeline. There are multiple others such as the one where Thomas Mueller scores and the game moves into extra time.
Then there is our timeline where Raheem Sterling scores, Mueller misses and then Harry Kane scores. Euphoria erupts and England are through to the Quarterfinals.
The three timelines mentioned above all have a starting point: England moving to a back three. Prior to the game it was expected that England would move to a back three to neutralize the threat of Robin Gosens and Joshua Kimmich out wide. Having seen what happened in the game against Portugal, that switch made total sense.
Unluckily for England, Mason Mount had to isolate after the Scotland game which meant that he didn't participate in any team shape training. Out of all the players in the England squad, Mount is the one most suited to playing a hybrid midfielder/wide player in a 5-3-2/5-2-3 as he plays that role with Chelsea under Thomas Tuchel.
Ironically, that's exactly the role that Kai Havertz played. Dropping to support the midfield out of possession which allowed the player at the anchor of the midfield trio, whether Leon Goretzka or Toni Kroos, to protect the space that would have existed behind a midfield duo. That offered more protection for Germany in midfield.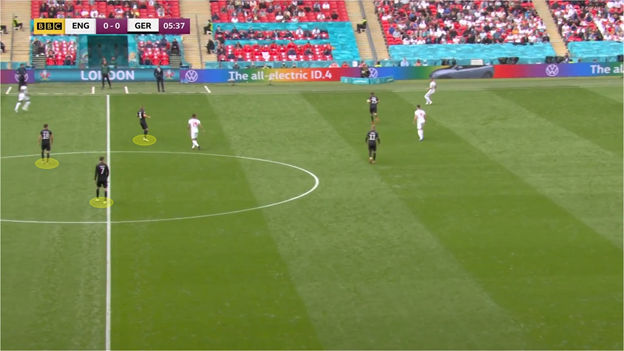 In possession, Havertz would move forward a bit positioning himself in behind England's midfield duo of Declan Rice and Kalvin Phillips and away from England's center backs.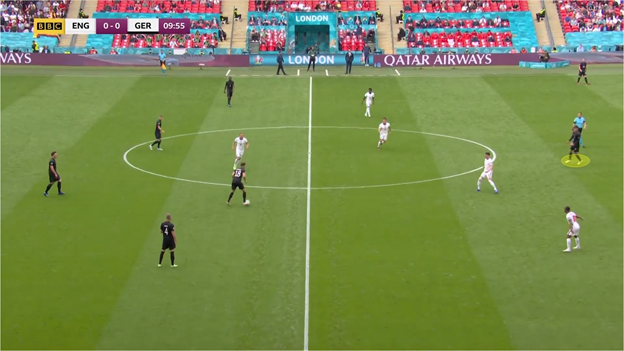 It wasn't only Havertz trying to do that, Mueller as well tried dropping into that space. Germany's first major threat of the game originated from this. John Stones moved up to press his man…..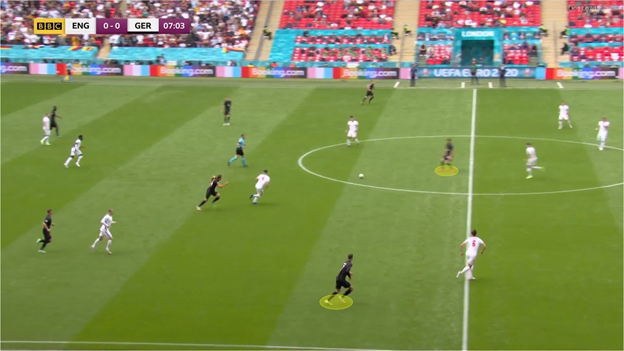 …..creating space in the center, but that was a risk England were willing to take with their man oriented approach. The problem here for England was that Mueller managed to turn Stones and Rice was beaten by Goretzka's run, requiring a foul to stop the Bayern Munich midfielder.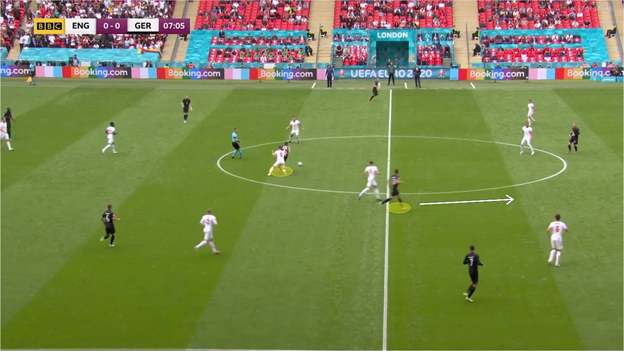 Havertz and Mueller's positioning initially caused problems for England in the center of the pitch because Havertz was roaming up and down which caused confusion for England's man-oriented approach, and Mueller dropped behind the midfield when the chance presented itself as is the case here. This screengrab doesn't make sense with Rice moving away from the pass with Havertz clearly free……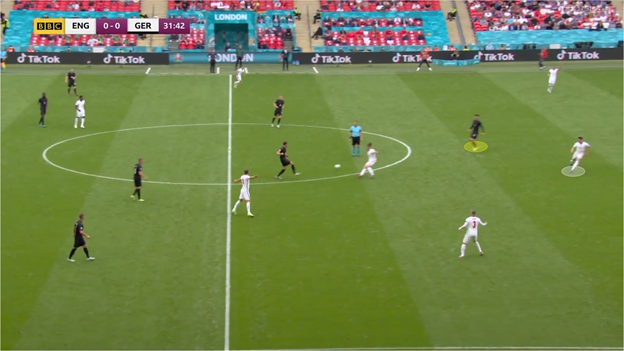 ……but Rice's movement was to block the passing option into Mueller who was dropping. After Havertz received the ball in a acres of space…..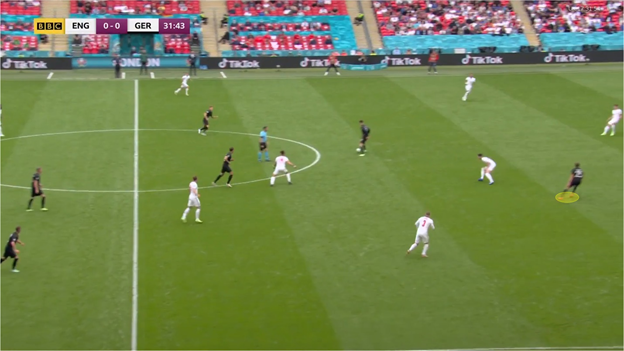 …..he managed to find Werner's run with a pass in-between Kyle Walker and Stones. Werner's shot going past Jordan Pickford might have taken us through to timeline 1, but Pickford managed to save the shot.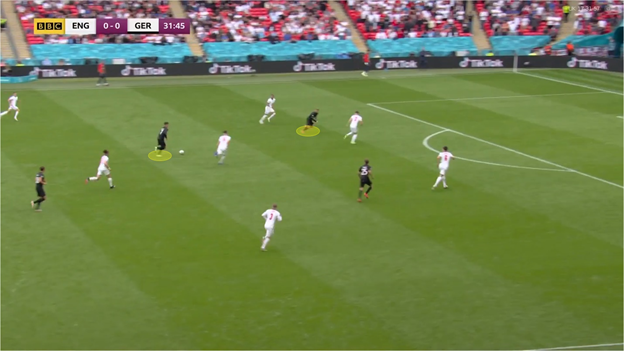 As the game progressed, England's center back were more aware of Germany's search for space behind Rice and Phillips. In this example, Mueller is dropping and calling for the pass. But Harry Maguire starts his run even before the pass was played….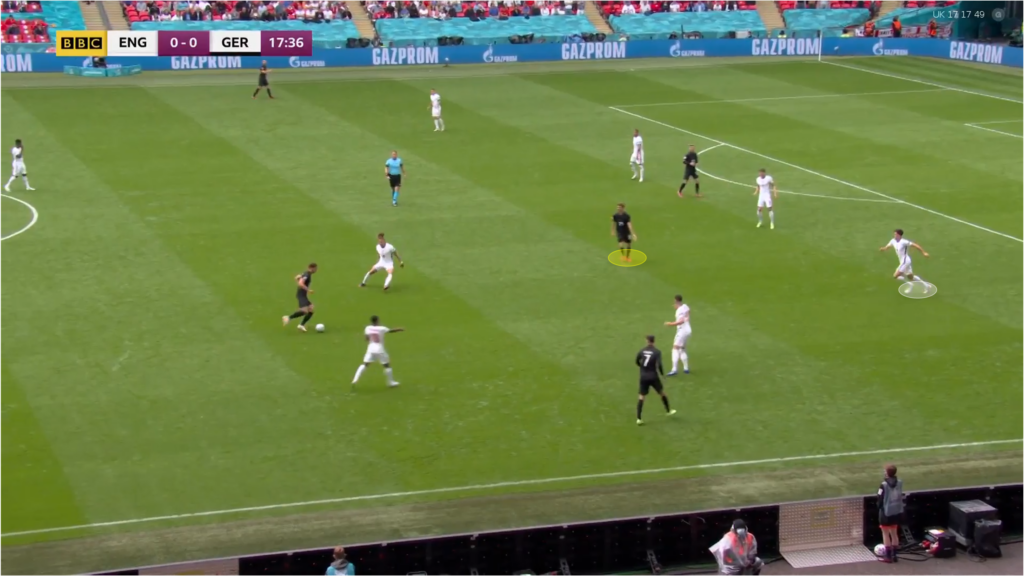 ….allowing Mueller zero time on the ball and disposessing him to start England's offensive transition.
Stones, Maguire and Walker reacted quicker and quicker to the movement of Germany's front three as time passed. That meant that even when one of the center backs moved forward…..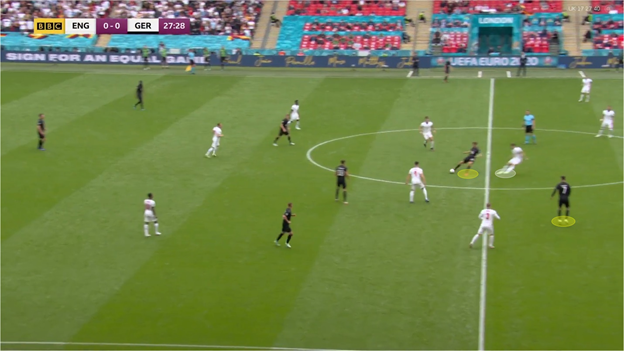 …..the spaces were minimzed for the German creators and thus the passing angles were minimzed. Here, Maguire's positioning results in him blocking the pass. Had he been two or three yards behind, that pass was on for Werner.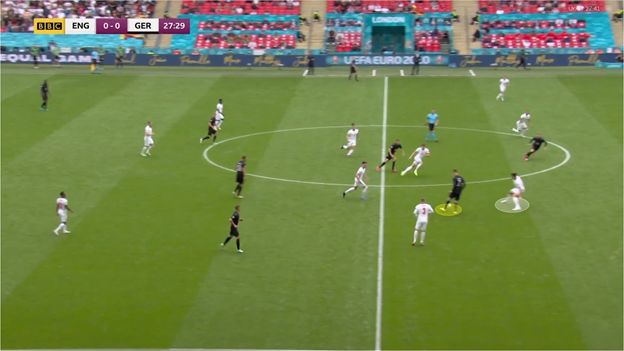 A similar situation can be spotted in the second half, Kimmich moves inside in behind the Rice-Phillips axis and Mats Hummels finds him with a line splitting pass. Then Stones moves up towards Kimmich to limit his time on the ball and reduce his passing angles….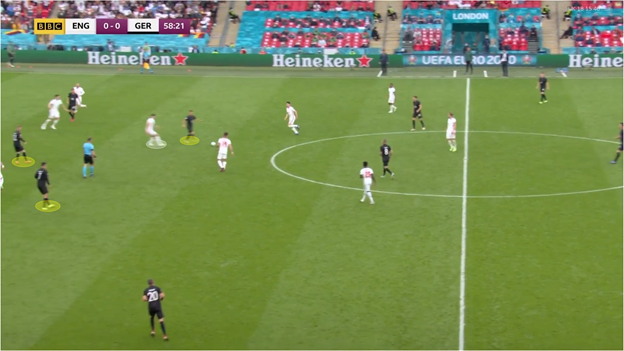 ….. despite Kimmich managing the pass into Werner, the latter couldn't manage a similar pass into the space for Havertz. That's because of Walker's positioning.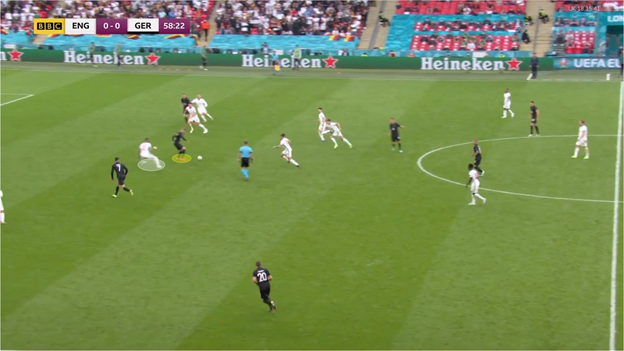 The Manchester City player was also crucial in England's defensive phase because of his pace which allows him to recover quickly. As a result, Walker could move forward in case the wide player near him dropped all the way into midfield.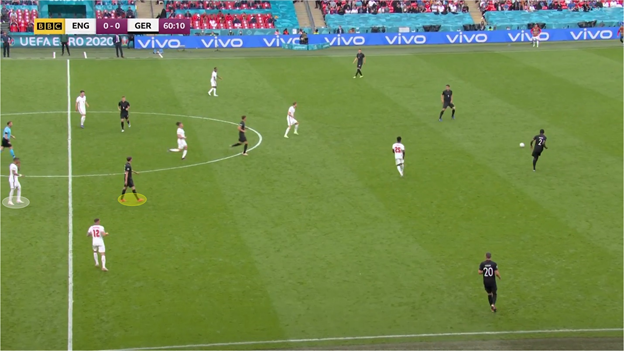 An example late in the first half illustrates this. At first, Havertz is in his expected position completely free to receive Kroos' pass….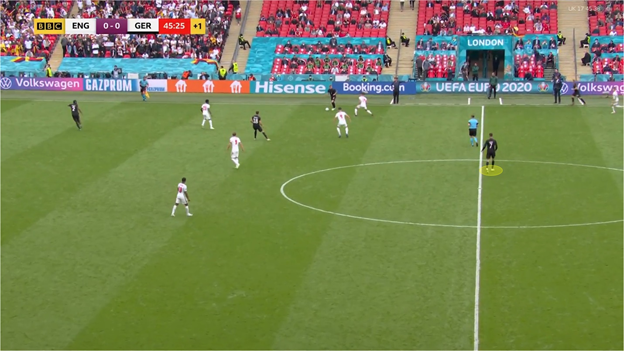 …..then as the ball is in the air Walker moves up to press Havertz. This limits Havertz's options and delays his decision……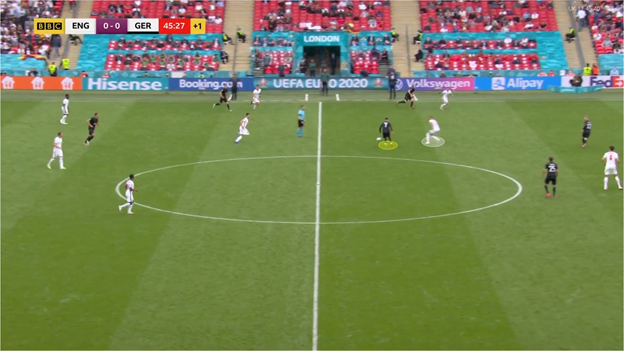 …..allowing Rice to drop and support. Eventually, Havertz has to go back and reset.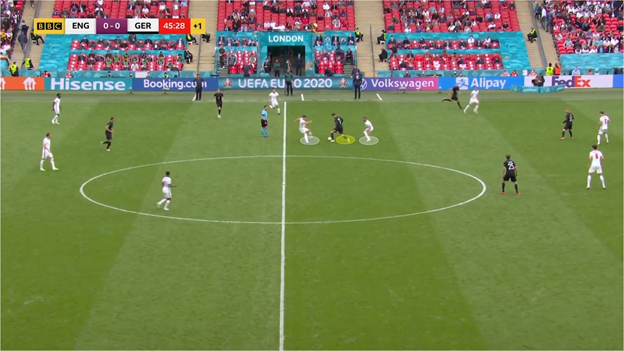 The positioning of England's center backs minimized Germany's threat in-between the lines, but England didn't manage to create dangerous chances from open play prior to their goals. Which is mainly due to Germany's defensive approach in midfield and the lack of space provided because of Joachim Loew's decision to move into a midfield trio out of possession.
However, England managed to score through Sterling before adding their second when Kane headed Jack Grealish's cross into the net. In-between there was a probability to move into timeline 2, only if Mueller scored his chance. In the end, it was timeline 3. England qualified after an even game that could have went either way.
The final result creates the narrative—whether we like it or not. But the eyes will forever see what's in-front of it. And this was closer than it looks.
Written by @Walid_4