Canada's first own professional game
You don't start a new league every day. You better do it the right way. Would the happenings on the field live up to the expectations raised from outside of it?
---
A new league also means that entire clubs have to be established from scratch. This includes factors like fan culture but also whole new rosters. Which players do you pick for an inaugural season? Coaches and technical directors play a key role in that.
Hosts Forge FC hired Bobby Smyrniotis exactly because of his vast player network and his expertise in recruitment. He built and ran one of the best academies in the country, Sigma FC, which included a men's team in League 1 Ontario that developed players who were later signed by big universities, USL teams, MLS teams as well as professional clubs abroad.
But also tactically, Smyrniotis always belonged to the best coaches in the leagues he competed in. For his first professional games, he picked a 4-3-3 like setup, which also had been the base throughout the years at Sigma. Henry started in goal. The back 4 consisted of Awuah, Samuel, Frano and Grant. Achinioti-Jönsson played as deepest midfielder whilst Cissé and Bekker started as central midfielders in front of him. Nanco, Welshman and Borges played upfront.
Already after 13 minutes Grant had to subbed. Owundi came in and played as left center back. Samuel moved towards the right while Frano took Grant's spot as full-back on the same side.
York 9, on the other hand, is coached by former professional player Jim Brennan who spent some time in English Premier League during his career. He's also vice president of the club, thus heavily involved in long term planning. His main assistant Carmine Isacco probably has the broadest recruitment network in the region. He already competed against Smyrniotis in League 1 Ontario, winning several titles with Vaughan SC, a club rooted in York's Italian community.
For their first game, the coaching staff chose a 3-4-1-2 formation to start. The back 3 in front of goalkeeper Ingham consisted of Gogarty, Gasparotto and Springer. Di Chiara and Murofushi played as deeper midfielders while captain Aparicio was used as more of a number 10. Telfer and Porter started as wingbacks while Adjei and Rollocks were the two strikers.
Direct and wing-oriented against conventional pressing
One of the natural disadvantages of the 3-4-1-2 is that you initially don't have much of an occupation in the half-spaces (red areas in the graphic) which is exactly where many opponents usually leave gaps that should be exploited. But if you have a dominant number 10 that you can constantly find behind the opponent's midfield, you can work around it. Also, wing overloads are typically easy to execute from a 3-4-1-2 base.
Against what initially was a 4-1-4-1 York 9 positioned their two strikers narrow at the last line, so that each of them had a 1 versus 1 with one of the center backs. The wingbacks positioned themselves fairly high and started in between the full-backs and wingers of Forge FC. Due to that, Forge's full-backs also positioned themselves slightly higher to have better access on them.
Achinioti-Jönsson stayed right in front of the center backs. From this position he could support them against the strikers. But only when the ball wasn't played in behind. Then the center backs had to deal with it alone as he usually couldn't recover that quickly against the physical York players. Especially when Frano was still used centrally, there was quite a mismatch in this part of the field. Tactically, there was no big reaction to it throughout the game. The forced early substitution had a positive impact, though.
Both central midfielders Cissé and Bekker acted quite man-oriented. Bekker would also step out to press the back 3 when the wingers stayed deeper. With an unclear role for the winger next to him and suboptimal use of his cover shadow, this could open spaces centrally. But usually the front 3 stayed higher to mirror the first build-up line of York 9.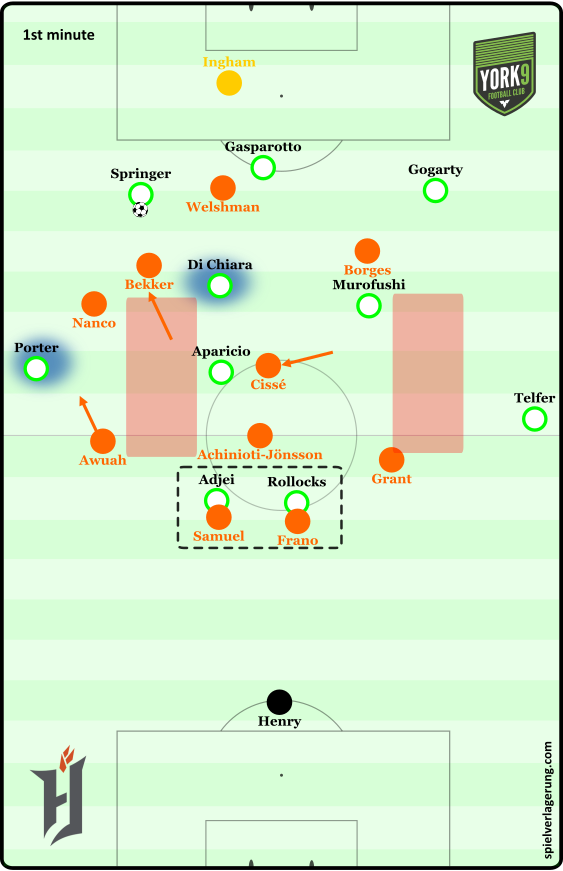 When this happened, Bekker would often still step out to mark the deepest midfielder of York 9. The visitors were focused on building up through their left side. Both Murofushi and Aparicio regularly moved there in order to create numerical superiority and give passing options for Gogarty. Telfer would adjust his position by either dropping back and pulling the full-back with him or by moving inside close to the last line. This happened especially in relation to Murofushi dropping towards the side.
It was clear that Di Chiara was the deepest of the midfielders. Due to his role, the structure often changed to more of a 3-1-4-2. Porter, at the same time, moved inside from the right wing. Like that, York 9 had a decent setup to attract Forge with some passes involving their roaming midfielders to then attempt direct play in behind. Concurrently, another objective was to get in behind the full-backs via combination play if possible.
As the game went on, York 9 played more direct long balls from the back. For that purpose, Aparicio would join the strikers or attempt runs from a deeper positions. When the ball was kicked towards one side, the respective wingback also positioned himself higher to create something like a 3-3-4 structure.
This presence higher up also featured in the early goal scored by Telfer in the 3rd minute. Aparicio received the ball centrally after Forge's attempt to directly counter in behind failed. Four players remained high at the last line. Telfer came inside from the wing. As Achinioti-Jönsson was beaten, the back line neither managed to put pressure on the ball nor to drop back quickly enough. The through ball was deflected, Telfer got to it and scored from a 1 versus 1 with Henry.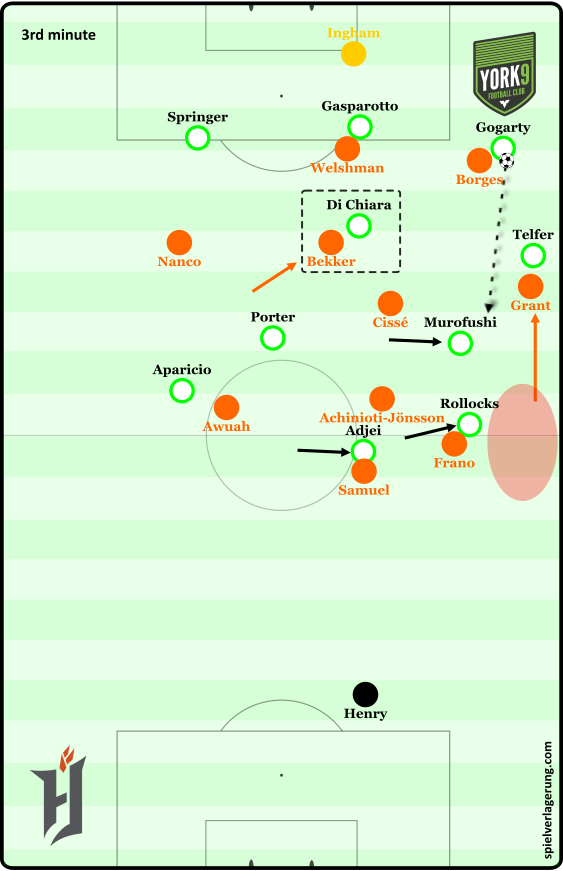 Unconventional and possession-oriented against risky pressing
While York 9 already showed quite a functional setup in possession, Forge FC was even more spectacular in this aspect and clearly more focused on controlling the game with possession. As the game went on, they became the dominant team and managed to create much more dangerous moments.
Generally, both full-backs moved inside while the wingers stayed wide and high initially. This lead to a 2-3-4-1 structure which often changed due to the movements of different players. Achinioti-Jönsson regularly dropped between the center backs, thus transforming the shape into more of a 3-2-4-1.
At the same time, the roles of both central midfielders were notably different. While Cissé often supported in deeper zones and played closer to the full-backs, Bekker had a free role in higher zones. Sometimes he stayed more centrally as a number 10, sometimes he occupied one wing or even moved next to Welshman in the last line. Depending on where he went, other players had to adjust their positions. Especially Borges moved inside quite regularly. This could also be balanced by a wider positioning of the full-back next to him.
York 9 pressed in a real 3-4-1-2/3-4-3 against that which was quite a brave choice. "Real" in this context means: The wingbacks acted on the same line like the central midfielders. Not even on the ball far side would he drop deeper. This was naturally linked to a high pressing game which was constantly executed throughout the first 30 minutes.
Aparicio mostly moved higher to play on the same line with Adjei and Rollocks where he could mark Achinioti-Jönsson. Forge FC generally played the first pass on the ground when they had goal kicks. In these situations either the full-backs dropped deep next to the box or the ball was passed to a central player finding space against York's loose man-orientations behind the first pressing line.
York 9 tried to force the build-up of York 9 towards one side. This should make switches to the far winger impossible. At the same time, Forge's winger on the same side had to drop back in order to give a connection. This was an easy moment for the outside center-back to follow with no danger of being beaten by a pass in behind.
Forge FC looked to create an overload on one side, particularly on the right, to play past this pressing. For that, both central midfielders often positioned themselves on the same side with Bekker shifting over from the left. They had some issues when full-back and central midfielder stayed on the same vertical line but generally found a way through. The far winger stayed wide. Now the overload could be used to attract York 9 heavily on one side.
From there, passes on the ground to far sided players could be played. These players could then switch to the winger who was either 1 versus 1 against an outside center back, which was already a mismatch, or even completely alone.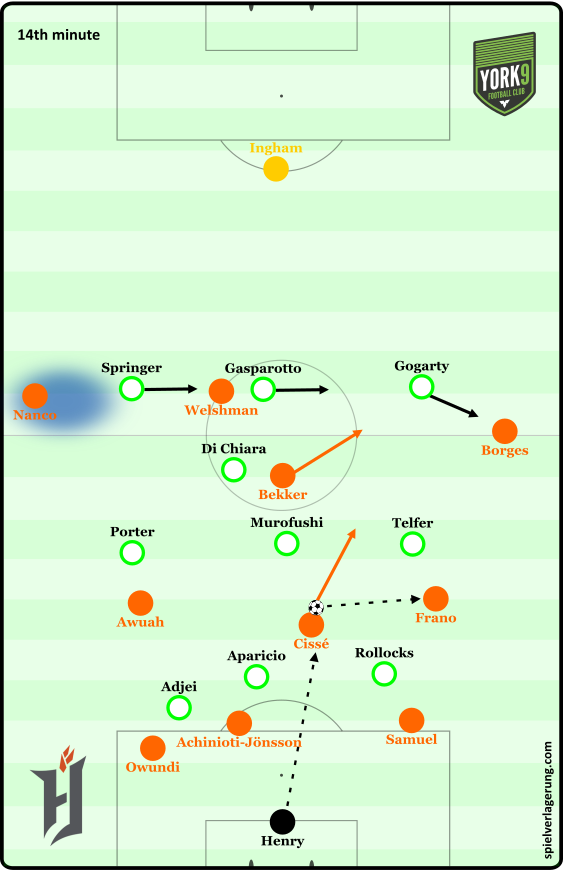 As the game went on, York 9 continuously defended deeper without fundamentally adjusting their setup. Meanwhile, their intensity also dropped notably and they weren't able to maintain more aggressive pressing actions. Against the passive 3-4-1-2, it became easy for Forge FC to advance through the wings and to constantly push the visitors back.
Di Chiara at times reacted by dropping back further and creating more of a 4-4-2. But here the player roles didn't fit as the outside center backs now had to defend like full-backs, often 1 versus 1. At the same time, Forge did an exceptional job at attacking the penalty area dynamically and in numbers. These runs from behind pinned other players back and prevented them from joining. The rather offensive minded wingbacks tracked back but could rarely provide actual support either due to their limitations in that aspect.
At the same time, Forge's setup with many players centrally behind and around the ball allowed for a good counterpressing which helped to keep York 9 in their own half and to catch them in unorganized moments. Forge could again attack through the far half-space quite often. Only some inaccurate passes and questionable decisions, particularly by Bekker, prevented them from scoring. Also, Ingham showed some outstanding saves and most notably denied Borges 1 versus 1 inside the box in the second half.
Even then, when it was clear that the setup was dysfunctional, York 9 didn't adjust tactically. Neither did Forge FC. At least in pressing, it might have been a good idea to outnumber the two York 9 strikers with the defensive midfielder dropping deeper or one full-back staying closer to them. Offensively on the other hand, there was no big need to change the setup. Smyrniotis only brought on Kadell Thomas on the left wing who would eventually score the 1:1.
For the goal, it was also important to have Welshman playing on the right wing where he could use his assertiveness even better due to the opponent's setup. Zajac who was subbed in as central striker also fit quite well as he is very much defined by his movement into depth. He picked good movements to occupy ball near defenders with runs in behind. This created space for the cross by Welshman to set up Thomas on the far side.
The reluctance to change based on situations that occur during the game was tactically the worst factor of this inaugural match. For the future, we can expect teams at least to be better prepared for each other beforehand. More information might also make in-game changes easier and more likely. But this is clearly an aspect which has to be improved by both teams, especially by York 9. They won't always score in the third minute.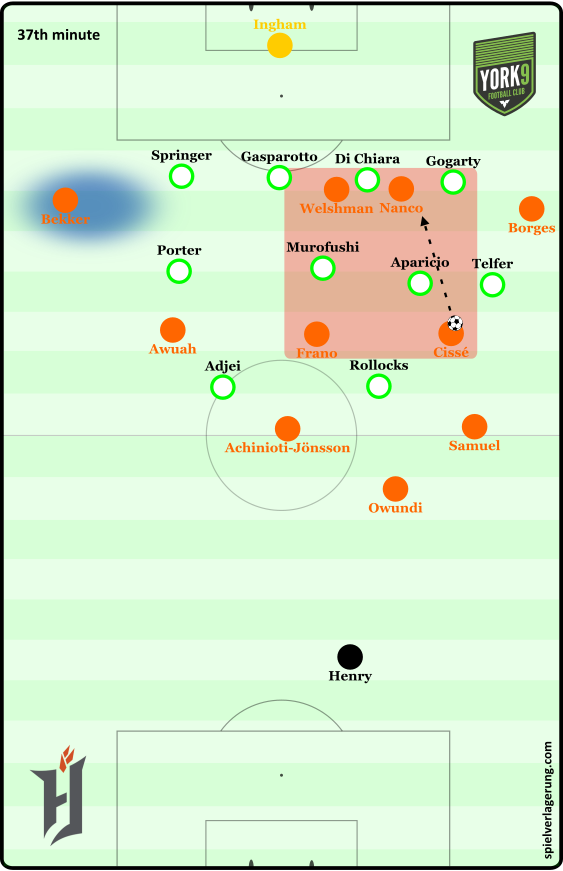 Conclusion
The Canadian Premier League is designed to be a developmental league for Canadian Soccer. It doesn't impress with star players like the MLS. At least not, yet. Instead, there are a lot of homegrown players: 16 of 22 starting players were Canadians in this inaugural match. 20 of 28 players who got playing time were Canadians.
This first match surprised with courageous and at times innovative soccer. That's what should be the benchmark for the future. But for now, the league only consists of 7 teams. The infrastructure isn't in place, yet, to have even more teams competing. Canadian Premier League will only be able to grow gradually. It will be interesting to see how teams and also fans will react, once they play the same opponents over and over again throughout the first season.
It's also a variation in tactics that will be necessary to keep the games exciting. For now, the coaches seem to understand how important entertainment is when you want to grow the popularity of a sport against some well-established competitors. Will they get more conservative, once it will be explicitly about winning trophies?