Penalties and the magician: How Spain came close to reaching the final
A magician not pulling a trick in-front of thousands of spectators doesn't mean the failure of the magic trick. Behind any magic trick, hours and hours of creativity are followed by more hours of practice. Alone in his room, a magician might perform the trick seamlessly without any interruptions but circumstances on the day of the show can result in the trick not coming off as intended.
Luis Enrique's change of approach in possession improved Spain's penetrating power after the first two games. Alvaro Morata became more involved in the passing sequences in midfield and acted as a spring for any of the midfield trio to bounce the ball off. This tweak improved Spain's possession game.
Therefore, it was a bit of a surprise when Enrique named both Morata and Gerard Moreno on the bench in the game against Italy. Opting to go with a front three of Dani Olmo, Ferran Torres and Mikel Oyarzabal. Olmo centered the trio and did a similar role to Morata's, but on a much higher level due to his technical profile.
Olmo dropped deeper than Morata used to, and Spain's 4-3-3 was more a 4-3-1-2, overloading the Italian's three in midfield.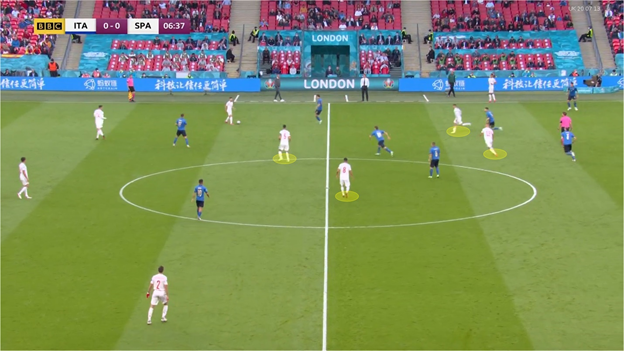 Olmo didn't only drop deeper in the central areas, he was consistently positioning himself behind Italy's midfield to provide an accessible passing option for Spain whether that was out wide or in the center.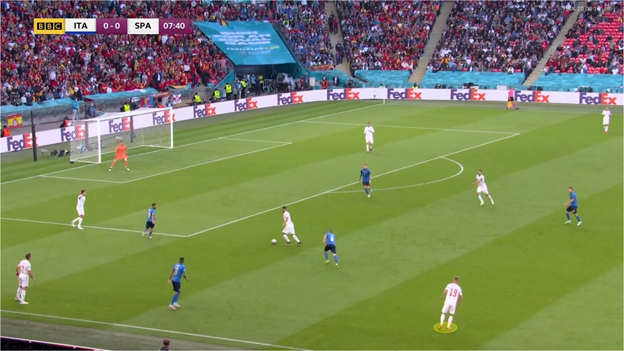 This overload created a 4 v 3 in midfield and Spain constantly found ways to penetrate Italy's block either through direct passes into Olmo……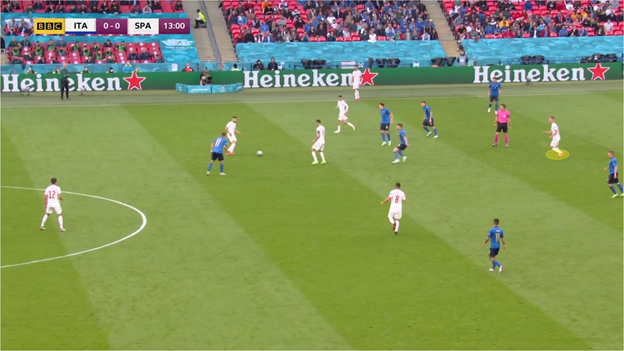 ……or through his positioning that freed another Spanish midfielder.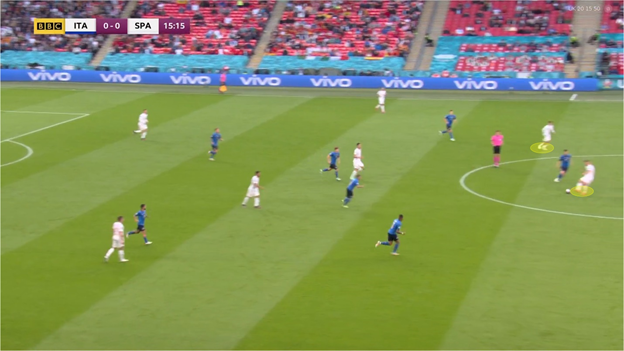 The overload in midfield caused problems for Italy's midfield, namely Jorginho who was left with two men to pick up. In this example, Marco Verratti is pointing out to Jorginho to pick up Pedri but the Chelsea midfielder was already positioned to track Olmo.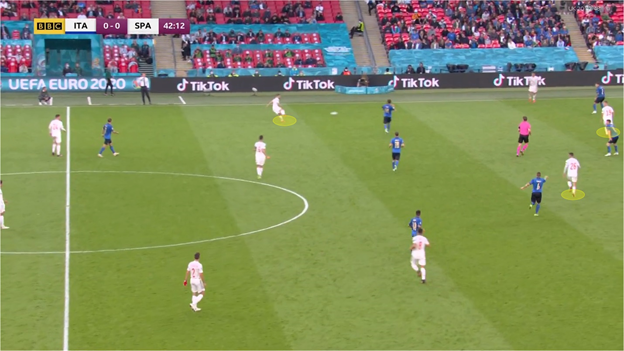 So, once the ball is played into Pedri both Verratti and Jorginho are late. Giving Pedri time to find Olmo who is now free because Jorginho left him to go towards the ball. Pedri played the pass into the free Olmo….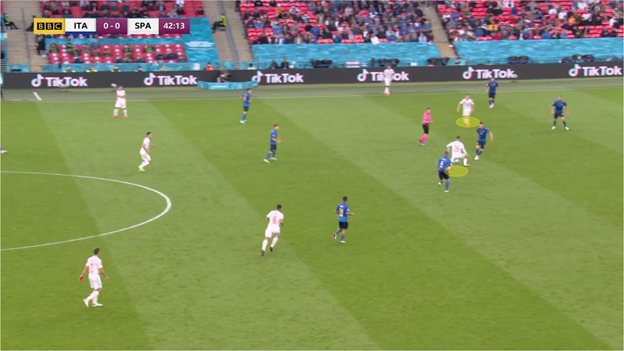 ….and ran into the space created due to Leonardo Bonucci's uncertainty of whether to move up towards Olmo or keep his positioning. Olmo's pass here was too heavy for Pedri.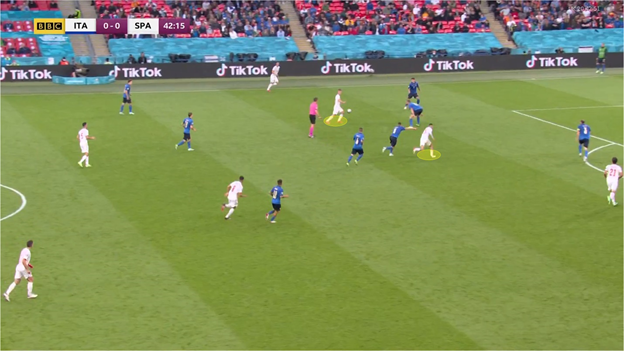 In another situation, Jorginho is again in a 2 v 1 scenario because of Olmo's presence in midfield. That forces him to take a decision once Sergio Busquets plays a pass through Italy's midfield…..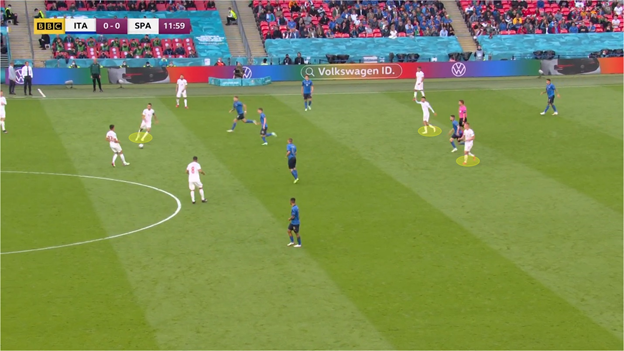 …..Jorginho's decision was to anticipate a pass into Olmo and move in-front of him. Unluckily for him, the pass was played towards Pedri who is completely free because of the dilemma Jorginho was left in.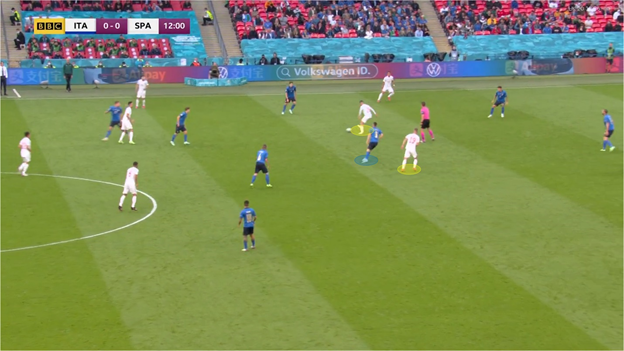 Pedri then advanced with the ball and found Mikel Oyarzabal in an optimal position to score but the Real Sociedad player miscontrolled the pass.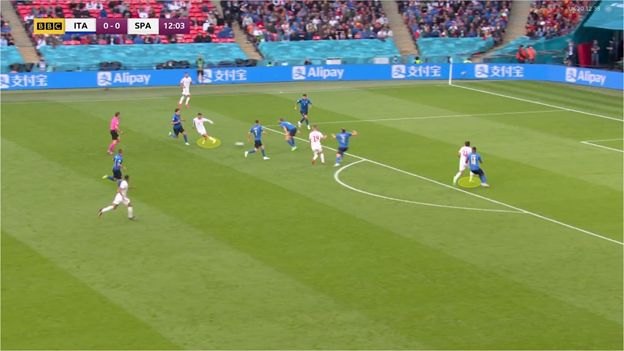 Out of possession, Spain man-marked Italy's midfield. Koke on Verratti, Pedri on Jorginho and Busquets on Nicolo Barella depending where Barella was—Busquets at times defended the midfield zone if there was no direct pass into Barella.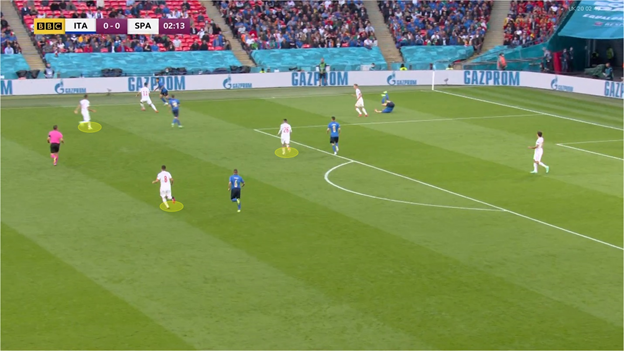 This marking scheme forced Italy into many long passes during the build up phase, mainly because their build up players Jorginho and Verratti were strictly man marked by Pedri and Koke.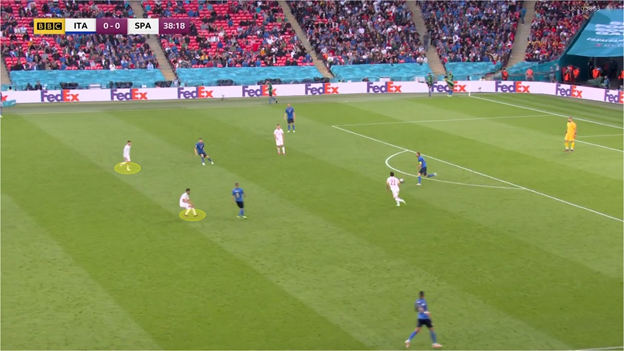 And Spain's center backs with Busquets were ready for these balls, starting their movement towards the ball before the Italian forwards.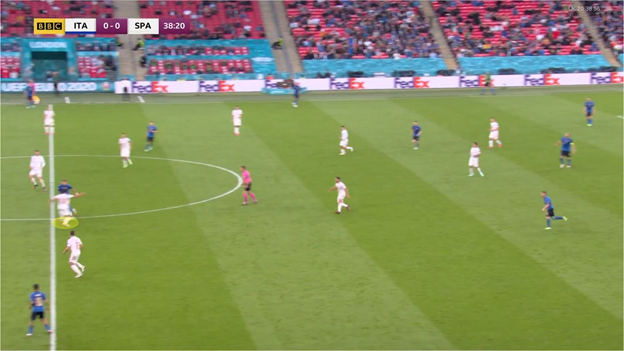 Forcing Italy's build up resulted in Spain's biggest chance in the first half. Gianluigi Donnarumma had to go long because there were no passing options available….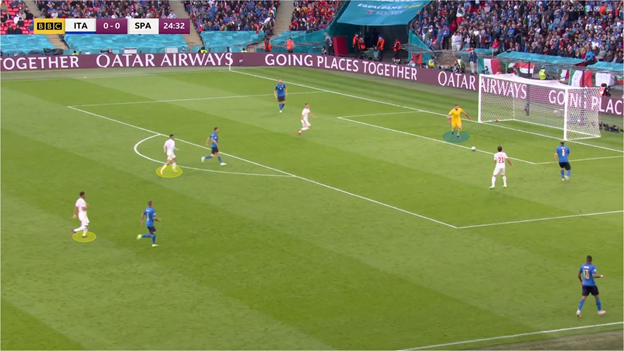 …..which meant that the ball fell easily for Busquets in the middle of the pitch…..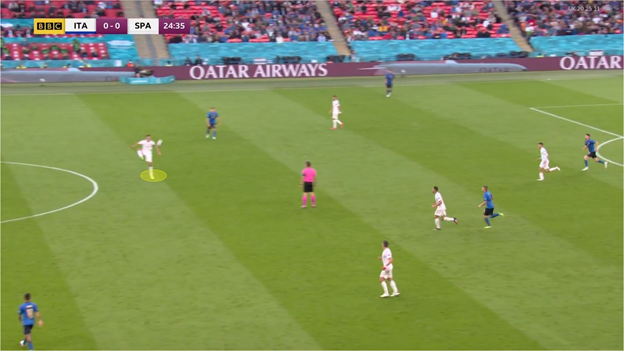 …..Busquets then found Pedri, who played a pass into Oyarzabal. The latter's dribble past Giorgio Chiellini failed but the ball fell for Olmo whose first shot was blocked, but the second required an excellent save from Donnarumma to deny Spain the lead.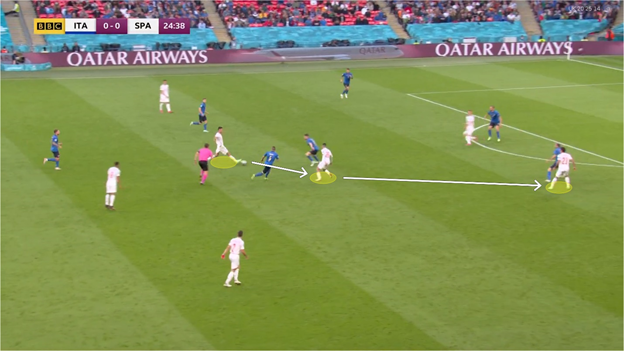 Another opportunity also originated from this pressing scheme two minutes later, Donnarumma went long same as before….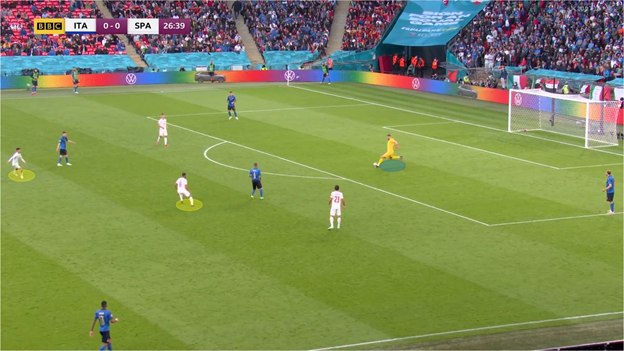 …..Eric Garcia anticipated the long ball and reacted faster than Ciro Immobile…..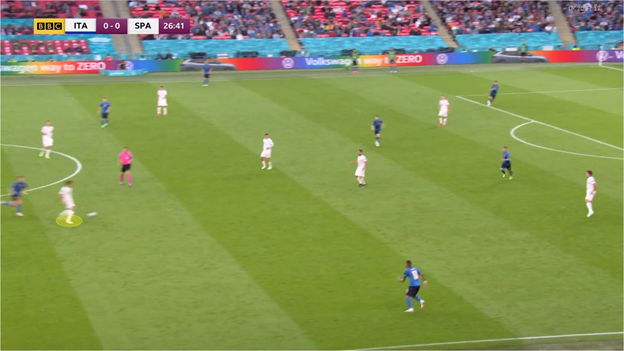 ….then proceeded to find Olmo in a dangerous position with a penetrative pass. Unfortunately for Spain, Olmo pondered on the ball allowing Chiellini to double up with Giovanni Di Lorenzo to intercept the ball.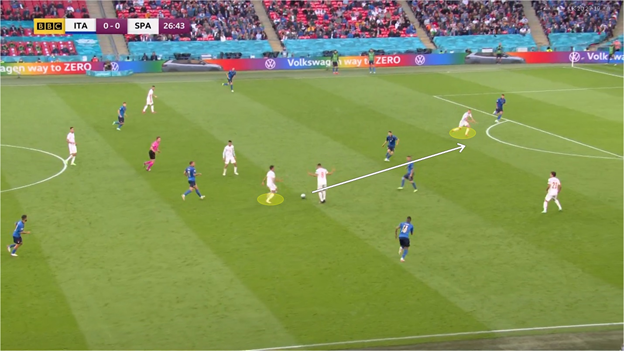 The man-oriented pressing and Olmo dropping into midfield was killing Italy throughout the first half. They needed to react, and in the second half they did. At half time Roberto Mancini adjusted Italy's shape out of possession by dropping Immobile on Busquets and allowing Jorginho the complete task of marking Olmo.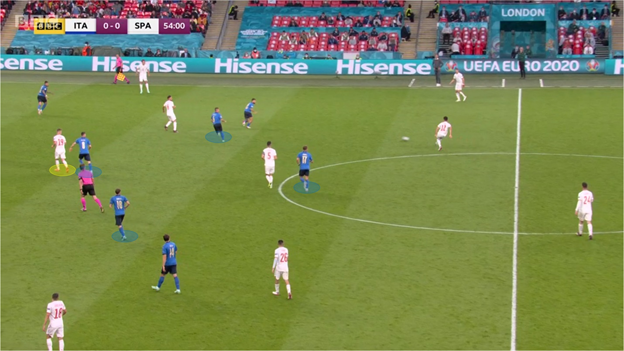 This switch minimized Olmo's threat in between the lines and forced Spain into undesirable passing sequences.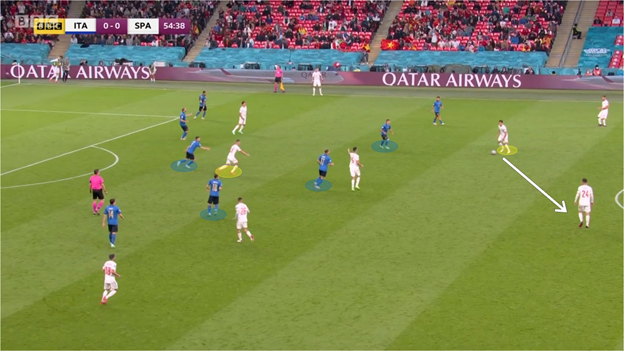 That was until Enrique introduced Moreno and moved Olmo out wide, and Italy weirdly decided to ditch the aforementioned approach out of possession. Spain now were trying to find the spaces behind Italy's midfield using a different approach, wide players going inside. In this example, Jorginho moves slightly wide because of Pedri's pull. While that was happening, Olmo moved from wide to a more central position to provide a passing option.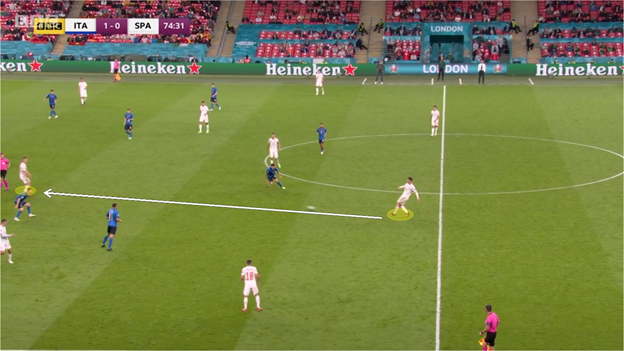 Olmo then tried to combine with Morata but his pass went astray.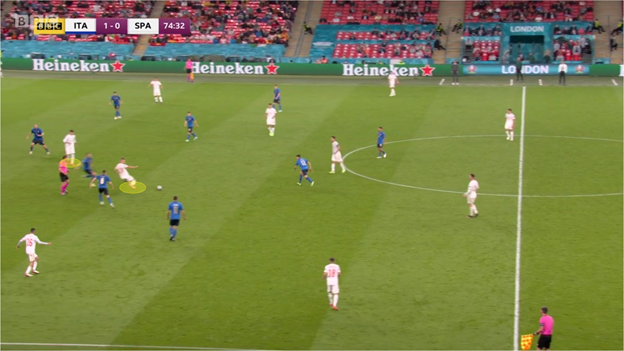 Italy were now presented with a new problem, wide players going inside. Olmo and Moreno found spaces in the channels behind the Italian midfielders….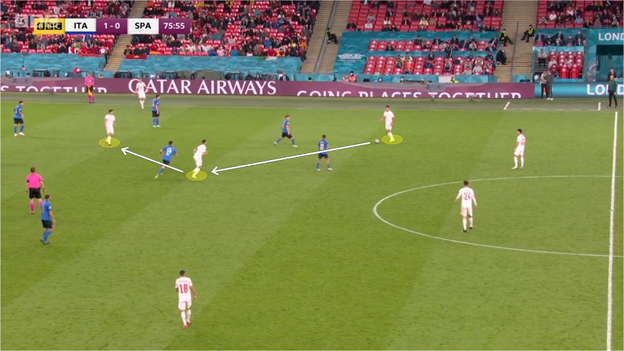 …..from there they could find Morata easily as they were under no pressure when picking the pass. Here, Morata's cross only turned into a corner kick because the shooting angle was too small.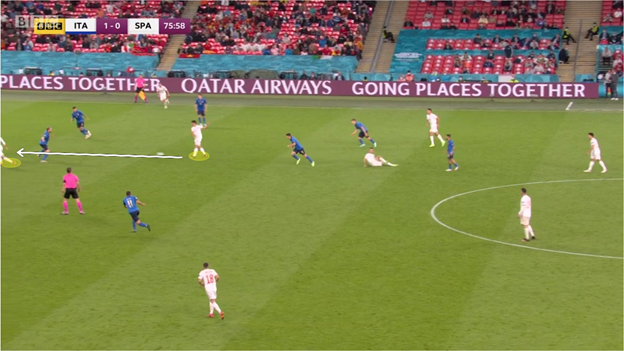 But in another situation when Busquets found Moreno in a similar space….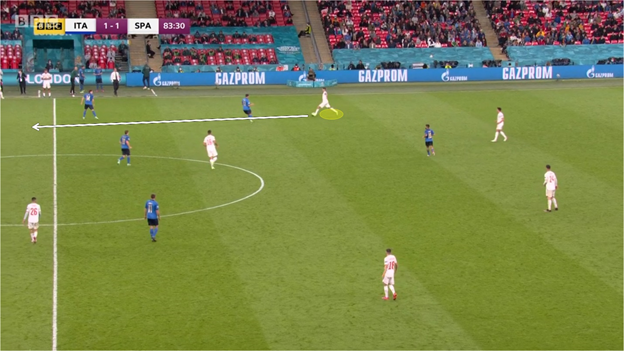 …….then Moreno played exactly the same pass into Morata……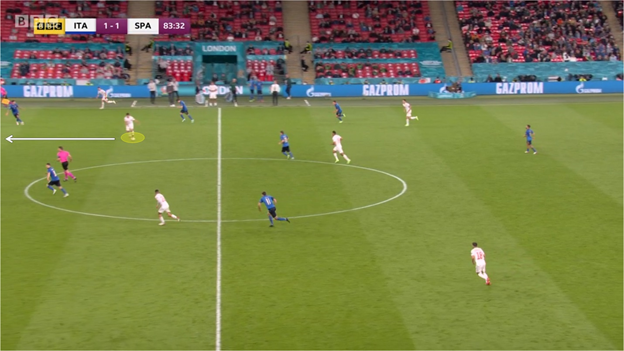 …….the striker managed to catch the ball and set up Moreno on the edge of the box, but the latter missed the target.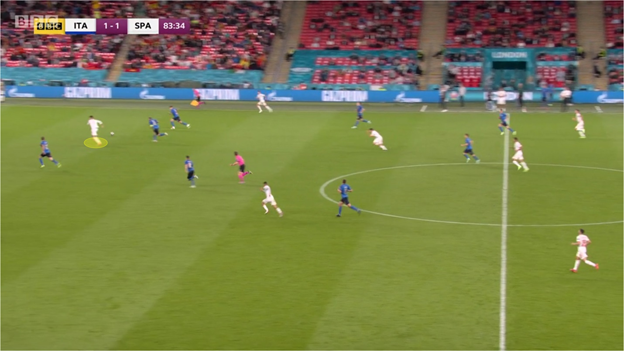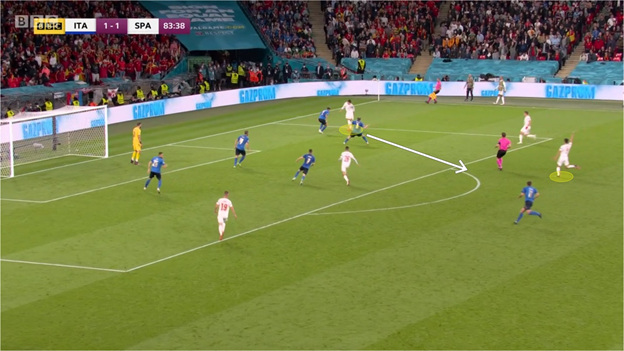 Eventually, Spain managed to equalize after Federico Chiesa put Italy ahead. The nature of the goal combined their two attacking approaches on the night. Morata dropped into the space in midfield…..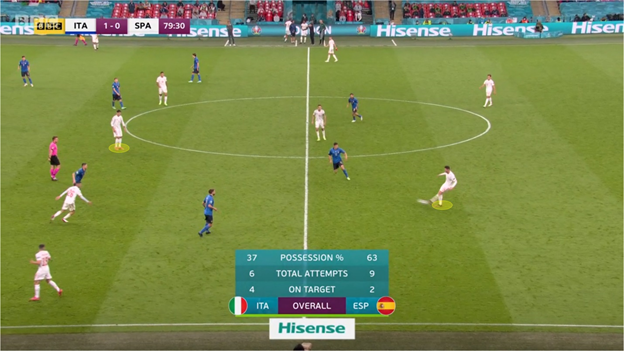 ……then Olmo's movement inside the pitch allowed Morata to combine with him, putting Morata in a 1 v 1 situation against Donnarumma to make the game level.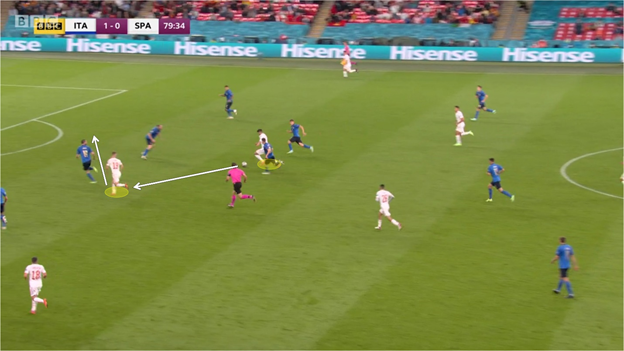 In extra time, Olmo continued moving inside the pitch behind Italy's midfield and he was close to create the winner.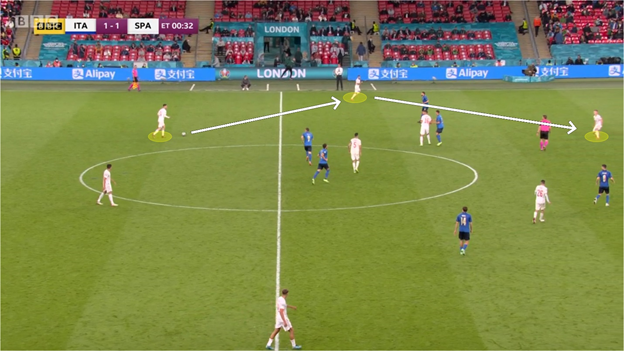 Towards the end of the first half of extra time, Olmo was initially positioned wide on the left…..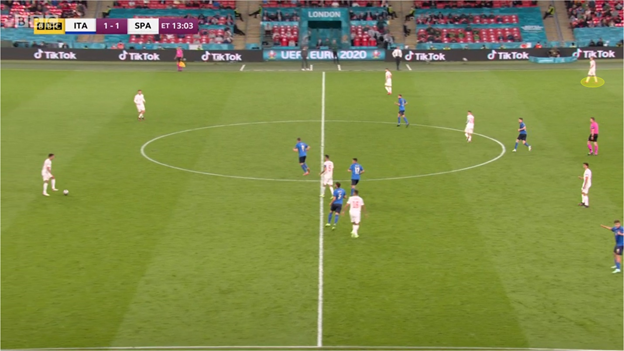 …..and while the ball was circulated at the back, he made a darting run inside the pitch behind Italy's midfield. Providing Rodri with a passing option that is in between the lines….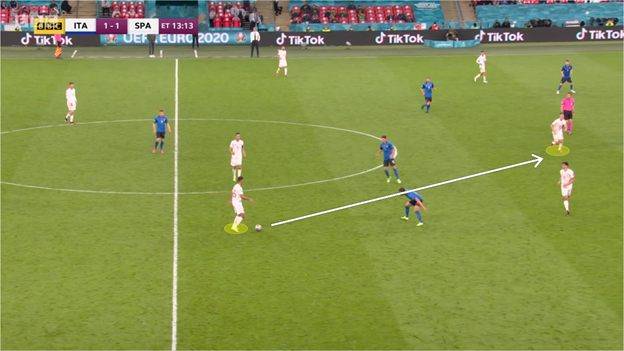 ….from there he should have played a better pass into the path of Morata. The pass though, was too heavy for the striker to catch.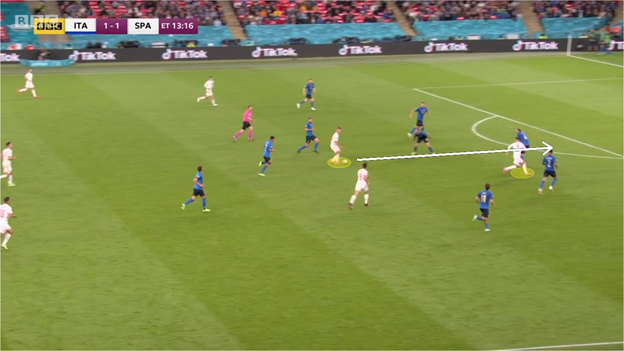 Spain were unfortunate not to add a second during normal time and extra time. Come penalties, Italy shot first and Morata shot quickly. Two decisions that heavily affect any penalty shoot-out. Enrique's magic trick didn't work out on the day, but that doesn't mean it failed.
Article by @walid_4