FCN win derby battle
Lyngby BK and FC Nordsjælland clashed on Friday evening for an important derby. Both teams have underperformed this season; with only two games of the Superliga's preliminary phase remaining, Lyngby sat second bottom in the table, with Nordsjælland only one position higher. A win would take Nordsjælland into the top half, and, crucially, out of the relegation fight.
It would be no easy task for them, though. Since Carit Flach took charge of Lyngby in the new year, only Brøndby IF and FC Copenhagen have gained more points. They hadn't lost their last four Superliga matches, while FCN were unbeaten over their last five matches against Lyngby, making for an intriguing encounter.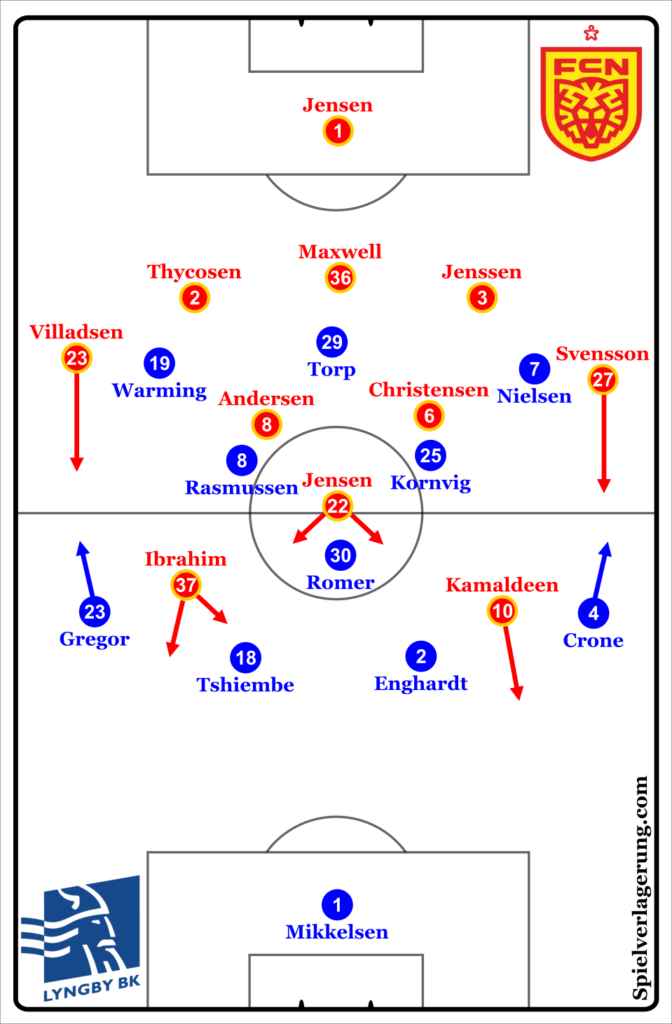 Interplay
Both teams started at a frenetic tempo in an effort to make their opponents uncomfortable on the ball. The home team aligned in a 4-3-3, seeking to exploit the space in the half-spaces and wide areas around FCN's deep and compact 5-2-1-2 block.
The visitors' shape resembled more of a 3-4-1-2 during high pressing situations. Here, Ibrahim Sadiq and Kamaldeen lurked halfway between the Lyngby centre-backs and #8's, thereby maintaining access to both, while Victor Jensen man-marked Lyngby's #6, Marcel Romer.
The shape was designed to force Lyngby away from the middle, where on paper they had an extra centre-midfielder, to the touchline. It was usually the full-backs, Crone and Gregor, who received passes from the goalkeeper or centre-backs. Receiving while facing their goal was the trigger for an aggressive FCN press towards the touchline, and the vertical layers of their 3-1-4-2 allowed horizontal compactness while doing so.
The away team's wing-backs, Svensson and Villadsen, were permitted to advance far up the pitch to press Crone and Gregor, and the outside centre-backs in the FCN's back three also advanced to ensure vertical compactness. Crone and Gregor were often left with little option but to play speculative quick passes inside towards the striker which were routine for Nordsjælland to defend, but there was a solution for them to play through FCN.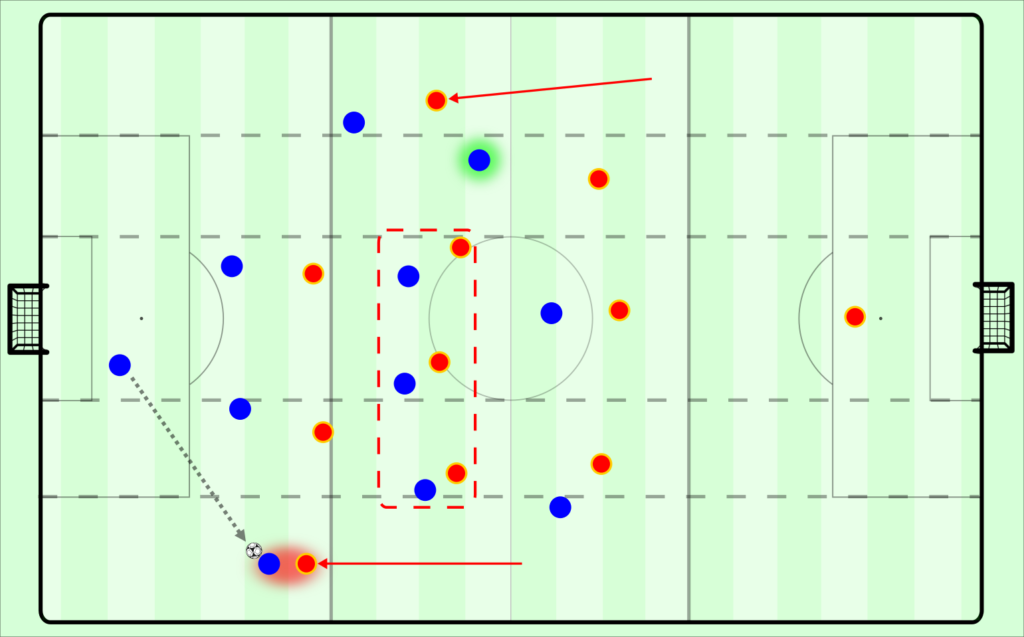 By making use of their extra man through quick, horizontal circulation while Nordsjælland were lopsided, combined with Nordsjælland's #6's, Andersen and Christensen, tiring from being overstretched in defensive transition, Lyngby became increasingly assertive in the middle of the pitch.
Defensively, Lyngby generally stood off Nordsjælland's centre-backs with the ball, instead lurking beside and behind Christensen and Andersen to lure passes to them, triggering a circular pressing trap which could collapse on itself, or direct FCN's build-up to the wing-backs. If the ball was played to Andersen or Christensen while they were facing their own goal, this was a trigger to press aggressively, but the FCN #6's occasionally anticipated the pressure and were able to turn 180 degrees and evade into the vacated space.
Moreover, the away team's shape meant that the wing-backs were an advantageous method of progression by leading to Ibrahim and Kamaldeen 1 v 1's, particularly for the latter. Because Nielsen and Warming were drawn into pressuring Nordsjælland's outer centre-backs who are both competent passers, Jenssen and Thychosen, it was down to Crone and Gregor to close Svensson and Villadsen down.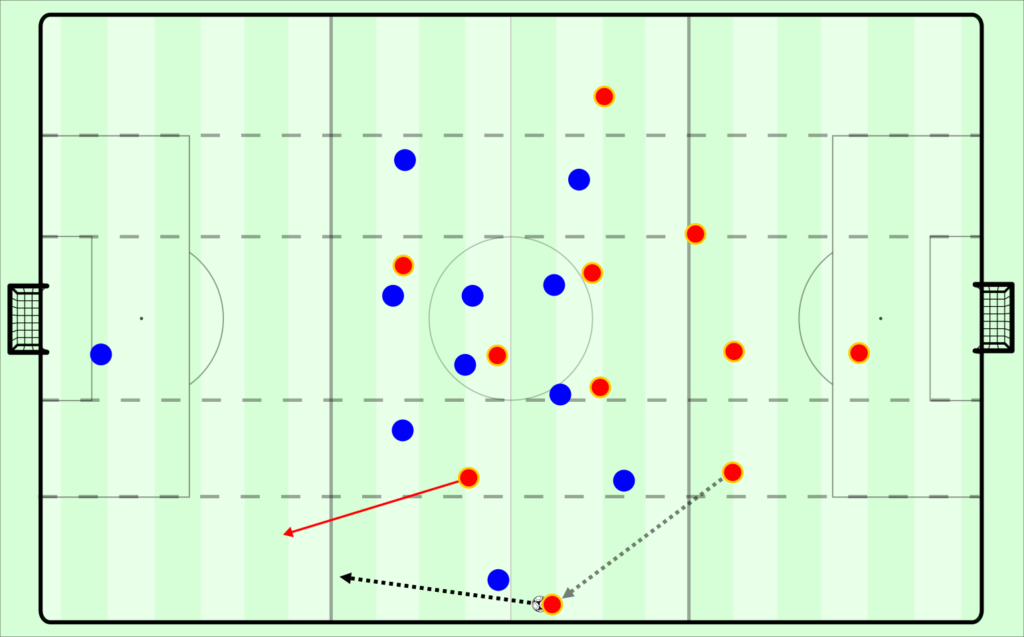 By luring the full-backs forward, space was created in the wide channels to play Kamaldeen and Ibrahim in behind. Lyngby's relatively high line played an important role in providing space for this to occur. Although FCN were able to repeatedly enable this desired scenario, they weren't very fruitful. Kamaldeen was generally wasteful with the ball, either playing an inaccurate cross or making a sub-optimal decision to overdribble rather than pass. But the decisional crisis it created for Lyngby's full-backs to pressurise the ball while exposing their centre-backs, or stay as a back four while leaving space for FCN's wing-backs to advance, was an issue they didn't solve.
Infrequently, Kamaldeen and Ibrahim were the players hugging the touchline, thereby providing an underlapping opportunity for the wing-backs. FCN's two speedsters also made diagonal runs between the spaces in Lyngby's back four, seeking long passes in behind. Their interaction with FCN's #10, Victor Jensen, was interesting here. The Ajax loanee situationally played as a shadow striker when the two forwards were occupying wide spaces, while in other scenarios he overlapped the two forwards in wide channels to offer a short passing connection to the wing-backs.
As the #10, Jensen played an important role in connecting teammates through triangulations. He made himself available to receive lay-offs from the front two upon receiving long passes, while also combining with Christensen and Andersen to progress the ball horizontally if the passing lane between them was blocked.
Nevertheless, some of Nordsjælland's key possessional issues arose from their structure being too spaced out. The wing-backs would often be too far away from the centre-backs to deliver a clean pass, and they generally only had time and space to receive when FCN circulated the ball across their back line to the opposite side of the field. Christensen and Andersen were ordinarily unable to advance the ball through the middle due to Lyngby's numerical superiority, and their 3-1-4-2 structure was very static.
The Pendulum Swings
This was enough for Flemming Pedersen to opt for fresh legs at half-time, subbing on 16-year-old starlet Andreas Schjelderup for Ibrahim in an effort to gain midfield control. 17-year-old Tochi Chukwuani soon followed for the tiring Magnus Andersen. Kamaldeen was initially the lone striker in what seemed to be a 3-5-1-1 with Schjelderup behind him.
And yet, the lower tempo of the second-half seemed to initially suit Lyngby due to their more stable midfield shape. FCN's forward-most players repeatedly dropped to deep defensive positions to support the team's low block, but as Lyngby pushed for an equaliser, it became evident that the hosts were maintaining their high line, leaving more space than in the first-half for Nordsjælland's forwards to counter-attack into. This led to Isaac Atanga's introduction for Victor Jensen, and a reversal to the visitors' initial shape with two strikers. Kamaldeen and Atanga were sometimes too eager to run in behind, disconnecting themselves from teammates, but it was clear from FCN's long passes forward that Lyngby were leaving themselves exposed.
Lyngby's control was slipping in midfield, too. The threat posed by Kamaldeen and Atanga bound their back four. They also lacked attacking creativity; their best opportunities from earlier in the match being presented by Nordsjælland errors. Moreover, signs of mental fatigue became apparent when Lyngby began making possessional errors leading to attacking transitions for FCN. Behind Kamaldeen and Atanga as the #10, Schjedlerup sparkled in these circumstances as a controlled, unpredictable dribbler, while also delivering well-timed passes to the front two.
As FCN became increasingly established inside Lyngby's half, their passing sequences became more comfortable to maintain. Chukwuani was instrumental here, being where he needed to be in relation to his teammates, either as a passing option himself, or by dragging opposing players with him to generate passing lanes to others. Finally, Lyngby were handed a red card in the 83rd minute, and Nordsjælland used their extra player to control the final stages of proceedings.
Conclusion
The score somewhat flattered Nordsjælland who were clinging on to their clean sheet for extended periods of the match. And yet, Lyngby were the opposite of prolific, missing a penalty and numerous other quality chances. The away team capitalised on Lyngby's missed chances by turning the screw and pressurising their defence by posing the superior attacking threat, which in the end was good enough to win.
It's an important victory for FCN who move into the top six of the table with one game of the season's preliminary phase remaining. Lyngby will be left in the fight to avoid relegation, but stand in good stead after a much improved campaign in 2021.