Chelsea v Manchester United spelled out tight tussle for Tuchel
Chelsea set up in their usual 3–4–2–1 but with a range of changes in personnel, after a rotated side drew 1–1 away at Southampton and a game midweek against Atletico Madrid. Despite their European heroics, it was time for them to still try to address their lack of potency in front of goal, in the hunt to finish for Champions League football next season. Unfortunately for them, Manchester United haven't been the easiest opponents, with Ole Gunnar Solskjaer somehow being competent enough to be second in the league.
From their last Premier League game, Kurt Zouma was replaced by Andreas Christensen, Ben Chilwell on the left for Marcus Alonso, Callum Hudson Odoi for Reece James, Hakim Ziyech in for Timo Werner, taking a double 10 role along with Mason Mount and finally Olivier Giroud in for Tammy Abraham.
In possession, they used their very familiar build up with Cesar Azpilicueta, Christensen and Rudiger in the back 3 with N'Golo Kante and Mateo Kovacic as their double pivot. Thomas Tuchel's gameplan was to attract Manchester United's extreme ball-sided pressing tactic and to switch sides right after drawing out the press. The idea would have worked if Manchester United stayed back and didn't opt for pressing high as theirs is normally mid-high.
Man Utd's key was their narrow structure with both wingers occupying both half spaces, creating even numbers in central areas of the pitch. This led to short distances to put pressure on the ball by having ball-sided winger attack Chelsea's half back. Man Utd's number 10 (Bruno Fernandes) marked the hosts' ball-sided pivot player and the weak-sided winger closed down the opposing holding midfielder. If Tuchel's men wanted to switch sides of play, the visitors' narrow space occupation allowed themselves to shift without losing shape, pressure on the ball and the ability to be compact. The Chelsea players reacted like most footballers react when they feel like their teammates need help progressing the ball- they come closer to help; this again allowed Man Utd to track their opponent's movements, with their pivot players following the Blues' number 10s and their full backs tracking down Chelsea's wing backs.
Because of this and their level of intensity doing it, Chelsea were more troubled than they have been in their last few games. All of the hosts' players were close to their own goal, they created two problems:
1. Ball-sided pressure
2. Having Giroud isolated against the opponent's defensive line without a proper structure to win second balls, which ruled out long balls
As soon as Chelsea came into higher build up phases (don't ask how, it just naturally progressed sometimes), Tuchel's plan seemed to work more efficiently utilising his number 10s for weak-sided overloads. E.g. when they played over their left side and drew out Man Utd's ball-sided pressure, they used both of their number 10s (Mount and Ziyech) for wide half-space occupations which forced Scott McTominay into the same-sided half space, as he had to follow Mount and Fred had to balance McTominay's subsequent movement to occupy the centre. Ziyech, on the other hand, pinned back Luke Shaw, which gave Hudson-Odoi in the first half, James in the second half, a positional advantage after they switched sides.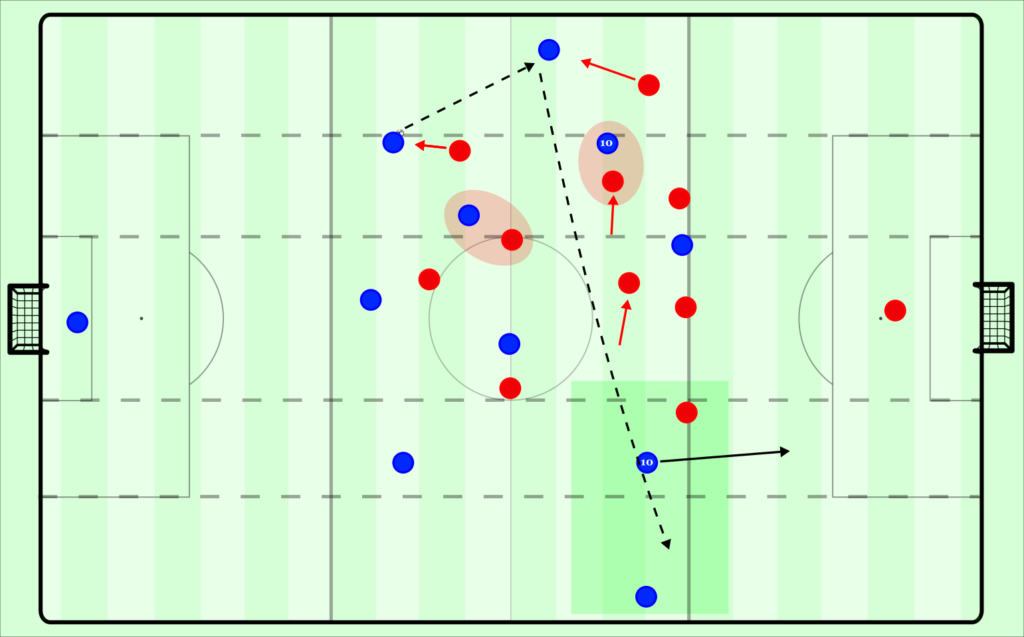 This worked efficiently but it didn't as a means to create chances. Even if they created an advantage out of that structure, they didn't have the types of players to utilise the given space properly.
In the second half, Chelsea created more chances as their opponents couldn't keep up with the same intensity, this also allowed for them to find better individual solutions.
Out of possession, Tuchel decided to go with an asymmetric back line; he pushed his right wing-back higher up the pitch, which created a back 4 with Chilwell, Rudiger, Christensen and Azpilicueta. Kante and Kovacic still played as double pivot but Mount was occupying a wider space on the left side to create a 4–2–3–1-ish looking shape. The advantages of Tuchel using this approach included:
1. Kante could track Bruno Fernandes' movements
2. The back 4 could easily cover Man Utd's attack without using a back 5 which would have lost a player putting pressure on the ball
3. Kovacic could defend forward and put pressure on the opponent's double pivot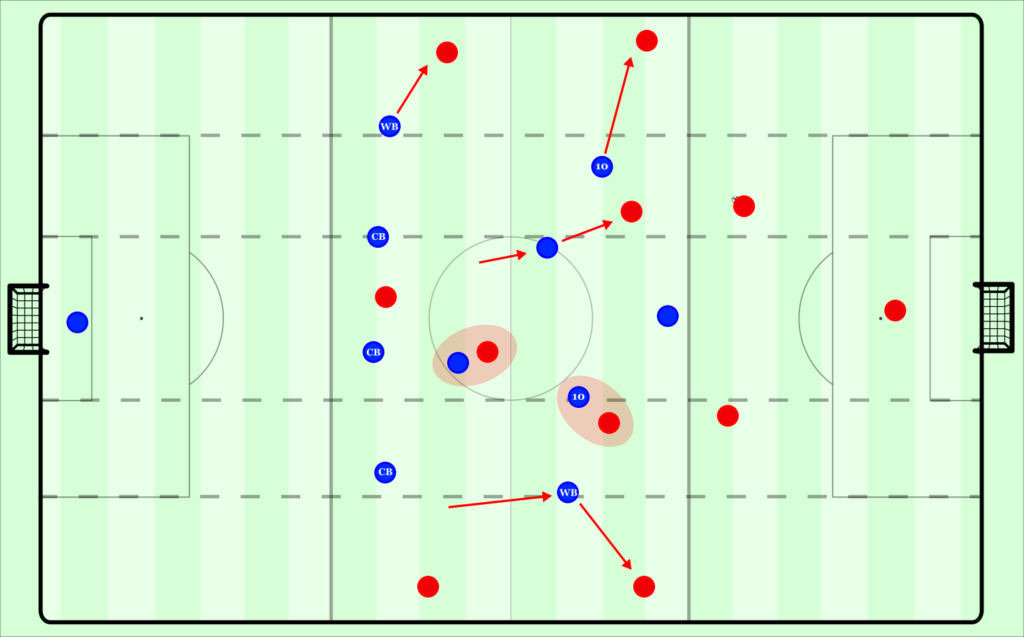 All in all, it spelled out what we've seen in many Premier Top Six games which have ended in a 0–0 draw. Man Utd surprised Chelsea with their high press but not much else, both teams not taking any spectacular risks to ruin the positions they're both in the league at the moment
Written by Jasmine Baba