How to Win Without Extra-Ordinary Tactics
With only two wins in their last five, Liverpool's recent form has seen them slip so far down the top of the table that both Chelsea and West Ham started the day with only one point behind their fourth place rivals. Only a win against Leicester would lift them into a better position.
However, despite Brendan Rodgers' problems against the Big Six in the past, he has become more confident registering wins against Arsenal, Manchester City, Tottenham and Chelsea this season.
Liverpool lined up with their usual 4–3–3 structure, with Ozan Kabak making his Premier League debut. They used Trent Alexander-Arnold in a lower position to help build up play from the first level, as seen before against West Ham. This changes the angle in which Leicester can press the Reds' full backs and allows Mohammed Salah to be wider but still be connected to their, often used, wing-triangles. Roberto Firmino is also dropping in between Leicester's defensive lines. As far as Liverpool structures go, it was nothing against the grain of what we've seen already; in the first half there was always one pivot player occupying the centre and two players occupying the wing zones.
Leicester lined up in a 4–4–2/4–4–1–1 out of possession with James Maddison and Jamie Vardy circulating around Liverpool's pivot player, Gini Wijnaldum. Whenever Liverpool passed the ball to their full back, Leicester used that as a pressing trigger. As this happened, the winger would attack the receiving full back. The ball-sided player (Maddison or Vardy) would close down the passing lane to Liverpool's centre back and the Foxes' central midfielder covering the half-space.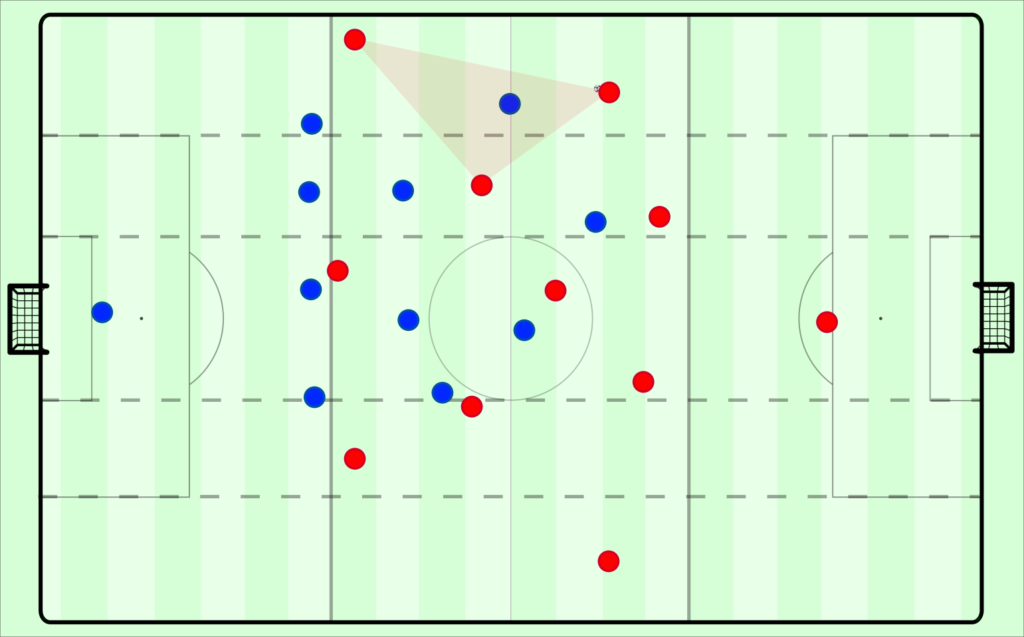 The only flaw with this was that Wijnaldum could escape their opponents' marking by occupying a higher position in the back of Leicester's attacking two; which allowed Liverpool to easily bypass the first line of pressure by using a third-man wall-pass.
As soon as this was bypassed, it was easy for the away side to switch play and attack Leicester's weak side, which made the game quite fast in the first 15 minutes. After the hosts' press failed multiple times, they decided to not press as much anymore and turn their attention to closing passing lanes.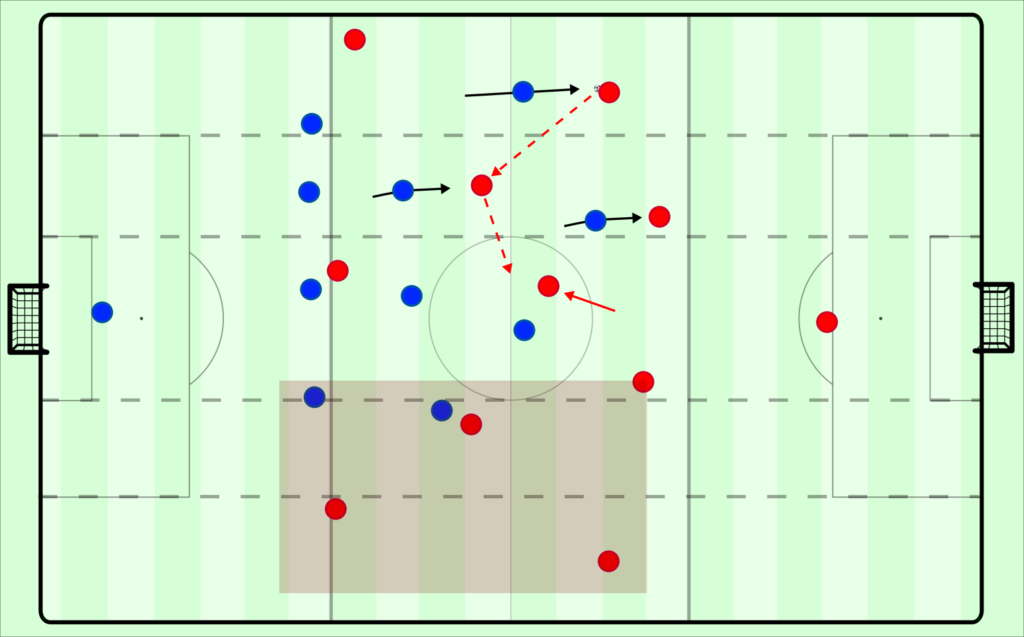 Leicester also lined up with their two central midfielders deep down the pitch, near to their centre backs, along with their full backs who were also lowly positioned. This meant that there were six players in their own defensive third and forced Liverpool to press in a sort of 4–2–4 shape, as one of their central midfielder's had to step out to cover their opponent's numerical advantage. Jurgen Klopp's side dealt with this well to begin with and won possession with this structure quite often with their winger attacking the centre backs from outside the space to in, creating a cover-shadow to the wing-zones that forced Kasper Schmeichel put in high-balls to his full backs, which were easy to track from a Liverpool POV.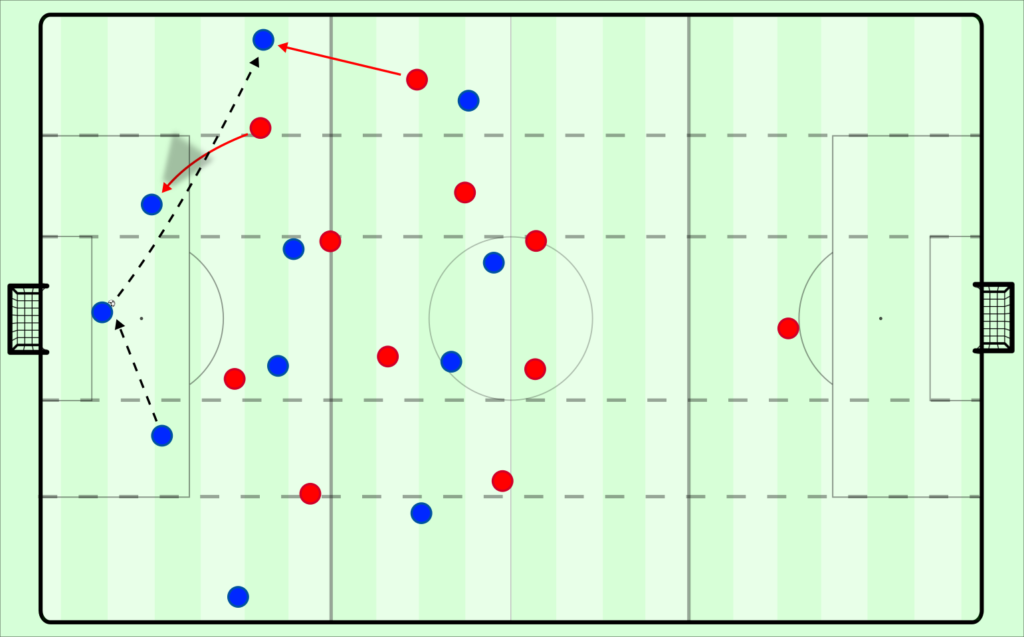 To counter this Brendan Rodgers used his wingers to draw out Liverpool's full backs and used the created space to play in Maddison and Vardy, who had both been positioned very narrowly to create a 2 v 2 situation against the visitor's centre backs. This position led to nearly every goal-scoring opportunity for Leicester.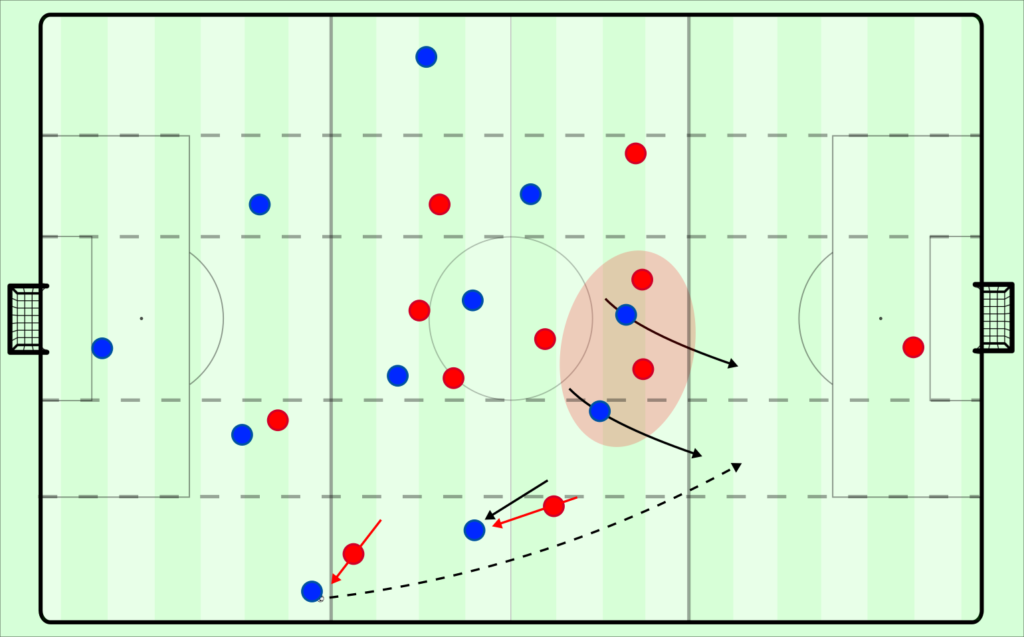 For the second half, Klopp tried for advance both of his full backs and push his wingers inside, he did that by having one of his central midfielders (either Thiago or Curtis Jones) drop next to the centre backs which created an overload in Leicester's last defensive line forcing their winger to track down the full back's movement. This was the structure Liverpool was in when Salah scored his goal.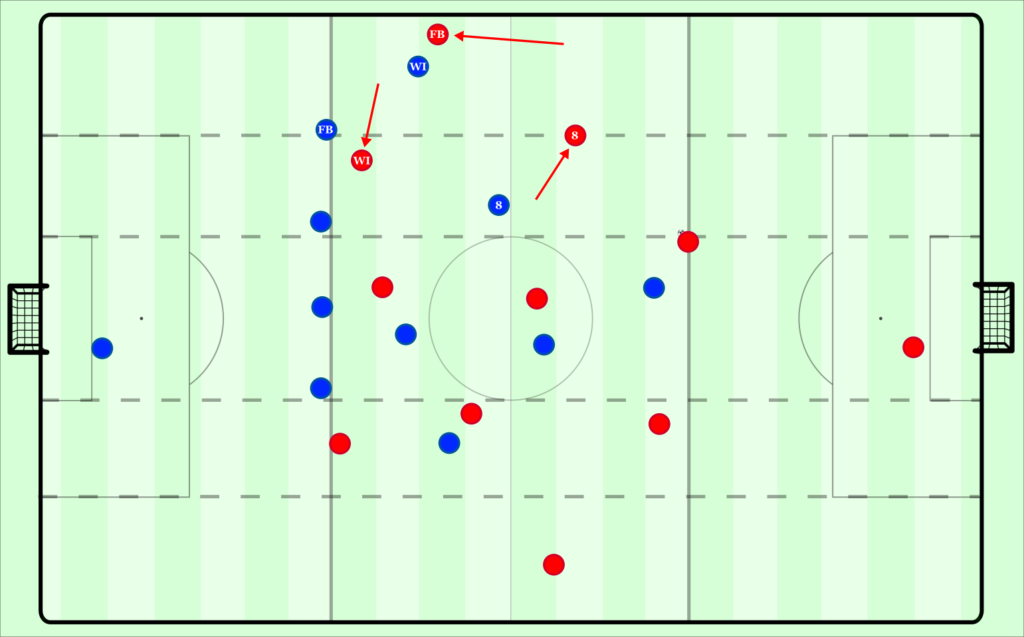 Leicester, on the other hand, only used one more holding midfielder to help with the build up play to counter Klopp's 4–2–4 structure, that led to easier ball progression. This also allowed them to continue their approach from the first half, just with one more player to collect 2nd balls.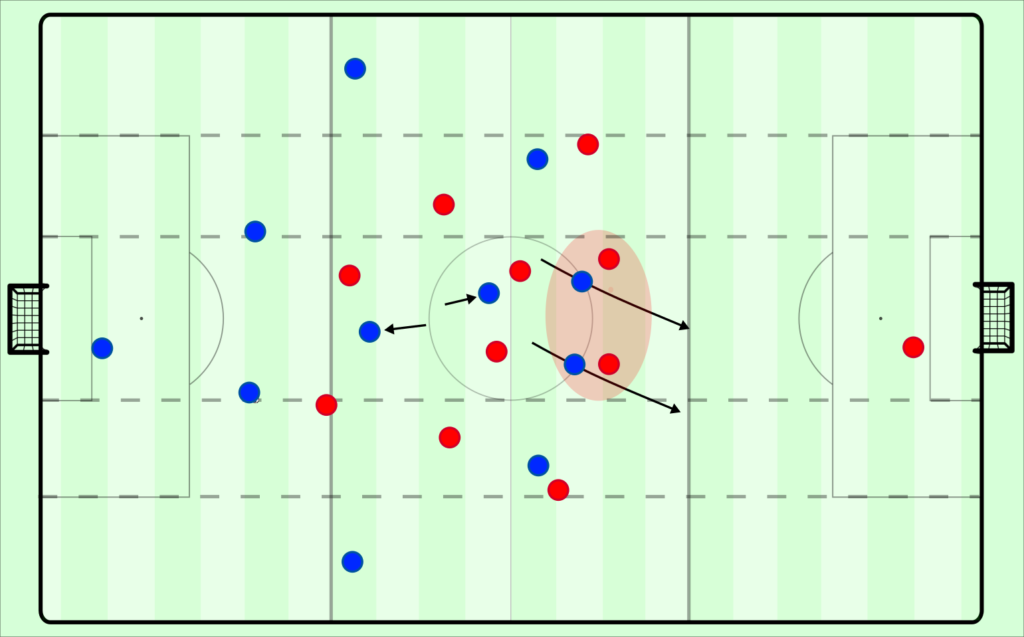 This wasn't the exact turning point for Leicester coming back from the deficit to win, it was a mix of individual mistakes (Allison is on some horrible form), luck and Liverpool's difficulties to create a proper restraumverteidigung as the full backs had been positioned higher. Any other season, that's most likely a 1–1 draw.
Guest article written by Jasmine Baba