The Old Lady ends Milan's unbeaten run
The stage was set at the San Siro on Wednesday evening for A.C. Milan, top of the league and unbeaten in twenty-seven games, to take on the underperforming, nine-times reigning Serie A champions, Juventus.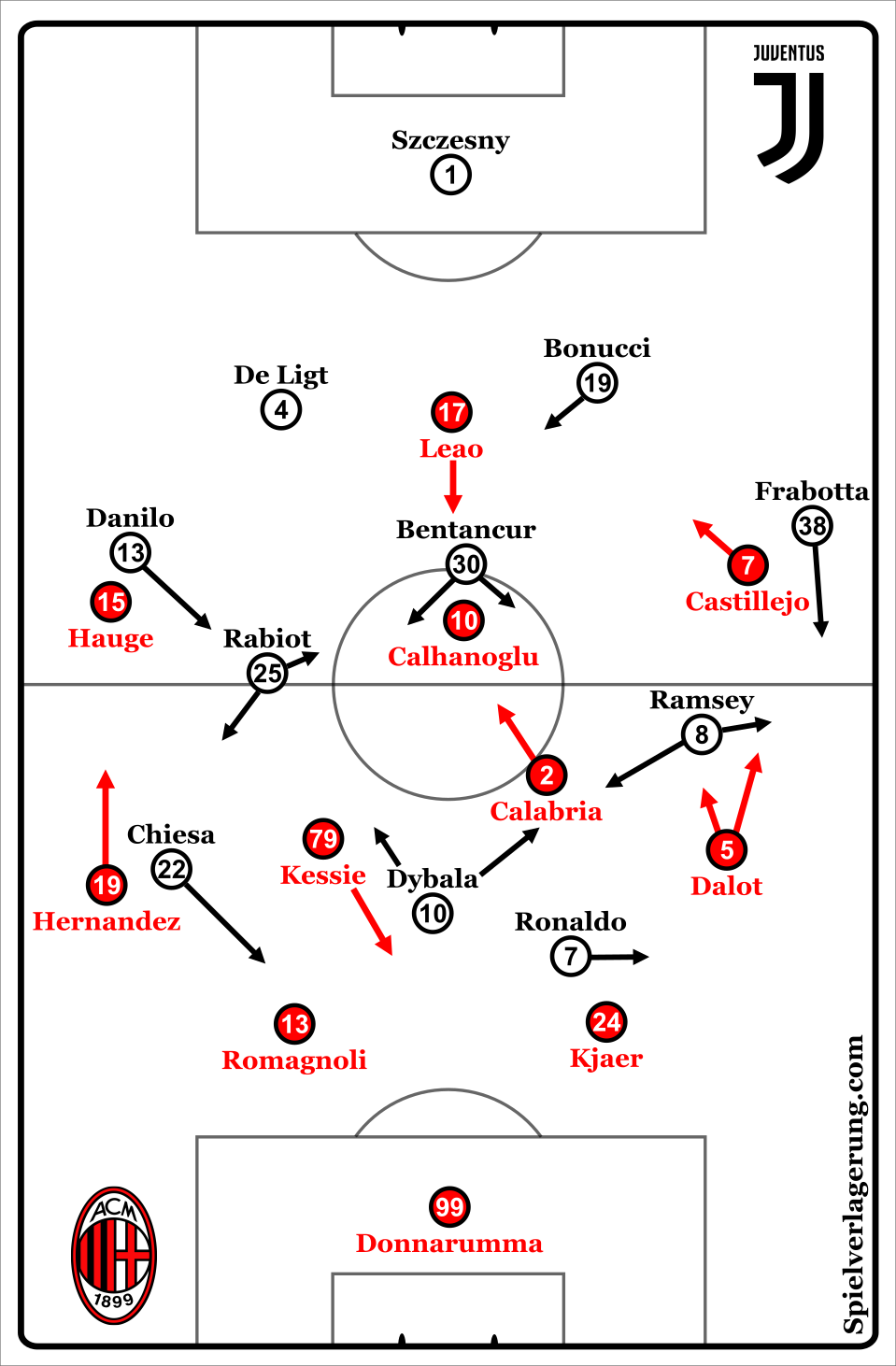 Milan had to deal without the presence of Zlatan Ibrahimovic and Ismael Bennacer through injury, while Alvaro Morata was also sidelined for the visitors. Both sides were also hit with late blows as first-team players were tested positive for COVID-19; Rade Krunic and Ante Rebic for the hosts, and Alex Sandro and Juan Cuadrado for Andrea Pirlo's side.
Milan's Energetic Start
Both sides showed initial urgency in making possession uncomfortable for their counterparts, while emphasising a high tempo during attacking transitions, but it was Stefano Pioli's team who had the more promising start. Their high, horizontally compact pressure during Juventus' build-up forced errors leading to some of Milan's best chances.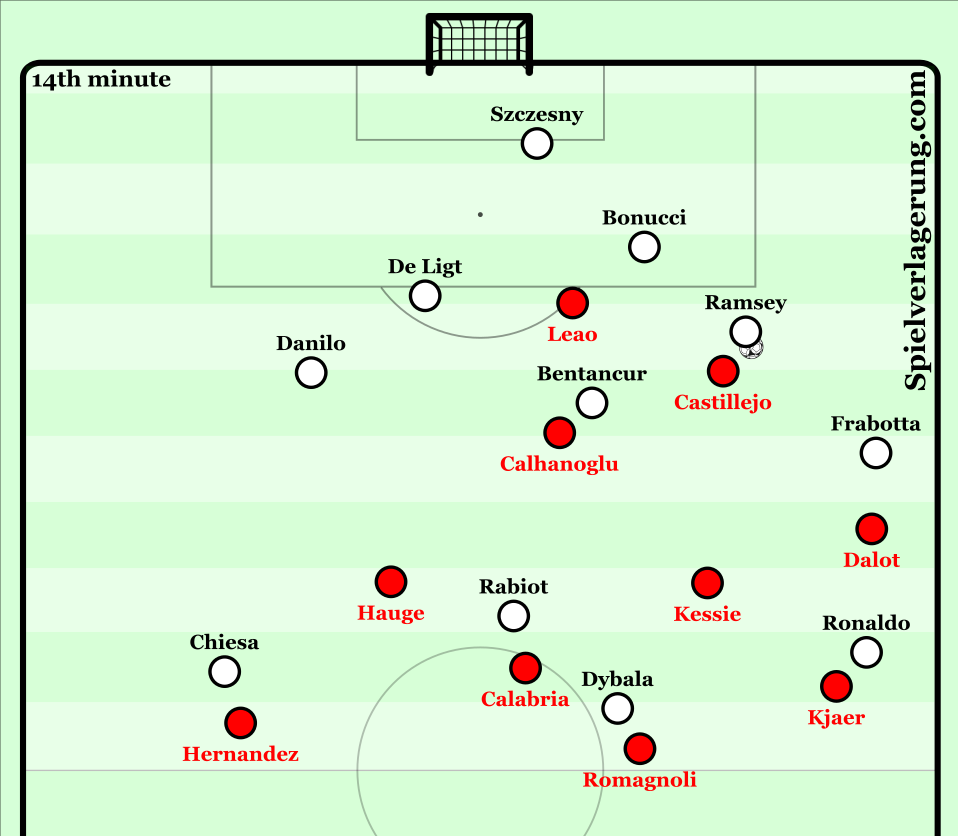 In Davide Calabria's second career game playing in central midfield, he operated in a more advanced, box-to-box role than expected. The timing of his connecting actions between teammates across a wide area of the pitch was excellent, moving into spaces to provide a useful passing option at the moment where surrounding pressure was minimal. Franck Kessie played deeper than Calabria, supporting Milan's defenders in build-up. In some cases, he positioned himself between the centre-backs, while moving to left-back in response to Theo Hernandez advancing up the left touchline in other scenarios. Defensively, Kessie had the positional awareness to cover Alessio Romagnoli or Simon Kjaer when they followed Paulo Dybala's roaming movements. Hernandez, who has excelled in an attacking wing-back role this season, didn't surge as far forward as usual, probably because of the threat posed by Federico Chiesa bursting into the space behind him in attacking transition. The young Italian winger stayed high and wide during the away team's attacks, pinning Hernandez firmly in a defensive position. This also left the Frenchman with too much ground to cover to support Milan's counterattacks in a timely manner.
On the right side, Diogo Dalot commonly stayed in line with Kjaer and Romagnoli during build-up, but surged forward to provide late overlapping support to midfield teammates when the ball was moved from left to right with quick diagonal switches. This 'late' timing repeatedly left the Manchester United loanee open to receive with space to advance into on the right wing. This was aided by Samu Castillejo's complimentary action of moving centrally, taking Gianluca Frabotta with him.
The Juventus Solution
Pirlo's approach to breaking down the hosts revolved around giving numerous attacking players a large degree of positional freedom. Initially, this seemed to be more problematic than beneficial. Dybala roamed very deep into central midfield, but the surrounding structure of Juventus failed to evolve quickly enough in response to his changeable movements. Moreover, Aaron Ramsey sporadically moved all the way from left midfield to the right touchline in an effort to forge connections, isolating Cristiano Ronaldo and Frabotta on the left side of the field. It was this positional freedom, however, that ultimately allowed The Old Lady to overpower the Rossoneri.
In what was a line-up which doesn't usually play together, the Juventus players soon became more attuned to each other's movements. For example, instead of staying high and wide, Dybala's roaming actions soon triggered Chiesa to burst inside. The variety in the visitors' attacking positions meant no two attacking sequences were the same, and their interchanging movements inside Milan's static defensive structure left Pioli's side physically and mentally drained as the match progressed. The benefits of having many technically gifted players who excel at playing in tight spaces was evident. Dybala, Ramsey, and particularly Adrien Rabiot adapted to the individual circumstances of each moment of pressure well, either by retaining possession or executing breakthrough passes.
The away team's dynamism and flexibility was also their answer to play through Milan in low build-up areas. Instead of trying to play through Milan's compactness, Juventus switched play, normally from the left to Danilo or Rabiot on the right, thereby drawing Calabria and Kessie away from the centre. In these circumstances, Leonardo Bonucci had license to roam diagonally forwards from left centre-back to create numerical superiority on the right. From here, the mobility of The Old Lady's central midfielders paid dividends, as Rabiot, or more commonly Bentancur, surged into the space in the centre to receive and carry the ball, releasing it by moving play back towards the now spacious left side. Rabiot had greater license to move forward, with Bentancur usually occupying the left holding midfield position, and Danilo filling in behind Rabiot on the right. The engines of Bentancur, Rabiot, and later Dejan Kulusevski and Weston McKennie, were utilised to expand the space between the home side's defensive and midfield lines in defensive transition. This was especially the case in the final third of the match, with Milan tiring and Juventus utilising the depth on their bench to remain energetic. After scoring their third goal, Juventus dropped into a very deep block to stifle the space in front of their goal, making a late comeback an insurmountable challenge for the league leaders.
Conclusion
Pioli and Milan were handed their first loss in Serie A since March 2020, but remain top of the league after Inter failed to pick up any points earlier in the day. Although not playing poorly, the high tempo imposed by the Rossoneri at kick-off did them no favours by the final stages of the match, particularly with a depleted bench. They were, however, denied a penalty in stoppage time by the referee, Massimiliano Irrati, who made plenty of questionable decisions on the night.
This was potentially the best Juventus performance under Andrea Pirlo, who move seven points off the top of the table with a game in hand. Despite their stuttering start, it's difficult to look past the Bianconeri from winning their tenth consecutive Scudetto.