Foxes outwit Wolves
Two teams seeking to disrupt the status-quo of the 'big six' in the Premier League met on Sunday afternoon at the King Power Stadium. Both sides have seemingly aimed to control more possession this season as the next stage in their evolution.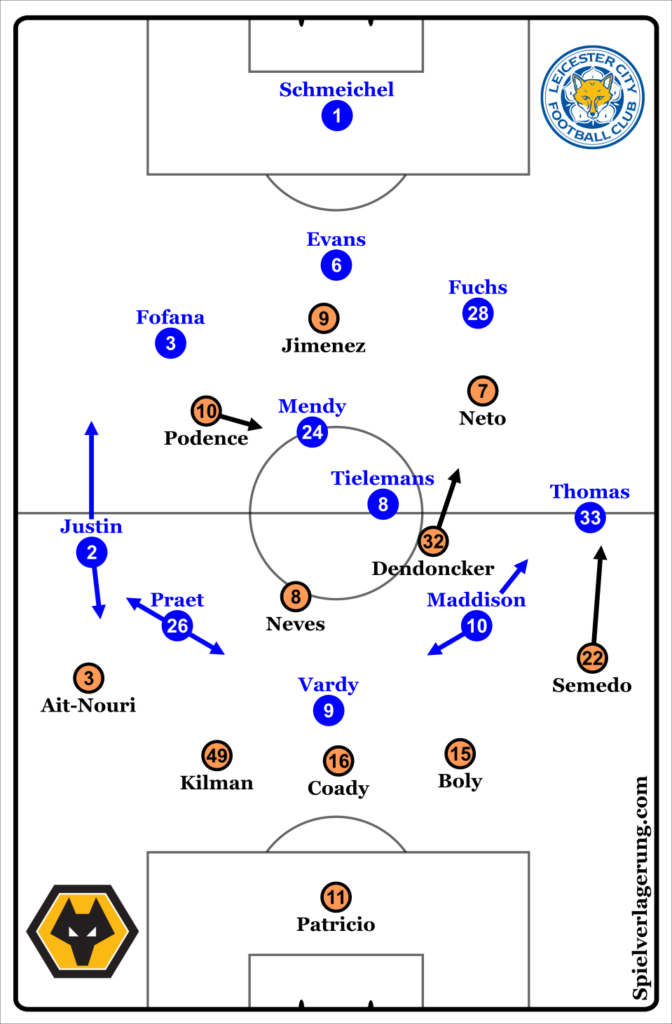 This is particularly interesting as both Leicester and Wolves thrived on the counter-attack last season, with Leicester having the most fast breaks in the league, followed by Wolves in second. The visitors have only won once away to Leicester in England's top division back in 1971, but came into this match after conceding only one goal in their last four league games.
Leicester remained without Timothy Castagne's attacking prowess from right wing-back, with Soyuncu, Pereira, and Ndidi all out with long-term injuries. Harvey Barnes was dropped to the bench with James Maddison and Jonny Evans returning to the starting line-up after their own injury troubles. Wolves were unchanged for the first time this season, with Nuno opting to stick with Rayan Ait-Nouri at left wing-back over Roman Saiss and Marcal.
Leicester in Command
This season, Wolves have changed their system from a three-man central-midfield to two. There have been minimal changes structurally and stylistically from game to game, with the main differences coming in the form of personnel. Leicester acknowledged this, and were able to control proceedings by using their structure to dominate the middle of the field and overload Wolves' centre-midfield pairing.
The inclusion of Maddison instead of Barnes and the continued use of a back-five were perhaps measures by Rodgers to permit this control. Inside Wolves' half, Maddison and Praet moved inside from their wide defensive positions to be either side of Jamie Vardy, floating across the 'ten space' between Wolves' defence and midfield lines. Crucially, they stayed in the blind-side of Neves and Dendoncker, whereas Mendy and Tielemans positioned themselves in front of the Wolves duo. Thomas and Justin provided width from wing-back, where there was plentiful space in front of Semedo and Ait-Nouri to receive. The visiting wing-backs were hesitant to move out of their defensive positions in line with the centre-backs. This combination of Leicester positions created a decisional crisis for Neves and Dendoncker, and Nuno's side struggled to keep possession or win the ball in central areas.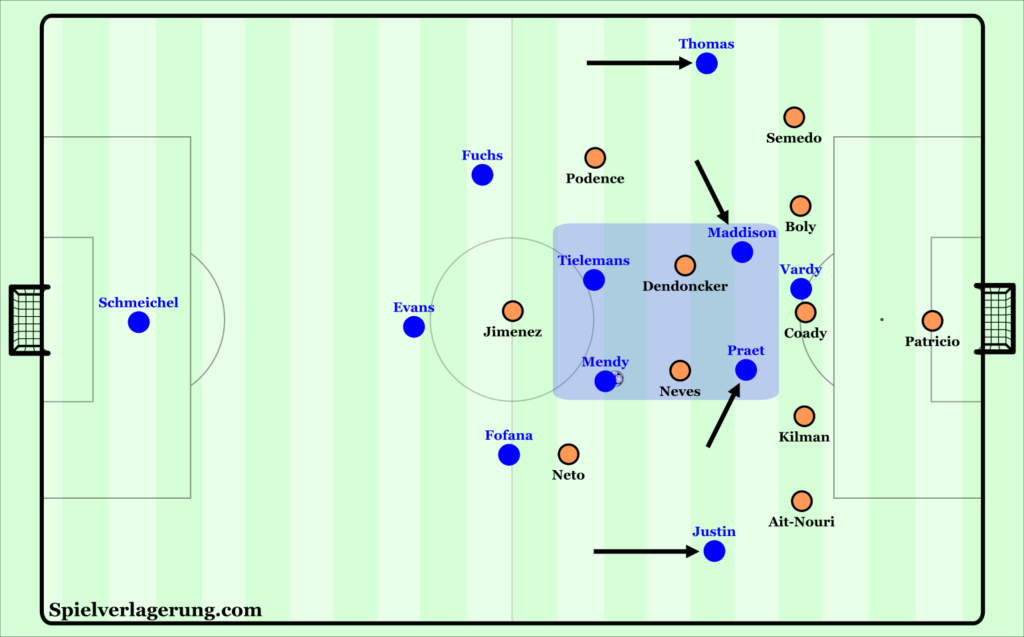 Additionally, Maddison would occasionally drift into the left half-space between Mendy and Thomas to receive the ball from the Frenchman. This forced Dendoncker to step forward and pressurise Maddison, leaving space for Tielemans to advance behind him and operate from a more advanced area. In other scenarios, Praet moved into Maddison's former position instead of Tielemans. From here, Boly had little choice but to close the receiving player down, leaving Vardy in a more spacious position to run in behind. However, Boly's pressure usually forced Tielemans to use Thomas or Justin on the wings, and Leicester were forced to cross or recycle possession.
Wolves' front three rarely applied pressure to Leicester's build-up until they crossed the half-way line. Podence and Neto monitored Fuchs and Fofana, with Dendoncker, and less commonly Neves, stepping up to support the pressure by following Mendy. Mendy's open body angles upon receiving the ball allowed him to turn out and away from the opposing defender in areas where losing possession could have led to dangerous counter-attacks. Wolves' defensive shape wasn't so much a flat 5-4-1, rather a 5-2-2-1, as Neto and Podence often lingered in advanced areas ready to counter-attack, and were noticeably unsure whether to drop back and pressurise Leicester's midfielders.
Leicester's outside centre-backs periodically carried the ball into Wolves' half to add an additional layer to their attacking structure. Wesley Fofana seemed especially comfortable on the ball, using his speed and strength to carry it forwards. Moreover, his releasing passes at the end of these dribbles were controlled and accurate despite nearby pressure. This also put an additional player in a position to surround the Wolves penalty area and stop attacking transitions or recycle possession if the ball was cleared. When Fofana hadn't advanced, James Justin would commonly carry out this task of occupying an attacking position with defence in mind, especially when Dennis Praet moved out wide. Justin made the two-man chain of Mendy and Tielemans into a three, allowing them to control a wider area of the field. Leicester were unable to generate chance after chance, but through these controlling measures, Wolves were unable to offer a real threat.
Stifling the Space
There were a couple of moments in the first-half where Wolves regained the ball and moved it up-field with tempo, and Praet and Maddison were caught out of position. This forced Tielemans or Mendy to assist the wing-back in defending wide areas. But Wolves' lack of urgency from these positions made it easy for Leicester to recover into their shape and prevent any further progress. Although Brendan Rodgers has dialled down the notch on his side's pressing this season, the Foxes were reasonably aggressive in applying pressure to Wolves' build-up inside their own half. When Wolves sporadically progressed across the halfway line, Leicester moved into a 5-4-1 structure. The visitors' primary method of progression was through their wing-backs, so the combination of Praet and Justin on the right or Maddison and Thomas on the left were able to close them down quickly and force them backwards or sideways. Otherwise, Leicester's midfield quartet was very horizontally compact, so Leicester's shape briefly became a 4-5-1 if the midfield couldn't shift quickly enough during a switch or circulation across Wolves' back line with the wing-back stepping into the midfield line.
The key to Leicester's solid defensive performance was their vertical compactness between the defence and midfield. As Wolves approached Leicester's penalty area, Mendy and Tielemans dropped to leave barely five metres between themselves and the centre-backs, with Praet and Maddison moving centrally. Although they moved inside, Leicester's midfielders were happy to sit off Neves. He barely had any passing options going forward as a result of Leicester's suffocation of space, and he was often forced to use the wing-backs. Neto and Podence had a great deal of positional freedom to roam across the width and depth of the pitch to receive the ball and make connections with teammates. This included moving out of Leicester's structure completely to make combinations with the wing-backs, or even into central midfield to provide a short passing option for Neves. Even Jimenez occasionally roamed away from the striker position just to touch the ball. Dendoncker commonly moved into the forward line alongside the front three looking to exploit the gap between Fuchs and Thomas if the latter was occupied with Semedo. Semedo's runs on the outside of the youngster were the away-side's best route into threatening areas, although timing passes to him in behind Leicester's defence proved difficult. Even if he was picked out, he had limited options to progress from these wide areas because of Leicester's defensive numbers in the centre.
Second-Half Surge?
Nuno's side pass the eye-test in being noticeably more expansive in their second-half performances, and the numbers support this too. Last season, Wolves were nineteenth in Premier League first-half results, but third in second-halves. After their risk-averse first-half, such an improvement was expected in this game, but it never quite materialised.
The only situation where Leicester didn't have the defensive numbers to stop the visitors in their tracks were defensive transitions. As their number of counter-attacking opportunities slowly increased as Nuno's side opened up, Adama Traore was introduced just before the hour mark, earlier than he has come off the bench in recent games. In an effort to stop his almost unstoppable dribbling capability, James Justin, who had switched to left wing-back after Albrighton replaced Thomas at half-time, moved wider to try and show him inside. Yet, even with the assistance of Maddison (and later Barnes), Traore still exhibited his potential to get into crossing positions or win corners single-handedly with what limited opportunities he had. He set-up seven goals for Raul Jimenez last season, and in combination with Diogo Jota's departure to Liverpool, the Mexican has been left increasingly isolated. Traore's removal from the starting line-up is primarily due to the Spaniard and Semedo's supposed incompatibility, which became apparent when both occupied the right-wing after Traore's introduction.
Until Traore was introduced, Justin's switch to left wing-back could have been a move by Rodgers to defend Neto's movement inside by utilising Justin's stronger right foot. The Englishman has also provided an ample attacking threat from this position for Leicester this term, regularly attacking the box when Castagne, or in this case Albrighton, was in a threatening crossing position on the opposite side. Consequently, Maddison/Barnes rotated into the three-man chain with Mendy and Tielemans to stop counter-attacks. Barnes' pace helped deal with the threat of Semedo and Traore in the latter stages of the match.
Conclusion
Rodgers' more proactive and organised system out-controlled their disciplined opponents. The challenge remains for Nuno to find the balance in being a team that's hard to break down, but also an expansive, possession-oriented team. The positive steps taken forward over the last two seasons have failed to be taken further this campaign.
The home team were fortunate to score through a contentious VAR decision leading to a penalty, but it can't be argued against that they outplayed Wolves and deserved to win. The Foxes go into the international break top of the Premier League, and face their toughest test of the season up next in the form of Brendan Rodgers' former employer and current champions Liverpool at Anfield.