How Lopetegui led Sevilla to another Europa League win
Julen Lopetegui's arrival at Sevilla ahead of the 2019-20 season provided a welcome opportunity for both Sevilla and Lopetegui to re-establish themselves within Europe's elite. Lopetegui having almost a full season's break following embarrassing dismissals at Spain and Real Madrid had a point to prove against many doubters.
Whilst Sevilla, who had endured a two year absence from the Champions League, saw this as a perfect opportunity to compete once again on the highest stage. The plan worked perfectly, with the 2019-20 season concluding with Sevilla as Europa League winners and gaining domestic qualification for the Champions League. This piece looks to examine how Lopetegui has guided Sevilla's revival, analysing the pivotal tactical strategies and implementations that have been integral to their success in the process.
Fluid Build Up Strategies
Lopetegui's mantra is based upon possession, with build-up play from the defensive third an integral aspect of controlling and dominating the game. However, there is a vast array of fluidity to the positional and tactical responsibilities within their preferred 4-3-3 formation with many adaptations to Sevilla's strategy based upon vital elements such as the state of the game and the influence of the opposition.
Their most used structure is as below, within a fluid 4-3-3 system as used against Manchester United's 4-2-3-1, though the positional structure is flexible throughout build up to create overloads in wide areas which is the main area that Sevilla look to progress through. The primary defensive unit begin in a deeper start position than a conventional 4-3-3 used by the likes of Manchester City, this allows the opposition's first pressing line to be drawn out, creating more space for Sevilla's midfield and wingers to receive beyond the opposition's midfield line and thus for Sevilla to break the first and even second line of the opposition's press an increased proportion of the time. In specific focus upon the full-backs, Navas retains a much deeper position than Reguilon on the opposite side for specific reasons to be highlighted later on, though both full-backs ensure that from a technical perspective they are in a position in order to break the opposition press, this is the first option to play out should it be available.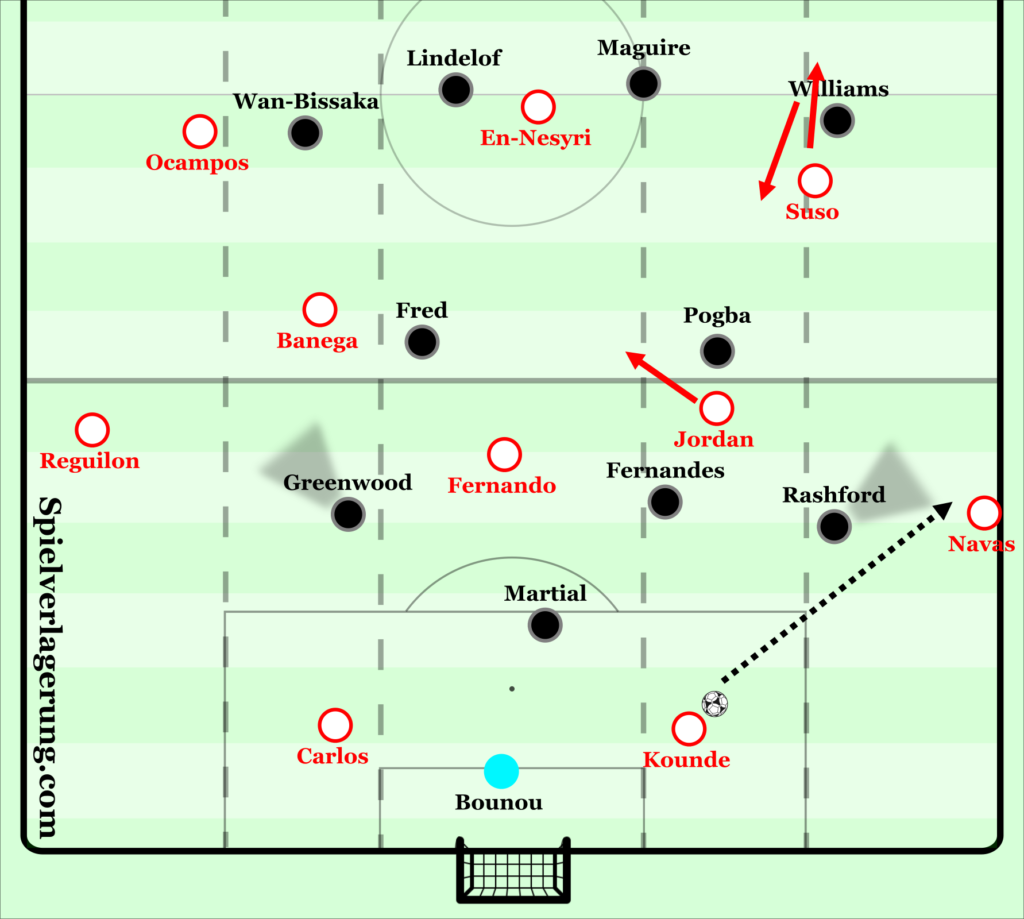 If not, Navas' deeper position allows the potential for combinations with Suso to create opportunities to progress up the pitch. Upon the trigger of Kounde receiving, Suso will create a sharp movement (at times a double movement dragging his marker away before dropping deeper into the half-space) to create a vital gap of distance between himself and the defender, with the space vacated by Jordan making a simultaneous decoy run inside midfield to take away central midfielders (Fernando & Pogba in this instance), both combining to create follow-up actions that allow Sevilla to break out.
The first opportunity from this movement encompasses the pressure of the opposition full-back, if Suso's movement is unsuccessful in relieving him from direct pressure to receive from behind or if pressure is heavier on his right-side (away from Navas), then he will be forced to receive on the front foot with his body orientation limited to facing back to goal. However, Navas' start position outside of Rashford's cover shadow and off his back shoulder in a "blind spot" allows a 3rd man run to be made upon this pass from which Rashford is unable to recover, creating a 2v1 against Williams. Upon this eventuality, if Williams looks to engage upon Navas it allows Suso to exploit the half-space beyond and in doing so generating a pattern of build-up that breaks all of Manchester United's defensive lines within 4 passes. Alternatively, if Williams stays within a structured shape, Suso and Navas can utilise overlapping and underlapping runs to isolate Williams into a 2v1 and once again develop a successful scenario to penetrate.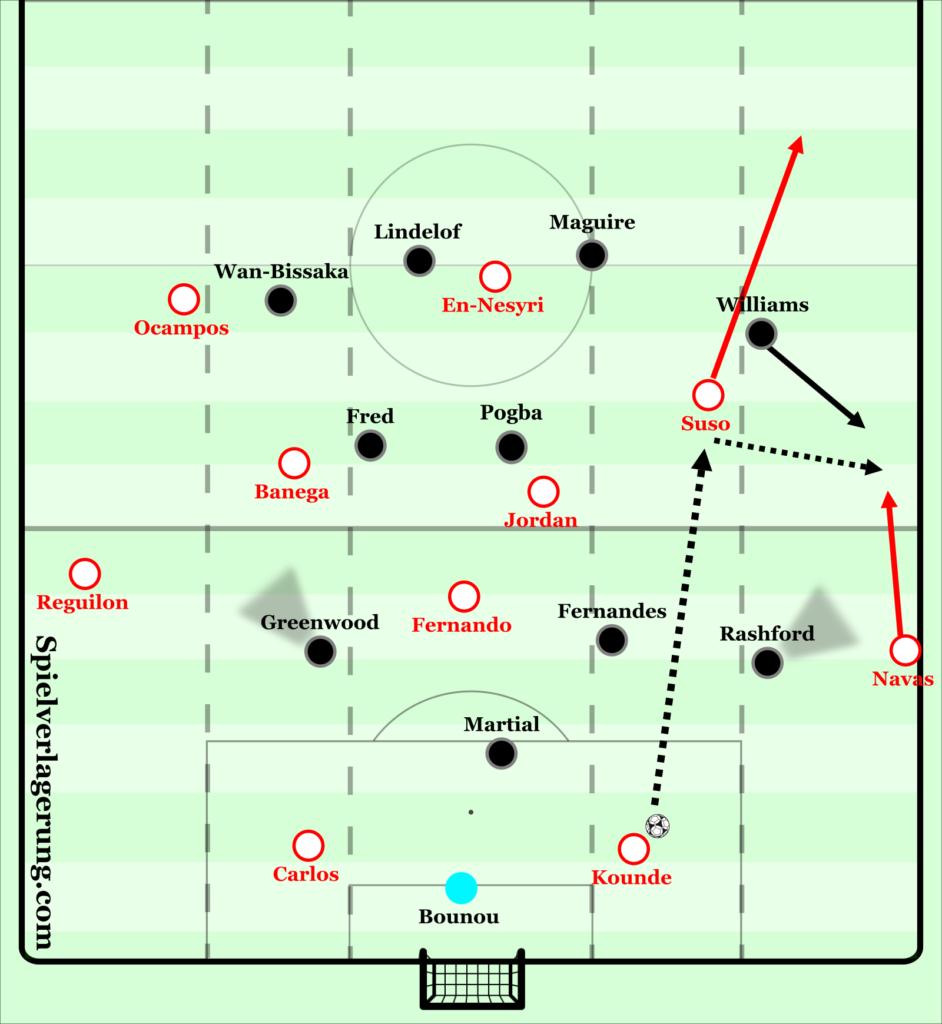 This does not consider the role of Jordan's decoy run though, with even more possibilities available from the initial structure and movements. Upon the eventuality that either Rashford is able to cover Navas' 3rd man run or even the pressure from Williams is heavier on Suso's left side (closer to Navas), it may provoke the opportunity to snap possession inside on the front-foot upon receiving by utilising the space vacated by Jordan's run to take away Pogba to drive inside and create the opportunity to switch possession to the 3 man triangle created by Reguilon/Banega/Ocampos. This becomes more possible based upon the weight of pass and subsequent detail on the pass provided by Kounde, a firmer pass encourages a bounce pass on one touch as in the prior action where as a lighter pass encourages Suso to either open up on his back foot (not possible in this scenario) or receive into space as in this state. This proves consistent with Sevilla's funnelling of build-up in wide areas and helps to avoid a congested central area, which is subtly under loaded given Banega's movement in wider areas (explored in more depth later on).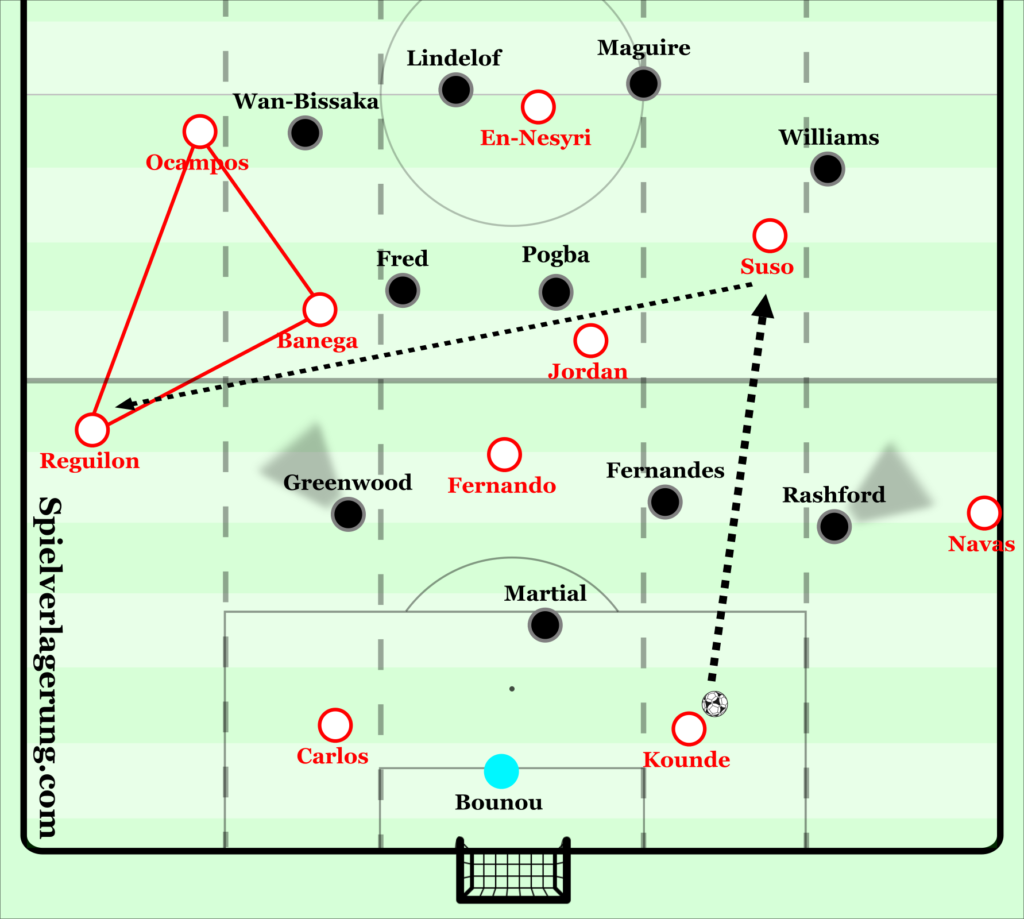 The other pertinent consideration within this micro-focus upon receiving and movement is the unpredictability it provides Suso and similarly to Ocampos on the opposite side, both of the above scenarios are possible upon receiving on the front-foot, but should he devise the space between himself and Williams it also provides the opportunity to open up his body, receive on the back foot and invite the possibilities of threading possession directly through to runs beyond the opposition's defence by Ocampos/En-Nesyri. This poses direct struggles for the opposition as it is impossible to prevent a multitude of outcomes and allows Suso to choose the correct solution, subconsciously indicated by the location of pressure by Williams (left/right) as well as the state of the game upon the pass with the influence of Rashford/Pogba. This rather provides a range of solutions for Sevilla to build-possession within largely the same positional structure, though it is dependent upon intelligent receiving skills under pressure from opposition.
Despite this, if Sevilla are unable to penetrate the opposition in these ways, there are further ways in which they will look to adapt their positional structures, consistent with the theme of creating numerical overloads to break the opposition's pressing and/or midfield line. As mentioned in the prior paragraph, Reguilon retains a higher position that Navas for specific tactical reasons. Firstly and more simplistically, if the ball can be switched across through Carlos to Reguilon he is closer to Ocampos and Banega who can combine on the left-hand side through fluid overlapping and rotational movements between the three to create opportunities. This puts Manchester United on the back-foot, with a combination of runs across the defender, overlaps and underlaps used to disrupt Wan-Bissaka and create the opportunity to play past him. This drags the rest of the defensive structure out of position, increasing the distances between them and causing Lindelof to be drawn out into an uncomfortable wide area to defend. Once again, allowing Sevilla to break out from their build-up structure and beyond the opposition through numerical overloads in wide areas.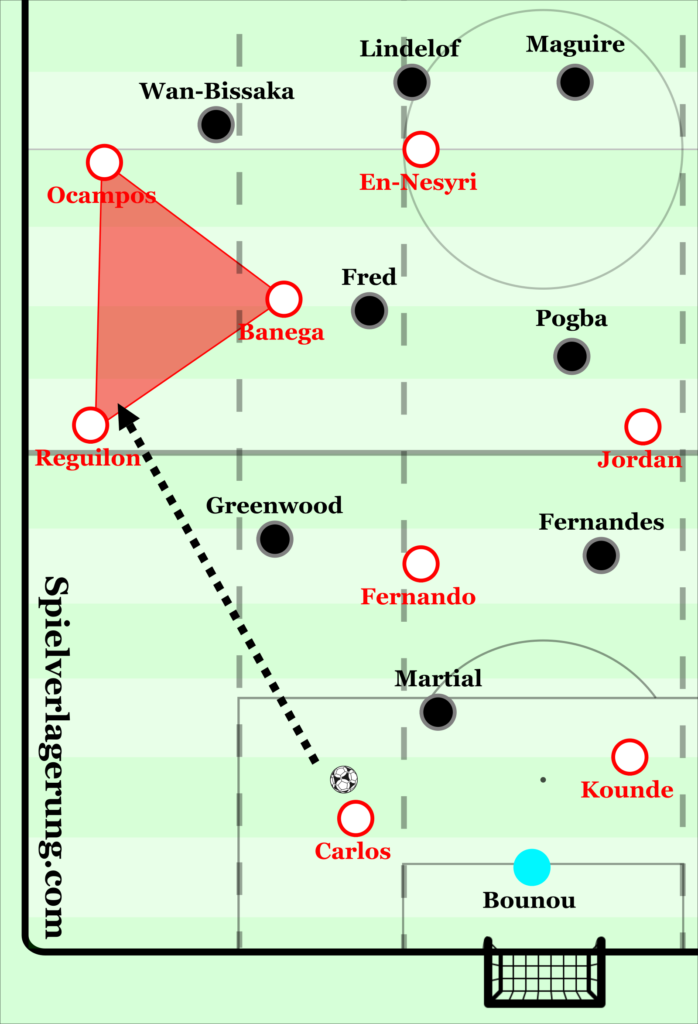 However, in a more interesting proposition from a tactical perspective, it allows the vacated space to be occupied by Banega with his ability to roam freely, who momentarily becomes a false full-back to push Reguilon higher, creating a dilemma for opposition who play with a lone winger as shown within a 4-2-3-1. The fluid positional movement of Banega helps to create an overload enabling Sevilla to play through the opposition in the first and second instances. When possession is with Carlos, if Greenwood looks to engage upon Banega, then the pass to penetrate into Reguilon is available creating a 2v1 with Ocampos against Wan-Bissaka, though if Greenwood drops to front-screen Reguilon it enables Banega to receive and drive forwards, only delaying Sevilla's progression and still maintaining a 3v2 with Banega/Reguilon/Ocampos against Greenwood/Wan-Bissaka. Furthermore, Banega's two-footed ability is also a vital technical component in this aspect, if pressure is applied from his left (curved run from Greenwood) he can play inside into midfield, but if Martial applies pressure he is able to receive across the body and play into Reguilon, opening up the possibilities further. It must also be highlighted that Sevilla seized upon Greenwood's naivety in this aspect, he often stayed half and half between Banega and Reguilon, cutting off neither and failing to restrict Sevilla's progression and ability to break United's midfield line. Furthermore, Ocampos' movement only tormented this side of United's press even more, if Greenwood was dragged out too wide he would drop deeper into the half-space to receive (producing the opportunity to combine in a variety of follow-up actions in the same manner as with Suso on the opposite side), creating triangular combinations between the three.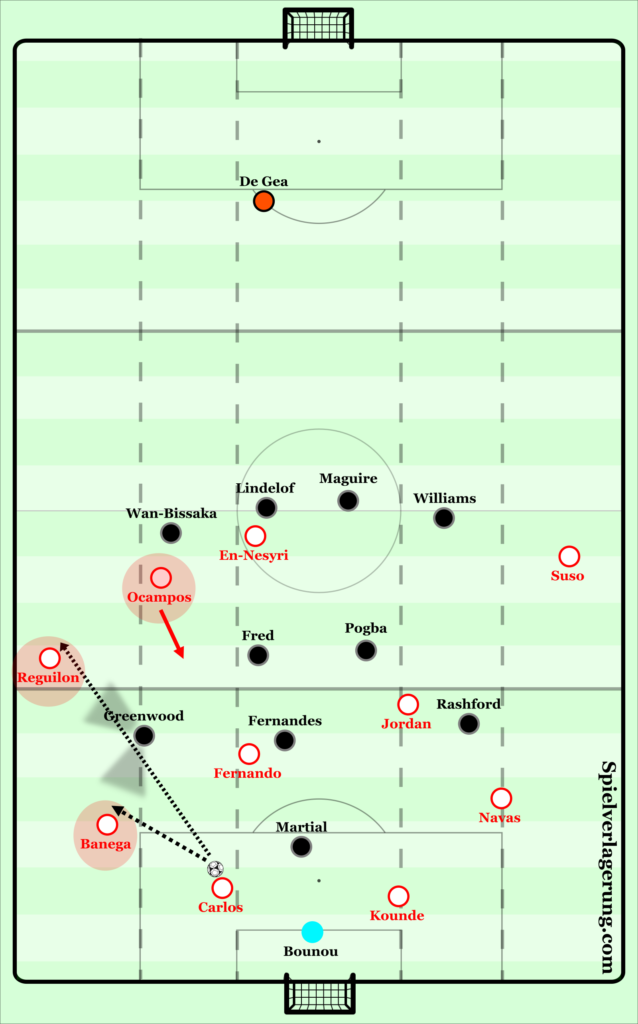 Modifying to Combat Opposition Systems
The above depictions of Sevilla's approach reside with an idealistic framework, if the opposition's tactical systems allow these to work then they will be used successfully to build-up play, although this cannot be the case all of the time, therefore there are tactical adaptations that Lopetegui has used to combat alternative systems.
The first to consider is their approach against a high press 3-4-2-1/3-4-3 as used by Roma in their Europa League tie which prevents Sevilla's deep numerical superiority. Sevilla's back four dropped extremely deep, to the extent that Kounde and Carlos were deeper than Bounou taking the goal-kick with Reguilon and Navas rarely starting further than half way up their own penalty area. A similar theme was evident within midfield, with Banega and Jordan dropping into a deep double-pivot on the edge of their area whilst Fernando linked the midfield and attacking lines in a more advanced position. The conceptual idea from Lopetegui was once again to draw pressure from the opposition, but this time in extremely deep areas in order to create opportunities higher up the pitch. As shown below, Roma engaged upon Kounde receiving possession with Mkhitaryan curving his pressing run to force onto play into Navas, as this ball was played Spinazzola used this as a trigger to engage upon Navas with a clear intent of forcing play long or into midfield areas as Roma were effectively locked into a man-man press centrally. Although, the depth of Navas posed issues for Spinazzola who couldn't travel effectively enough to press quickly and curve his pressing run to restrict the opportunities available. However, due to the high start position of Suso/En-Nesyri/Ocampos Roma's press was flawed. Upon Navas receiving, Suso made a deep run from which Kolarov had to follow or the press would be broken and thus render it ineffective, this allowed En-Nesyri to make a forward run into the highlighted zone to receive and set Sevilla in attacking transition, breaking all of Roma's defensive lines in the process.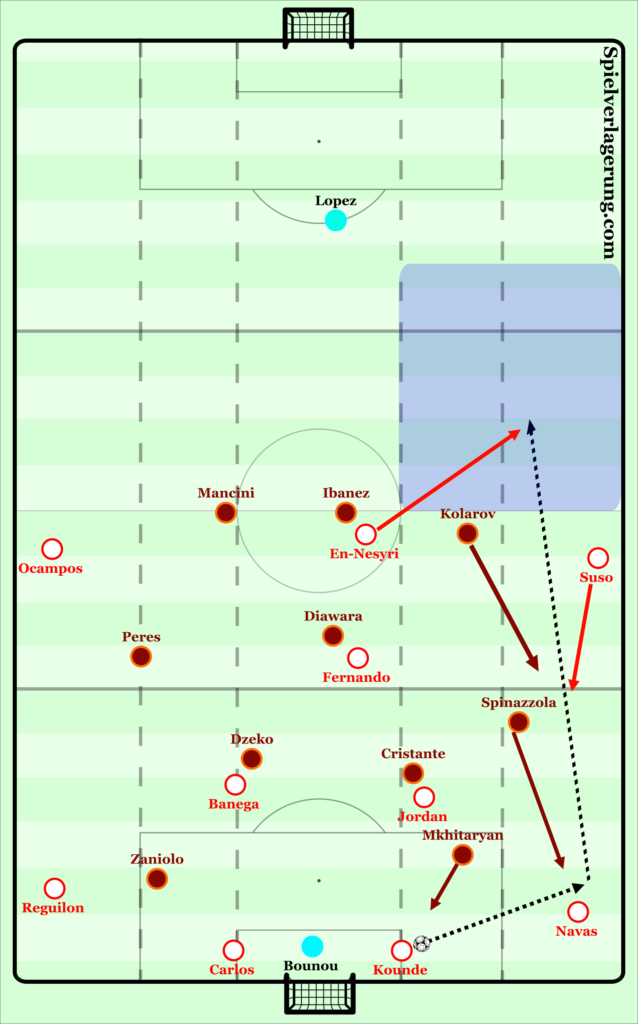 In the eventuality that Kolarov failed to press Suso due to Spinazzola's often straight and thus ineffective pressing run, Sevilla were also able to play past this initial pressing line, with Suso receiving in-behind Spinazzola and outside of his cover shadow. As a result, this then provided Suso with the opportunity to travel aggressively towards Roma's back-line, dragging them out of their structured shape and playing a pass beyond them to the forward run of En-Nesyri. This wasn't always successful but still exemplifies a variant of strategy by Lopetegui, at times Ibanez was able to shift across with enough speed to compete aerially with En-Nesyri and regain possession, though there were enough successful outcomes from Sevilla's perspective to warrant Lopetegui's successful manipulation of the opposition to create spaces to penetrate and exploit.
Equally, Lopetegui has also demonstrated an ability to vary Sevilla's approach in possession when playing against teams who drop into more defensive systems, such as against Wolves 5-3-2 medium block. Clearly assessing the danger that their Spanish opposition posed in attacking transition, Wolves rarely pressed with any real aggression rather favouring a more conservative approach that ensured they could remain in a compact defensive structure with a 5-3-2 out of possession that could see players shift across, protecting and screening spaces that Sevilla would look to exploit. As a result, Sevilla adapted to a 3-4-3 structure during elements of build-up with Fernando dropping into the space in-between central-defenders whilst Kounde and Carlos pushed wider into the half-spaces providing more depth and support in wide areas, though it must be stressed that Banega also takes up this role at times, serving an opportunity to rotate and disrupt the opposition's midfield structure. As a consequence of the adaptation, it frees up full-backs in Reguilon and Navas to be increasingly aggressive with their positioning, pushing much higher up the pitch beyond the opposition midfield line to break lines upon receiving, almost becoming a second winger so that in the event that possession is switched there can be quick combinations to exploit 2v1 scenarios against full-backs. An initial benefit of this structure is that it allows increased circulation and more importantly an increased speed of circulation due to its "U shape" with distances between central players becoming shorter, integral when facing an opposition that is in a defensive structure with the aim to shift the opposition and exploit the narrowness that they have within their structures. Secondly in the event of a successful diagonal switch of play, it invites the near-side half-back (outside centre-back) to support play more aggressively from deep as shown below by Kounde to create 3v2 scenarios even in the prospect that the opposition do manage to have a midfield transition across in time to delay Sevilla's progression.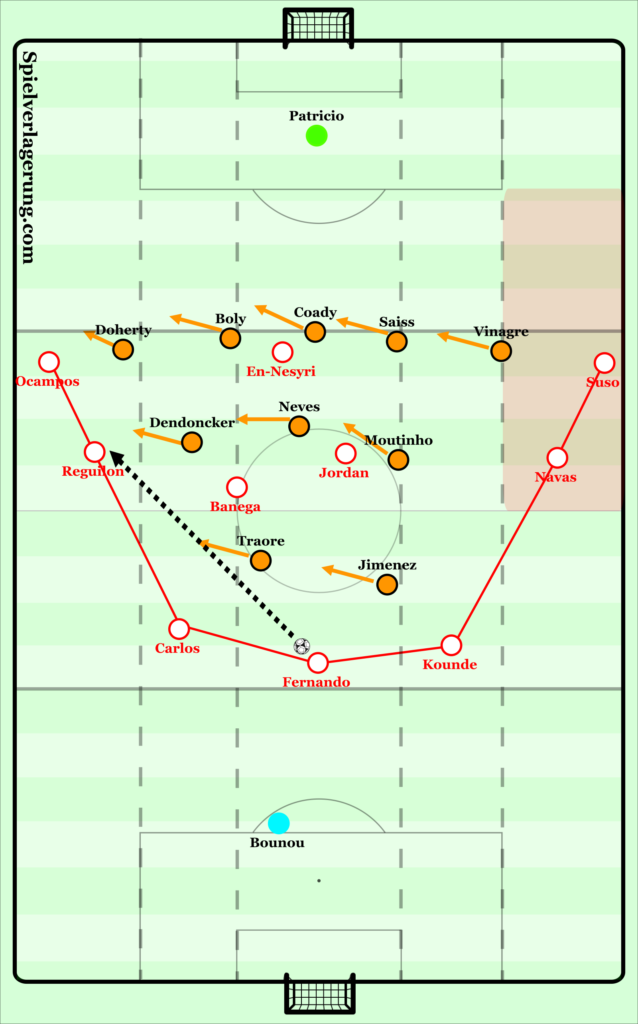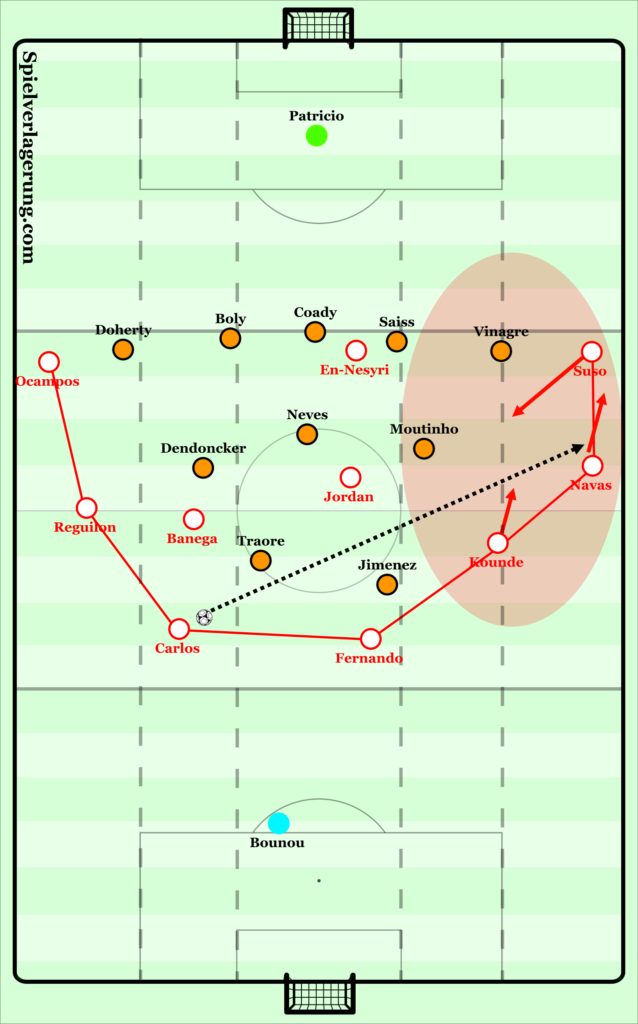 Upon this switch of play there are a variety of movements to that provoke exploitation of the half-space as well as the widest lane, with Navas taking a wider position and Suso dropping into the half-space. This sets up the opportunity for Suso to overlap Navas upon him bringing possession towards and into the half-space as a common pattern (an even simpler positioning of one in the half-space and widest lane would cause issues anyway), whilst En-Nesyri looks to occupy and deter Saiss/Coady with varying movements between the two – stretching in behind them to provide a penetrative vertical option and dropping deeper to disrupt their solid defensive structure. The combination of these movements enable the wing-back (Vinagre) to remain isolated within the 2v1 and thus creates the opportunity for Sevilla to progress deep into the final third with a crossing/cut-back available to create a direct goal-scoring opportunity upon progressing past him. This is based upon the premise that the diagonal pass is of sufficient weight to prevent the opposition's now near-side midfielder from applying pressure to Suso in the half-space and also Suso's ability to maintain a position beyond Moutinho. If not, Kounde can support from deep as mentioned before to draw Moutinho out and create the necessary space for a Suso/Navas combination as below. Another option would be for Sevilla to play directly to Kounde should he have the space to receive beyond Jimenez, this would draw out Moutinho as the nearest-man pressing option, creating the required space for Suso/Navas.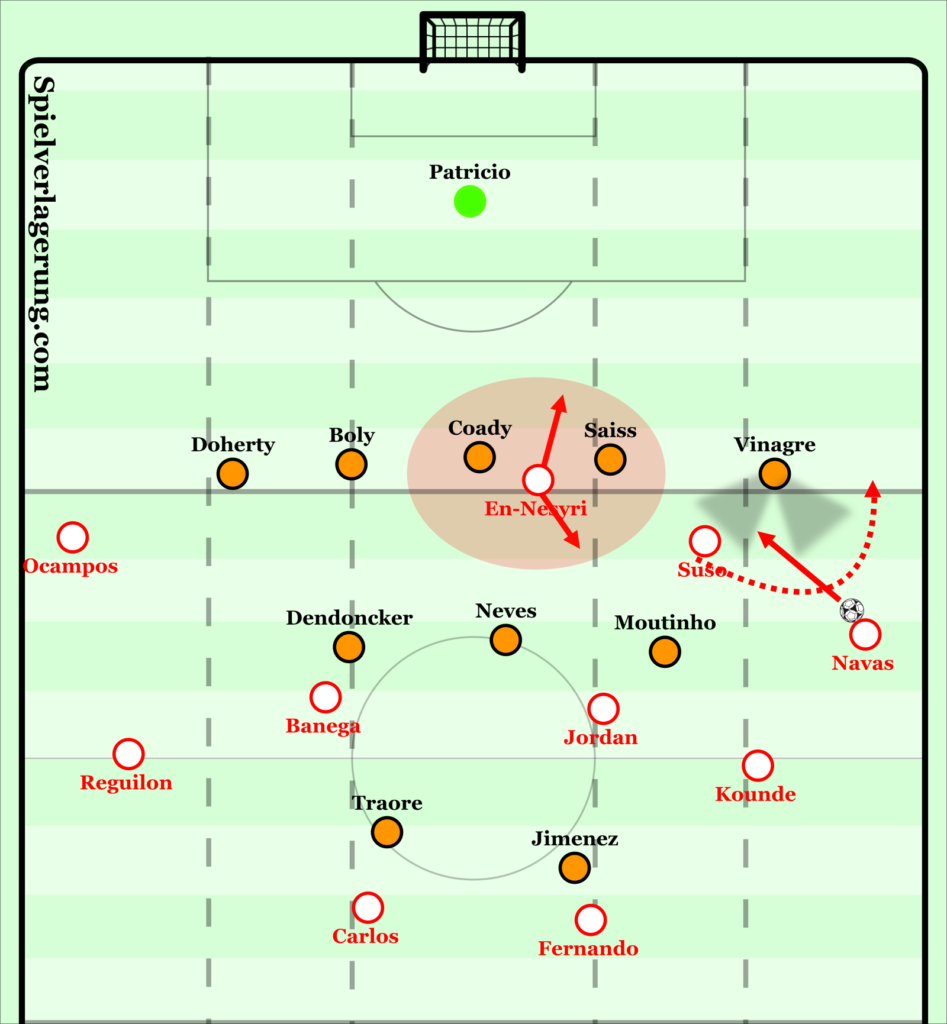 But…Sevilla can be caught out!
Despite the spectrum of tactical mechanisms that Sevilla have used to generate efficient and effective build-up play, they have been caught out with the most dangerous occasion against Manchester United. This was a very minor instance, but provides insight into triggers that future opposition could use to stifle Sevilla. As portrayed in the graphic below, Sevilla looked to play out quickly to generate an attacking transition through Kounde though players were unorganised with the midfield three emphasising a lack of availability to receive, all on similar horizontal lines and receiving in a closed body position with no spatial awareness as to open up their body, meaning possession was almost certain to go backwards anyway. Using this as an opportunity to counter-press, Martial and Pogba were able to lock onto a central 2v2, whilst Rashford and the recovering Greenwood attempted to front-screen the full-backs to limit opportunities to progress in wide areas. Upon the pass into Banega which albeit was poorly weighted and invited Martial to use it as a trigger to press, Martial intercepted and created a 3v2 opportunity to score and in truth one that should have been taken.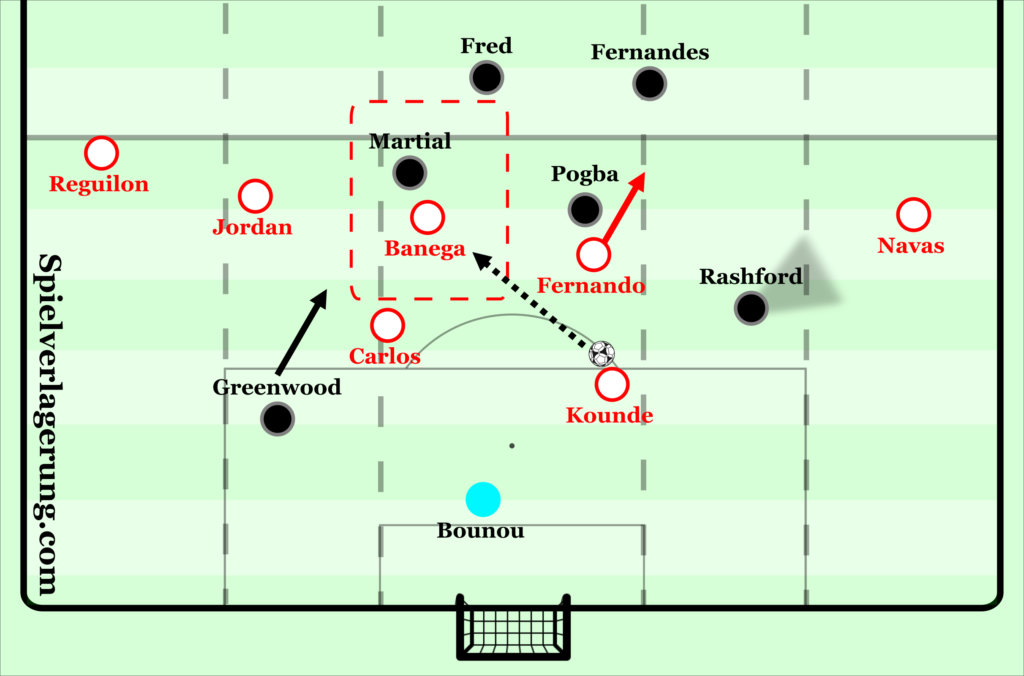 The singular occurrence of Sevilla giving up possession may seem to be of no importance, but in actuality it provides opposition an indication of where/when to counter-press as a trigger and catch Sevilla out when they are unstructured in their build up play, one that may have the potential to be used next season.
Movement & Rotations to Disrupt the Opposition
In addition to the strategies highlighted above, the second keystone of Lopetegui's philosophy is the movements and rotations by individuals and units of players to disrupt the opposition and ensure that Sevilla remain a team that can dominate and penetrate the opposition when in possession, both in isolation and in combination with the prior identified approaches.
The first of these is the vertical 3rd man movements by central midfielders that are used upon the triggers of Banega receiving in the false full-back role. As depicted below, upon Banega receiving either Fernando or Jordan will make a forward 3rd man run beyond the opposition's deepest midfielder, into a position that would break the entirety of the opposition's midfield line, thus allowing Sevilla to break out from their defensive third and develop dangerous attacking situations. The quality of this is sublime, with Banega able to direct pinpoint passes from deep to penetrate the opposition, with the space created due to the deep positioning of Sevilla's midfield trio. Furthermore, this movement is also used within Sevilla's play in the same manner with the addition of a bounce combination through Reguilon who drops in deeper than usual when Banega positions as a false full-back to create space for the desired movement. Upon the same trigger of Banega receiving, one of the previously mentioned midfielders will make the same run, but this time Banega will play through Reguilon with a one touch bounce pass to change the angle and direct a more diagonal pass past the opposition's midfield. The adaptation of combination is often subject to the specific pressing approach of the opposition, as mentioned Banega is two-footed so if the opposition press with a curved run out-in then he will play off his right-foot into Fernando's 3rd man run (as Reguilon is in effect cut off). However, if pressure is directed outside-inside or even more intensely applied (as in a double-press) it will provide Banega not only the opportunity to play into Fernando off his left but also through the change of angle via Reguilon. It may seem a minor perspective to look at, but this presents the opposition to reduce Banega's influence and make his (and Sevilla's) play more predictable – something that isn't easy to do at all.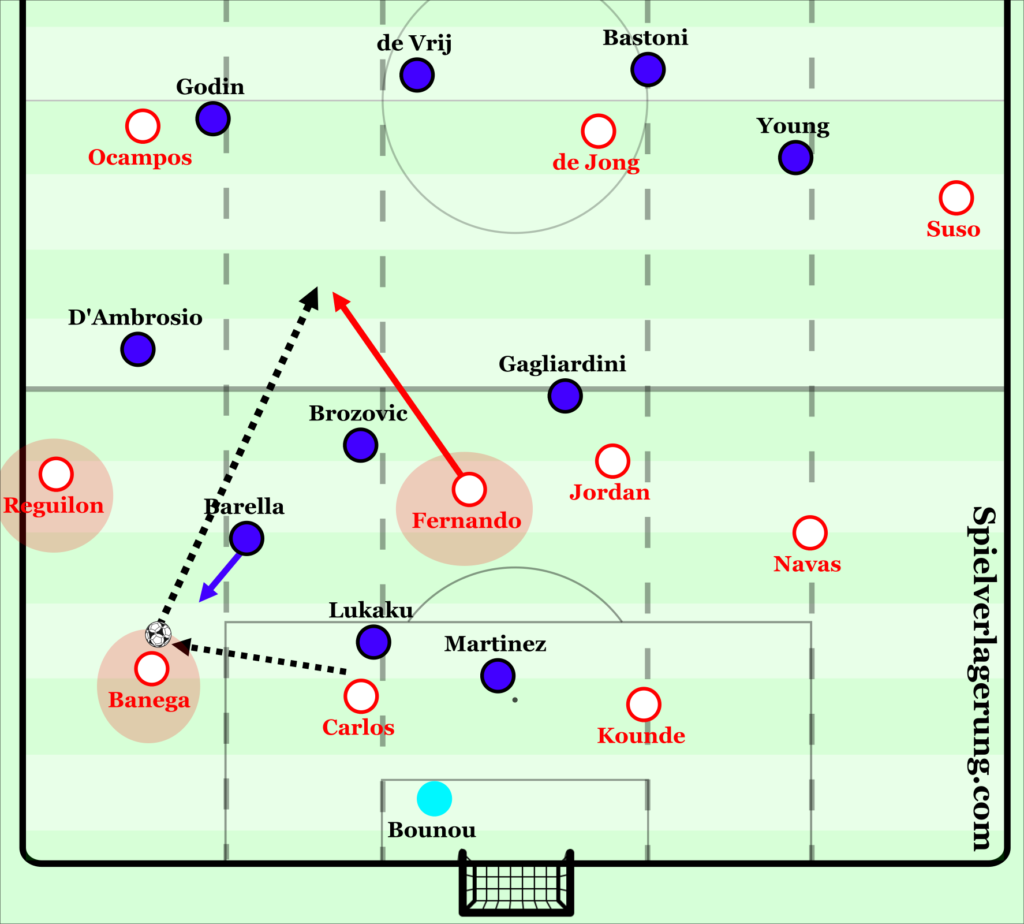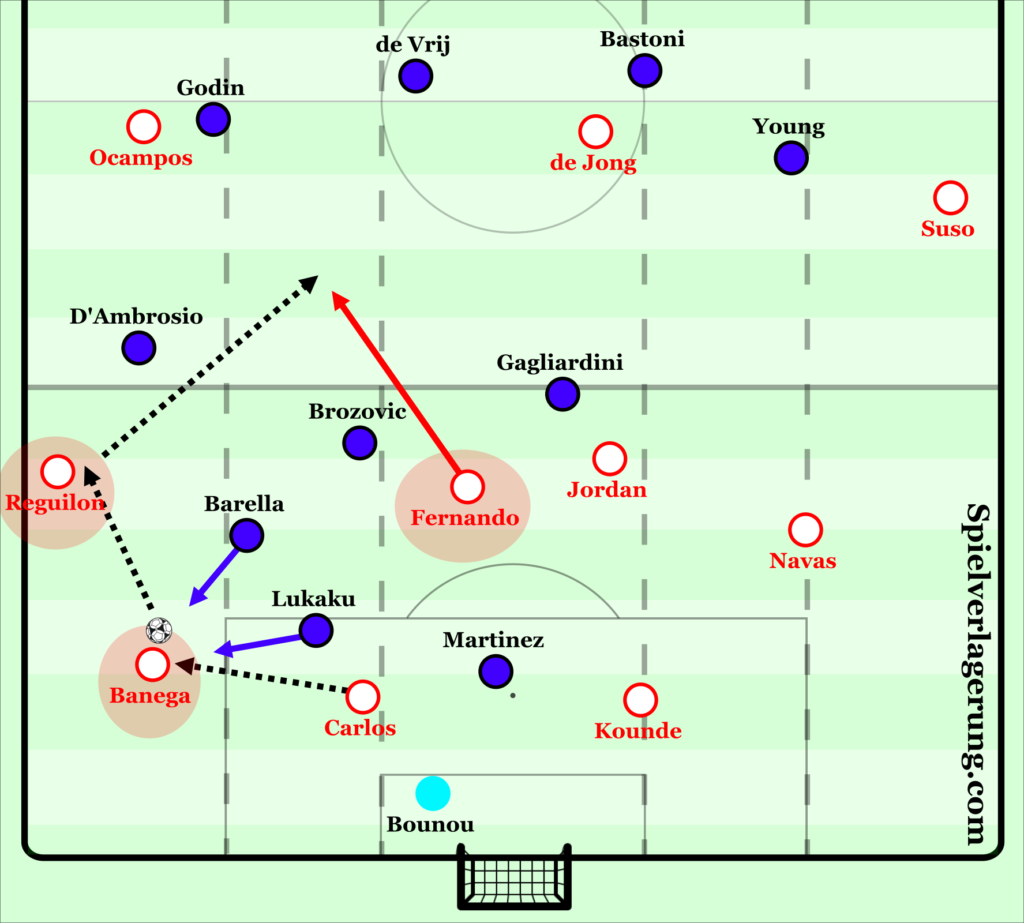 The consequence of this movement is a developing attack that creates a further opportunity for a numerical overload in Sevilla's favour in a more advanced position, on paper it creates a 4v4 though with movements by De Jong/Ocampos it can easily create temporary 2v1/3v2/4v3s dependent upon the decisions taken. Upon Fernando receiving, Inter's midfield line has been taken out of the game, with his momentum able to draw out one of Inter's back-line (admittedly this may take 10/15 yards to do so whilst Inter retreat and attempt to delay play). In the instance below this is de Vrij, which allows De Jong and Ocampos to make runs to exploit space beyond, with Ocampos running behind the back shoulder and blind-side of Godin to create the space for De Jong to run into the vacated space by De Vrij engaging with Fernando. Further across the back line, if Suso maintains his width it will also provide an opportunity to slide pass between Young and Bastoni who will inevitably shift across to provide balance with de Vrij stepping out to engage Fernando. This is without the consideration of 3rd man runs from midfield and potential influence of attacking full-backs adding to the attacking transition. Whichever way it is perceived, the initial 3rd man movement combined with Banega's false full-back role helps to develop this dangerous attacking transition.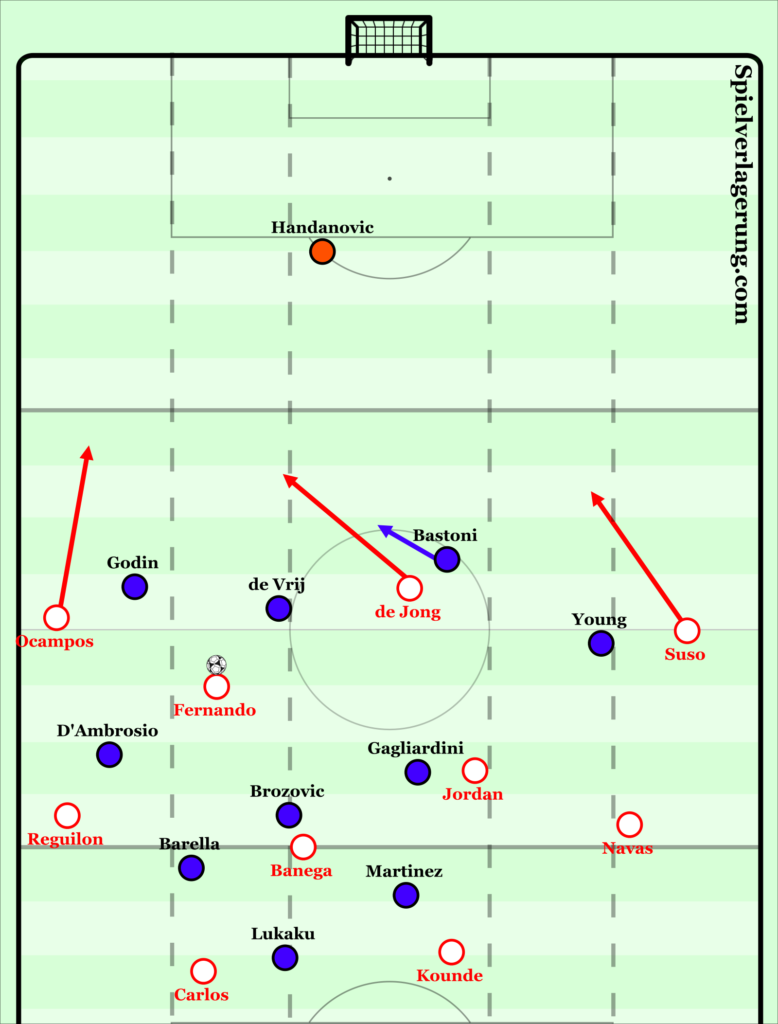 A second consideration is the horizontal and vertical rotation that occurs between full-backs and wingers in wide areas to create opportunities, as well as the freedom that full-backs are given to express their attacking intent, disrupting and confusing opposition shape in the process. The fundamental underpinning to this is that full-backs and wingers will rarely be positioned within the same lane across a theoretical five lane pitch whilst also never also stationing themselves on the same horizontal line in order to provide sufficient depth to combine between each other, as demonstrated within prior sections with reference to Suso dropping into the half-space to allow Navas to overlap in combination play down the right. Using this as a foundation, Sevilla's wingers will often position themselves in a starting position within the half-space and drop out to the widest lane upon their respective sided full-back receiving as a trigger, in order to drag away the opposition full-back (or outside centre-back of a back 3), creating an area within the half-space for the full-back to exploit. The premise of this seems simple, but with explosive full-backs it can be extremely effective as shown by Reguilon's goal against Roma below.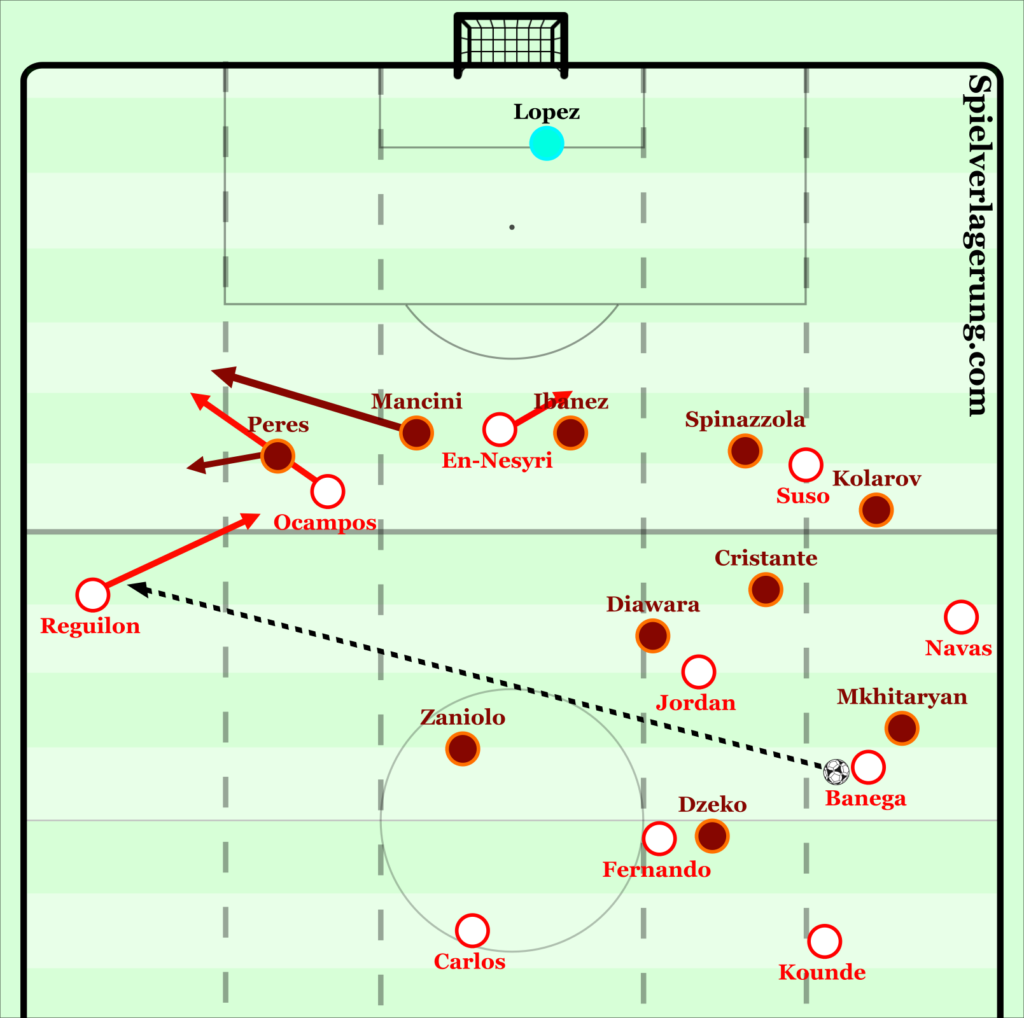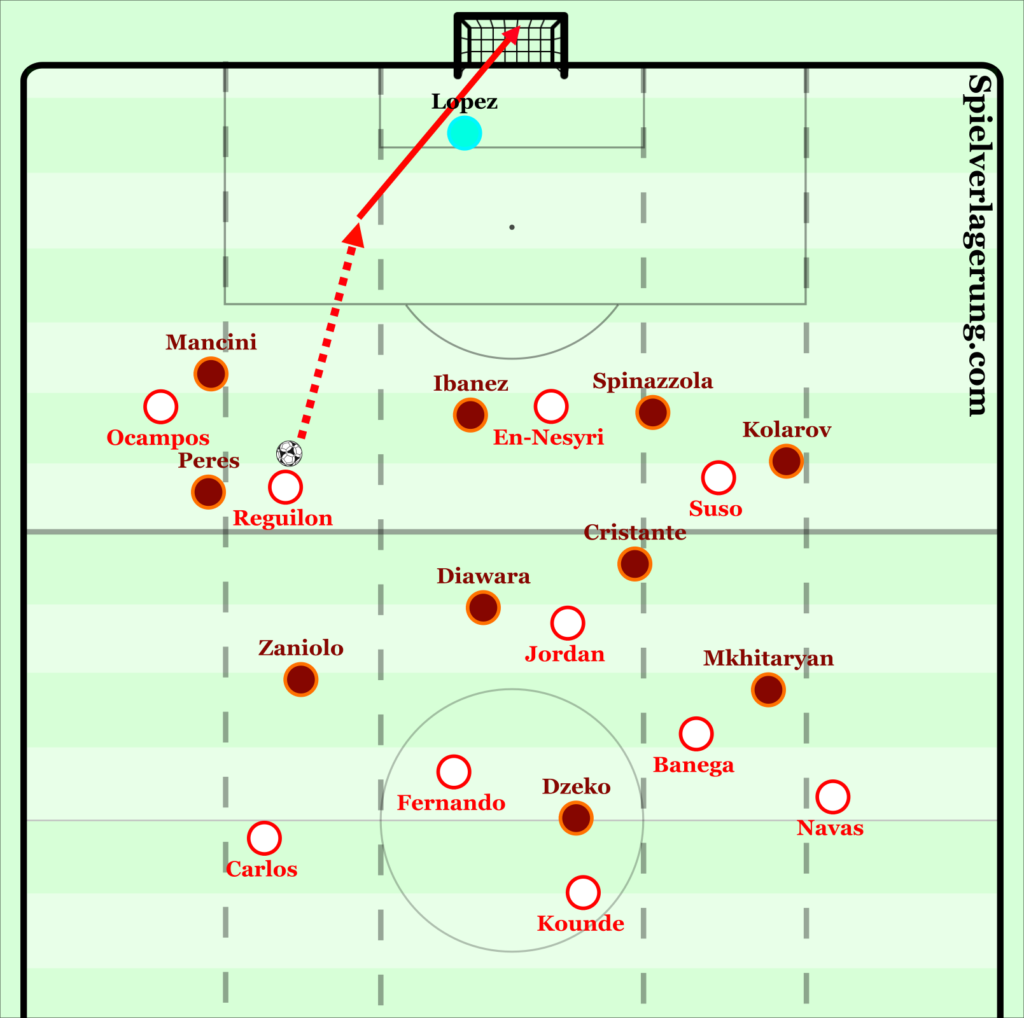 Additionally, Lopetegui provides full-backs with the flexibility to rotate with wingers from a positional perspective to disrupt opposition structures whilst also allowing them to make roaming runs that influence other areas of the pitch. The example below represents Navas and Suso's relationship in this manner, with Suso rotating positional responsibilities with Navas during build-up causing confusion to the opposition in the first phase of build-up. However, as play progress the pair maintain their positions, with Navas ultimately making a cross-field run in-between Roma's back three to create disruption and an opportunity to breach the space behind the opposition. The principle is simple yet disruptive as it enables Sevilla to attack with movements from a multiplicity of directions and depths, making it significantly harder for the opposition to predict and prevent.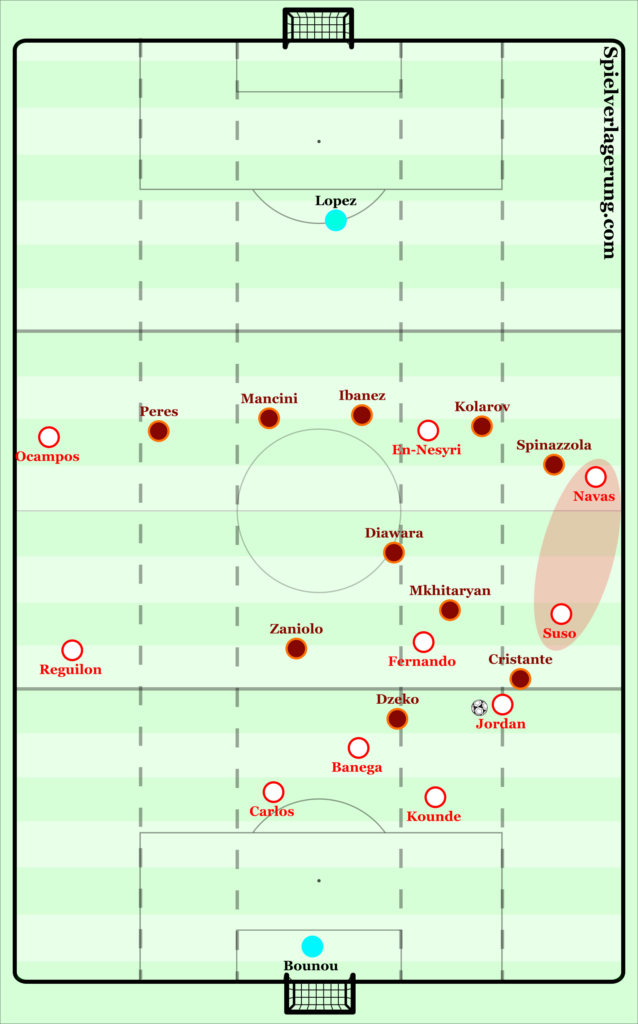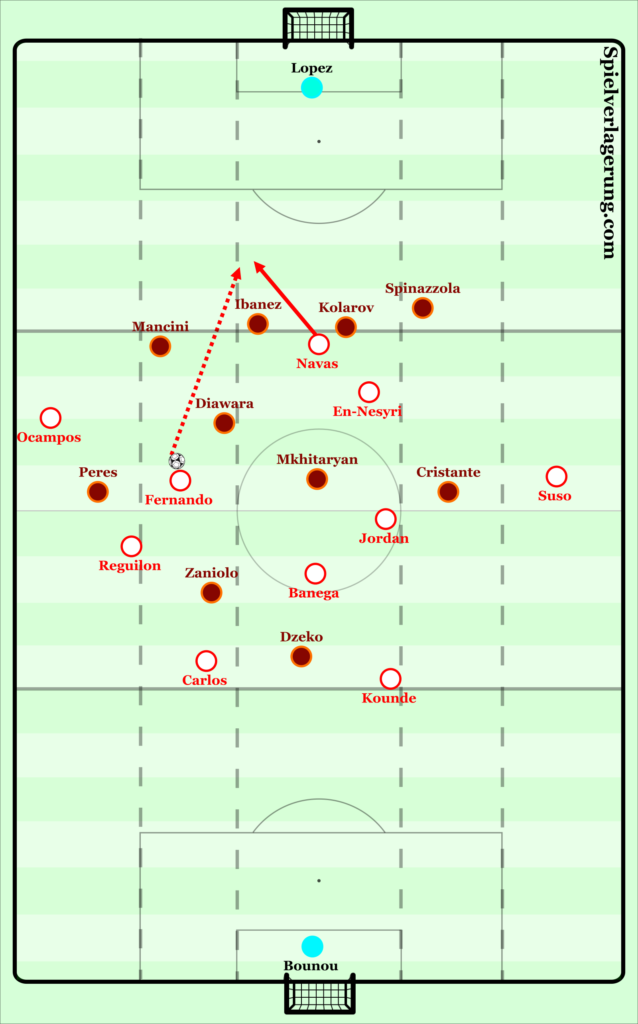 The final aspect to delve into from a movement perspective, is the fluidity of attacking players to roam into positions where they can create Lopetegui's sought after numerical overloads, with specific attention upon Banega and the front three. In direct relation to Banega, we have already considered the freedom that he is permitted within deep areas in order to drop into a "false full-back" and this freedom continues within advanced areas of the pitch. At times during the game, Banega will take up a similar position on the opposite side of the pitch to where possession is secured (both left & right even though Banega naturally gravitates towards the left), creating an overload in the event that possession is switched. When appreciating that Sevilla's full-backs and wingers also maintain the maximum width on the opposite side of the pitch at all times, this generates 3v1/3v2 scenarios in switches of possession – dependent upon the formation and ability of the opposition's midfield to shift across the pitch (with the example of Wolves below, it is particularly dangerous due to their narrow midfield three allowing a 3v1 against Doherty and opportunities to move into the half-space).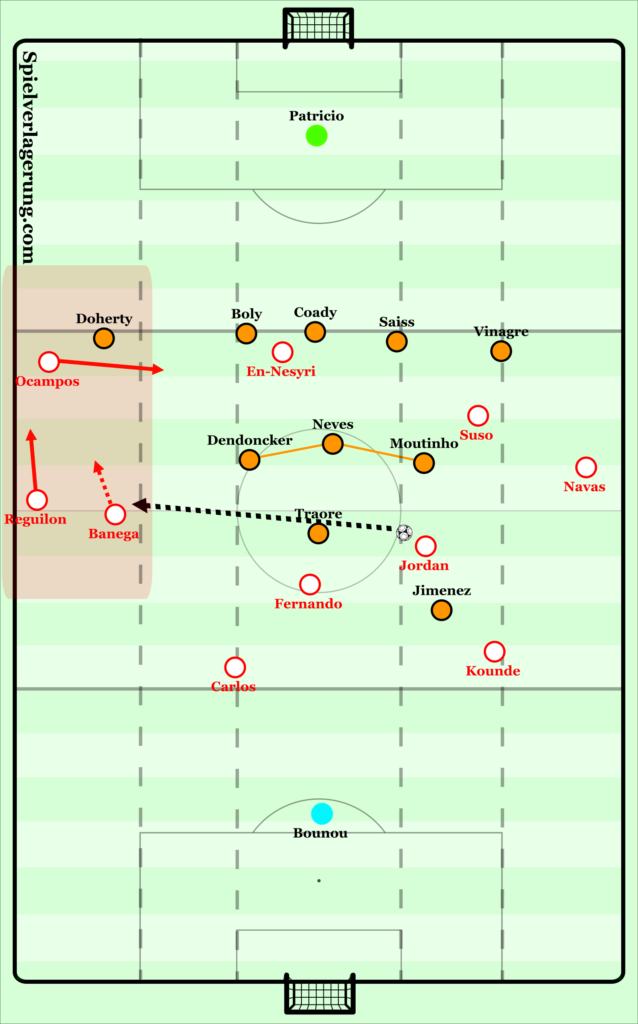 Advancing this further, upon Banega receiving Reguilon & Ocampos can then re-position to be within different lanes and receiving lines to encourage combination play upon the cue of Banega receiving and subsequently driving forwards. The often repeated scenario within this is for Ocampos to take up a position in the half-space as Reguilon positions himself as wide as possible, therefore as Banega drives forward and Doherty presses him, even considering that Doherty may cut off one of Ocampos/Reguilon in his cover shadow with a curved pressing run, there is still the successful outcome of penetrating in behind creating an opportunity to cut-back or cross. Meanwhile, En-Nesyri occupies the two near-side central-defenders as with before. Although, this is not to say this is stringent and there will be fluid rotations between the Ocampos/Reguilon/Banega through blind-side runs, overlaps and underlaps to name but a few. However, this is grounded in the principle that there will always be one of the three in the outside lane and half-space respectively in order to maximise space.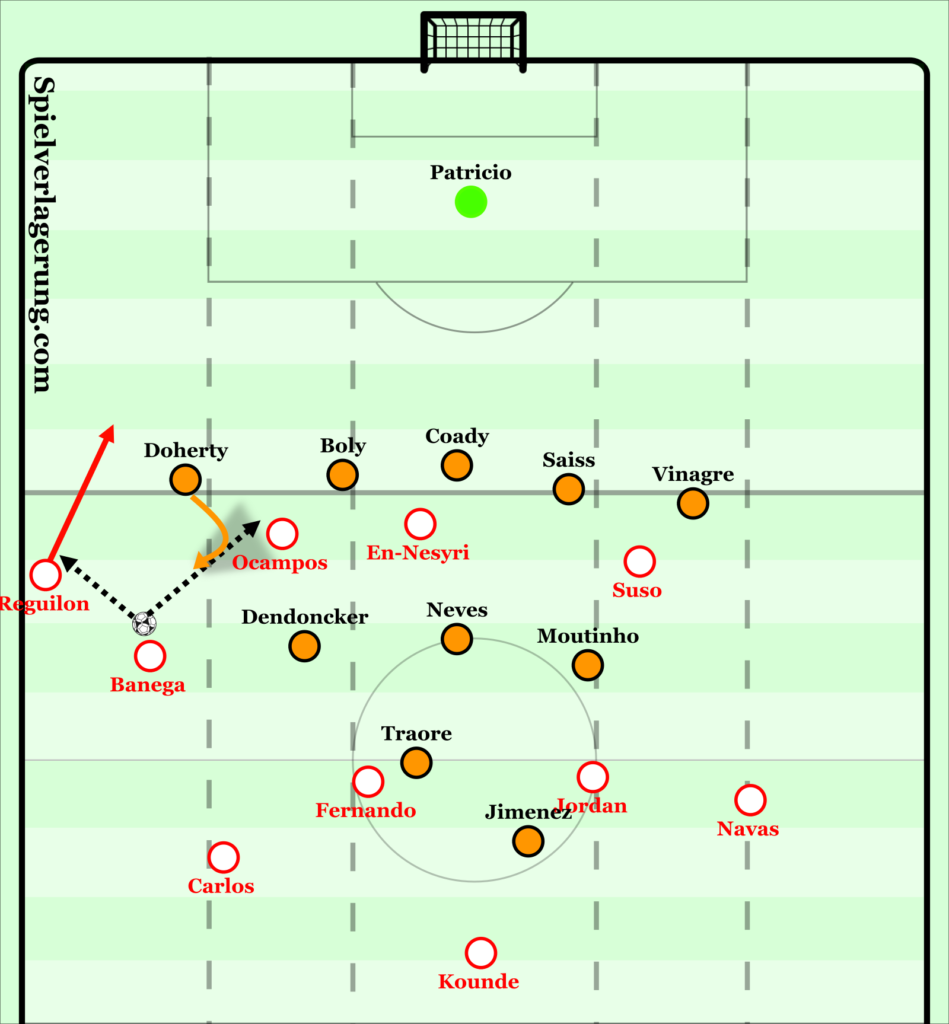 This autonomy is extended further to the front three, with their positioning presenting greater opportunities to create overloads against the opposition in offensive areas, almost to the extent of creating a "lobsided" approach to attacking play at times. The front three have the ability to move and position themselves wherever they feel they can create combinations to stretch and penetrate the opposition back-line, at times this will be within a traditional 4-3-3 shape (7 on the right outside lane/11 on the left outside lane/9 in the central lane), however at some moments during matches this will not be the case. As represented in the graphic below, within build-up all three attacking players will occasionally position themselves in the same area of the pitch, creating unbalanced overloads in the process and forcing the midfielders to find them in their newly positioned areas. This becomes increasingly difficult for the opposition to defend, with it unrealistic to expect the opposition's respective full-backs to follow their winger across the pitch to prevent the overload, providing Sevilla with sporadic moments during the game to attack with overloads in the final third. The pre-cursor for this is often a switch of play, e.g. within the graphic below, once play is played out to the left Ocampos will drift across to maximise the opportunity created by the overload as space can be maximised when shifting the opposition across with horizontal switches of play, increasing the distances between opposition individuals and units.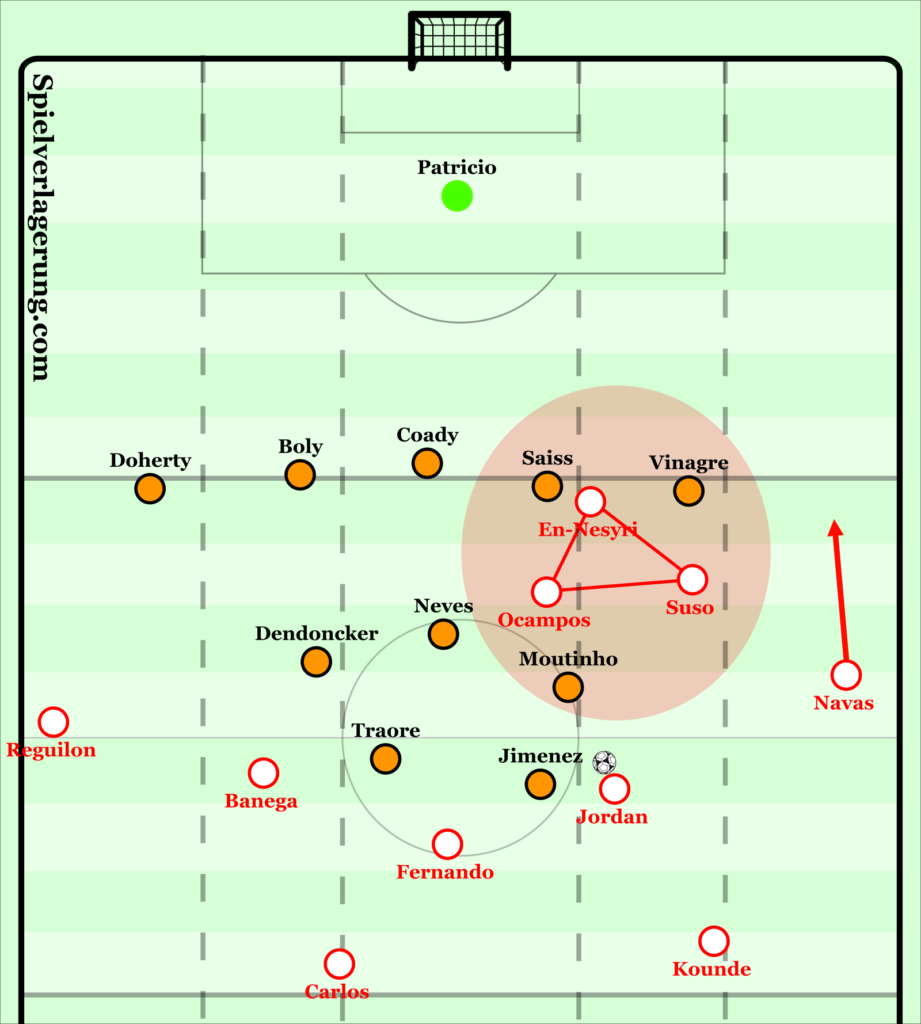 As one of the players within this "unbalanced overload" receives, the nature of their proximity allows them to transition quickly in different directions to utilise the overload they possess. The roles upon receiving are again flexible and all of the trio will likely interchange the movements they make during matches, but the following portrayal gives a sense of pattern in which Sevilla can break the opposition's defensive line from this positional set-up. For instance, upon Suso receiving and being applied pressure from Vinagre, En-Nesyri will make a curved run in-between Saiss and Vinagre to maintain his body orientation to receive at all times (either side of Saiss), whilst Ocampos will distance himself from possession in a position to receive in-between Saiss/Coady providing an opportunity to play between them. From here, Suso can either play direct into En-Nesyri should it be available, though the more likely outcome is that possession is played into Ocampos (in a position to play either side of Saiss due to both his and En-Nesyri's position) who can then play a pass in beyond Wolves back-line to the 3rd man forward run of En-Nesyri. Again, creating opportunities to penetrate the opposition's back-line from an initial development of an overload within build-up. This approach does not discount traditional front three rotations and these are evident within Sevilla's matches, with En-Nesyri often rotating with Suso and Ocampos in a simple switch of positioning, but this more flexibile approach does provide a more intriguing strategy to penetrative attacking play.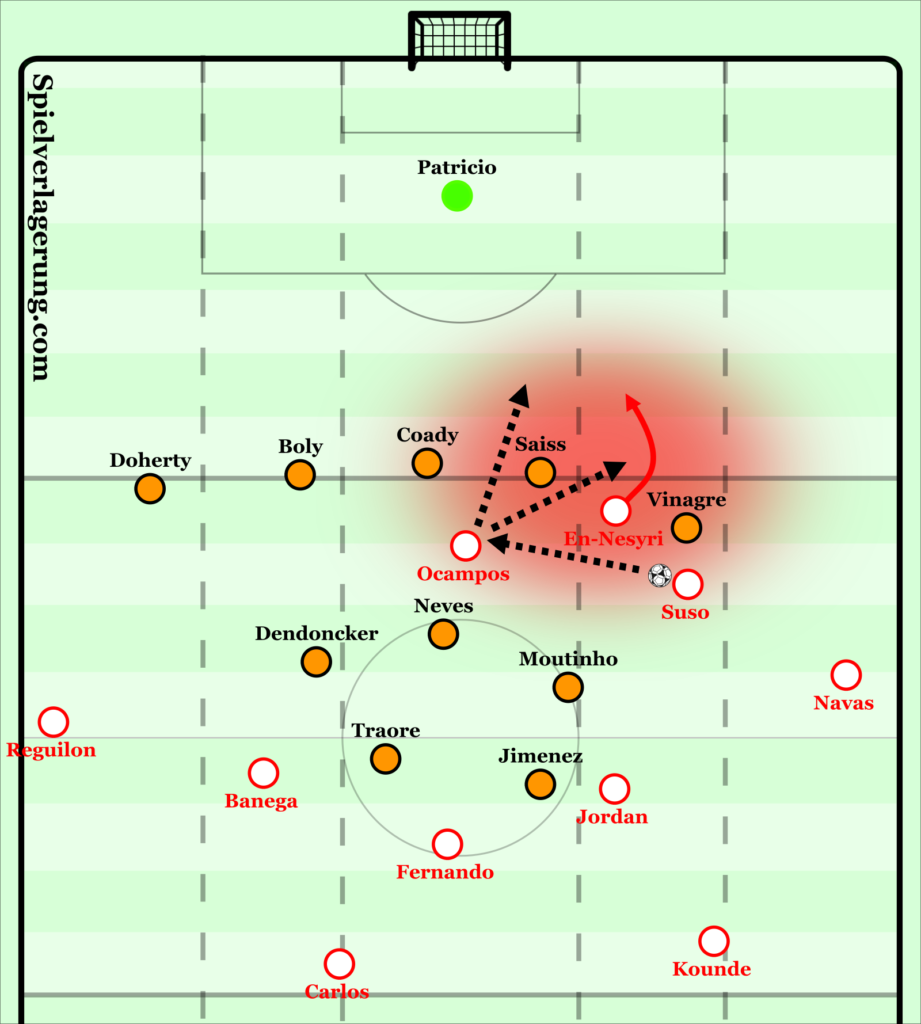 Intelligent Pressing Strategies
The final key component of Lopetegui's transformation is Sevilla's intelligent approach to pressing play, with the rationale to limit the opponent's opportunity to develop possession and rather regaining possession for themselves in high areas of the pitch through intellectually devised strategies, with the central premise of forcing the opposition into under-loaded or congested areas resulting in a turnover of possession.
The roles and theoretical underpinnings can be evidenced within Sevilla's pressing against Manchester United. En-Nesyri engages upon the trigger of the first pass into the centre-back, restricting United to play within one half of the pitch in the process with an aggressive curved pressing run. Within the midfield unit, the three central-midfielders lock onto United's respective midfield three in a man-man press, whilst the near-side winger retains a position to press the full-back though not completely cutting off him as a passing option (perhaps to invite play & press on the pass as a trigger or even to force play long under pressure). The opposite winger tucks inside to ensure compactness, though still within travelling distance to the opposite centre-back and full-back should play be switched and in Suso's case also the availability of double-pressing Fred should it be desired in a more aggressive strategy. In deeper areas, the back four ensure a 4v3 against United's front-three should play go long. The simple aim is to either force United long, with Kounde/Carlos able to regain possession aerially or force poor quality passes/touches to act as a trigger to intercept in a congested and pressurised midfield area that would provide opportunities for attacking transition, thus limiting the time in possession for the opposition.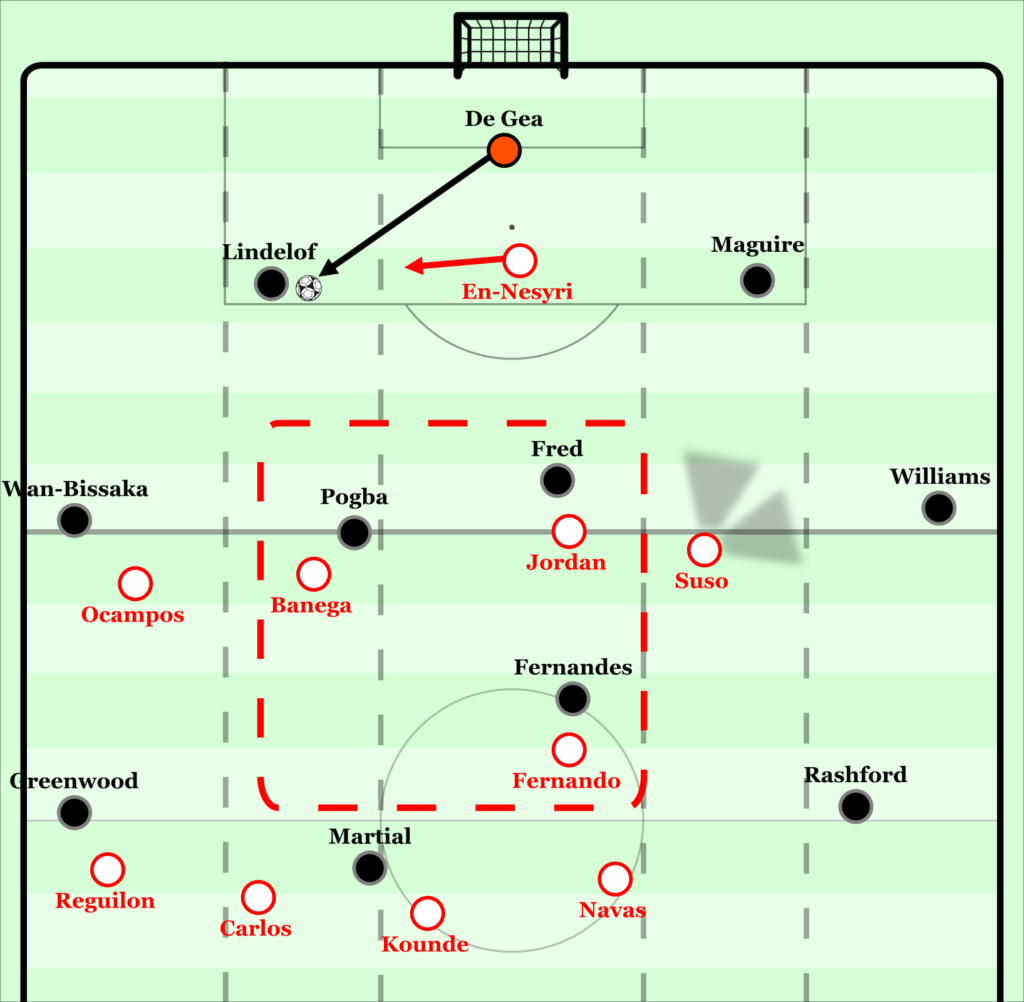 The ideology of the pressing approach remains regardless of the opposition's shape and systematic approach, with focus rather on manipulating the opposition's play to make it predictable by forcing play into specified targeted areas to regain. This is evident against Roma's 3-4-2-1, as Sevilla looked to suffocate Roma in a similar manner as highlighted above despite the clear difference in formation, though Sevilla's players roles subtly changed to accommodate this. En-Nesyri continued to lead the press with engagement being triggered off the first pass from Lopez forcing the central centre-back to drive wider with possession. The near-side winger (Ocampos) positions himself differently to the previous pressing approach as to lock-off and prevent any passes into the outside centre-back on the side of possession completely as well as partially front-screening Peres, whilst Suso holds comparable roles as against Manchester United in order to travel onto Kolarov and Spinnazola should possession be switched across the pitch. Once again, Banega and Jordan are locked on to the opposition's double pivot, with this central area the clear identified area that Roma are hoping to force play with the same triggers as before. The change of responsibility in pressing here lies with Fernando in a deeper role, as he had to be aware of both Zaniolo and Mkhitaryan who often looked to receive within the half-space on their respective near-side of possession should the passing lane open up, with his responsibility to travel onto any passes into the respective player. This was more difficult than portrayed below, with Zaniolo/Mkhitaryan changing the height/depth of their start position throughout the game, making it unpredictable as to whether they would make movements to influence the game. As a result, should play be positioned as below Navas had to maintain a position that would see him travel onto Mkhitaryan whilst Fernando covered Zaniolo's movement to support play (Fernando on Mkhitaryan & Reguilon covering Zaniolo should Roma play out the opposite side), otherwise Roma would have the potential to create a 4v3 midfield box, allowing them to break out of Sevilla's press by generating a central overload. Beyond this, Kounde and Carlos maintained a 2v1 against Dzeko and Reguilon locked-onto Peres. Consequently, Sevilla's pressing approach once again ensured that they could regain possession through pressurising their opposition in central areas whilst displaying an adaptability to various opposition structures, successfully limiting their opponents play.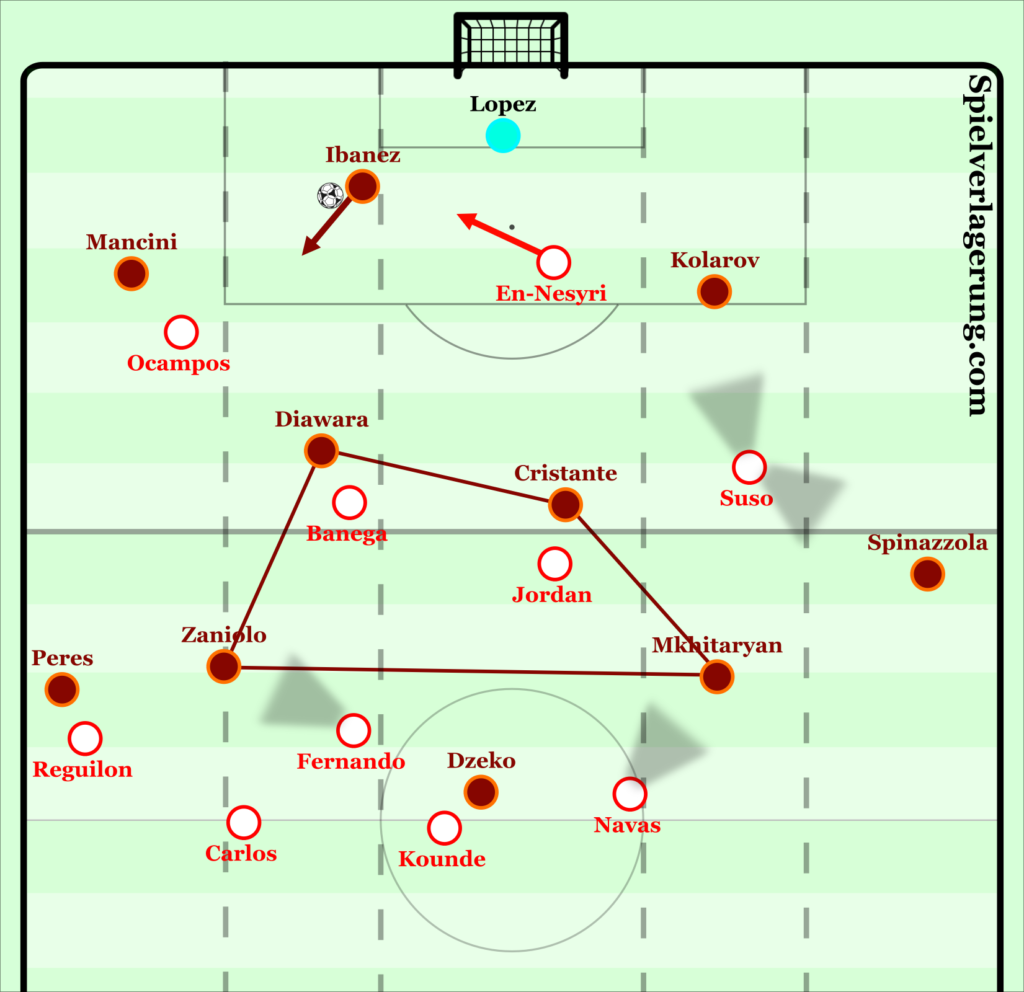 The outcome of maintaining this equality and locked-on approach within high central areas is as exemplified below, if Sevilla are able to regain possession off the point-down of the opposition's midfield, the two wingers and strikers are able to combine and instantly provide a 4v2/4v3 against opposition's central-defenders (subject to a 4/5 back formation). The narrow runs of wingers inside their respective full-backs allows the exploitation of the half-space whilst also restricting the full-backs ability to influence the game as they are unable to intercept possession. Aside from this, the striker can maintain a central position to create as much distance between the attacking trio (without the ball), ensuring that the player who intercepted or regained possession can travel towards goal with always one option available (subject to who the opposition defenders look to prioritise). The secondary outcome as alluded to previously is forcing the opposition to play longer from which Kounde/Carlos can regain possession and restart the process of build-up play utilising the approaches examined earlier.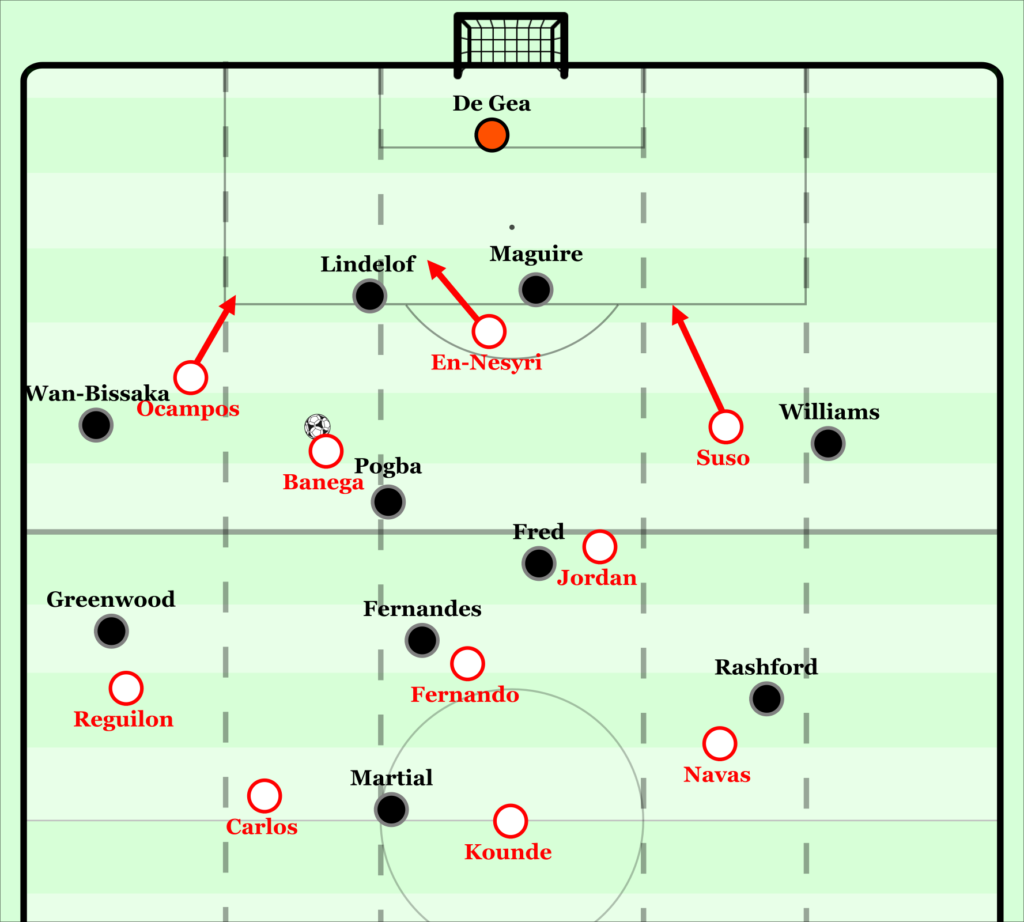 Despite this, it doesn't mean that Sevilla's pressing approach is faultless and it has been played out from effectively, which future opposition should take note, with the case of Inter Milan and De Vrij creating an overload using a 3rd man based upon the trigger of a pass into Brozovic the most predominant example. Sevilla press in their usual manner, albeit de Jong is a much less effective leader of the press with much less speed and intent to regain possession than En-Nesyri, with play restricted to passes into Godin and Brozovic. However, as a by-product of Brozovic receiving under intense pressure he is able to play a front foot bounce pass across to the 3rd man run of de Vrij who uses this as a trigger to step into central areas and creating a 4v3 against Banega/Jordan/Fernando (and a momentary 2-6-2) in the process. From here, Inter are set in a progressive attack with opportunities to play in behind Suso and provide Young with space to exploit, potential opportunities to slide Lukaku/Martinez in behind arise. Critically, it could be perceived that this strategy is performed best with a back 3, which is true to a degree as it allows the 3rd man run from deep which is bold approach if only employing two central-defenders within a traditional back 4. Although the principle remains – the way to exploit Sevilla's press revolves around creating a 4v3 overload or any central overload for that matter, something that can easily be achieved by a 9 dropping in within a 4-3-3 as an example to create a midfield diamond, proving it's capability within a back 4 structured formation. There are combinations that allow this to be created irrespective of tactical set-up and Lopetegui needs to be aware of this as Sevilla look to develop and battle increasing challenges next season.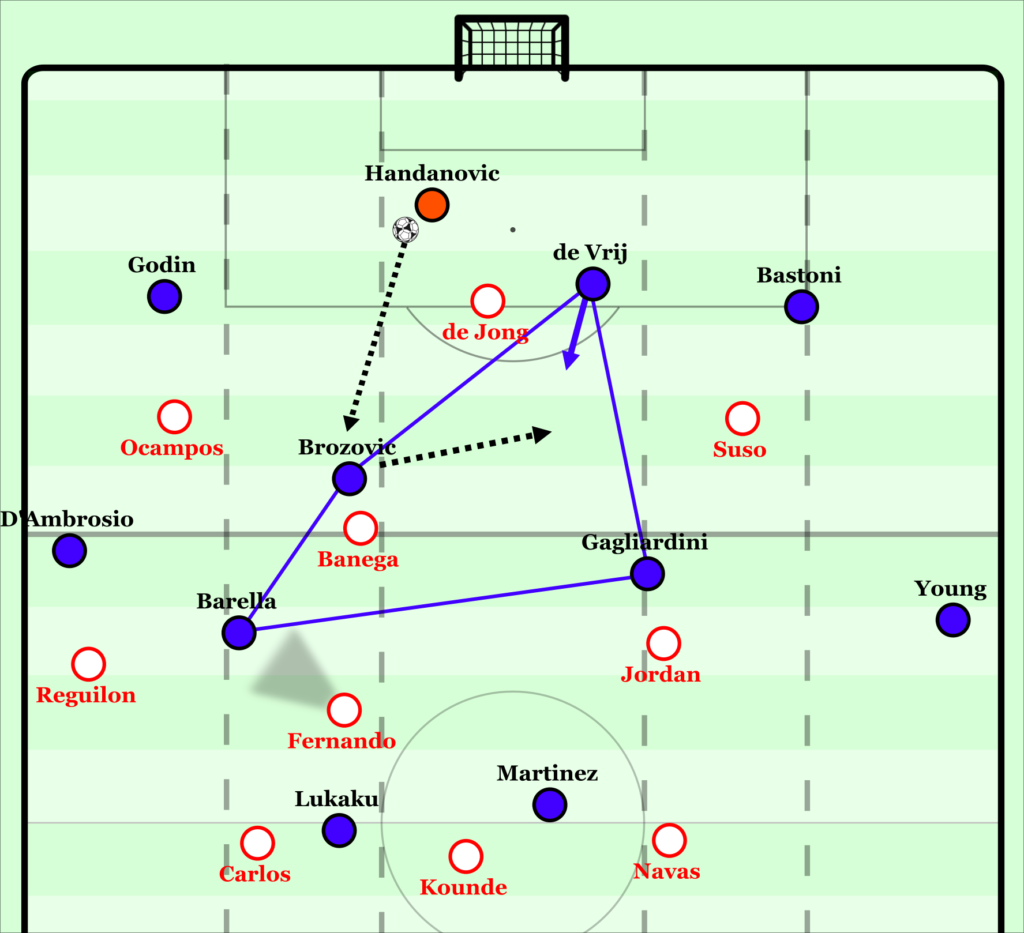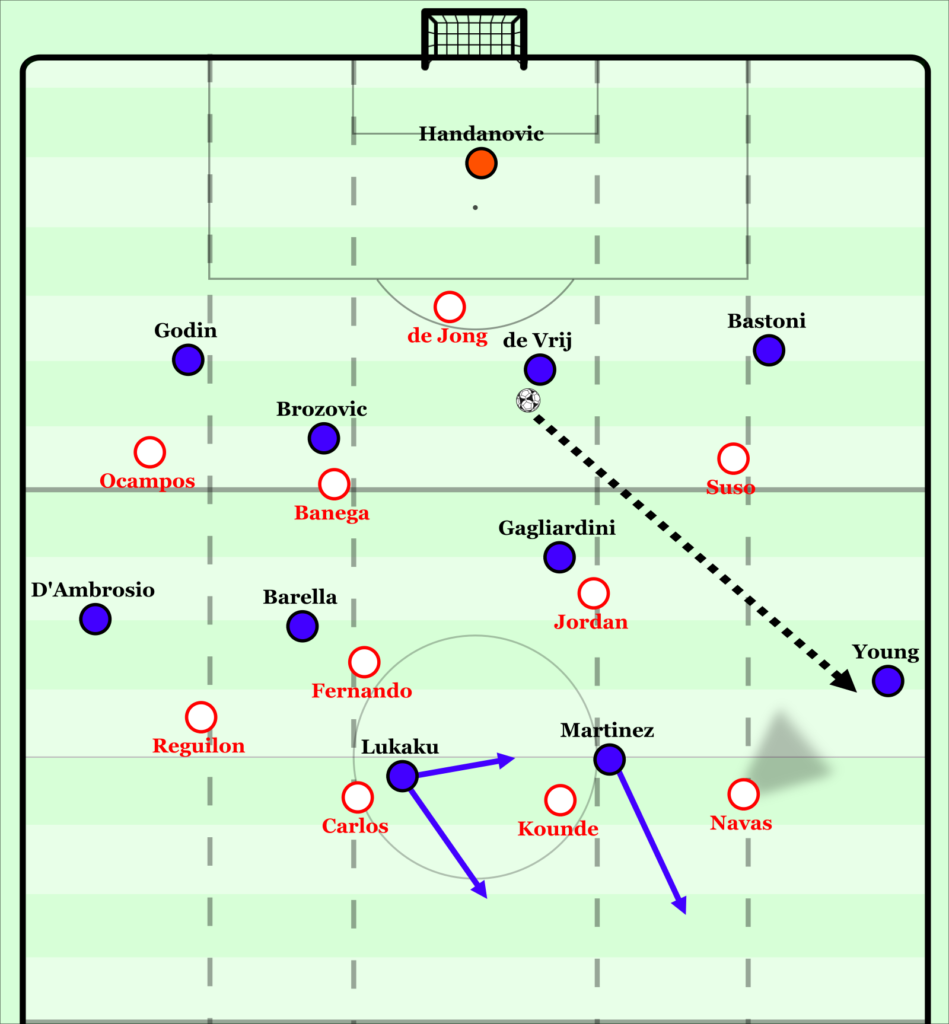 Conclusion
It is hard to argue that Sevilla's 2019-20 season has been anything but an overwhelming success for both Lopetegui and Sevilla. The former's reputation has been restored to lofty heights and Sevilla find themselves playing a fluid and exciting brand of possession-based football with a basis to compete not only domestically but also within the Champions League as well. There are still obstacles to overcome however, the influential Banega is off to pastures new and there is yet still refinements to be made if this team is to mount serious challenges both in La Liga and the Champions League, with some necessary areas of enhancement highlighted within this piece. Nevertheless, Sevilla should receive deserved plaudits for their performance this season and they remain an exciting prospect for next year, especially if Lopetegui can take them to an ever higher level!