Southampton Claim Late Draw in Dominant Pressing Performance
Solskjaer's in-form Manchester United hosted a similarly buoyant Southampton side at Old Trafford on Monday evening. With the hosts locked in a battle with Chelsea and Leicester for the final Champions league positions, a win was vital. Whilst their opponents had no such clear targets, their recent performances and results show they do not lack motivation. 
Opening period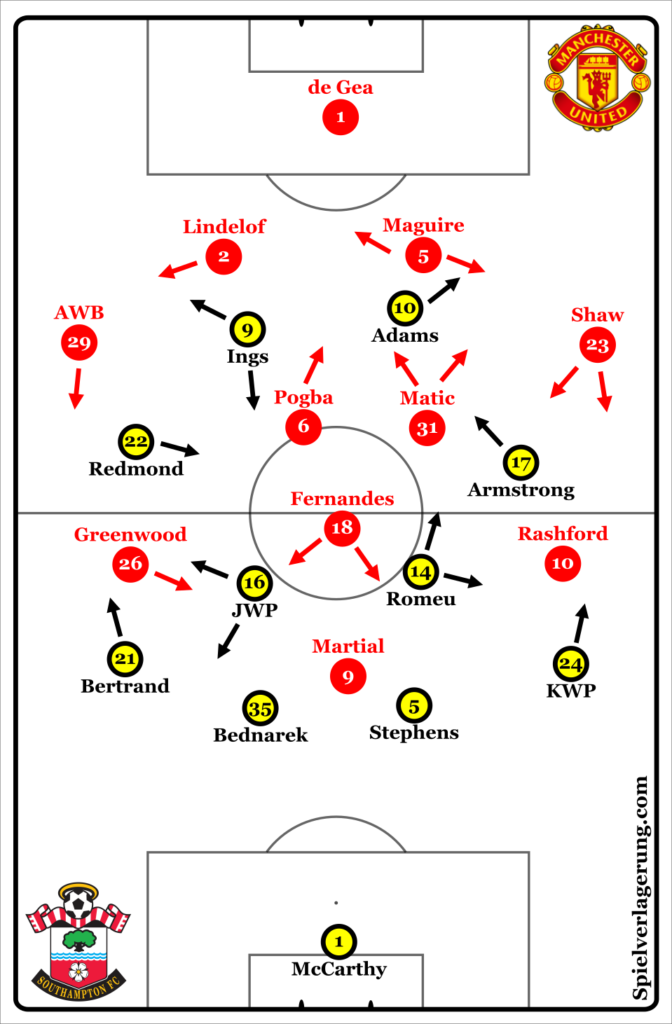 Visitors dominate through pressing
Southampton enjoyed a dominant start to the game, which was mainly through their ability to consistently recover the ball in advanced positions. In their 4-2-2-2, Southampton started their pressing phases with both strikers in deep positions, focused on blocking the 6 space, in turn allowing Maguire and Lindelof to build-up undisturbed. With one centre back in possession, the strikers performed consistent covering movements, with the near striker blocking the dribbling path and the far striker dropping diagonally to block the 6 space. Meanwhile, the high positioning of Redmond and Armstrong meant they could reach early passes to either full-back, making theses options unattractive. This encouraged the ball carrying centre back to pass across to the other, the key situation Southampton wanted. This was Southampton's key trigger to start pressing, particularly when played from Maguire (left) to Lindelof (right). The striker previously blocking the 6 space would now run diagonally towards Lindelof whilst the ball was travelling. Through their angle, and the small distance to the Swedish centre back, the pressing striker could block the 6 space through their cover shadow as well as the vertical line (for passing or dribbling) from Lindelof. With the 6 space blocked by the near striker, the far striker could now remain higher to threaten the return pass to Maguire. The main available option for United's build-up was now the pass to Wan-Bissaka. However, with the vertical line from the ball carrier blocked, Southampton's near winger could begin closing the distance to United's near full-back early.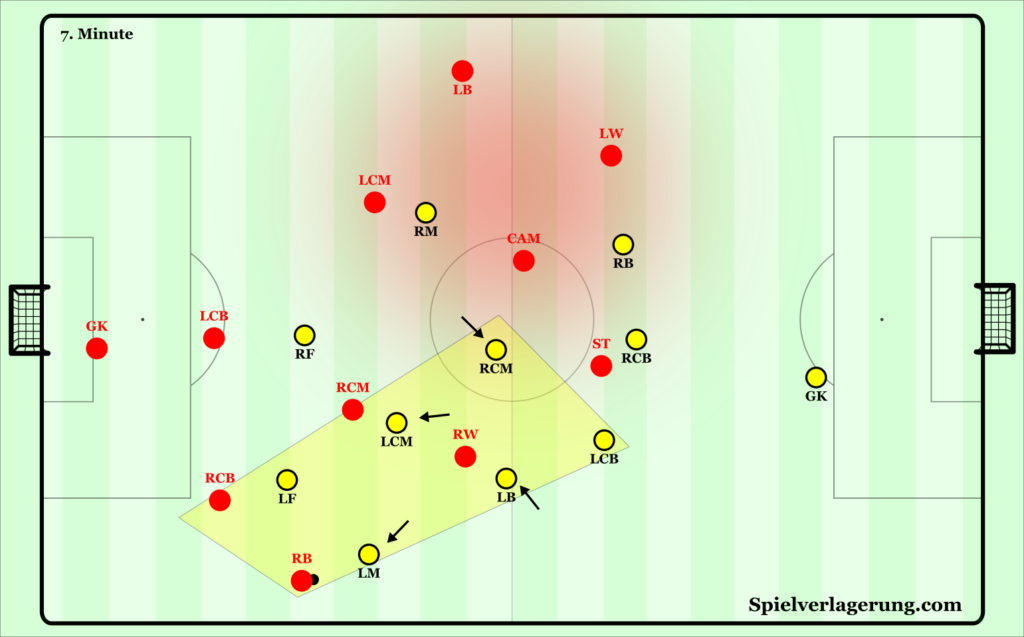 Thus Wan-Bissaka often received the ball in a deep and wide position, with Redmond closing him down as soon as he controlled the ball, lacking good nearby support structures, and an opposing structure which shifted aggressively to block the near half space. The ability to control United's available passing options through the speed and timing of their pressing, meant Southampton could anticipate the next pass easily, often intercepting Wan-Bissaka's attempts to play diagonally infield. Southampton's near central midfielder moved up quickly to close the short inside pass, whilst their midfield partner dropped to cover the space directly in front of the defence. On the far side however, Armstrong remained in a high position, thus being immediately available for diagonal passes when the ball was turned over in central positions.
A key issue in United's build-up was their failure to use the start of the sequence to prepare adequate passing options to outplay Southampton's structure, yet this was a key opportunity as Maguire and Lindelof were given time to start these sequences. In recent games, United have been flexibly creating a 3-1 structure from their base 4-2-3-1 shape in build-up, often with Matic dropping between or beside the centre backs and Pogba moving to the central 6 position. In this game however, Matic initially dropped too late to the left side, by which time the away side's pressing meant United could no longer reach this side of the field. Additionally, the large distances between United's build-up players and subsequent slow passes between them helped Southampton gradually increase the pressure on United's build-up. In these phases, the speed of build-up which Hasenhüttl's side forced United into meant receiving players often had a poor body position and lacked time to recognise the key spaces to outplay the press, whilst their team-mates lacked time to give supporting options. These factors led to several turnovers, with Southampton's opening goal coming from one such situation, particularly showing the advantage of their high-positioned wingers in pressing.
Interestingly, given the high position of Armstrong on the right and the staggered positions of Ward-Prowse and Romeu, the key space to outplay the Saints' pressing was diagonally towards the left, through the large channel between Armstrong and Romeu. However, given the aforementioned speed and timing issues, United could not take advantage of this.
Saints dominant but rarely dangerous in possession
Another factor in the away team's early dominance was their ability to comfortably outplay United's pressing. Through their wide first line and deep double pivot Hasenhüttl's side could easily outplay any attempts from Martial to block passes between the centre-backs, with wall-passes through one of the midfielders. United's wingers were thus drawn into pressing in narrow positions. Yet, with the threat of Southampton's narrow forward players, Pogba and Matic were pinned back. Bednarek and Stephens could thus simply play into their open full-backs either directly or through the midfield pair, depending on Rashford/Greenwood's pressing angle. Shaw and Wan-Bissaka were initially eager to press these receiving full-backs, despite the large distances they had to make up. With Southampton's left side focus, they often used these moments to play into Ings who moved behind Wan-Bissaka. Supported by Redmond drifting behind the ball, whilst Bertrand overlapped on the left, Ings could use these moments to drive the ball forwards.
Later in this period, United's wide players reacted by remaining deeper, flattening United's midfield line, and allowing Ward-Prowse and Romeu to more easily receive and distribute possession. However, these factors mostly led to Southampton gaining territory, creating a number of opportunities for counterpressing or high pressing phases where they could create dangerous turnovers.
By often arriving late, United's pressing attempts were quite comfortably outplayed, revealing an interesting fundamental difference to their opponents. Hasenhüttl's men mostly began pressing from their ideal structure, with defined situations they wanted to force, restricting available options thus enabling the surrounding team-mates to earlier anticipate the next pass. United however, attempted to press without first forming a particular structure, thus lacking clear situations they wanted to force. Surrounding team-mates could thus only react to passes, thus arriving late, unable to block the ball carrier's options.
Matic begins dropping early
Between the 10th and 14th minutes, the home side experimented with a number of approaches to outplay their opponents. Their attempts included deep full-backs, high full-backs and some more chaotic attempts to support the full-backs without success. Around the 15th minute, Matic began to drop into the first line earlier in their build-up sequences, whilst both full-backs remained quite deep. With this extremely deep and wide structure, United forced their opponents to cover huge distances if they wanted to continue pressing. With the increased width between Lindelof and Maguire (with Matic between), Southampton's strikers could no longer block the 6 space and reach the centre backs as they had done earlier. Whilst Southampton's wingers could move higher to press United's centre backs, they would have to make up large distances. Additionally, the deep positions of Shaw and Wan-Bissaka outside them would require such an angled press which would open the half space line, or a simple pass outside if the winger blocked the half space.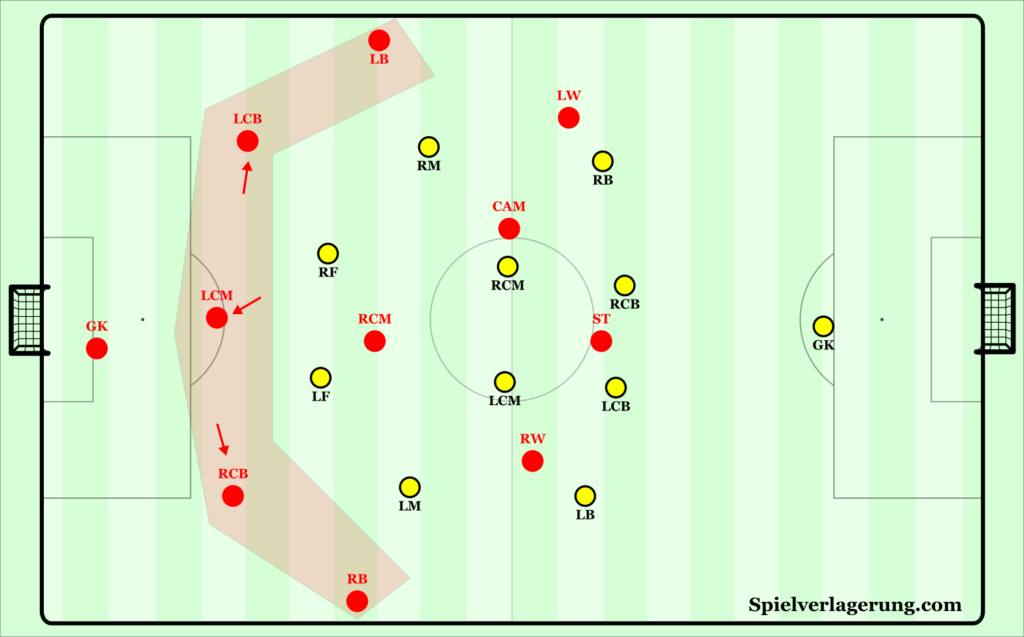 This worked well to reduce the pressure on United's deep build-up, with Solskjaer's side now creating a few situations of playing through the 6 space from the centre or from the full-backs. In the following minutes, as the speed and timing of Saints' press worsened, United could more easily progress upfield. The away side's strikers in particular grew tired, failing to recover to block the 6 space when the ball went wide. United could now take advantage of the aforementioned spaces diagonally to their left, to outplay their opponents' pressing. Whilst they did not manage this consistently, Martial's goal immediately before the drinks break demonstrated how dangerous they could be when doing so effectively. Interestingly, this mirrored United's goal in the earlier league fixture showing the value of playing diagonally from one side to the other, against Southampton's aggressive midfield pressing.
Checkmate post-drinks break
After the drinks break, the visitors were visibly more reluctant to press against United's deep and wide first build-up line. Instead they re-focused on blocking the 6 space and dribbling paths for the hosts' centre backs. United thus sought to use this as a platform to progress upfield. They often attempted to do so through early diagonal passes to the left side, with Armstrong at times pinned into a narrow position by Shaw's infield movement, or staying high to press United's left centre back.
However, attempts to play diagonally infield from the wide positions were still well covered and often intercepted. Here the effects of their deep overload were felt, with fewer options in the offensive positions making Southampton's job easier. With their compactness, Southampton prevented any players who received inside passes from turning out and switching to the right. The available playing space for United's attackers was thus significantly reduced, with several attacks breaking down.
United's new build-up approach reduced the number of pressing situations and thus turnovers the visitors could create, which was their best way of creating chances. Southampton's deeper midfield press however, neutralised the host's attack. The rest of the half thus meandered to a close with neither side able to create dangerous situations.
2nd half
Similar opening period
The second half began in similar fashion to the first, with the visitors regaining the ball in midfield or high pressing positions and generally dominant in terms of territory. With the break enabling increased intensity, Southampton could once again press the host's build-up before Matic could drop to create their problematic deep and wide first line. Solskjaer's side were forced into several hasty attacks down their left side in particular, with Southampton's wide players arriving with good timing to prevent United re-starting the build-up. From here Southampton's right sided players were well supported to defend the paths towards goal.
United's counters
Whilst Southampton pushed for an equaliser, a number of United's best moments came from counter attacks. The away side began committing two of their deeper positioned players (6s and full-backs) to attacks earlier, leaving a narrow 2-2 shape in rest-defence. The hosts could thus counter into the spaces either side of their opponents' rest-defence structure. Yet they failed to capitalise on these situations. Most of these counters began with a long pass down the near flank for Rashford or Greenwood. These passes were often overhit, partly due to the Saints' counterpress. That usually gave time for Southampton's centre backs to move across and defend the wide receiver, before they could open up and access the far half space where there was often a free runner. A number of attempts to reach this runner were either too late, allowing the opposing full-back to recover, or simply poorly executed.
United gradually drop deeper
Unable to extend their one goal advantage, the Mancunians began defending deeper to protect their lead. The Saints thus had to attack a gradually more conservative opponent in situations where they could rarely create all game. With United's full-backs reluctant to step out of position, and well supported by the wide players, Southampton could hardly reach the dangerous wide spaces they sought. Thus they mostly attempted early crosses through their advanced full-backs or wide central midfield players. With many of these crosses being blocked, a number of corners followed, one of which led to Southampton's late equaliser.