Manchester City's Positional Play Gives Stability and Superiority over Brighton's Midfield Press
The first half of Brighton against Manchester City was a great example of how City's positional play adapts to create stability as well as positional superiority against their opponents. This analysis will therefore focus on City's possession game against Brighton's midfield press in the first 45 minutes, and not touch upon the second half.
Compared to the first match between the sides, Brighton opted for much more of a 'standard' 4-4-2 press. The two centre-forwards had the responsibility of City's centre-backs and pivot, with the ball-near forward typically pressing while the ball-far would drop onto Rodri. Only on really clear triggers, such as a bad sideways pass, would the two attempt a press.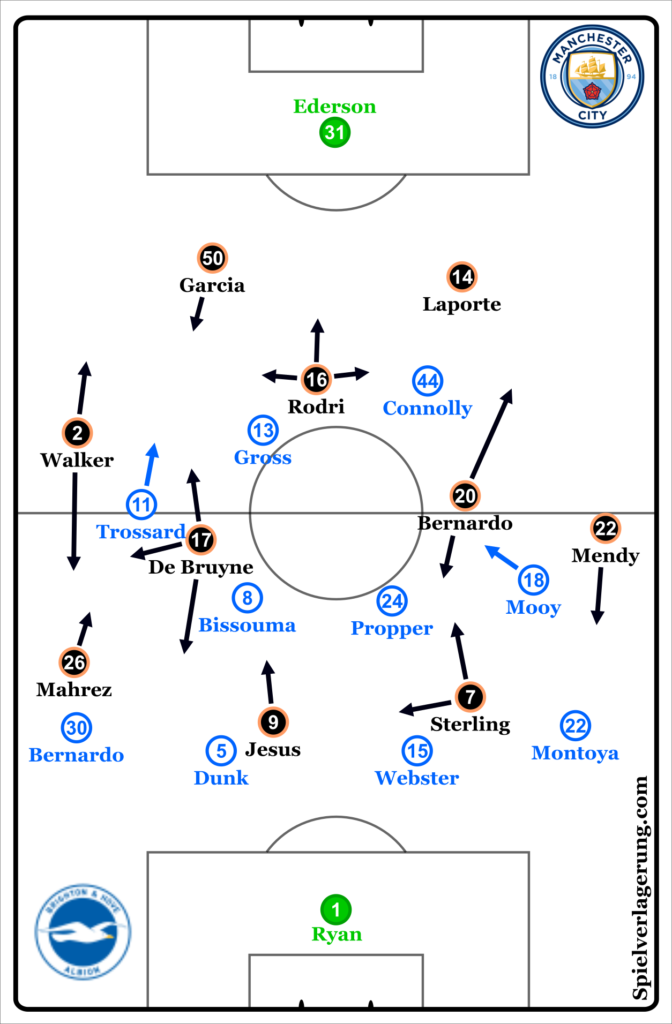 Brighton's midfield four were narrow, with the main intention of blocking passes through their shape and forcing the visitors to progress in wider areas. On the left side, Trossard was oriented to press the slightly deeper Kyle Walker, but would have a very narrow start position to also cover De Bruyne and restrict the Belgian from receiving inside. On the right, Aaron Mooy was more oriented towards Mendy on his outside.
Left-Side Structure
City's first reaction to this defensive structure was for Bernardo to drop into the first line in the left half-space, with Mendy moving higher and Sterling staying inside. This structure immediately made it difficult for Brighton to get pressure on the ball, with Mooy reluctant to step out and leave Mendy free while Sterling pinned right-back Montoya. Thus, City benefited from a strong and stable in-possession structure for the early stages of the game.
Of course, not only did City gain stability through Bernardo's positioning, but they were able to break Brighton's midfield line with passes on the outside to the now high and wide Mendy when Mooy did begin to engage the Portuguese midfielder.
In such situations, Manchester City's positional play was excellent to create diagonal passing lanes inside from the full-back. Before the outside pass is played, Sterling drops particularly deep – late enough that Montoya cannot quickly jump and press Mendy, but early enough to bring central midfielder Pröpper a bit higher. With Mooy moving towards Bernardo, this would increase the distance between Brighton's defensive and midfield lines. Thus, once Mendy received the pass behind Mooy, the left-back had a clear lane to play diagonally inside and between Brighton's lines.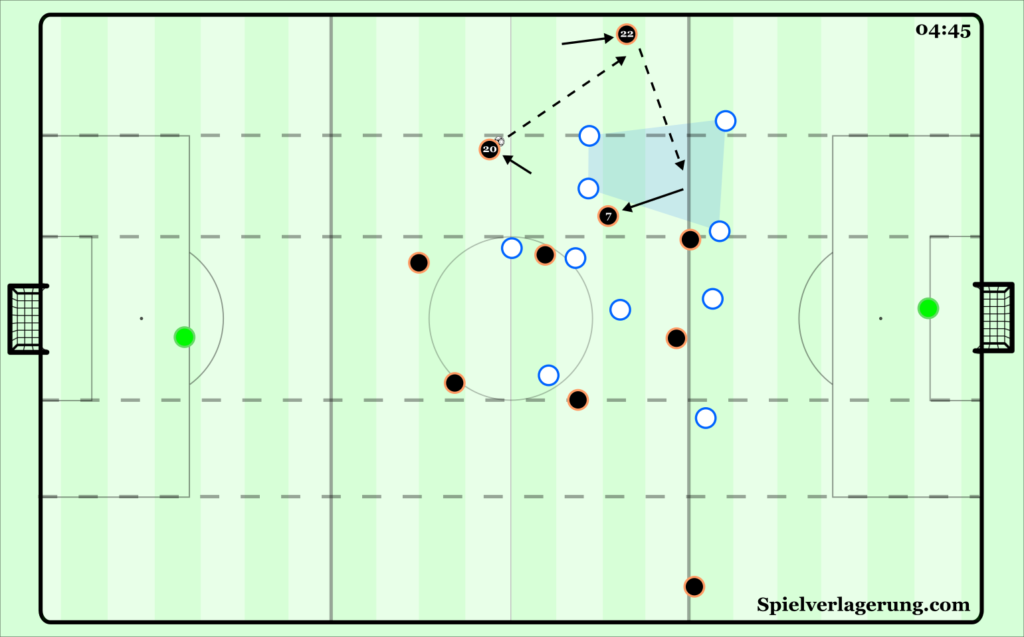 Alternatively, later on in the first half, Bernardo stopping dropping outside the shape and instead stayed in the position that Sterling used to pin Mooy and Pröpper. Albeit under slightly more pressure now, Aymeric Laporte was still able to find Mendy with the pass behind the Brighton midfield line. With a slightly more attacking structure (with Sterling higher), City were able to still create the same situations where Mendy could play diagonally inside and through Brighton's shape.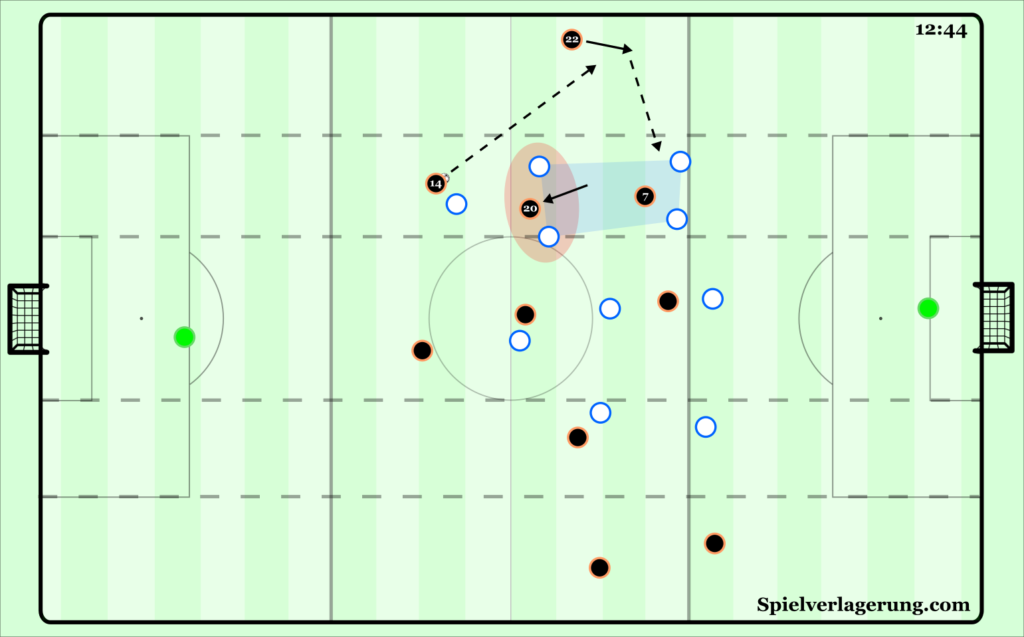 From playing inside, City then had the opportunity to combine between the narrow three of Sterling, Jesus and De Bruyne. This narrow structure often drew Brighton inside, which released their other main option which would be to isolate Mahrez in a one vs one against Bernardo. The Algerian maintained his wide position, as he usually does, to create these threatening situations.
Alternatively, if the attack didn't come inside and instead carried on down the outside, City were in a good position for crosses with a three vs three of Sterling, Jesus and De Bruyne against Brighton's back line.
Right-Side Structure
With possession on their right side, Manchester City's structure was slightly different and also how they attempted to break through Brighton's block.
Unlike his midfield partner, De Bruyne didn't consistently drop outside the shape until later in the half when the team overall became more fluid. Instead, it was mainly Kyle Walker who was the deepest of the right-sided players – obviously a role which suits him well. Riyad Mahrez mainly had his high-and-wide position which meant that he would essentially play up against the full-back and stretch the Brighton last line. With those two wide, De Bruyne mainly occupied an inside position behind the Brighton midfield line, and often directly against left centre-back Dunk. Ball-far in Brighton's 4-4-2, Jesus was up against Webster and Sterling against Montoya, essentially creating a four vs four against Brighton's last line. Whereas playing diagonally inside was the main idea on the left, this four vs four was the main intention of Manchester City's possession structure for play down their right.
However, it must be said that the Belgian's positioning was flexible. In that, the other main structure they would create would be similar to that I described on the left side, with De Bruyne moving deeper, Walker higher and Mahrez inside to give his full-back more space.
It was with the most common structure that Manchester City created their well-worked first goal. Earlier in the build-up to the goal, De Bruyne moved into his higher position onto the left centre-back while Jesus dropped, and allowed himself to be occupied by Bissouma, leaving Adam Webster without a man. Meanwhile Mahrez occupied left-back Bernardo. Shortly after, Jesus then moved back onto the last line onto Webster, while De Bruyne kept his position. City were four vs four against Brighton's last line and the plan was set.
Kyle Walker drops to receive a pass to feet from Eric Garcia, drawing out Trossard but the full-back can still turn and play into Mahrez, again drawing out full-back Bernardo. As the Algerian receives, De Bruyne makes a movement towards the touchline, with not only Dunk following him but Bissouma too. Now, the four vs four has become two vs two with Montoya and Webster up against Sterling and Jesus in the centre.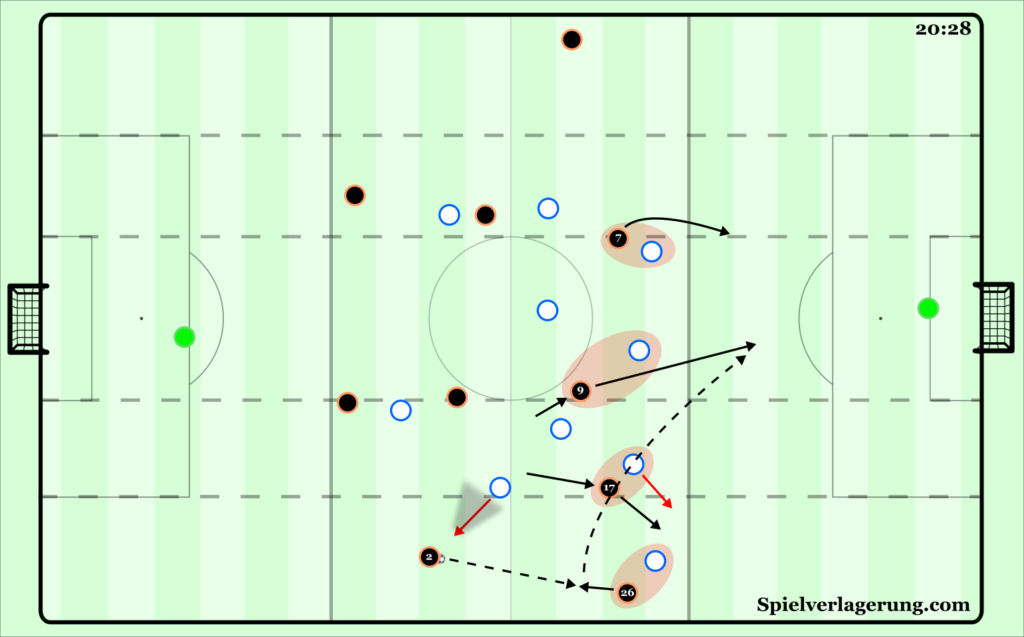 With this idea, Mahrez plays a diagonal pass into the Brazilian striker, possibly with the first intention of actually getting him in-behind – which wouldn't have been a bad decision as the space was sufficient. Although the pass is short, Jesus adjusts well and Sterling quickly moves to offer the set-back option. From there, it's simply excellent individual play from the English winger.
One note on Sterling's movement in this play. It ends up being perfect for the situation, as he starts his run well after Montoya has begun to drop. The result of this is that he has the space to in front of him to create a shooting opportunity. However, it's difficult to judge if the timing was intentionally late, or was just an occurrence of his late reaction after the pass was seen to be short.
After the Drinks Break and 1-0
Following from the opening goal as well as the drinks break, Guardiola's side showed more fluidity in their positional structure. Not only did they have different players acting in the same structures, such as Mahrez occupying the deepest position down the right, but also acted in completely different structures which were more adaptive on players movements. Naturally, they were rather less 'clean' than their more structured play earlier in the game, but still managed to threaten Brighton through the quality of their players.
Similarly to the first game early in the season, Brighton primarily defended in a midfield press (slightly higher up the pitch than their 5-2-3 in the 'first leg') but also looked to press high when possible. However, for the opening 20 minutes of the game, their attempts to press were too rare and Potter's side seemed to up the intensity after the drinks break.
The Seagulls' press was fairly man-oriented and followed similar roles to that of their midfield press. The front two dealt with City's centre-backs and pivot, wingers would press full-backs and central midfielders marked City's eights. The ball-far winger would adopt a position between the full-back and centre-back.
With the ball, Manchester City had a fairly similar structure to the one they used against Liverpool's high press. Bernardo Silva acted essentially as a second pivot whereas De Bruyne held a much higher position on the right. Naturally, this dictated the positioning of Brighton's midfielders and thus Bissouma was often very deep, which actually aided Brighton to an extent in dealing with City's direct build-up, which they used quite a bit.
There were situations however, where De Bruyne would exploit Bissouma's man-orientation by moving deeper to create the direct pass immediately from Ederson to Walker, as Bernardo was pinned by Mahrez.
As Brighton began to press higher, City made another quick adaption and Rodri began to drop between the centre-backs more often, instead of Walker, Bernardo or any other player dropping. By creating a back three, Rodri made it much more difficult for Brighton to begin their press with their front two, and again provided stability for City's game with the ball.
Brighton with the Ball after the Drinks Break
As with the more active defending, another change that Potter seemed to demand of his players was to try and keep more of the ball. In the game so far at that point, Brighton had not tried to play out of their own third in any real structured manner.
After the drinks break, they began to play short from goal-kicks and generally looked to secure the ball more. However, compared to their first game against Manchester City, they looked to play more direct and their structure reflected this.
Their back four was quite wide, with fairly high full-backs while the two pivots were positioned narrow. Both wingers took on high positions, but the with different widths (which suited the profiles of each player). Aaron Mooy had an inside position where he could quite easily be pressed by Mendy, while on the left Trossard – more of a winger – was much wider. Pascal Groß balanced Trossard's movement by dropping deeper whereas Connolly stayed fairly central and on the last line. This worked well against a fairly standard 4-3-3 press from Manchester City, where the two eights covered the two pivots and a centre-forward and winger would press the centre-backs.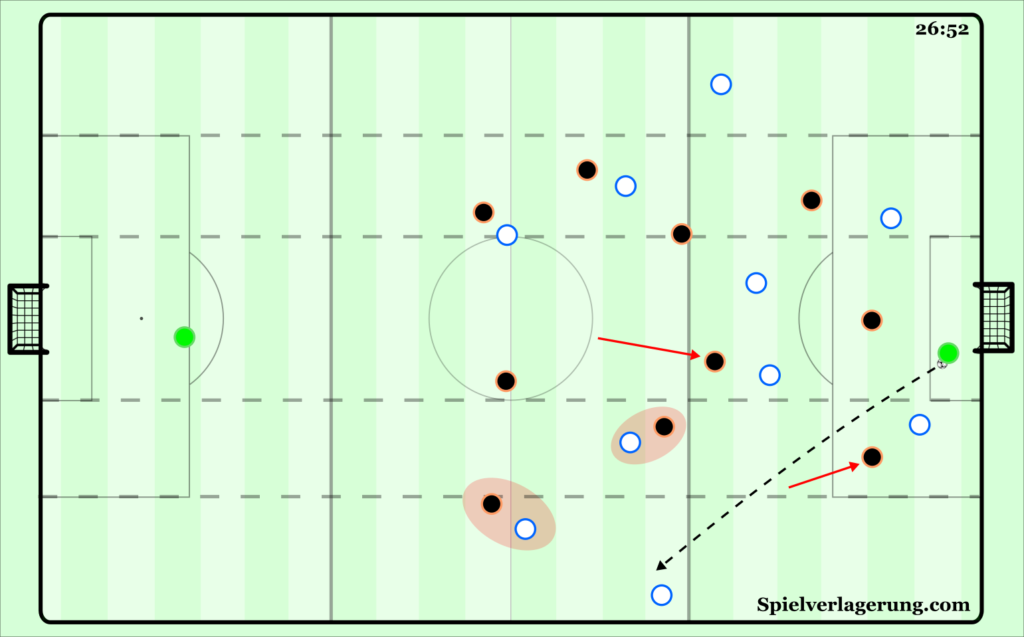 The positioning of the front four was key in freeing the full-back to receive. The positioning of the wide forward Trossard meant that the Kyle Walker couldn't step out to press Bernardo if the ball was played to him, while the positioning of the inside winger meant that it was also difficult for a midfielder – situationally either De Bruyne or Rodri – to step out in case Bernardo was able to find the inside winger.
Funnily enough in the 27th minute, a miscommunication meant that both De Bruyne and Walker went to engage Bernardo, and Brighton nearly created a very promising situation but Groß miscontrolled the ball. Following on from that instance, Mahrez instead was positioned deep to ensure the same didn't happen again, and ultimately Manchester City couldn't press Lewis Dunk so Brighton were able to bring the ball out comfortably.
The only situations where City really solved the dilemma in the first half was one case where De Bruyne stepped up and they went man for man, and more generally when they were able to get enough pressure on the ball to force an inaccurate long pass. But in both situations, it meant for a fairly risky press where Brighton left numbers up field so they could play over. This was good management by Potter as it could have made the game more open and chaotic, which could have helped his team's chance of getting back into the game, even though it ultimately didn't.
Conclusion
Through adaptability in the positional play of their 4-3-3, Manchester City displayed how they can manage a game by creating stability and means of destabilising the opponent. I perhaps expected more from the home side. Outside of their adaptions in possession, the formation match-up of 4-3-3 vs 4-4-2 is something that Guardiola and his side are so well-versed in, it would never have been long until they were 'found out'.