A Most Interesting Irrelevant Match
In an ultimately inconsequential match, where one team likely engaged in more parties than pre-match video sessions, we were treated to a fairly interesting tactical spectacle. This match analysis will focus on the most important phase of play in the game, being Manchester City's build-up against Liverpool's press.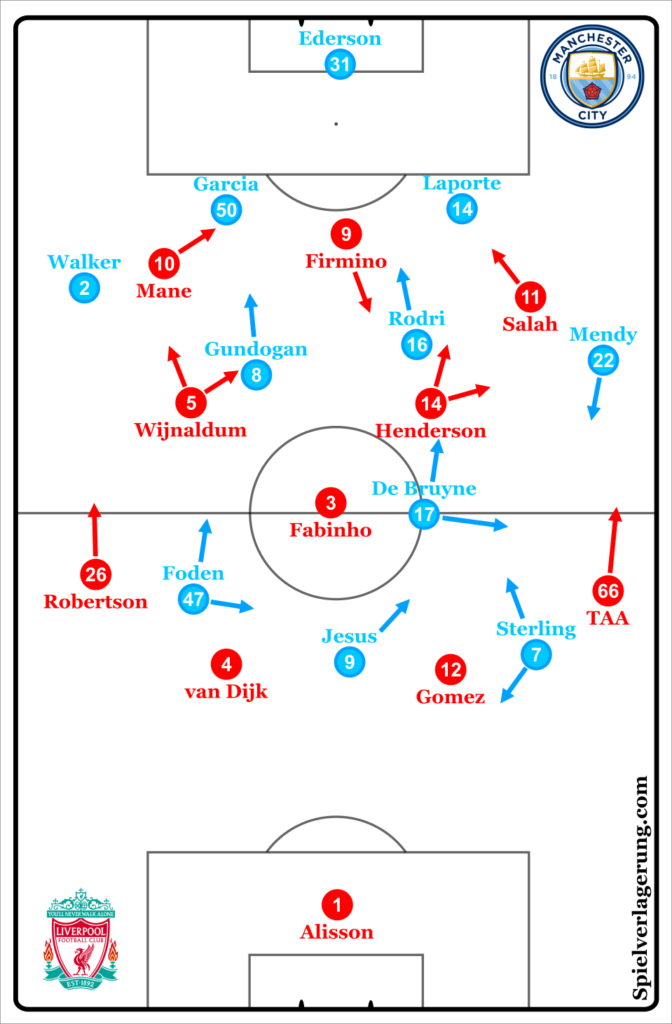 To combat Liverpool's press, Manchester City adopted a narrow 4-2-3-1 structure in possession, with Kevin De Bruyne occupying the central attacking midfield role, and Raheem Sterling and Phil Foden in inside positions either side of him. Rodri and Ilkay Gundogan were the two deeper midfielders, and would thus occupy positions either side of Roberto Firmino, inside Liverpool's front three.
Liverpool were organised without any real changes to the system which has made them so dominant this year. In pressing, Sadio Mané was typically slightly higher on the left side, and would press Eric Garcia quite closely, leaving Walker freer.
City's narrow 4-2-3-1 caused two main dilemmas for Klopp's side. With two pivots on the second line, Firmino was overloaded while the wingers pressed the centre-backs from the outside, and thus one of Gini Wijnaldum or Jordan Henderson were required to step up to the free pivot. However, in Liverpool's last line, Manchester City's narrow front four were pinning the entire defensive line plus Fabinho.
This left Liverpool's midfield rather disconnected from their defensive line affording De Bruyne, acting more like a typical 10, more space to receive in. Furthermore, City's full-backs were typically the free players, since the eight and the full-back, who would usually be the players to step out and engage, were being pinned by City's pivots and wingers respectively.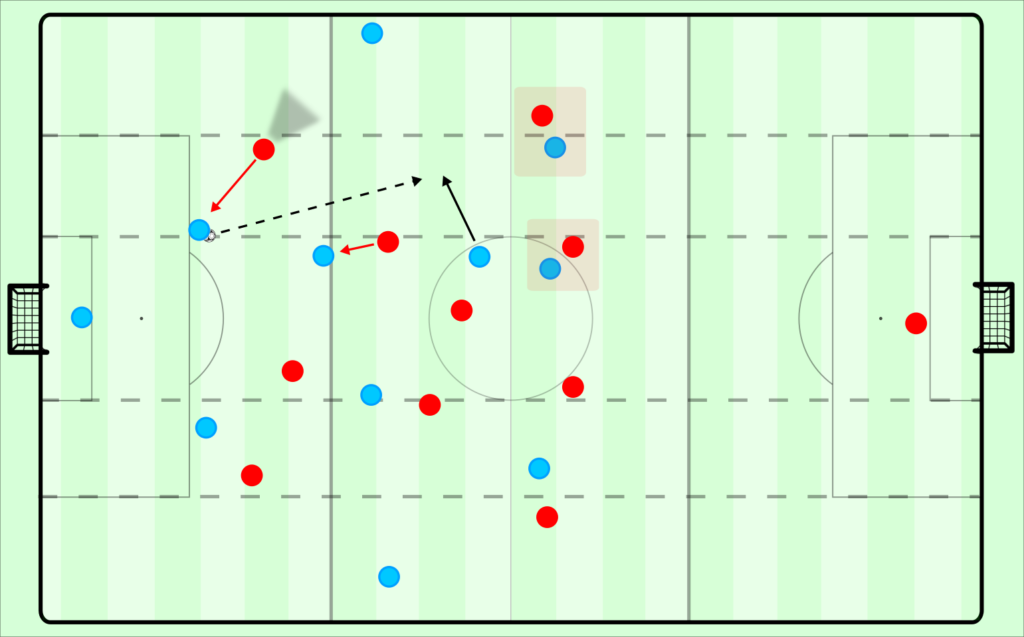 In the first two build-up moments of the game, the two dilemmas that City's structure caused Liverpool were evident.
In the first build-up situation, Robertson chose to leave Foden and jump onto Walker, as Wijnaldum had to step up from deep onto the free pivot and then continued his run to Garcia. With Foden now free, Fabinho needed to shift quickly across to cover England's most creative midfielder, as both Liverpool's centre-backs were defending man-vs-man against Jesus and Sterling. Naturally, this left Kevin De Bruyne free in the middle of the pitch with Henderson still shifting back across from being oriented on Rodri initially. Had young Garcia's pass been a yard further forward, City would have been in 3v2 against Liverpool's centre-backs in the first minute.
The subsequent build-up situation posed the other dilemma, albeit in a slightly more unstructured context.
In this case, the ball was with Mendy and De Bruyne was instead wider, pinning TAA from stepping up onto the full-back. With Salah having been inside to press Ederson, this left Henderson with the player who had to step out to Mendy. But with the responsibility of also covering Rodri, Henderson could not go directly, and Mendy was afforded more time. With this extra second, the left-back played in-behind to Jesus, but the Argentinian was caught offside by a good line from the two centre-backs. Albeit not the case in this example, City's narrow front four typically mean that City could create overloads against Liverpool's defensive line this situation, with Mendy being quite adept at playing diagonally inside.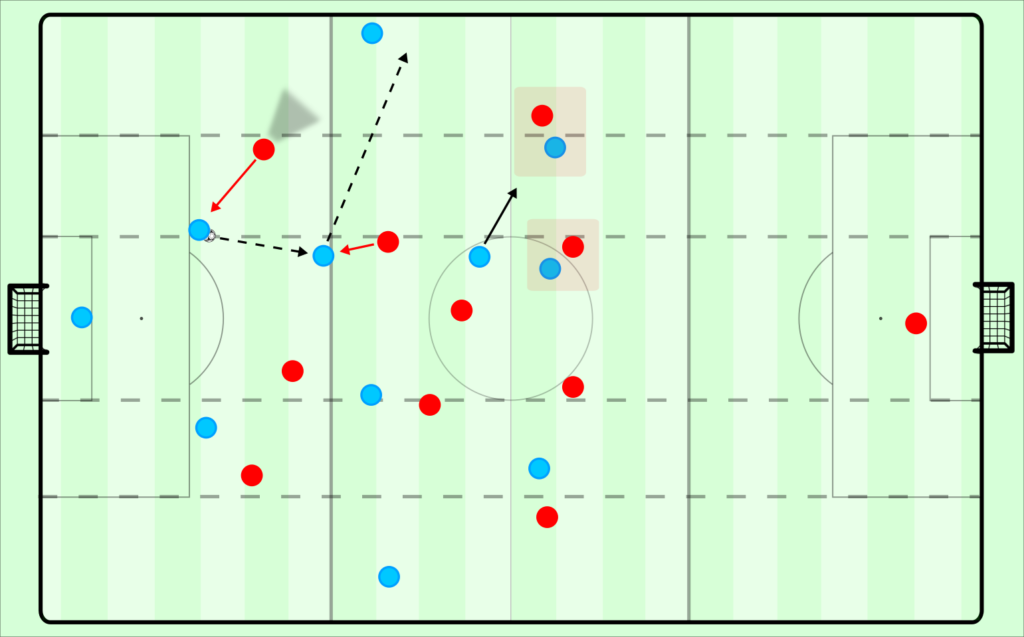 To summarise the two dilemmas for Liverpool
Winger presses CB or GK, eight steps up to spare CM, FB pinned by 10 or Winger, leaving City's FB free and with four forwards to play into centrally.
Winger covering pass lane from CB to FB, eight steps up to spare CM, FB pinned by winger and CBs by the CF, leaving De Bruyne on the blind-side of the 8. This was most-often the case on Liverpool's right, behind Henderson.
A small variation of the second pattern was created when Rodri dropped closer to the first line and De Bruyne balanced by also moving deeper, essentially creating a 3-4-1-2. In this situation, Fabinho followed the Belgian 10, leaving more space behind Liverpool's midfield line. The same pinning action was key, with Sterling (and to an extent Mendy) pinning TAA and Gomez, leaving Jesus free to receive in the left half-space.
Manchester City were more dangerous in the second situation, where they skipped the 2nd line and played directly into De Bruyne. Since the action to find the FB often involved playing through the pivot, Liverpool were still quite threatening in regaining the ball high up. Klopp's team face these situations so often and have become excellent at adjusting pressing actions to attack these passes out to the FB. Whether that be the FB jumping early to intercept the pass, or Firmino and the eight adjusting their pressing angle, where the eight moves to press the six from the outside while Firmino attacks from the inside.
Naturally, Klopp's side are ever so dangerous if they force a turnover in that high position. Because of their pressing scheme, it's typically their pressing eight which lands on the ball, and the position of their wingers between the opponent CB and FB often makes them available for an immediate pass to trigger the counter-attack.
Thus, despite playing through an extra line, City were actually at less risk when trying to find De Bruyne on Henderson's blind-side.
Against Liverpool, you almost inevitably face more unstructured situations and will have to play long from build-up, and City's possession structure also made them more dangerous here. Naturally, with City pinning Liverpool's deepest players to reduce their access higher up, Liverpool had to run the risk of being underloaded in their first line if they were to get enough pressure on the ball to force their opponent long. Therefore, when City did play long, they often had a very good position to win the second ball and transition, with De Bruyne high and wingers inside to find pockets. It was exactly this situation which led to the home side's second.
Aside from their positions to draw-out Liverpool's eights, City's pivots didn't directly impact the game too much on the ball. In some cases, they involved in progressing the ball diagonally where the ball-far pivot would receive and quickly find the full-back or winger in a higher position. Possibly as the game lost intensity in the second half, with the score already at 3-0, City were able to find their ball-far pivot diagonally and play through him, becoming a third way of playing through Liverpool's press.
There were other small adjustments in the second half, such as instances where De Bruyne would move wider during build-up and receive directly in front of TAA. But again, central to their play was the pinning by forwards and pivots which made it difficult for Liverpool to press.
Conclusion
Matches between Liverpool and Manchester City have been some of the best that football has to offer in recent years. Then, it probably speaks volumes of both teams that the first match between them with absolutely nothing on the line, still was a fascinating game to watch.