Taking over Real Betis: Week 3
After the heady days of the first season under Quique Setién which culminated in a 6th placed finish, Real Betis endured a more difficult second season finishing in 10th place. Despite a number of high-profile arrivals, most notably Nabil Fekir from Lyon, Betis' fortunes have not improved under the new coach "Rubi". From analysing the current team to preparing for the La Liga restart, this series details how MK, JD and AB would approach taking over the Andalusian side in their current form.
Week 3 is when we return to competitive play. Unfortunately, we are scheduled to play on the Thursday already which gives us a shorter time to prepare the game than for a classic weekend fixture. Besides the shorter preparation we also have to consider the fact that the game is against traditional rivals FC Sevilla in an Andalusian derby. Judging on league positions, we probably go into this game as underdogs. It is however crucial to remember that the above-mentioned parameters are external factors that are outside of our control. Therefore, we need to consider them in our planning and not allow our thinking to be negatively affected.
Pressing plan
FC Sevilla reign as fourth in the table and are a strong opponent. Through our analysis process we have recognized, that Julen Lopetegui's team has high quality in building up from the back when there is not sufficient pressure applied by the opponent. Especially their midfield, with Éver Banega as the most-known and also crucial player, develops their attacks. Furthermore, with Reguillón and Ocampos they link up this strong triangle with Banega on the left side. Preventing them from creating through that side is a focal point in our defensive plan and we have decided on mainly trying to close down Banega as much as possible. Both central midfielders look to come close to their back-line to pick up the ball in build-up, so much so that especially Banega drops into the last line quite a lot, while Reguillón pushes further up. Banega, Óliver, Fernando and Jordán are the potential midfielders in the starting line-up; all of them capable of playing clean forward passes into the offensive third.
While it is the goal of Lopetegui´s team to get them on the ball while facing forward, it is our goal to prevent this. We have observed that, when there is no clear and quick progression into the final third, their attacking structure becomes quite unbalanced. The wingers go very wide, leaving the half spaces unoccupied while three midfielders drop outside of the opponent's shape as well – the space between the lines subsequently is not occupied. These moments are the ones where we want to really put pressure on Sevilla, forcing them at least to play back. Because their players will be positioned outside of our shape, there is less threat for our players behind their backs and less cover is needed.
In our intended 3-4-1-2 shape we will try to press them towards the side and win the ball there. Through the help of our energetic Wingbacks, as well as the staggering of having a 10 cover the opposing 6 and our near 6 closing down the way to the opposing 10-space, we try to trap them on the wings. As their connections are not varied and they don't offer many passing options for the ball carrier, we thought the wing would be our best option to win the ball in the most efficient manner. Of course, it is not only the players up front who are responsible for successful pressing. Our defenders in the back three have to always be ready to step and defend forward, intercept passes or go into duels. In Bartra and Mandi, we have well-suited players for this style of defending and StatsBomb data supports this.
Why the 3-4-1-2 shape?
As we have established in the previous pieces, we are planning on changing from a 4-1-4-1 formation under Rubi, to a 3-4-3 under our leadership. We had mentioned that Nabil Fekir was an option as a False 9, but we decided to opt for Joaquín instead. Offensively, Fekir might be the better player in this position and Joaquín could play out his strengths better from the wing, but because we want to defend actively against Sevilla's strong build-up play we had to come up with an idea. Joaquín, 38 years old, would not be able to put the desired amount of intensity in pressing over 90 minutes – we really wanted to keep him in the first XI though. Additionally, we felt that in a 3-4-3 shape we might have difficulties controlling the opposing central midfielders, which we had found out to be the most crucial in Sevilla's possession game. The role of the central striker would have included a lot of running in the vertical axis, as well as the ball-far winger would have had to tuck in very far and run more than we were desiring. Putting a player permanently close to their central midfielders would be a solution to the aforementioned problems. The trade-off would be less players having to cover the space on the wings, but our Wingbacks Emerson and Moreno are very dynamic and we were convinced they would be able to put enough pressure on the opposing fullbacks. Joaquín would be fielded as a 10, which would give him a less physically straining role and would still cover all our needs. We had a short discussion about how we would implement the positional switch between him and Fekir in possession, but we decided that they would both get "the licence to roam" and they could switch positions however they would see fit.
Obviously, not only because of the lockdown, we will not be able to press FC Sevilla high for 90 minutes, which is why we decided to also have the option of a 5-2-3 mid-block pressing. As mentioned before, there will be moments where we want to press from this position very intensely, especially when our opponents don't occupy the space between the lines and we find a trigger (player facing backwards, bad control etc). We obviously have to be ready to still apply pressure on the ball carrier, which is why Joaquín will stay in the central position and mostly try to cut passing lanes, while the energetic Fekir and Canales can make up for that and attack the ball carrier. Our back-line will also have to be ready for long balls over the top, tracking back quickly enough to – ideally – win the header and get the ball back in our possession.
The 5-2-3 gives us, in our opinion and according to the characteristics of our players, a good spacing to cover the centre of the pitch and have natural paths for pressing towards the wings, pushing the opponent to the sides and back. Having three players in the first line allows us to press diagonally towards the ball carrier, automatically building a covershadow towards the centre – as well as being able to have access to the halfspaces. The latter is improved with the help of our two central midfielders Aleña and Guardado, both who are very mobile. Having a back five with two central midfielders in front naturally gives us the possibility to cover a big amount of the pitch, not having to run as much when shifting from side to side – another upside using this shape, especially towards the end of the first half to save some energy. In this shape we are confident we can prevent the opponent from progressing. For the later stages of development it is not our aim to "only" prevent the opponent from progressing, but we think that in our current situation it is the pragmatic choice to make.
In-possession plan
A common and useful way to approach build-up against a 4-4-2 is to target progression through the spaces either side of the two strikers which can be difficult to control. Within our 3-4-3 this can be achieved with dribbling from the half backs, who can commit one of the midfield players if they manage to dribble beyond the strikers. Yet, several teams building with a back 3 against a two striker pressing opponent do not manage to consistently create these situations. This is partly a problem of isolating the first line of build-up, and focusing on switching between the three defenders. The opposing strikers can then easier anticipate the next pass and constantly shift to the ball. Alternately, they can simply lurk in the passing lanes between the central defender and the half backs to either side to prevent switches. Thus to ensure we can create such situations it will be important to mix circulation with dribbles. Doing so will ensure the opposing strikers have to commit to the ball carrier, who can then transfer the ball to a team-mate with advantage, with the eventual aim of reaching a half back with enough advantage to carry the ball forwards at the targeted space. That entails one option for our build-up.
Within their 4-4-2 mid-block, Sevilla have some issues to control the space behind their strikers. Particularly when pressing against a wide first line, their strikers are often eager to block circulation along the first line. At times that results in them leaving their position early to anticipate such passes, in turn opening space for passes behind them. Yet to take advantage of this, we need to pin their central midfielders back effectively so they cannot defend forwards in these situations, or at least do so from a bad starting position. Thus a key aspect of our possession play will be the positioning of our wide attacking midfielders in relation to our holding midfield pair. In particular, both should position in a way that they are both available. When the central defender has possession, the 6s should be ready to move into the lane between and behind the strikers, enabling us to play against the grain of their movement when they move out of position early to block switches. The attacking midfielders should offer longer diagonal options, to become available for chipped passes if the opposing central midfielder on their side attempts to defend forwards early.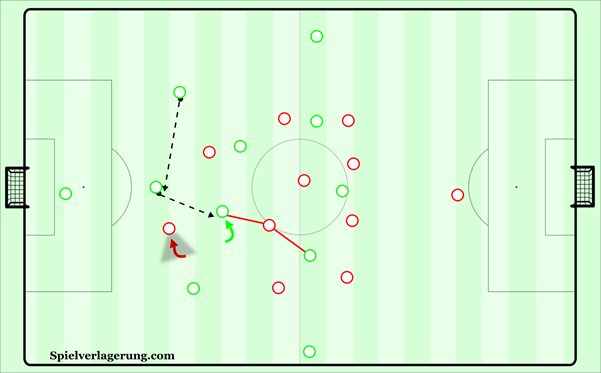 When the half backs are in possession, this will mostly result in the near attacking midfielder offering a vertical option, whilst the near holding midfielder offers a short diagonal one. With this separation between the two, the opposing central midfielder will not be able to defend both options, and the choice for how to progress will depend on which option they defend and with which timing.
Another vital aspect will be the height of the wing-backs and how they adjust it during the process of build-up. For our attacking midfielder to effectively pin the opposing central midfielder, the opponents' full-back must face a threat outside them to prevent them closing our attacking midfielder too early. Thus our wing-backs should position themselves at such a height that they can pin the oppositional full-back. If our ball carrying half-back can commit Sevilla's wide midfielder, we can target the relation between our attacking midfielder and wing-back to break through. In situations where the opposing full-back chooses to close our attacking midfielder too early, our wing-back can offer an option into depth. Whilst that fits the athletic profile of our wing-backs, doing so constantly will be demanding, so an alternative would be to drop slightly and offer the half-back a short diagonal option, which may lead to re-circulation, or playing diagonally into Sevilla's block. If the full-back begins in a half and half position, and close our attacking midfielder whilst the ball travels to them, the wing-backs should move to be immediately playable on the outside through flick ons.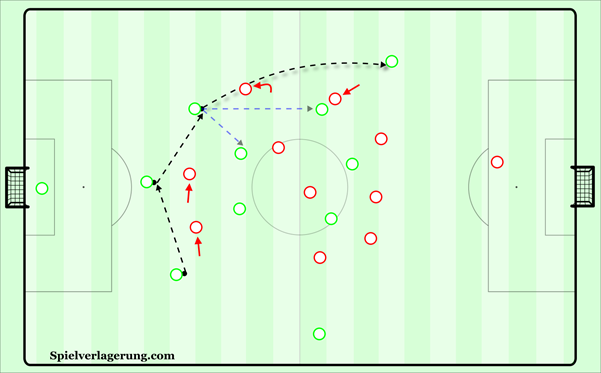 If Sevilla's wide midfielders drop into full-back positions to mark our wing-backs the dribbling paths for our half backs will increase which will allow simpler progression and switches between the half spaces. To break through we will now need to focus on the relation between the wide midfielder and full-back, particularly with counter movements between our wing-back and 10s.
Whilst we generally want to avoid playing to our wing-backs in deep positions, this may be necessary in some situations if our opponents manage to close our options in the centre and press our first line before we can adjust. In these situations, we want to have the options to play back infield to the 6 space, a back pass option for re-circulation, as well as more offensive options such as one down the line, and diagonally infield. These options can be created flexibly. For instance, the near CB can offer the back pass, whilst the near 6 moves high in the half space offering a diagonal option whilst potentially opening the 6 space which can be filled by the far 6 or the central defender moving up.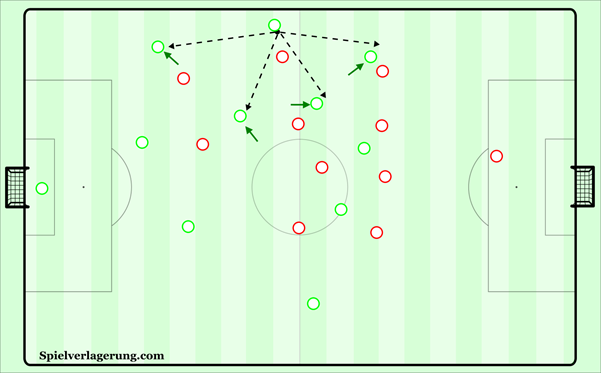 Training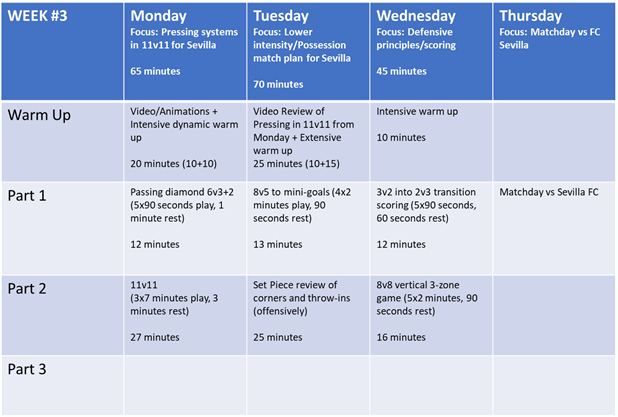 Monday
Having finished the previous week with a lower tempo session on Sunday, which was preceded by a day off on Saturday, we are now physically ready for our final internal 11v11 training games. As we are doing this 3 days prior to matchday we will have sufficient time to recover fully before the league fixture. Before going out onto the field, we would start the day with a short video session detailing our pressing plan for FC Sevilla with animations and other video. This will be brief and will be followed by a sharp and intensive dynamic warm up of 10 minutes.
Passing diamond 6v3+2
The passing diamond was part of our training in week 1 in a 5v3. Here we have built on this base and also made some adjustments to the exercise for our match-plan in possession. The team of 6 look to combine into the deepest player on the ground once again. From there, they would look to support and attack two mini-goals in a 3v2+1. This means that 2 further attackers would be allowed to support into the final zone, while 1 opposing defender can backwards press. If the defensive side win the ball, they look to counter towards the diagonal mini-goals just like in the base exercise.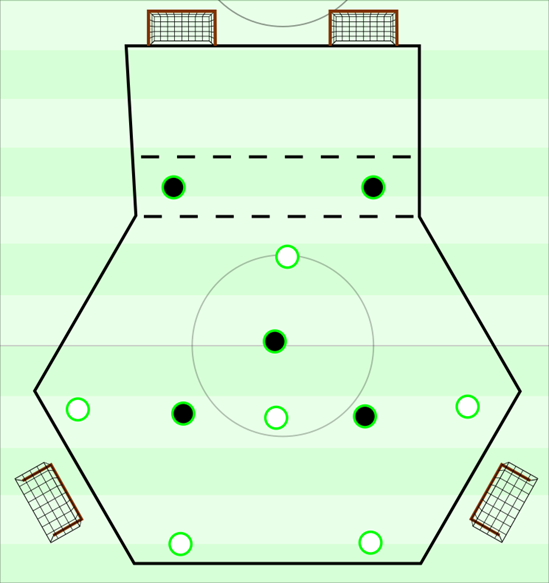 As we are looking to exploit Sevilla's first line coverage of 1-1 or 2 with quick switches from half-back to half-back in our back 3 in the buildup, we will look to train this here by increasing the base players from1 to 2. These will be our likely half-back starters (probably Bartra and Mandi), alternatively these positions could be occupied by Carvalho, Sidnei or Feddal in the other groups. Especially when playing from the wing-back positions back towards the lowest/base players they should look to switch between one another and dribble into space. From there an ideal scenario would either be a pass beyond the attracted pressure, or using the wider man to pass inside and forward from there.
The wide positions in the diamond would be occupied by Moreno and Emerson. In front of them the field shape would be cut in slightly. Forcing them to play diagonally when attacking. The central positions would be occupied by 6s (Alena, Guardardo) with the highest player being attackers (Fekir, Joaquin). The defensive side would close down in a 2-1-2 structure.
The final 2 defenders would start beyond the dotted line in the final zone. However, as soon as a forward pass is played towards the deepest attacking player, they should look to step out as that pass is travelling. Along with the 2-1-2 structure, which beautifully complements our 3-4-1-2 pressing plan, we hereby ensure that we are not constraining our principles and players should have significant match-plan specific learning within the exercise. Even when they swap to a defensive role in the break between rounds.
11v11
Compared to the previous Friday we have decreased our minutes played in the 11v11 by 1 minute per round. However, rest is also decreased by a minute from 4 to 3 minutes between games. This should signify a tapering effect as we get closer to competitive games. Here, we would instruct the likely starting 11 to try and implement the 3412 high pressing particularly in the first two games. In the last round we would look to work more on the mid-block 523 structure as we get more fatigued, as we inevitably will in the competitive fixture, particularly close to halftime as well as the end of the game obviously.
Coaching would mainly take place in breaks where the head-coach will look to coach mainly team and group tactical aspects within the pressing, while the rest of the coaching staff will look to coach players individually on different aspects of pressing within the bigger game. Joaquin is an obvious key player here. From an atmosphere and coherency point of view it is crucial to not only coach players within the proposed starting 11. Strong attention should also be put on their counterparts in the second 11. With 5 allowed substitutions it is crucial that all players are clear on their roles, so the second side will also play 3412/523 against the ball and 343 with it.
It would be quite intuitive to set up the second side as a Seville clone', however practically this has proved to be quite difficult in the past. Firstly, significant coaching time needs to be spent setting up the second side similarly to the opposition. Even if getting basic ideas across, this will not necessarily be executed with a high degree of accuracy as our 2nd eleven players will be completely different individuals to the upcoming opponent, and will consequently try to interpret a certain game model in a very different way. Besides that, the most important point is player morale, despite being professionals it is very difficult for players to try to essentially play as someone else, and with that obviously comes that one is the reserve for the upcoming game. And no footballer loves the bench, or even worse the stand. So, we would rather spend our time in trying to get both teams trying to adapt our ideas although practice might then be quite different from facing Sevilla.
Tuesday
After the 11v11 Tuesday will again be a lower tempo session. We will start the day with another video session. This time however the clips will be from the previous days pressing in the 11v11 that we filmed. Thereby players can see their own implementation of the principles and can hopefully brush up potential problems. Here, we will also look for their active feedback and not be opposed to adjusting certain elements if necessary. After 10 minutes of video, we would go out onto the field for an extensive warm up. The session itself is focused on possession principles for the upcoming game as well as touching on set pieces again.
8v5
Within this practice, played on a relatively small pitch, 8 attackers look to combine and score into two half-space goals, for a point each, against 5 defenders. The 5 defenders would set up in a 3-2 structure and would look to counter to 3 mini-goals. Passing into each of these would equate to 1 point each. Alternatively, they could also score by dribbling across the opposing goal-line on transition for 2 points. The game would always restart with the 8, they line up in a 3-3-2 structure. The back 3 would be the two half-backs as well as the center-back. The next 3 would be one of the holding midfielders as well as the 2 wingbacks. In front of that we would have 2 attacking players/10s.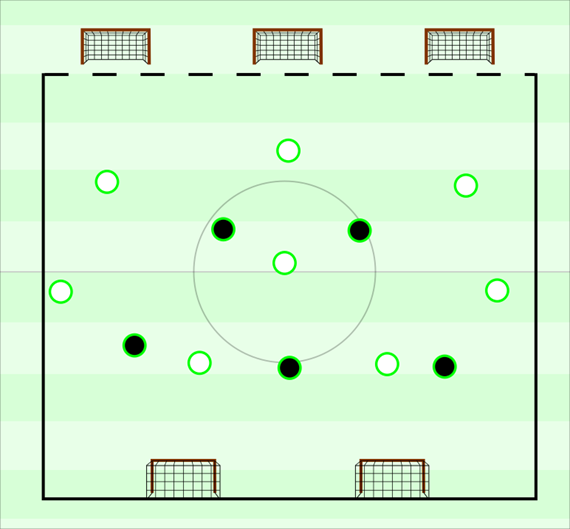 Besides reiterating the work done in yesterday's passing diamond where a big focus was on half-space switches to beat the first line pressure, we would now look to further our possession match-plan work by focusing on the positioning of the holding midfielder to exploit the space between Sevilla's front two and their holding midfielders. Our wingbacks should look to provide maximum width in the field. Their job is to either pin the opponent wide, whilst opening space in the half-space or being available for flat passes themselves.
The final aspect we would look to focus on in this exercise would be for players to move in relationship on the side to create a well-staggered side diamond between the 6, the ball-carrying half-back as well as the wing-back and the ball side 10. This diamond would be slightly asymmetric in its shape more often than not. Either we will be able to utilize this directly to cleanly play through it, or attract significant opposition pressure that can be exploited with a small switch of play into the area in front of the other half-space goal.
Set Piece Training
Our analysis has shown that Sevilla are dangerous with attacking corners, therefore we deemed it necessary to reiterate our behavior in this area. The other subsection we want to detail is throw ins. An often-under-appreciated aspect. A throw-in is the most frequent set-piece in a game, and with many teams results in unnecessary and uninventive losses of possession by just throwing the ball up the line. Strategically it will be wise for us to keep the ball for significant periods in Thursday's game, particularly for physical/game-management reasons. Therefore, our throw in training will be heavily centered around creating staggering and mechanisms that increase our chances of keeping the ball.
From a loading point of view, we would look for this part of the session to be quite slow and not too demanding physically. After 20 to maximum 25 minute we would look to call it a day.
Wednesday
Our matchday -1 session will be very short and sharp. It will include some scoring as well as a final conditioned game form to detail certain behaviors against the ball. We would start with a short and sharp intensive warm up. Thereafter we would divide the group into two big teams for the transitional scoring practice.
3v2 into 2v3
In this practice 3 attackers look to create a clear goal-scoring opportunity against 2 defenders as well as a goal-keeper. As soon as this ball is shot or goes out of play the opposing team attacks with 3 new attackers. The previous attacking, now defending team, then has to decrease by 1 player that leaves the field immediately. Creating a numerical inferiority for the defending side in a 2v3. This can aid to create a higher repetition of scoring opportunities whilst also creating a conducive environment for small switches of play around the box before shooting. Also, communication and interaction in transition moments is overloaded.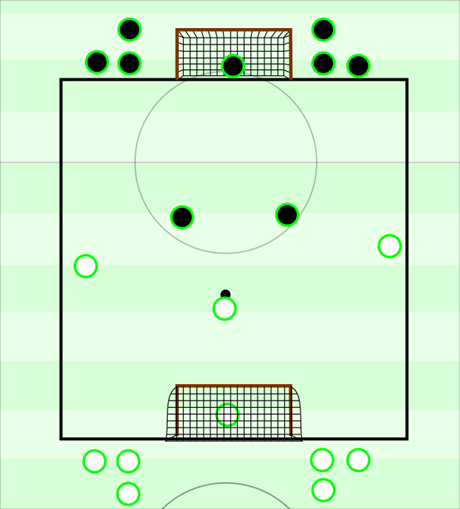 Ideally players would attack with players who play close to them in a game. For example, Canales, Joaquin and Fekir to work on their communications. All squad players should participate in this exercise, creating two big teams. Thereby players receive maximum rest after very demanding short but intense repetition. This is typically an exercise that players enjoy a lot. A crucial aspect within this game is goalkeeper periodization. It is not wise to expose your #1 and #2 goalkeeper to a very unrealistic load of facing shots every few seconds one day before a game. Their involvement should therefore be limited. Ideally a #3 and #4 goalkeeper would carry most of the load. Alternatively, #3 could be a permanent fixture while goalkeeper #1 and #2 share the load in the other goal.
8v8 3-vertical zone game
We would use this game as a final opportunity to reiterate defensive principles for the upcoming game. In an 8v8 the field would be slightly longer than the center-circle in the defensive half with full width. The field would be divided into 3 vertical zones. The wide channels would include half of a normal half-space on either side. On its intersection with the central lane we would place 2 mini-goals in the defensive half. The opposing team would always restart the game and look to build towards those for 1 point each when scoring in them.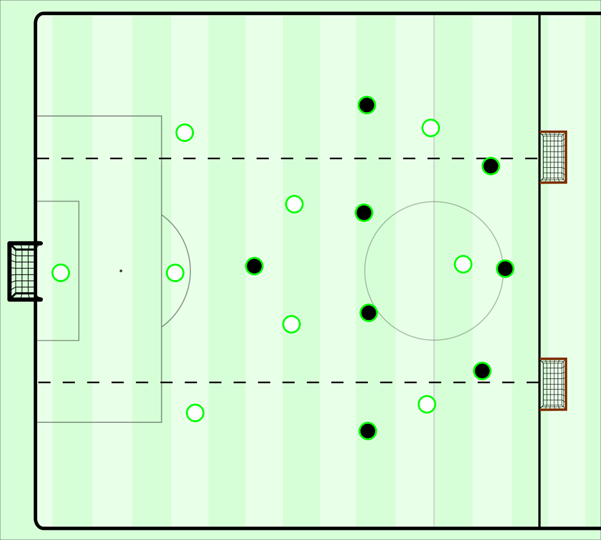 The pressing team would look to win the ball back from our pre-planned high press. If we win the ball in the central channel we would award 1 point for a goal scored thereafter. On the other hand, if we can trap the opponent out wide and win the ball there we would award 2 points for goals scored thereafter. This would focus us on trapping the opponent out wide. Additionally we would have a coaching point that any flat pass from the wide into the central lane should be accessible for us, in other words we can get to the receiver of the ball before he receives it. Thereby looking to control the possibility of the opponent playing through us with an indirect switch of play.
During this game we would rotate players in and out to manage their individual load. After about 45 minutes we would leave the field before announcing the squad for the upcoming derby game.
Conclusion
In this 3-part series we have tried to show a different way to play for a top professional team in Spain's top flight. Our starting point was an in-depth but independent analysis of the status quo. In order to get a set of less biased opinions we did this independent of one another. Within this, there was also a strong focus on the quality of the various players at our disposal. It was also important to get an idea of what the squad is doing well already and not just what is bad. We came to the conclusion that Betis have some really outstanding players that are perhaps underperforming as a group.
Based on this analysis, we tried to create a game model that would perhaps better highlight the squad's strengths while also working on some weaknesses. In order to do this, we tried to give some insight into our proposed training process. Although imperfect, we tried, to the best of our abilities, take likely external factors (such as the current Covid 19 crisis, with very limited training time before a return to play) into account. Here Patrick Eibenberger was an outstanding help, being more than generous with his assistance and insight into how to periodize the training as best as possible. A balance between building fitness and keeping the squad as injury free as possible needs to be struck. Regarding this, we learnt a lot that we look forward to apply to our own external factors when our own teams return to competitive play commences.
We hope that you enjoyed the series as much as we did write it. And we wish Real Betis as the best for the run-in of the 2019 2020 La Liga season!