Merseyside Derby stalemate inches Liverpool closer to title
The first week of the Premier League's return culminated at Goodison Park with the Merseyside derby. Everton looked to continue their upward trend with Carlo Ancelotti from before the season's suspension, whereas Klopp's Reds were looking to maintain their impressive unbeaten derby record, and with a win, would move three points away from becoming champions.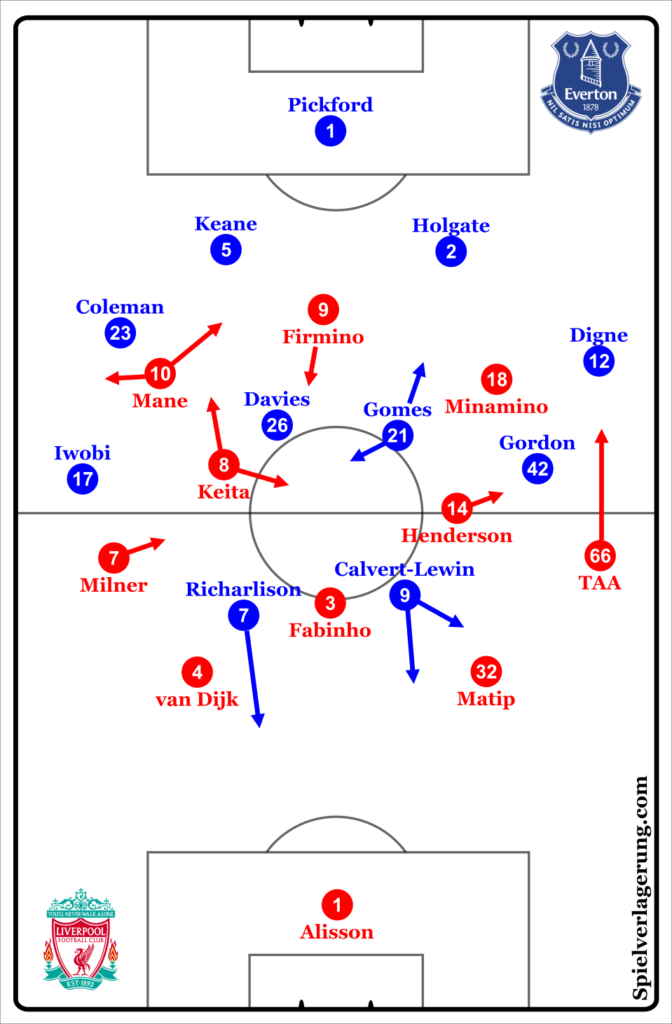 Liverpool's superiority in possession
The away side's 4-3-3 structure naturally created numerical superiority against Everton's 4-4-2 in the middle of the pitch, and they were able to repeatedly access the free man during build-up circulation with relative ease. This was usually Keita, on the left side of Liverpool's central midfield, because of Liverpool's full-backs, Alexander-Arnold and notably, Milner, replacing Robertson who wasn't deemed fully fit. Milner provided less width in the more advanced wide areas than the Scotsman (which remained the case with Gomez), meaning there was less pressure on Everton's full-backs, and Alexander-Arnold was relied upon to provide width. Liverpool consequently looked to the right when progressing attacks. From there, by moving the ball back through the middle to Henderson and Fabinho, Gomes and Davies were forced to move across and defend them, leaving Keita open to operate in the left half-space. His inclusion in the starting line-up may well have been influenced by Milner's deployment at left-back, as well as the 3 v 2 central-midfield match-up. This overload in midfield was augmented by combinations of:
Mane and Minamino's movement (or lack of movement) in the half-spaces between the defensive and midfield lines.
Firmino dropping into gaps between Davies and Gomes (with Minamino and Mane consequently running into the space behind Firmino).
Henderson moving wider to establish a structural connection with Alexander-Arnold in higher positions, occasionally dragging Gordon or Davies away from the middle with him.
Matip dribbling into midfield zones.
One of these scenarios can be seen during the attacking transition below.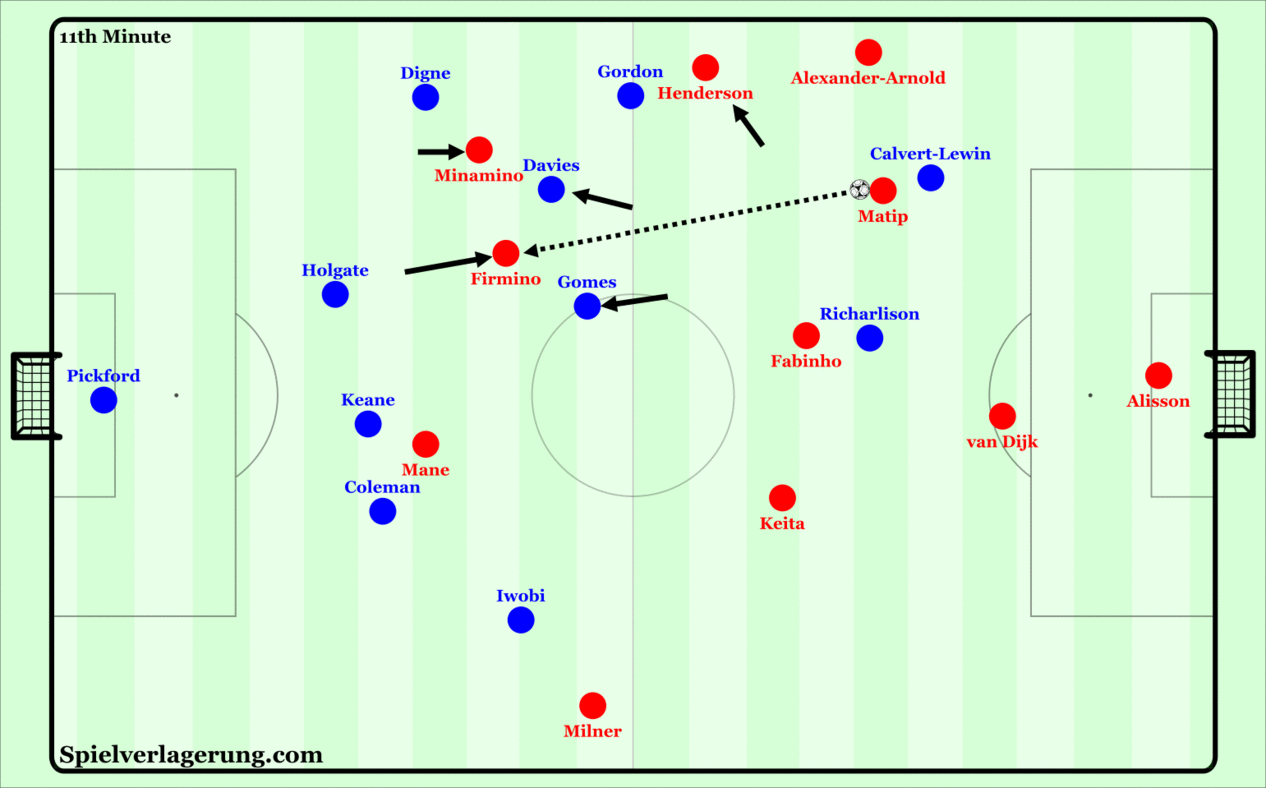 From these situations, Keita was Liverpool's stand-out player on the day. He was sharper, more direct, and incisive than those around him. He drifted through the midfield, maintaining adequate spacing for the team's structure, and offering himself as a passing option. His combination with Mane was particularly harmonious. Milner and Keita both sought to find Mane when he was backing into and shielding the ball from Coleman, where his superior balance and agility meant he could turn and dribble away, where the less-mobile Keane could only stop him by fouling.
Liverpool's press overcomes Everton's unorthodox build-up
The home side chose an uncommon method of building-up from goal-kicks. This was probably a move by Ancelotti to make pressing more difficult for Firmino, as he used a similar build-up method against Liverpool with Napoli.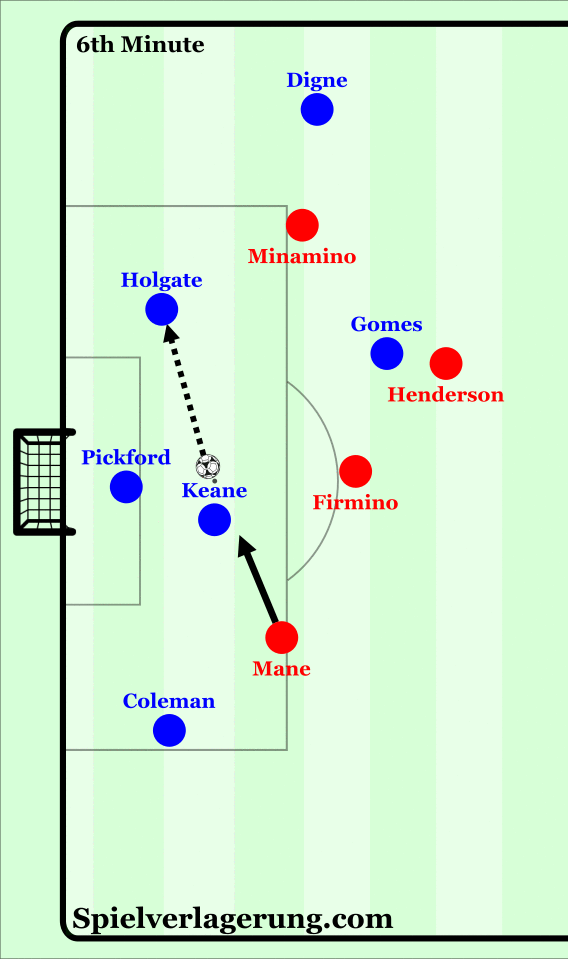 The scene on the left depicts one of Everton's first attempts at this. In later instances, the wingers dropped to support the full-backs, and the midfielders were able to find the full-backs with cleaner passes, and they rarely played through the pressure, only progressing by completing difficult passes at acute angles. Liverpool contained them well, forcing Coleman and Digne to play back to Pickford or play long passes forward, where it was a challenge for Richarlison and Calvert-Lewin to be productive against van Dijk and Matip. Moreover, Everton's lacking presence in centre-midfield compared to Liverpool made loose ball situations difficult to win. Against other teams with less athletic centre-backs and/or the midfield battle is favourable towards Everton, this 'drawing the opponent in and playing long towards the strikers' technique could well be more effective. It will be interesting to see if Ancelotti sticks with it against weaker teams who don't have Firmino.
In more advanced positions, when Everton were recycling possession rather than playing from Pickford, Firmino and one of Mane/Minamino moved centrally to mark Davies and Gomes in their cover shadows. Keita and Henderson monitored the Everton midfielders by lurking behind, but not too close to entice passes towards them, with Fabinho as a free man further behind. This was particularly dangerous for Everton, as the only safe short passing option was the full-backs, where Liverpool could shift over and collapse on them if need be, and passing to Gomes or Davies made forcing mistakes and possession turnovers common.
Ramping up the pressure… temporarily
Klopp opted to make use of the new substitution rules by putting Oxlade-Chamberlain on for Minamino at half-time. Although nowhere near his best, Minamino added an element of unpredictability to Liverpool's attacks and pressing, so it was disappointing to see him leave the pitch at this stage. Oxlade-Chamberlain operated in a similar position to Minamino, with Alexander-Arnold now moving higher and wider, as Liverpool's energy and attacking mindset began to escalate, pinning Everton inside their own half.
This continued for the first fifteen minutes of the second half as Liverpool began to look more dangerous. Everton largely gave up on their build-up strategy and enjoyed some respite just from clearing the ball. However, Keita and Firmino were substituted for Wijnaldum and Origi just after the hour mark. From this point, Liverpool became far less threatening. There was a noticeable drop in positional fluidity, and attacking sequences became unbalanced with numerous players acting disoriented.
Origi moved to the left-wing, with Mane switching to Firmino's role. Gomez's operation as a defensive-minded wing-back made Origi unsure of his position, as he had to move wide to support Gomez's deeper position when he had the ball, but was also seeking to run in behind Mane in correspondence with his dropping movement, otherwise, his false 9 role would prove sub-optimal. Liverpool's attacking formation resembled a heavily lop-sided 3-1-3-2 with Origi moving centrally, and no advanced play down the left side. The reliance on building down the right-wing and then moving the ball back centrally remained, but they didn't have Keita to play through, with Wijnaldum functioning in a more defensively stable role. Furthermore, the structure was generally too square, with Henderson and Wijnaldum regularly, and perhaps unintentionally, finding themselves positioned directly behind Oxlade-Chamberlain and Mane. Keita and Minamino were missed, as was Mane in his preferred left-wing position.
Sub-optimal decisions with the ball were also salient. Henderson regularly played the ball wide to Alexander-Arnold, which is understandable considering the Scouser's crossing ability, but Henderson was periodically in better positions himself, as seen in the scenario below. It depicts an uncommon circumstance of co-ordinated attacking movement, which the away side could (and should) have been much more capable of replicating.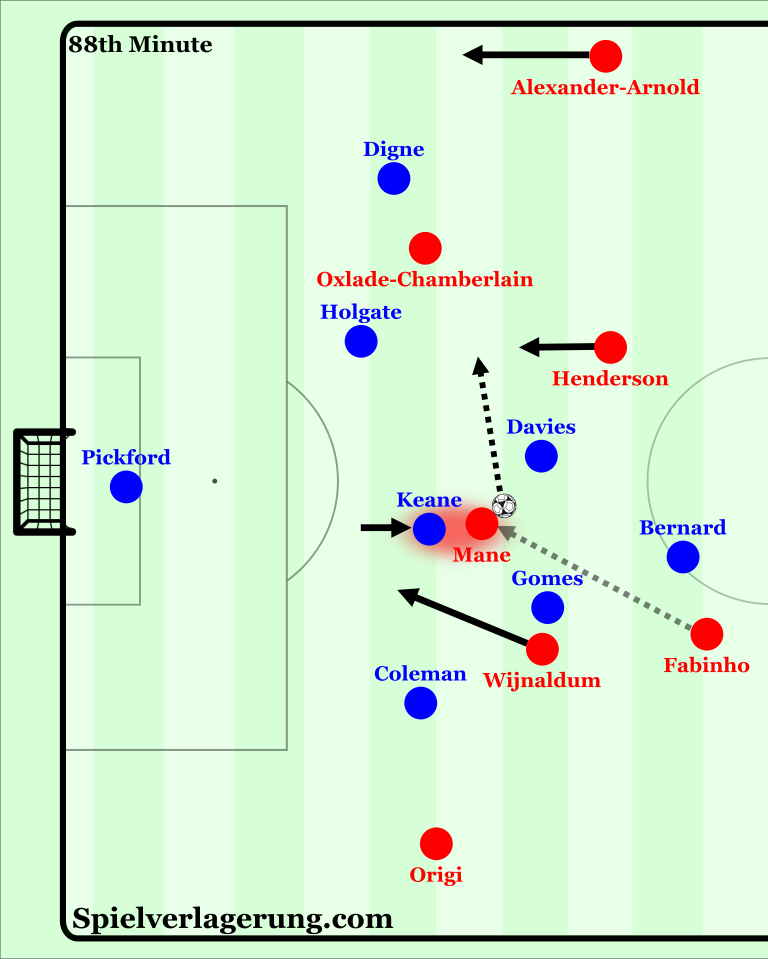 Everton threaten, Liverpool blunder
Attacking transitions proved to be Everton's primary method of chance creation, some of which almost proved fruitful. From their 33% possession, they generated better quality opportunities than the league leaders. When Liverpool had possession inside Everton's half, Richarlison and Calvert-Lewin moved into positions that would be the most advantageous immediately after regaining possession. Richarlison usually stood between Liverpool players, either to receive or have quick access to open space to run into, whereas Calvert-Lewin dropped away from Liverpool's defenders to receive shorter passes. Although Richarlison was likely to lose a physical duel against Matip or van Dijk, he had better opportunities against Lovren (after Matip went off injured).
Liverpool didn't do much to help themselves in defending these situations. Many of their players lacked urgency and looked lost during defensive transitions. There was a general lack of rhythm and security between the players that completed the match. Their press lacked urgency, presumably due to fatigue, with errors and fouls becoming more prevalent. The red-men were lucky to have the ever-reliable Alisson, supplying security when it was lacking elsewhere, bailing the disordered defence out when called upon.
Conclusion
In what turned out to be the most-watched Premier League match ever, Liverpool were fortunate not to lose their impressive derby record. It was a typically robust Ancelotti defensive performance, and the Everton fans can only be left to wonder what impact they might have had if the stands were full.
A side of Liverpool's prowess should nevertheless be doing better and winning this match. I don't want to be overly critical after so long without competitive match practice, but it's difficult knowing the heights this team has reached and what they are capable of. Given the situation in the league table, there wasn't a need to risk Robertson and Salah, but their omissions undoubtedly damaged the attacking dynamic. Still, it wasn't only on this side of the ball where issues were apparent.
Rustiness will, of course, be ironed out as the matches keep coming, and Liverpool now find themselves in a position where they need four points from eight games to secure a historic first league title in thirty years.