Player Profile: Marcus Thuram
Marcus Thuram is writing his own story in this year's Bundesliga season. His transfer to Borussia Monchengladbach in summer 2019 for €12m was arguably a signing for the long-term, a promise for the future.
Nevertheless, right from the start he contributed with goals and assists. Clearly, the 22-year-old is one of the main characters in the offensive of the foals along with Plea and Embolo. How did he establish himself so quickly in the Bundesliga in a team fighting for the top ranks?
This article sheds light on the son of World Cup-winning Lilian Thuram. Based on an understanding of his breakthrough in France, we will examine his recent development. In doing so, we have a look on the characteristics Marcus Thuram brings to the foals and what role he plays in the system of coach Rose. We look at strengths and weaknesses, and what this combination means in the context of the modern game. Finally, we give further considerations on potential next steps in his development.
First steps in pro football in Sochaux and EA Guingamp / Current positioning
Born in Parma during his father's five-year spell at the club, Marcus Thuram made his debut in pro football for the French side Sochaux in March 2015 at age 17. After two years in the second tier, he moved on to EA Guingamp. While the 2017/18 season was about finding his feet in the top flight, 2018/19 saw the youngsters star rise despite his team's struggles. They were relegated but Thuram contributed nine goals. In summer 2019, the 22-year-old moved to M'Gladbach. While this season is a completely different story for his team, Thuram built on his performances in Ligue 1. The question in the Gladbach offense line is not who is playing, but who is playing with Thuram. The young French has collected the most playing minutes (2156 min.) in the Gladbach squad besides constants Lainer (2173 min.) Zakaria (2361 min.) and goalie Sommer (2520 min.), far passing Plea (1710 min.) und Embolo (1369 min.). Revealing his cutting edge up front, Thuram has chipped in team-leading ten goals and nine assists in all competitions, helping to propel Gladbach to the top group of the Bundesliga. Thus, the French's upward career path has continued with directly winning the Bundesliga Rookie of the Month award for both September and October.
He has fit in seamlessly with the foals in a partnership up front with his compatriot Plea and Embolo An offender of exceptional height (1.92m) and size (88kg), Thuram usually assumes a role either up front as part of a two in a 4-3-1-2 formation or on the left in a 4-2-3-1. We can see his positions in two exemplar formations (graph 1, 2 and 3). Moreover, the heatmaps of the respective matches indicate the rooms he occupies in either role.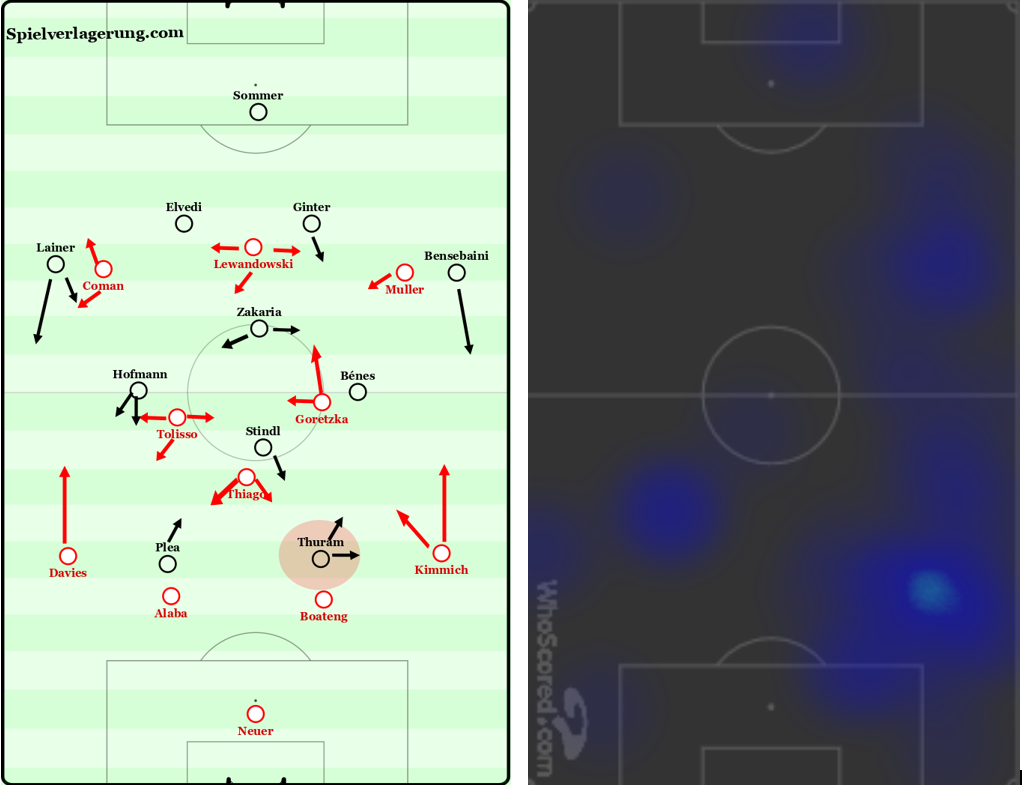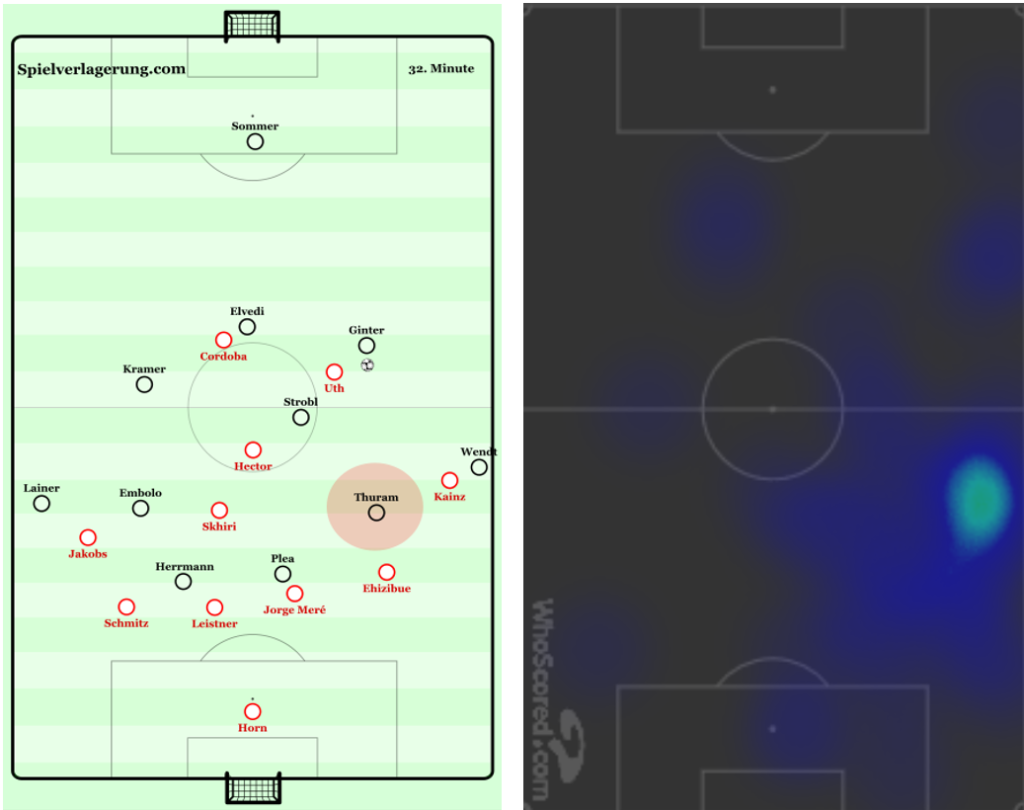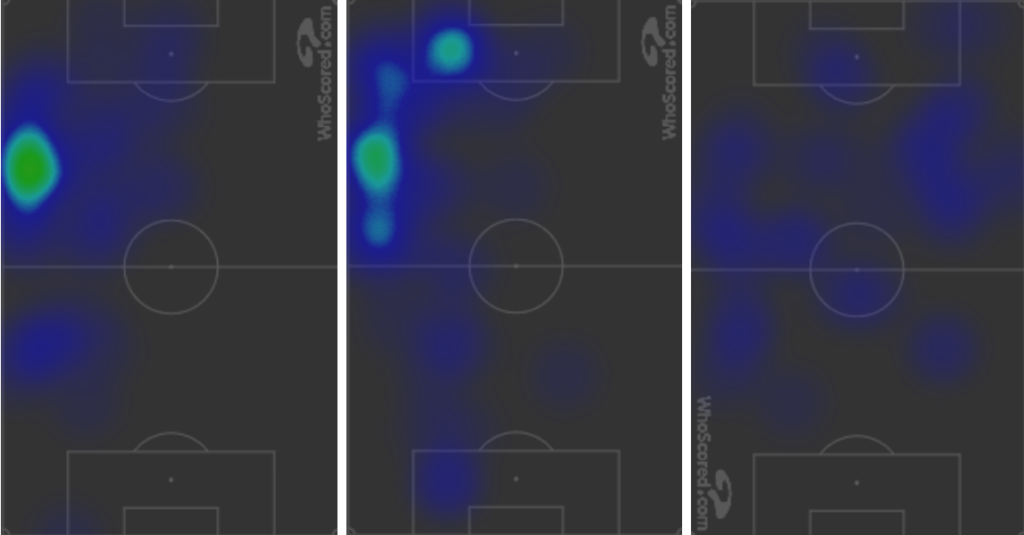 Just because you are quick, does not mean you need to use your pace in every situation
First, Thuram has outstanding coordination skills and perception. By this I mean how he coordinates movements between his upper body and legs, and how he translates visual information (e.g. opening and closing spaces, opponent´s moves) into such movements. The young French is quick and he benefits from his pace in certain situations. Just because he is quick does not mean he treats any situation as a direct challenge in which he will apply it. Thuram does not depend on his mere pace to win direct challenges, assist a goal or score himself in contrast to many other players. Robben depended on his typical move and 0-100 – explosive pace. Coman relies on his pace to pass by players. Many other examples are out there. In turn, at the heart of almost all of Thuram´s actions on the pitch lays his coordination skills. Consequently, he is much more versatile in his actions than many other offensive players. Thuram likes to develop a game situation based on the individual circumstances of the very situation. How Thuram copes with various situations could be reflected in the well-known quote "Just Because you have the best hammer does not mean that every problem is a nail". Hence: Just because you are quick, does not mean you need to use your pace in every situation. Following this line of thinking: As similar as situations appear, we know that every situation on the pitch is unique. And Thuram's great perception and rapid understanding of game situation allows him to cope with this uniqueness. While his perception allows him to be aware of the dynamics and the options around him, his coordination allows him to act on the info he has from this superior awareness. These abilities extent his skillset vastly, making him good at various situations. For opponents this presents the challenge of a high degree of unpredictability. You can observe his superior processing and acting on information of his surroundings in several situation. One example is shown in graph 4, when he scored the 2:0 against TSG Hoffenheim.

After winning the ball, you can see that Thuram scans his surroundings and mentally processes the different options he has. He moves his head actively right and leftwards, not focused on only one possibility. This info would not be any advantage, if he could not act upon it. But he does. When TSG-defender Hubner attacks him a moment to early and too hectic, falling to the ground, Thuram exploits the space and slots past the goalie for 2:0. This example illustrates that his perception allows him to keep an overview even in dynamic situations, e.g. when he appears suddenly alone before the goal or after a dribbling. The latter, dribbling, is obviously one of his strengths. This seems a bit odd, because at first sight Thuram's movement can appear clumsy given his height and weight. However, just at first sight. Despite his body´s rather high centre of gravity, his coordination allows him to change directions quickly. Concerning the position, he oftentimes stays wide and waits until he receives the ball. Once he moves inside, Thuram loves to move the ball with the inside of his right foot and then change directions quickly by moving it with the outside of his right foot (more on this in a moment). He keeps his body position rather open and straight, supporting his observation process and keeping several options open. In fatc, this is what makes it hard for opponents to predict his next move. There are several examples. In the game against Fortuna Düsseldorf; against Bayern, when he battled against Coman successfully; beat Leverkusen´s Wendell and Augsburg's Jedvai by similar means.
Having obeyed his coordination and perception, we will now look at the second characteristic that sets Thuram apart from others. The French does not choose the way of least resistance–a dribbling in the free space or pass to an open team-mate–but the most promising one. Building on this perception and coordination, from a mental standpoint he is patient and delays situations when necessary to wait for the right moment to come. And then executes.
Patience and delay of situations
Thuram is extraordinary in finding the right moment to do an action on the pitch. Once he faces an open room or sees an open team-mate he only enters the space or makes the pass when it is the best option. One will rarely see the 22-year-old making hasty actions or unnecessary runs. Let's explore how he does this at greater detail.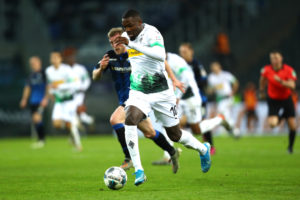 When possessing the ball and facing opponents, Thuram tries to provoke the latter for attempts to win the ball. If an opponent makes a hasty, move, overambitious action or gets out of balance, he often exploits it directly. This ability shone through repeatedly when he was facing PSG with his former club EA Guinkamp. We also already saw it in graph 4. Hubner faced Thuram, who moved and moved, step by step. Lainer on the right was already open and would have been a good option. Still, he waited. Hubner loses balance. Thuram scores.
In the context of delaying the situation, how he handles the ball is relevant. We already have touched it shortly above when we assessed his dribbling. While Thuram has no one-size-fits-all recipe that he strives to push through in as many situations as possible, he shows patterns in how he delays situations. For example, Thuram loves to get the ball and move it forward with the inside of his right foot rather slowly. At the same time, he keeps the head up straight to observe the moves around him to detect any moves and spaces he can exploit.
Thuram creates dynamic because his movements allow or promote actions and movements of team-mates and opponents, affecting the structure of the game situation. As seen above it is not about just beating an opponent go to the baseline and then pass the ball in the box. Thuram has not the firmness or directness in his dribbling as e.g. Mbappé. What does remind of Mbappé in his actions, in turn, is how he oftentimes uses dribbles(not concerning his dynamic, but the pure utilization of dribbling). Thuram uses dribbling not as end in itself. The French often knows his possible options and their potential value beforehand. Hence, he does not start the dribbling when he has better options. He dribbles to get an overview of the moves and resulting spaces around him and find the best open man. That is why you will see Thuram rarely playing the ball with the first contact. He holds the ball and waits until he finds the best option. This gives team-mates time to move forward. The very best moment where all of this came together is his assist for Hofmann in the game against Dusseldorf (graph 5). Thuram dribbles from the right side towards the box, moves inside step by step, thereby opening the passing channel in the box. Hofmann makes a fantastic run to receive the pass.

Furthermore, his focus to get a detailed overview of situation along with his patience helps him to stay calm once he appears in front of the goal. Back in Ligue 1 times, he beat goalies and kept defenders from savings by clever movements. He scored against Monaco after he kept an opponent from tackling. Against Nimes he took a long ball down to beat the goal with a well-thought through shot.
Decision-making: Quality comes before time
So far we have looked at Thuram's perception and coordination abilities play out, as well as his ability to patiently delay situations. Both of these strengths come together in the French's decision-making. When his team is in ball possession we can distinguish between two situations.
First, Thuram makes excellent decisions in situations he is actively and directly involved in. By this I mean scenes when he has or potentially will receive the ball, i.e. the ball is in his close range. His good decisions are rooted in what we already saw above. More specifically, his outstanding ability to keep an overview of his surroundings even in dynamic situations allows him to exploit spaces and open team-mates. That allows him to react to changes in the environment e.g. movement of opponents and team-mates. A further example is his assists for Plea's 1-0 against TSG Hoffenheim (see graph 6).

Now, second, let's get to one of the key strengths of Thuram that in combination with the stated skill set sets him apart from many others. The bizarre thing is: Often you can't observe it when you follow a match. Because it happens not where the ball is. Thuram is very good in situations in which he is not directly involved, i.e. he is far away from where the ball is. Thuram thrills at concentrating on and anticipating how a situation develops. And he has time. He is waiting in the pipeline, getting in position. Not too early to close spaces and to alert the defenders. If a situation does not develop as it could, he will wait for the next. Thuram preserves his constant orientation through a great level of concentration. That seems marginal but is rather rare at this consistency over 90 minutes. When he scored against Dusseldorf he seemed to come from nowhere (see graph 7). He did so in several matches against Cologne (where his run enforced an own goal); a second time against Cologne (header for 2-0); against Leverkusen scoring for 2-0; … well, you name it. Moreover, five goals and four assists within a game's final minutes indicate that he is focused and ready to step forward until the last minute.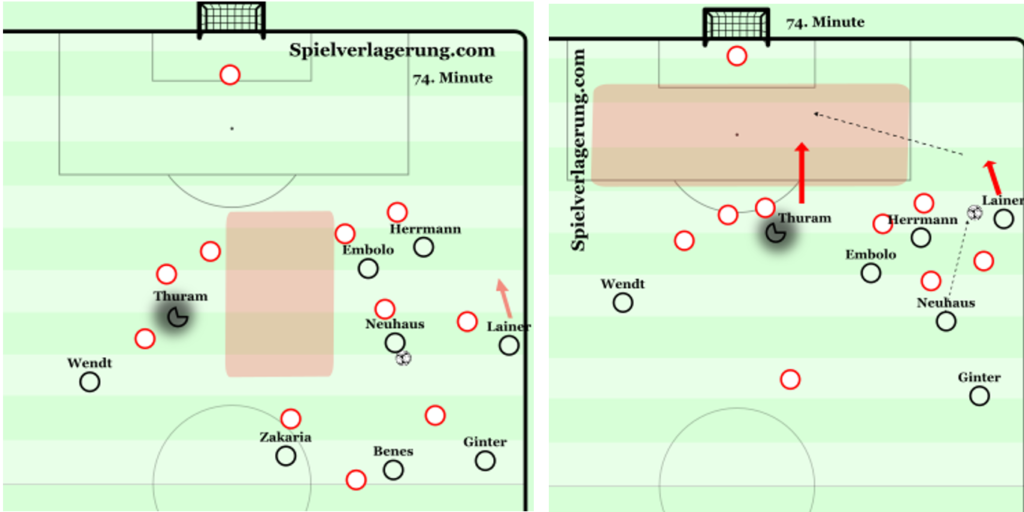 Okay, by now we already have a great idea of Thuram and what makes him exceptional. All these aspects should help us to assess his player profile on a meta-level. What does all of this mean? How does Marcus Thuram fit in the context of the zeitgeist and modern game?
How Marcus Thuram's skill sets fit in the modern game
All in all, Thuram's skill set leads to an interesting player profile. Specifically, he integrates two types that often appear individually, but not often together. Thuram is a player who can create dynamics and one who can use dynamics created by team-mates.
First, Thuram is good at creating dynamics. This aspect is reflected in the conducted analysis above, including his dribbling and delay of situations. Thuram can open rooms, pull out players when he dribbles, provoke actions and moves that will he often exploits directly once created. Further, Thuram can play the last pass–a pass that is not easy to play in the modern game. The defense of the last line has grown stronger. Jurgen Klopp paid €80m for van Dijk among others due to his strength in defending in the last line, in direct challenges. If you know that your last line will clear off many hairy situations, a team could potentially attack earlier, take greater risks in the offense. But this is another story. The increase used of a back five accelerates the need of players who create dynamics. In light of these aspects, in today's world of football and talent promotion much emphasis has been put upon developing players who can create dynamics.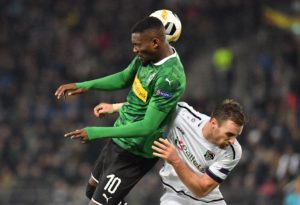 Discussions and strategic measures in German talent promotion focus on improving players in 1vs1. Pep Guardiola at Bayern and also ManC focused to get a few players exceptional in 1vs1 that help to create numerical superiority against deeply positioned lines. Today, many outstanding players can create dynamics. Look at Sancho, Hakimi, Coman, Neymar etc. (obviously, they all differ in their specific abilities and extent to do so, but in short, they are good at creating dynamic). And Thuram – without striving to make comparisons to the mentioned players – is good at creating dynamics. The best scene we saw was the one in which he delayed the situation until the room was open for Hofmann to receive his pass and score for 1-0 (graph 5). At this point, I want to underline again that creating dynamics does not mean pace. I rather mean to create dynamic situations which changes existing structures, bringing a team out of balance for a moment. We have seen that Thuram can induce dangerous situations through his special skill set of perceptions, coordination and patience. While the number of players who can create dynamics increases steadily you need those who can exploit it. And now it gets interesting.
Thuram, and this is the second aspect, is a player who is very good at exploiting dynamics created by others. He can be the recipient and final part of a successful attack without being directly involved before. Such a skill is much more than putting the ball over the line with the last touch in an attacking sequence. It requires a remarkable intelligence for spaces. Thuram's skill sets fit to this ambitious role. Thuram is good at identifying rooms and exploiting them in the right time. Situations in which he leaves his position on the left side and enters the middle area, to get behind the opponent's last line. The scene against Dusseldorf above serves as great example (see graph 7). Thus, Thuram is one of the players you need to exploit created dynamics. This aspect cannot be taken for granted in modern football. Nonetheless, not many thoughts have been put into the skill of how to use created dynamics.
In the context of exploiting dynamics, Thuram can also leverage his strong heading ability. In the current season at Gladbach but also in former Ligue 1 times, he has scored several goals through headers. Gladbach supporters will think about his 95th-minute header to record a win home against Rome. In this vein, he is the player who wins on average the most aerial duels per game (2.6) only after central defender Elvedi (2.7) within the Gladbach team. While he wins far more aerial duels than his colleagues in the offense, Plea (1) and Embolo (0.9), the French also beats many Bundesliga strikers which are considered good in aerial duels and headers, e.g. Paciencia (2.2), Bebou (2), Alario (2.2). In fact, Bundesliga-wide almost only players in the central defense attain similar or higher numbers such as Hubner (2.7) or Hinteregger (2.6). Although the number of aerial duels won also depends on several other factors such as playing minutes, # set pieces, exact role and position etc., we don´t want to dig deeper here. Overall, we recognize that this part of the game is a facet Thuram integrates in his skill set. This strength rounds up his ability in the offensive zones for finishing attacks or just becoming dangerous when nothing else on a specific day is working e.g. after a set piece. His strong handling of aerial balls makes him even more unpredictable and hard to defend over a period of 90 minutes.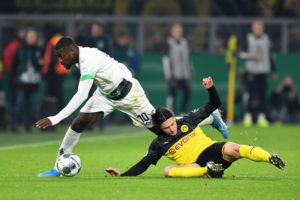 The last perspective I would like to take in the last part of this analysis, is an outlook to his role in his team. As Thuram is good at creating and exploiting dynamics, how should these abilities be balanced to the best of his team?
Future role and unused potential
We have seen what Thuram does. Exploit dynamics by making razor-sharp runs. Creating dynamics by dribbling and shifting situations to his benefit. So what are the things Thuram does not do? And more importantly, how could he balance them, what could he do different?
While being good at creating dynamic, this does not yet mean for Thuram to frequently drop in deeper zones and uses short lay-offs. In fact, Thuram seldom is involved in short combinations, short touches or drops. I argue that he could be more involved and create dynamics and rooms for team-mates before exploiting it. He can be better integrated in the half spaces where he is already positioned anyway (see graph 2). Position-wise and strategically, Thuram often has the job to move in the half spaces, e.g. especially in 4-3-3 and 4-2-3-1 system. In the following graph 8 you see a situation in the match against Cologne. In my opinion this situation offered potential to create more dynamic through a pass to Thuram and a short drop from his side. However, Gladbach did not use this means, but only played a short pass from Ginter to Strobl. Ironically, though, despite my suggestion this situation led to the 1:0 of Embolo. Nonetheless, just because the situation ended with a goal does not mean that you made the best decisions along the way. Still, coach Rose and his staff at Gladbach seem to favor such short lay-offs or playing about a third man. This has been used for instance against RB Leipzig (graph 9).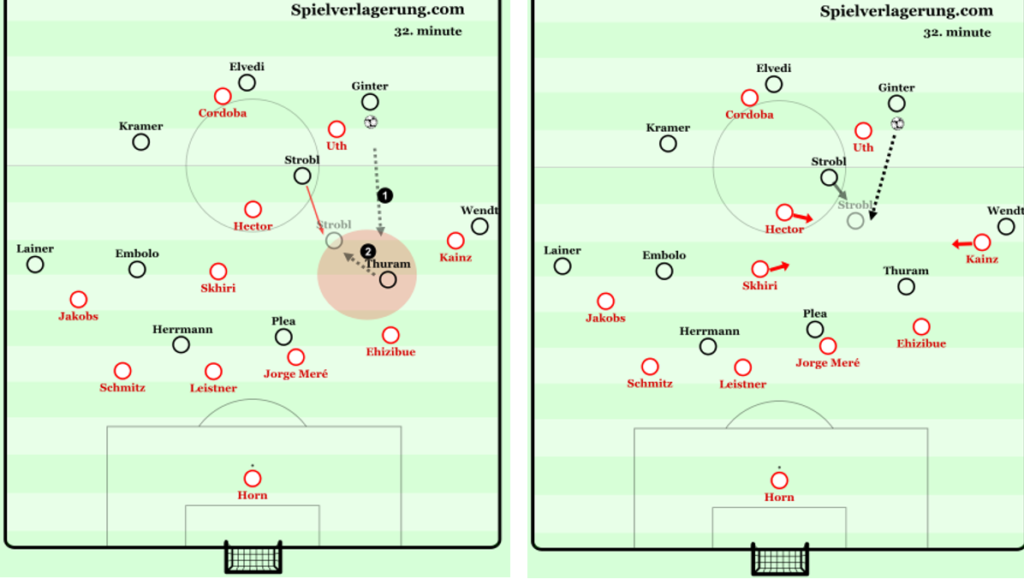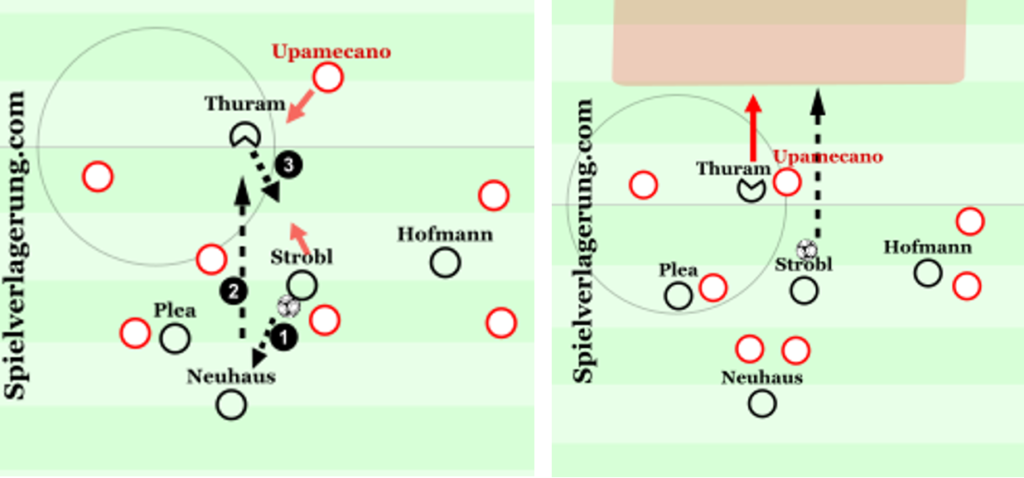 When it comes to his defense performance, Thuram has shown to close gaps proactively through runs. One good moment where he contributed winning the ball happened in the scene when he scored the goal against Hoffenheim after passing defender Hubner. Before team-mate Lainer won the ball, Thuram did a great job at putting pressure on left wing back Skov. In general – partly based on his perception–Thuram is good at starting pressure movements and deliberately closing rooms behind him with his cover shadow. However, while he has the ability make good decisions and participate to the defense work of his team, he does not perform in this area as constantly as in the offense game. Specifically, in counter pressing he does not contribute to winning many balls. Having said that, we must admit knowing no specifics about his tactical role and instructions. And this aspect brings us to the questions to what extent he should contribute to the defense and in what positioning?
When we argue that he could contribute more in defense work overall and counter pressing in specific, this would often mean that he needs to drop deeper (not necessarily if you attack in front, but for counter pressing you need to keep a certain distance to the line behind you). Perhaps that is something you don't want because you need him in higher zones. It is not an absolute but relative decision. It's not decisions based on one player but on the entire team. And in the current team, I would argue that he seems to be better in high zones close to the opponent's last line. Up there he seems more important from a tactical standpoint. A too strong presence and involvement would harm his strengths: the surprising moment. There are enough examples of similar ranging discussion. Julian Brandt was positioned deeper under Bosz at Leverkusen and also Favre now at Dortmund although he was already good in the more offensive zones. Similarly, we saw above that Thuram's compatriot Mbappé is good at creating dynamic but one of the best in exploiting it – and hence possibly more valuable located close to the opponent's last line. Or Cristiano Ronaldo: He has his brilliant moment once he holds himself back and enforces his power toward the goal.
Conclusion
In a nutshell, the combination of abilities in both creating and using dynamics serves as foundation for the player profile of Marcus Thuram. This makes him valuable for his team in scoring (ten goals) and preparing (eighth assists). And this picture is not distorted and rooted in luck or better team-mates. On the one side, the gap between real and expected values for goals (Bundesliga: 6 G vs. 7.3 xG) and assists (8 a vs. 6.5) does not indicate that his numbers do not reflect his performances. On the other side, these numbers do not merely show a snapshot of good Hinrunde. A balance between assists and goals has characterized his path ever since. Already at his last teams he seemed to excel at both scoring and assisting. The reason of his good numbers is rooted in his performance, contributing to solid team performances.
Overall, it will be exciting to see how Thuram will continue to develop on a both individual and collective level. With his special skill set he is already the player with the most playing minutes, far passing Plea und Embolo. He belongs to the best scorers. And he has already performed in critical moments in the Bundesliga DFB-Cup and Europe League. A player who plays, assists and scores frequently, Thuram seems on his way to become a player for higher tasks. It would be a surprise if Thuram's breakout season has gone unnoticed on the international stage–by other clubs as well as by France's national coach Didier Deschamps. We will observe with great interest how he will keep evolving in possible future roles in the Champions League and National team. Is Thuram someone who can make a difference in the really big games?
Writing by Tobias Meyer; Editing by Constantin Eckner.