Can Haaland continue scoring in the German Bundesliga?
Erling Braut Haaland is now a Dortmund player. Why did the move to BVB make the most sense for him and Dortmund? What are his strengths and weaknesses? Who is he similar to? What can Dortmund expect from him? Let's find out with this scouting report.
Unless you've been living in a cave you've heard of Norwegian "man-child" Erling Braut Haaland. Which is fascinating because a year ago, unless you were a hardcore Austrian Bundesliga fan, or for some reason watched the Norwegian League, or were just really into Football Manager, you probably hadn't heard of the Norwegian. Some people took note after that nine-goal Honduras demolition in May at U20 World Cup or waited until the UCL group phase, where Salzburg and Haaland stole the show. By the fall we probably couldn't get enough of Haaland, who accomplished these feats in 2019: most goals scored by a player in a single match at a FIFA U-20 World Cup (nine goals) and becoming the first player in UEFA Champions League history to score six goals in his first three games.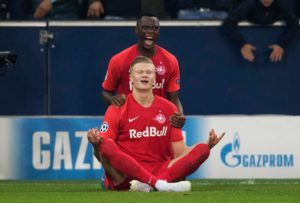 His analytics comps, as Mike Goodmanpointed out, were "Kylian Mbappe last year, Mohammed Salah's first Liverpool season, and Mbappe again, from two seasons ago." That's quite the company for a 19-year-old with basically half a season of Austrian Bundesliga and six UCL and UEL matches.
Why Dortmund made the most sense
So how were Dortmund able to get a player like that, whose value is in the 45 million range on CIES and Transfermarkt, for just 20 million? They scouted him no less than 28 times since he was 16, and they even used their Scandinavian "superagent" Thomas Delaney's Whatsapp messages to lure him. Then there was leverage on the part of the player and Dortmund as well, but before we get to that let's examine the failed suitors.
Manchester United's dysfunction on all levels as well as having a plethora of youngish forwards, plus Milo Raiola's relationship post-Pogba had them on the outside looking in. Juventus, who have been scouting him for years, still pay a lot of money to Cristiano Ronaldo and Gonzalo Higuain, and are perhaps rightfully not considered an ideal destination for a young player looking to take the next step. The obvious candidates, RB Leipzig and Julian Nagelsmann, who met the striker in December personally, could not offer enough financially: reportedly BVB's salary offer was in the 8-12m Euro range yearly, while RBL have an internal 5m cap. But footballing-wise, there was also no guarantee of playing time. Leipzig's focus is firmly on the title run and Nagelsmann's done wonders with Werner and Schick, whose futures are still somewhat unclear. That already leaves little playing time for the likes of Yussuf Poulsen or Matheus Cunha, and Haaland has typically needed time to adjust after his January moves to Molde and Salzburg.
Ultimately, then, agent Mino Raiola leveraged the 20m release clause, Dortmund's greater need for a number nine into a 93-100m package. That kind of player-controlled release clause, plus low wages and high demand, plus the methodical career planning by the Haaland's people was an auspicious beginning. Add that to the proven track record of Dortmund being one of the best springboard clubs towards superstardom for young players and you have a great situation. While the deal seems like a slam dunk for BVB, there is considerable cost and supposedly a 60m release clause after 2022, which one can only assume was not put in by BVB and shows just how much power Raiola and Haaland's father had in negotiations. In the end, there is as much a promise, as there exists an obligation to somewhat save Dortmund's season with such a meteoric and expensive talent as the Norwegian. Although the latest training camp reports suggest that we should temper expectations: he began team training only Thursday due to a knee injury, and reportedly Favre wants to bring him along slowly and use him as a supersub initially. Before we get ahead of ourselves and imagine Haaland light up the Bundesliga, let's check his performances on the tape via a scouting report.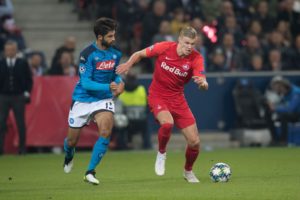 Strengths: size, speed, game intelligence, goals, combinations
Leaving aside the obvious goal scoring prowess along with the remarkable shot metrics (0.22 XG per shot at 4.5-5 shots per game, with 51 percent shots on target ratio) because others have covered it well. Instead, this analysis will focus on game footage and make
What jumps off the tape is Haaland's superb understanding of game situations, or his game intelligence. He almost never makes a wrong off ball run, is superb at finding the blind side of defenders and has great speed to exploit space. He's obviously bigger\stronger than all fullbacks and probably has better speed than 90 percent of them. The average centre-backs—think Nikola Maksimovic—often don't have much of a chance against his first five-to-ten yard burst and are caught by surprise. What's more, he's done well against some of them younger, more promising ones like Genk's Jhon Lucumi who has exceptional recovery speed, muscled Sergio Ramos off the ball in preseason and even gave world class centre-back Kalidou Koulibaly the slip a couple times in the Champions League. The two players he struggled against were Raphael Varane—who saved at least 2 goals in that aforementioned preseason match—and Virgil van Dijk, who obviously gets beaten once every two years. Given that most people would probably rank Varane and van Dijk in the top three centre-backs in world football, there is zero shame in that. Weirdly Kurt Zouma had a lot of success vs Haaland in the 5-3 preseason match.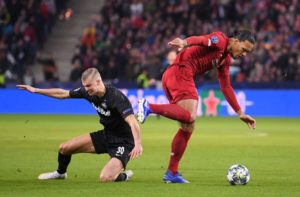 You've probably noticed by the absence of the Austrian Bundesliga centre-backs from the previous paragraph, that the sample size of Haaland going up against quality central defenders is small. For one, RB Salzburg have been cornering the centre-back market from the days of Hinteregger/Upamecano/Caleta Car to the current crop of Ramalho/Onguene/Pongracic/Wöber/van der Werff. That leaves the second best team, LASK with a less than brilliant back three of Philipp Wiesinger (an error prone, but versatile 24-year-old), Gernot Trauner (an immobile aerial monster, but decent defender) and Petar Filipovic (the best of the bunch but not young). And it's not like the rest of the league has a lot of centre-back talent. The less said of the nine goals he scored vs Honduras' U20 centre-backs, the better for their sake. On film, there are many examples of the Norwegian just dusting Austrian Bundesliga centre-backs and slotting home a pass from a creative attacking teammate like Hwang Hee-chan, Takumi Minamino or Masaya Okugawa, whose chance creation is obviously a huge factor in his numbers. Because he possesses an excellent first touch, the sequences of Haaland laying the ball off then running into space between defender have almost become a trademark way of goal scoring.
That exceptional speed is also put to good use, as Haaland also loves to drive forward when he identifies space. Whether that's on either wing (prefers to go left, naturally because he's a leftie and he plays in a 4-2-2-2 as the left centre-forward) or centrally on counters, he's very demonstrative with his hands, showing the runs to his teammates and almost always catches up to the ball, often fooling or even rounding goalkeepers in the Norwegian league.
The one slight negative with his speed is his perhaps awkward running style, as it's a kind of half-hunched, half speed skater push. While this gives him great acceleration, it can look strange and there are times when he can't sort his feet out and the ball sort of hits in the leg/ankle in through ball situations. Nevertheless, he's a very good and agile dribbler, who can beat one or two players off the bounce, although he does prefer to go across his body to the middle almost every time. That's quite good for shooting locations, but one has to wonder if it doesn't make him a little predictable, though with his size and speed he is still going to get by people even if "they know it's coming".
He is also effective at creating for others, but most of his key passes come via counterattacks and come with the caveat of Salzburg's thrilling offensive football. With an average of 16 passes per game and only going over 30 twice, he is not that often involved in possession, despite being a decent hold-up player, but is comfortable receiving the ball anywhere on the pitch as the StatsBomb data shows.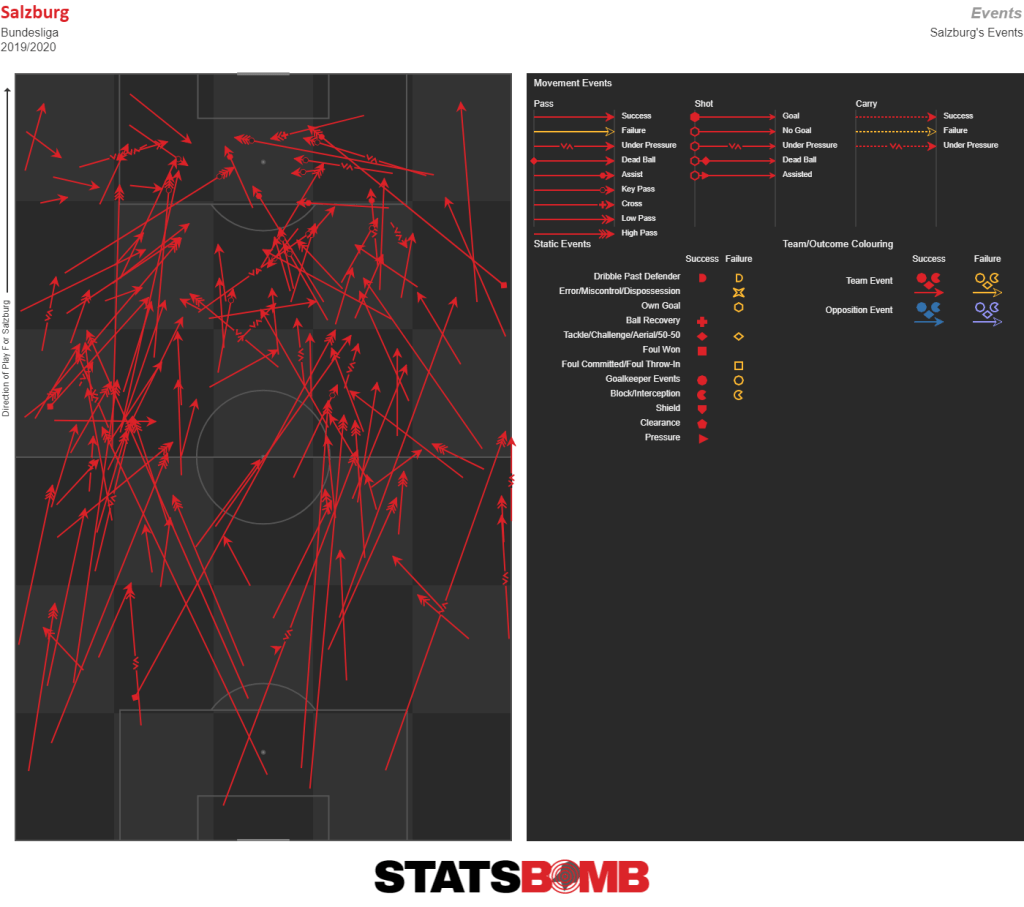 Weaknesses: aerials, crosses, pressing, involvement
His 66 percent pass completion might turn some people off, but from extensive footage, the missed passes/possession losses are twofold: 1) he tries to play almost exclusively one-touch, sometimes to his team's detriment, attempting clever little flicks and layoffs which fail at least two or three times a game, although his quicker thinking teammates like Dominik Szoboszlai have gotten accustomed to his less than crisp passes 2) he will occasionally miscontrol a ball by either opening his body up too much when receiving, or in extremely rare cases overhit a pass—mostly his passes are on the short side.
Despite his size he averages just 38 percent success on 3.2 aerial duels and this isn't a strong part of his game at all. He can flick the ball down the line on throw-ins, rarely chest down a lofted long ball. Sometimes he will arrive well at the back post for a header, though his preference is to shoot with his feet, which actually is the higher percentage option overall, though not always on crosses obviously. Interestingly, for an RB striker, he has very low pressure numbers (in the teens per match with 1.2ish regains), though from film, he's definitely capable of counterpressing, as his size, speed, and long legs all help, closing down and giving multiple effort on the same play, even in late-game situations like in a 5-0 game vs Admira.
Knowing his work ethic and attitude, it certainly does not look like a problematic area for him, and Favre's system, despite the uptick in pressing numbers since the switch to three centre-backs, for the most part probably doesn't ask so much high pressing of him.
Similar players, questions at BVB?
In terms of similar players, one can think of placing him somewhere on a spectrum ranging from Romelu Lukaku (left-footed, intelligent, strong, good hold-up play, lay-offs) to Pierre-Emerick Aubameyang (elite shot taker, converted winger with a lot of speed, although not as strong, but obviously faster), and Fernando Torres (the way he scores goals with ease in 50:50 situations, burst of speed, cleverness). The big questions for Dortmund is his ability to play as a lone striker in a 4-3-3 (or 4-1-4-1) since he's mostly been playing in a two-striker set-up at Salzburg and for Norway. However, at Molde FK under Ole Gunnar Solksjaer he did play very effectively as a lone striker in a 4-2-3-1 and given that BVB have scouted him live 28 times, per The Athletic, they're probably right to be confident that he can figure it out. Or Favre could adjust the system, as defensively it was often a 4-4-2 and there were some UCL games where it for all intents and purposes looked like one as well. If he sticks with the 3-4-2-1 or reverts back to the 4-2-3-1, Haaland can just lead the line.
Dortmund's investment return on the transfer
As far as a return on their 20 million investment, it's hard to make an immediate prediction for the simple reason that the 19-year-old took a while to settle in at both Molde and Salzburg. So the safe choice is to not expect the moon and the stars from him, and it's also hard to model how Austrian Bundesliga translates to Germany in terms of goals. The best guess is to use a mix of what the guys at the 21st Club came up with aka the Football Exchange Rate, with a splash of Club Elo. Let's look at Club Elo, aka the only category where Hungary still leads the all-time football rankings.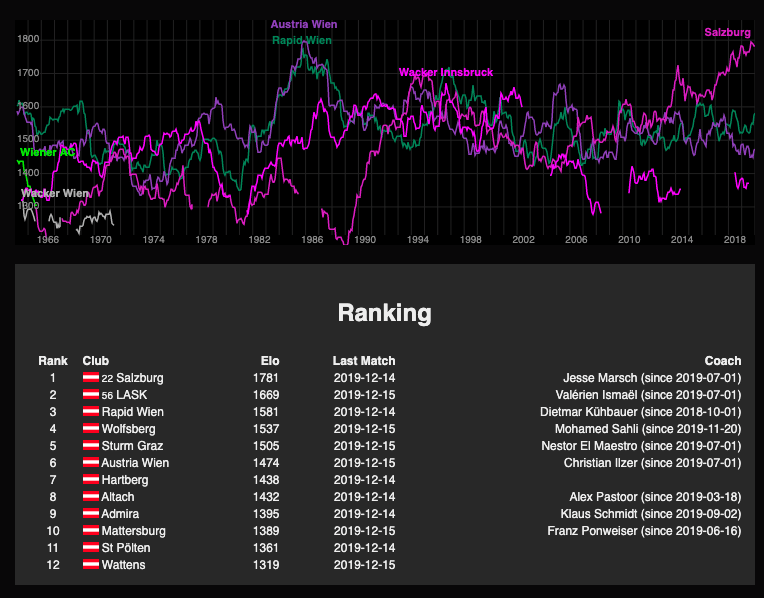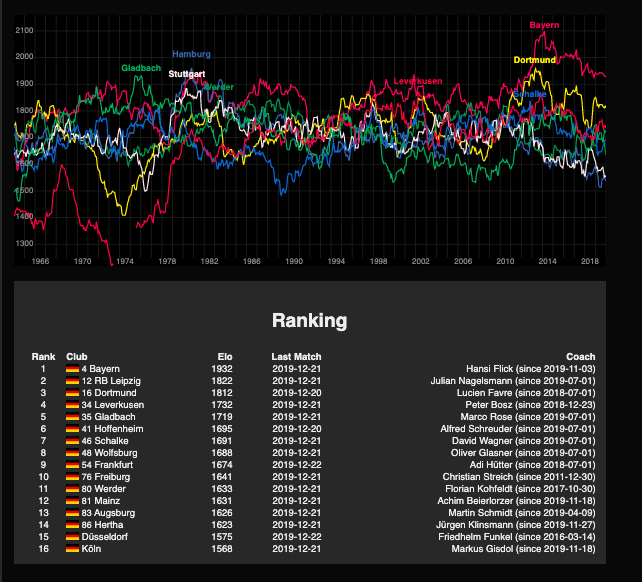 21st Club uses the Bundesliga as the baseline of 1.00 in their Football Exchange Rate, which is a good start for us, but unfortunately they don't have the Austrian Bundesliga on here, which makes sense, given that Haaland might actually be the first legit centre-forward coming out of the league, because former Salzburg stalwart Sadio Mane scores his goals from wide forward, while long time top scorer Jonathan Soriano came out of La Liga before his RB Salzbubrg success.
As a sidenote, Wolfsberger AC's Shon Weissmann (17 goals, 16 NPG, 1.05 G\90) and Haaland's former teammate Patson Daka (14 NPG, 1.37 G\90) might continue that trend that the Norwegian is setting.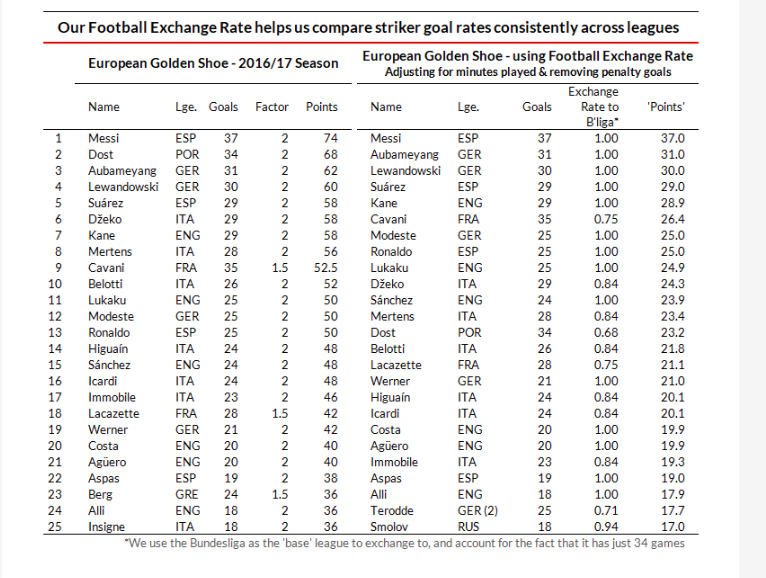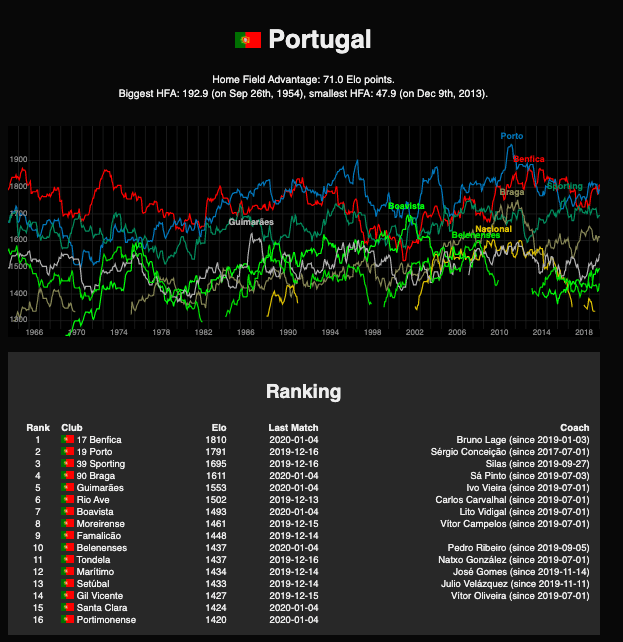 Therefore using something like 0.65 is quite reasonable. Haaland has 16 goals, having played around 11 full 90s this season, with 18 of 22 rounds gone. Between the championship round (another 10 games between the top 6) and the 4 remaining (plus Europa League) he would have reasonably been closer to something like another 10-11 games and even if his 1.46 goals per 90 cools down, 25-28 goals would've been perfectly normal. We shall never know, but if we exchange that into German Bundesliga goals at 0.65 we get 16-18 goals. The great seasons of guys like Florian Niederlechner, Sebastian Andersson and Rouwen Hennings, who is on pace to get 16-20 this season, are a good starting point, but we can stop by the Paco Alcácer substitute party last season as well. The Spaniard, who reportedly might leave in the winter, was at 1.35 G\90 last season and at 0.85 early this season, though he's struggled to get on the pitch, with just 1,203 and 528 Minutes respectively, on top of two Barcelona seasons under 1,000 minutes. While out of the world supersub is not what BVB want from the Norwegian, they'll happily take those nine to ten goals. We eagerly await the experiment of combining Haaland's insane conversion rate of 35 percent and xG overperformance with the O.G. of xG in Favre. At any rate, Dortmund can probably expect to get a striker who by next season should, health and playing time permitting, get close to 20 goals.
Writing by Abel Meszaros; Editing by Constantin Eckner.