Neuer vs Nübel: Who has the edge?
FC Bayern could be faced with an exciting contest in the goalkeeper position next season. In Alexander Nübel, they have signed an ambitious young goalkeeping talent, but Manuel Neuer certainly won't give up his place as Bayern's number one without a fight. However, one thing is certain: Nübel can still learn a lot from Neuer.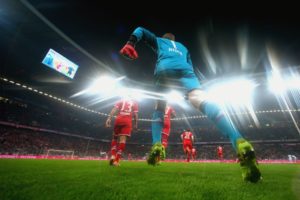 The similarities between both players are obvious. Both Neuer and Nübel had their breakthrough at Schalke 04 at a young age before making the move to Bayern in their mid-twenties. Moreover, both players are of approximately the same height and have a more than sufficient arm length and nimbleness of feet to make them appear like a giant many-limbed octopus on the line. Neuer has long perfected the way he uses his body to make it difficult for opposition forwards to score by narrowing the angle and making himself big. An advancing striker often feels as if Neuer's body covers the entire face of the goal and leaves him with no spot to put the ball . Marco Reus, for example, has been frustrated many a time in their numerous duels by the long-standing German national keeper.
In many respects, Nübel is at the same level as Bayern's incumbent number one. Like Neuer, he is a model athlete and has an even more powerful jump than his Bayern counterpart. It seems that Neuer's athleticism has suffered a little bit over the years due to his many injuries and the physical wear of constantly playing at the highest level. However, he is able to compensate that with his remarkable positioning skills in the penalty area and on the line. Whereas Nübel often keeps out a ball with his cat-like reflexes in best David de Gea fashion, Neuer usually simply is in the right place at the right time so that he only has to extend an arm or leg to save a shot. Ultimately, both goalkeepers achieve the same result albeit by different means.
The stats for both goalkeepers for this season show this as well: Neuer hardly makes any mistakes in his positioning and intuitively knows where he has to stand to maximize his chances against shots from distance, crosses, or corner kicks. Nübel is almost on par with him in this regard.
Why is Neuer still the better keeper?
Nevertheless, as a complete goalkeeping package, Neuer is still superior to the soon-to-be pretender to his throne. Nübel's considerable skills in the traditional areas of goalkeeping, which he undoubtedly has but is not yet consistently able to produce, will certainly have been a prime motive behind Bayern's intention to sign him. Even though the first half of the season has shown that he is still susceptible to making mistakes, the 23-year-old has more than enough raw talent, athleticism and the lightning fast reflexes to grow into a virtually insurmountable shot stopper.
But goalkeeping at its core is mostly about being constantly on one's guard and ready to muster up one's full potential at any moment to stop a shot. Being constantly on one's guard in this context means that one's legs are always placed right, that one is always ready to jump, and that one is always able to move the hand towards the ball at the right angle and with the proper muscle tension to keep the ball out. All of this is a crucial part of what Nübel has to work on in the future. Because if he doesn't excel in these areas, even a most promising goalkeeping talent like him will not turn into a goalkeeping giant like Neuer, who thanks to his almost unerring ability to make the right move at the right time has become such an awe-inspiring shot stopping machine over the course of his long career.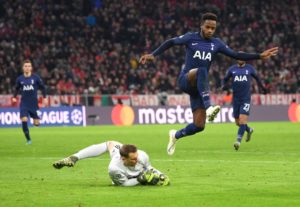 Neuer has the better decision making out of his goal area
Neuer's superiority over Nübel is also evident in his decision making in tricky situations—for example when an opposing striker has a clear way through on goal on a counterattack and the goalkeeper has to make the decision if and when he comes out to confront him. Bayern's possession-based game with a very high defensive line is sometimes susceptible to counterattacks that make it difficult for a defender to intervene in time.
Neuer is a master at sensing the right moment and knows how to orientate his body to maximize the pressure on a quickly advancing striker or his chance of catching an incoming ball. Nübel is certainly able to do this too at times, but he still lacks the necessary consistency. That he has only played 35 Bundesliga matches so far makes itself felt here. Neuer, on the other hand, has consistently been one of the best goalkeepers out of his goal area for many years.
Neuer is a better player with the ball
Neuer is also one of the best outfield players as a goalkeeper in modern times. His passing skills are essential for Bayern's and the national team's build-up plays. He is a de facto additional central defender
and his involvement in outfield play often allows his team to gain a numerical superiority against an opponent's high pressing line. In addition, he is also able to strike long balls into dangerous offensive areas with high precision, which the statistical values mentioned above highlight too.
There's a reason why the term "goalkeeper line" in the sense of another back line behind the traditional back four/back three has caught on in recent years, because Neuer and some of his brethren on the highest international level have begun to interpret their goalkeeper role in such a progressive way. But whereas Neuer acts as an eleventh outfield player, Nübel doesn't. According to whoscored.com, his pass completion rate is 66.5 percent, with only 37.0 percent of his long balls reaching one of his Schalke teammates. And even if he he does complete a pass, he often puts the player receiving the ball under unnecessary pressure because neither the timing of, nor the weight on, the ball are ideal. However, the fact that the way Schalke builds up their play hardly ever makes more than two players available for him to strike the ball to certainly doesn't help.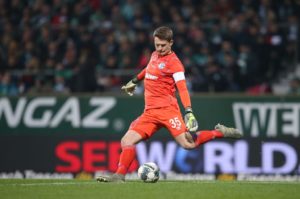 This makes the gulf in passing quality to Neuer all the more remarkable: Bayern's number one completes 89.1 percent of all his short and 57.3 percent of all his long passes.
Of 483 short passes (i. e. fewer than 23 meters) he only misplaced four. Neuer likes to be involved in his team's passing game and does so brilliantly. Nübel, on the other hand, often seems glad if he somehow manages to get rid of the ball.
Especially the difference in their qualities on the ball isn't something Nübel will be able to make up quickly. He probably never will become a 'playmaker goalkeeper' like Neuer, which might seem odd given that he'd played as an outfield player in central midfield at his parent club Paderborn for a while. Neuer, on the other hand, indicated his considerable ball playing and playmaker qualities from early on when he was at Schalke, even though he was prone to odd mistakes in throwing or passing the ball out.
The bottom line: Nübel can learn a lot from Neuer
Bayern will have carefully considered whether they want to adapt their build-up play to the needs of Nübel if he should indeed become Neuer's successor in the long run. They will also have equally carefully evaluated Nübel's potential to take the next step in his overall development as a goalkeeper and close the gap to Neuer in the aforementioned areas.
When Neuer joined Bayern in 2011, he was 18 months older than Nübel, had played in over 100 competitive matches more, had been Germany's international goalkeeper at the World Cup in 2010, and had been voted Germany's footballer of the year. So at his arrival in Munich, he already was much more experienced, had a higher standing in German football, and could be safe in the knowledge that he was going to be Bayern's number one.
Perhaps a year with occasional applications as a kind of apprentice of Neuer that allowed Nübel to watch Neuer, take cues from him, and for instance learn how to read a game defensively and offensively, would prove a boon to his development. Yet he will certainly need competitive game time to improve, because a sense for the right timing can only be schooled in an actual contest. The same is true for his confidence in leaving his goal line and confronting an advancing striker as well as his abilities on the ball. These things can only improve if he survives critical, high-pressure situations in a game and grows from such moments.
Because at the time of the transfer in the coming summer, Nübel cannot possibly have reached the level of Neuer yet, his decision to join Bayern appears questionable. Because if he truly has the quality in him to become a second Neuer and proves his ability for a few more years at a club like Schalke, where he is the uncontested number one and the team's captain, all doors to an international top club of his choice would still be open for him—maybe even more so than before.
Writing by Constantin Eckner; Editing by Alexander Pellengahr.