Players of 2019: Frenkie de Jong
Frenkie de Jong broke through onto the world stage in a standout 2018/19 season for Ajax, earning him a big money transfer to Barcelona this past summer. He has been one of the best players in world football over the last year.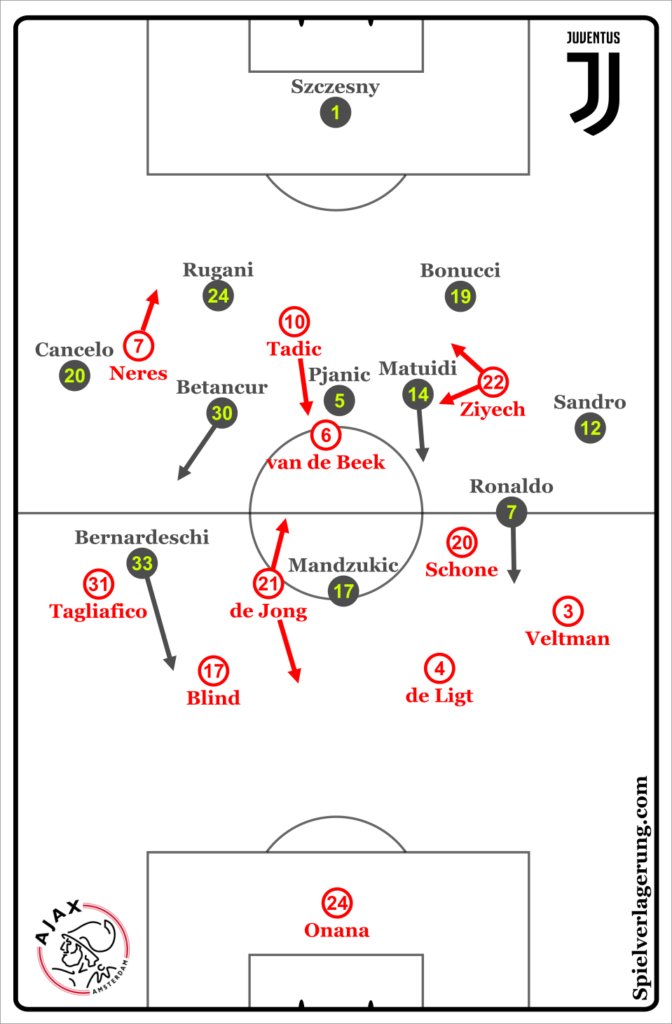 The Match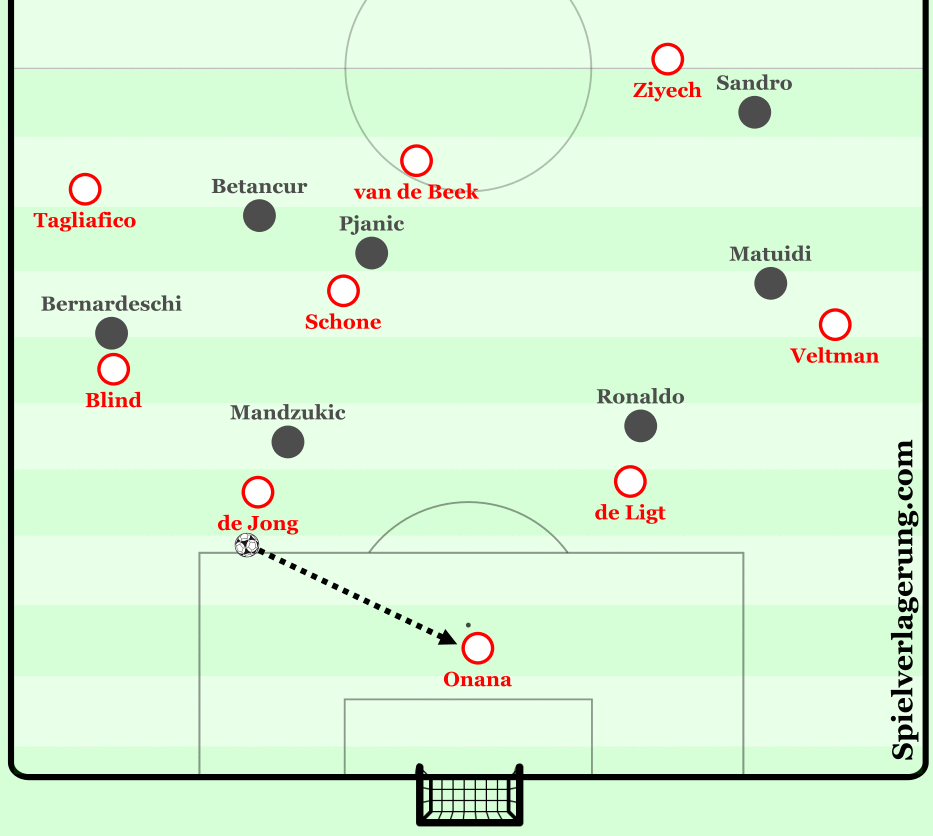 de Jong regularly split the two centre-backs during build-up from the goalkeeper, as many #6's do, but his locomotion separates him, both on and off the ball. In the diagram below, you can see his superior speed relative to those around him, allowing him to execute actions that many #6's can't.
On the ball, the 22-year-old utilises dribble progressions to generate passing angles that allow the most advanced vertical passes, with the highest packing rate possible, to be executed (the more players taken out of play by a pass or dribble, the higher the packing rate). The speed at which this is done, whether dribbling at a constant high speed, or sudden accelerations and decelerations, means that de Jong can create passing angles that others can't.
To execute these passes, possession must first be consolidated, and de Jong almost never loses the ball upon receiving it. There is nearly always tight marking applied to the Dutchman, but his deceptive movements and feints meant that Matuidi, Pjanic and Betancur were unable to get close to him. His ability to read the game allowed him to recognise that sometimes, the best passing option was to turn back and play a simple pass to the defenders or goalkeeper, but he also possesses the skill with the ball to shake-off defenders and create space.
What has become Frenkie's signature move of sorts is to accelerate and quickly dribble forward a few steps, before sharply turning back to the original starting point of the action. This generates space between himself and the closest defender. It's as close to a step-back in basketball as you can get in football. The midfielder can also take a step in one direction to shift the player marking him off balance, to then turn out and dribble away in the opposite direction. At a point during the second half, Ronaldo threw up his arms in annoyance at de Jong executing this 180-degree turn-out yet again.
Despite the plaudits for de Jong's attacking display, his defensive performance against Juventus was also impressive, winning 9 out of 15 duels for the ball. Ajax's high press was so compact that the #6's were situationally as advanced as the strikers in pressurising Juventus' defenders. The timing of de Jong's pressing and tackling was mostly well-timed, resulting in 5 successful tackles from 6 attempts. He tended not to commit to a tackle if the chances of regaining it weren't maximal, and he showed speed and defensive awareness in shutting down Juventus' attacking transitions, resulting in 17 ball recoveries and 3 interceptions. de Jong's locomotion at his position permits exceptional defensive plays to be made in addition to offensive, with maybe the best example being this slide tackle in defensive transition when covering for Tagliafico.
Although his extensive ability was evident during this match, the young midfielder's decision-making was sporadically sub-standard. For example, he delivered passes to teammates even if Juventus players were lurking close by, commonly resulting in turning over possession. The execution of his short and medium distance passes is usually, at a minimum, satisfactory, but his long passing accuracy was inconsistent against Juventus, which constituted the majority of his 8 incomplete passes. Errors seldom crept in off the ball, including the choice of a poor pressing angle in the sequence leading to Ronaldo's goal. Nevertheless, these weaknesses and errors are far below the average for a player of de Jong's position and age, which should diminish as he becomes a more experienced player.
Conclusion and looking ahead
Allegri described de Jong as "the real source of their game" after the match which wasn't an overstatement. It was truly a display of fine possession football, where his clarity with the ball seemed to positively influence his surrounding teammates. He had the ball recovery and defensive stats to match his attacking exploits, an uncommon feat for a player of his technical prowess with the ball in any fixture, never mind in the quarter-finals of the Champions League against Juventus.
Subsequently, Barcelona paid over 75 million euros for de Jong. A player with his profile utterly fits their style. Yet, it remains to be seen whether a daring manager may choose to deploy the Dutchman in a more exclusive position and role than that of an #8 or a #6; as an attacking centre-back. Picture a libero style player with the ball, but a regular central defender off it. This could arise in the years to come as an evolution in possession football to further positional and numerical superiority over opposing teams, but perhaps that's a topic to be explored another time.