Canada stuns stagnant USA
CONCACAF's inaugural Nations League group stage pitted neighbors USA and Canada against each other in competition for just the second time this decade, with Canada seizing the opportunity in Toronto as the United States failed to impose their style onto the match.

This piece is a collaboration between Austin Reynolds and Yiannis Tsalatsidis.
The Canadian National team program, who we discussed back in 2017, has been rising steadily over the past two years. John Herdman has brought fresh ideas and a stability in the strategic preparations for the senior team. This combined with the emergence of new talents Alphonso Davies and Jonathan David, Canada have propelled forward and provide a fantastic foundation for the future.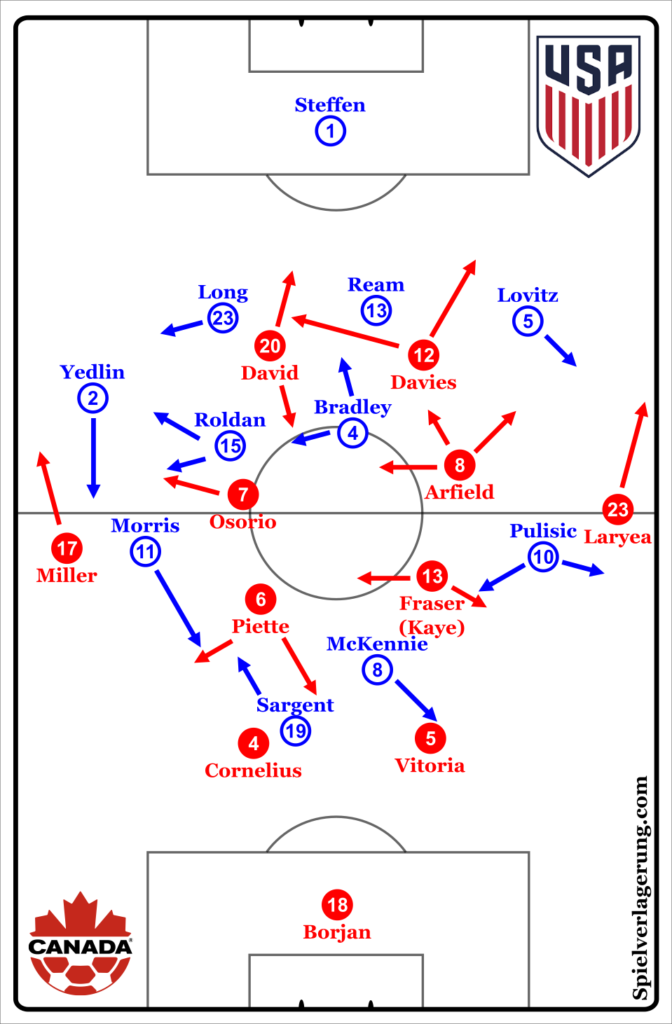 Two years out from failing to qualify for the World Cup, the United States has attempted to redefine their identity, hiring Gregg Berhalter to implement a progressive system of play after previous renditions of the team failed to consistently play proactive football. The implementation of it has been jagged thus far, interrupted by injuries to important figures and making few adaptations as opponents catch onto the core tendencies.

Regarding team selections, Canada's first choice lineup was on display. Mark-Anthony Kaye, a key contributor to LAFC's MLS successes, had to leave shortly after kickoff due to a supposed hamstring injury, replaced by Liam Fraser. The United States brought in DeAndre Yedlin to play right back, while fielding a 4-2-3-1 base with many regulars in the Berhalter era. Josh Sargent was preferred over Gyasi Zardes, who had started a significant share of matches thus far.
Canada's midfield box dynamics overpower Berhalter's 4-4-2 defense
For the United States, the starting point of their unraveling was the defensive structure in which they organized themselves. McKennie would push up alongside Sargent, forming a duo up front, while Pulisic and Morris each dropped back next to the central midfielders, forming a 4-4-2. To exploit this, Canada formed a box midfield and pushed their fullbacks into higher spaces, forming a 2-2-4-2 while constructing their attacks.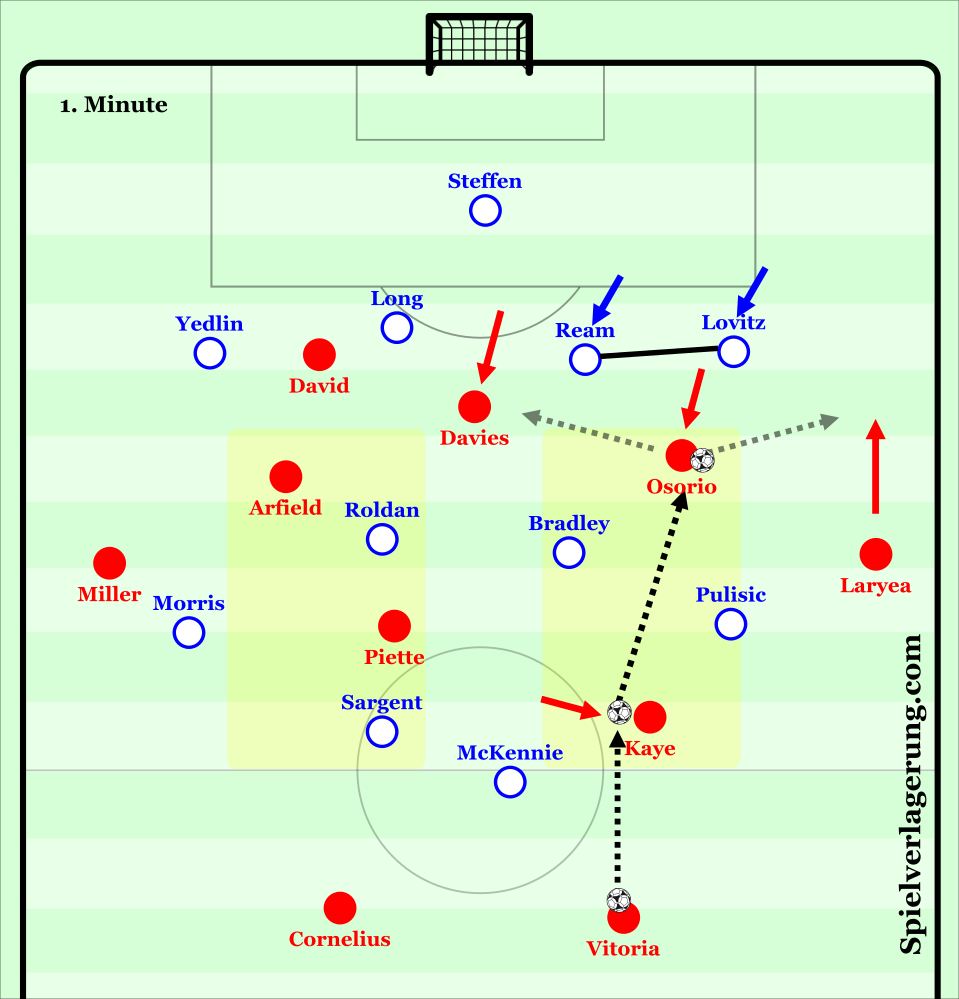 Canada's box midfield created various decisional problems within the USA 4-4-2 structure. The domino effect of Canada's positional intentionality helped to create vertical combinations through the creation of free players in central areas. The young duo of David and Davies took up positions between the fullback and centre back partnerships, pinning the American back line back. Davies frequently made his movements to receive the ball into depth, while David used his higher starting position to move in between the US midfield and defense to combine with the attacking midfielders.
At the top of the midfield box, Osorio and Arfield strategically and dynamically occupied the halfspaces through varying their positioning between, in line, and in front of the American's midfield line of four. This allowed Laryea and Miller to adopt teasing positions in high and wide areas that forced Pulisic and Morris into defensive riddles where they had to choose between supporting Bradley and Roldan in central midfield or maintaining access to the 2v1 overloads being created in behind them in wide areas.
Piette and Fraser made up the base of the box and took up start positions just behind the front two of Sargent and McKennie where they would adapt to drift slightly wide at times when central access wasn't possible, almost adopting what looked like a narrow fullback roles at times.

While this aided central circulation, these starting positions from Piette and Fraser also were essential for counter attack defense. Not only did they outnumber the US centrally as they aimed to penetrate centrally, but also quickly were able to counterpress any dribbling actions taken inside from the wings. Pulisic in particular was caught in several instances where he dribbled into Canada's central trap without adequate support, adding to the American's frustrations.

When Fraser and Piette remained behind the front 2 of the US, the centerback partnership of Cornelius and Vitoria would take up positions just wide of them to create a direct passing line to the Osorio and Arfield who would in turn seek to link 3rd player combinations to the now forward facing Piette or Fraser respectfully.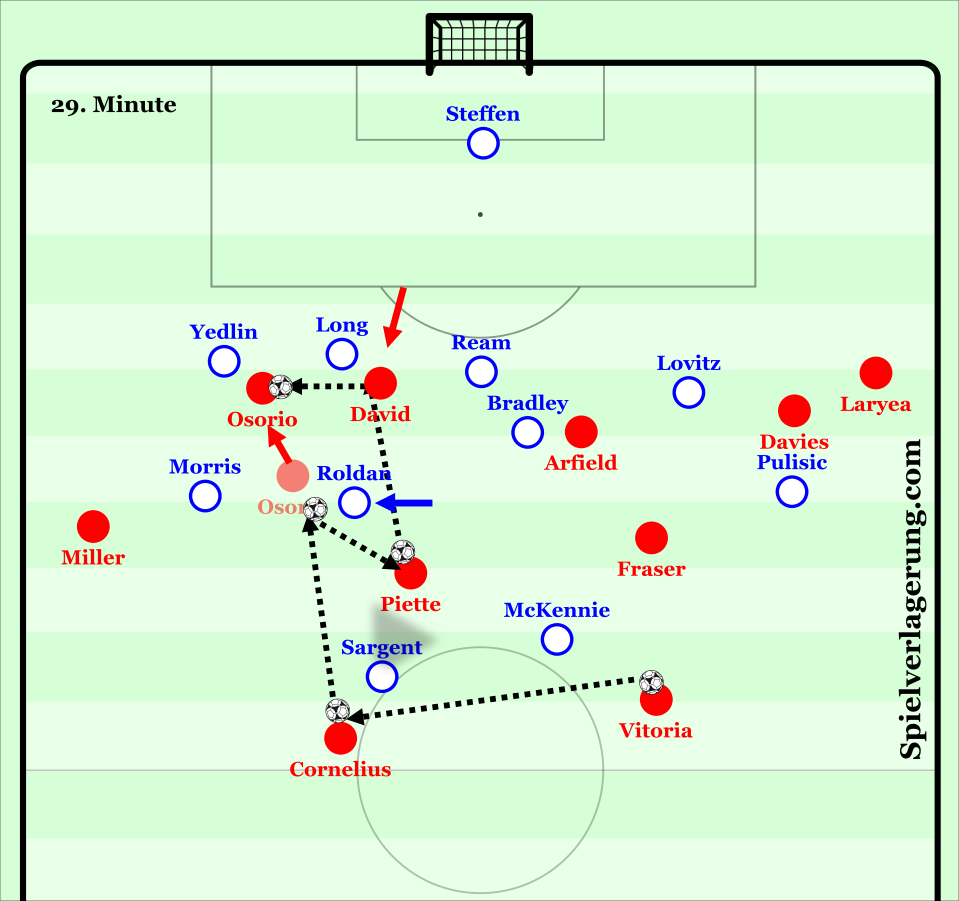 Occasionally Piette would drop deeper creating a 3 chain during buildup which would trigger the rest of the team into the following structure. In this match the 3 chain buildup rhythm was mainly used for direct play into wide areas for flick ons and 2nd balls in transition.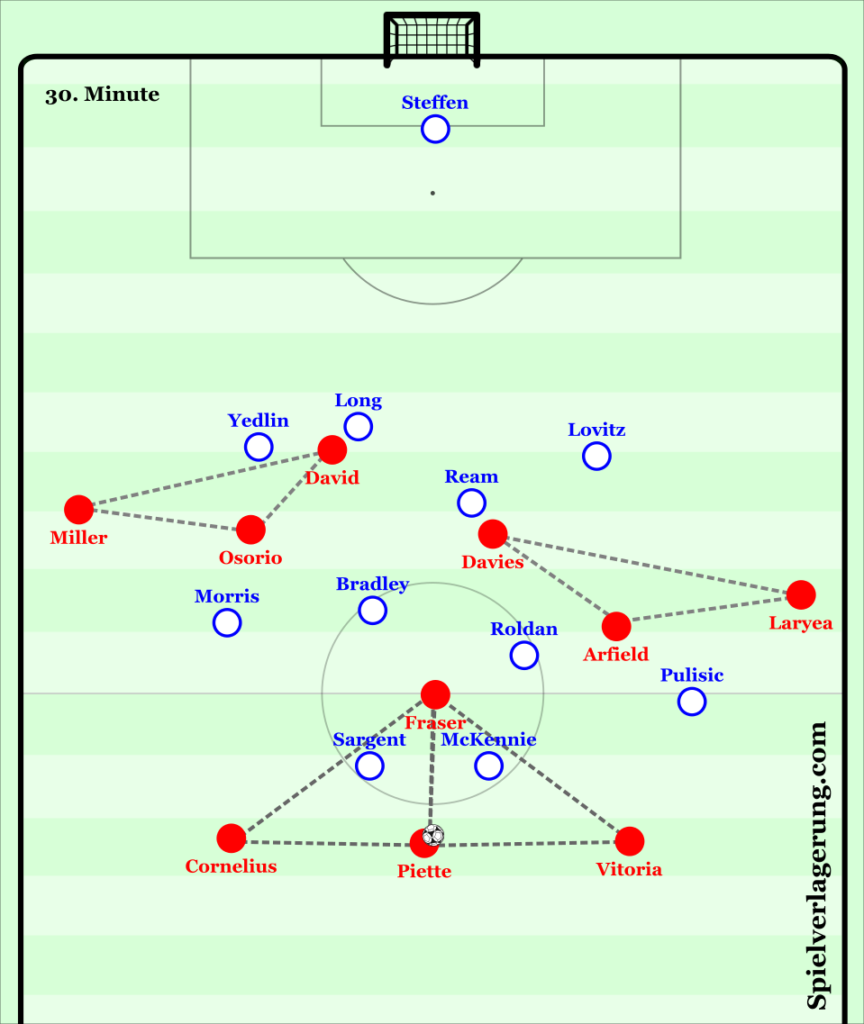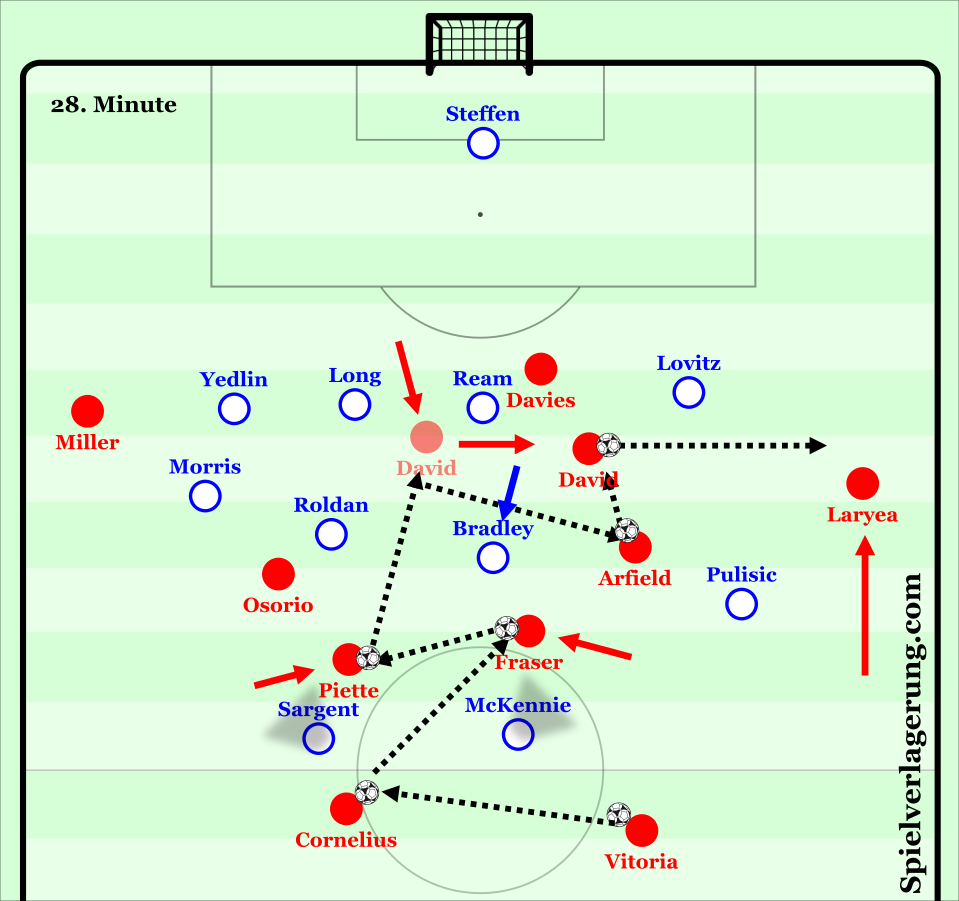 Another cool buildup solution that emerged from the Box midfield occured in moments where Sargent and McKennie would jump to press back passes to the Canadian centre backs. The start positions of Piette and Fraser off the shoulders would create a stretch between the pressing partnership of the US. If the distances opened this would trigger Fraser and Piette to move inside together resulting in a reduced distance and quicker combinations to create a forward facing midfielder through a 3rd player action.

Canada's Defensive Organization 'No Bradley, No Rhythm"
Herdman's intentions were clear from the onset. "Disrupt the USA rhythm" were the words Herdman stated in a pre-match press conference as to how Canada would impose themselves on the match.

This was executed in a flexible 4-2-2-2 / 4-1-3-2 that saw pressing pendulum between David and Davies who were responsible for denying passing lines to Bradley. The ball near forward would jump to press the ballside CB and ball far forward would drop to Bradleys blindside to deny any potential switches through the American deep lying playmaker. This left some mixed marking roles for Osorio, Arfield, and Piette who would switch between tight marking and lane oriented once Bradley or Roldan were marked out of the game.

As a result, Fraser functioned as a lone screen with the role of denying central play while situationally acting as a fill in defender when and if needed in the back line. The value of such a strategy for the Canadians was that it meant there would be a free player in the opposite side half space during pressing moments.

This was typically generated through the ball far positioning of Arfield and Osorio who would be lurking for interceptions on any switch attempts as well as provide the immediate link in behind during transitions.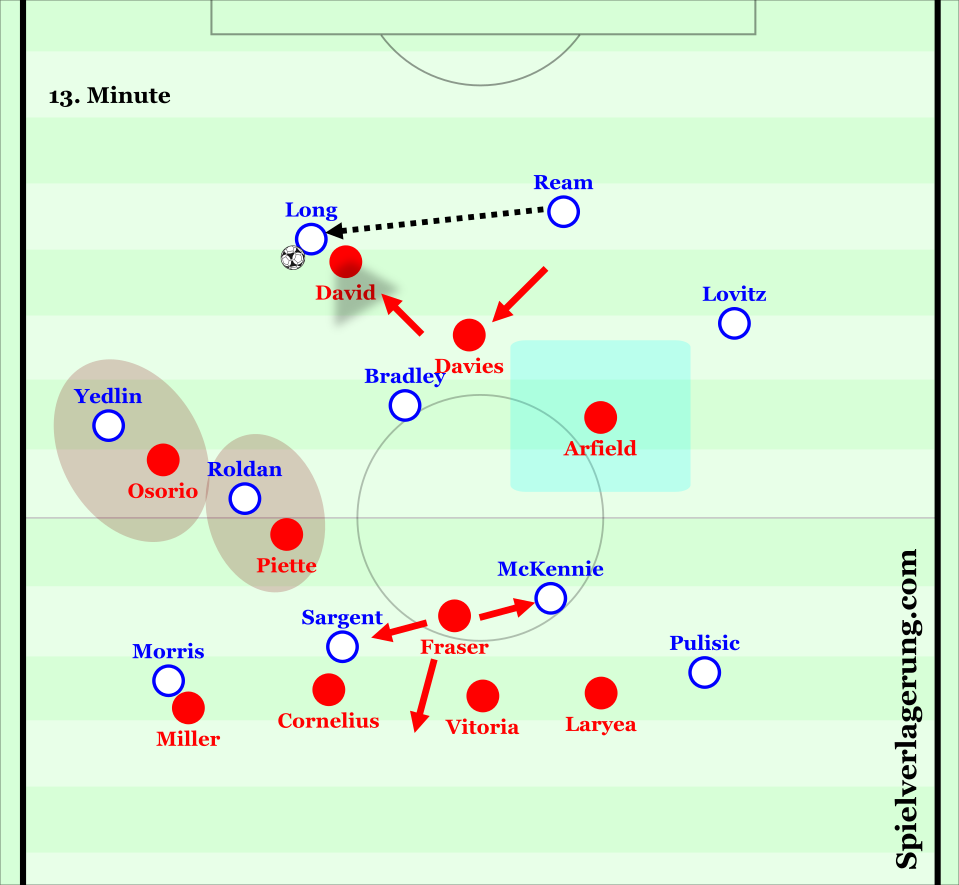 USA's right sided focus and its (transitional) consequences
With selecting Yedlin, Berhalter also made some tweaks to the attacking system of the United States in comparison to prior games. With Yedlin's speed on the wing, he took on higher positions in attack. In correspondence, Jordan Morris moved into the halfspace and higher up, pinning Miller to free up spaces for Yedlin to receive, alongside opening gaps for Sargent to receive from deeper areas. Roldan dropped further back in the right halfspace to both provide defensive coverage and an avenue to recirculate possession through.

This formed a 4-1-4-1, or some situational 3-2-4-1 structures as well, with Roldan and Yedlin often rotating between being the deep presence early in attack construction. With Yedlin's advanced positioning, the center backs each shifted marginally toward the right side, while Lovitz remained conservative in his positioning, rarely venturing forward unless led on through directed passes toward him. Bradley functioned as the 6, often just to the left of Roldan.

Due to this structure and its close proximity in passing options, the right side was routinely favored by the Americans in terms of their attack progression. At moments, Yedlin was able to be freed because of Morris' positioning, preventing Miller from being able to step to the Newcastle fullback. However, due to Canada's quick team responses to losing possession, Yedlin sparingly was able to use his speed to take advantage of open Canadian territory.

Instead, what frequently took place was a plethora of American attackers around the ball on the right side. The distances for possible options were too short given Canada's proximity to the ball for the US to break their pressure effectively, rendering many passes futile in the attacking half. USA's Possession spells were truncated as a result of not having the proper needle players to handle the small spaces required to navigate Canada's defense.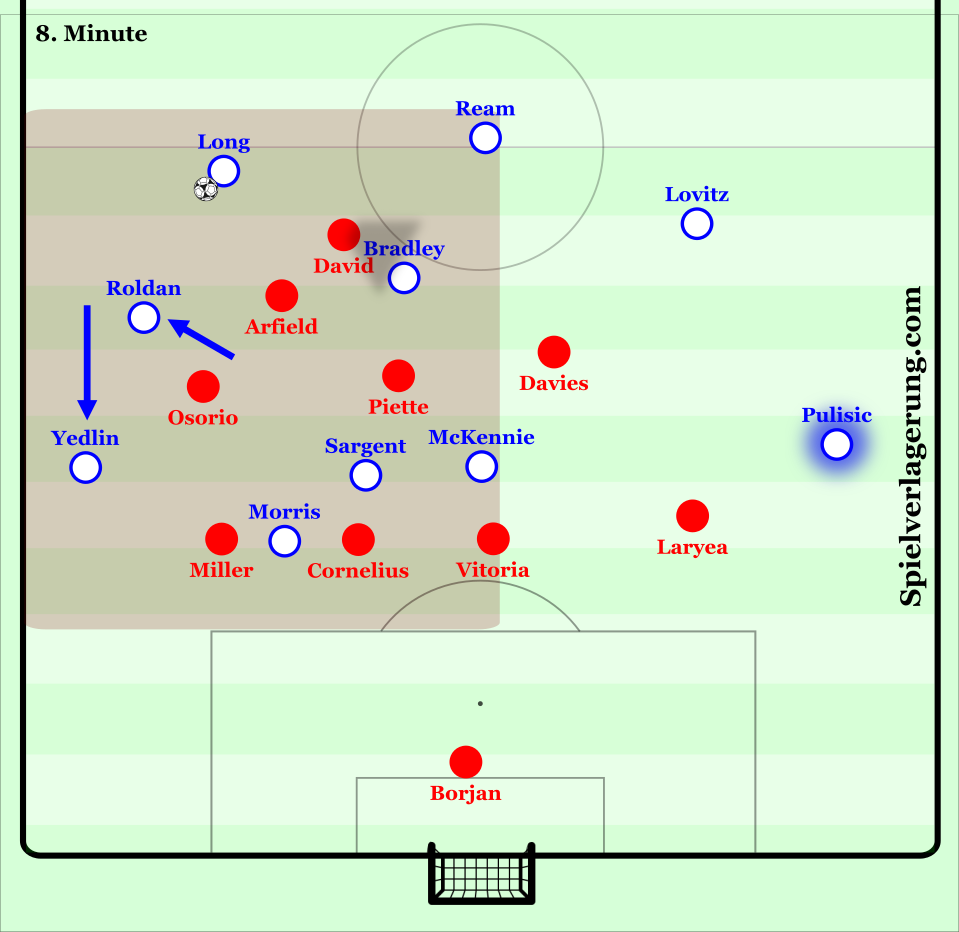 The best needle player in the team, Christian Pulisic, was fielded on the other side of play rather than be situated in the area where the USA was strategically aiming to attack. Rather, Cristian Roldan was often dispossessed when used as an outlet to recirculate possession in those very tight spaces.

Few switches of play took place from right to left, failing to take advantage of any isolation Pulisic encountered. This was both due to Bradley's spots close to Roldan, or being too deep and unable to support the attack, alongside Lovitz' deep and narrow positioning. This limited himself to receiving the ball only during circulation around the back when in the second phase of possession, alongside idling in the opponent's cover shadow while the ball was on the right side. By taking a high and wide(r) position, the defensive spatial demands of Davies and David increase, requiring them to expend energy defending Lovitz that could be used to counterattack against the US.

The United States opted to have three options in the back to manage the Canadian threats in transition, even if only Davies remained higher. Despite the speed advantage, having three players in the back for rest defense thwarted their ability to attack in multiple approaches, causing the US to defend more in the long run.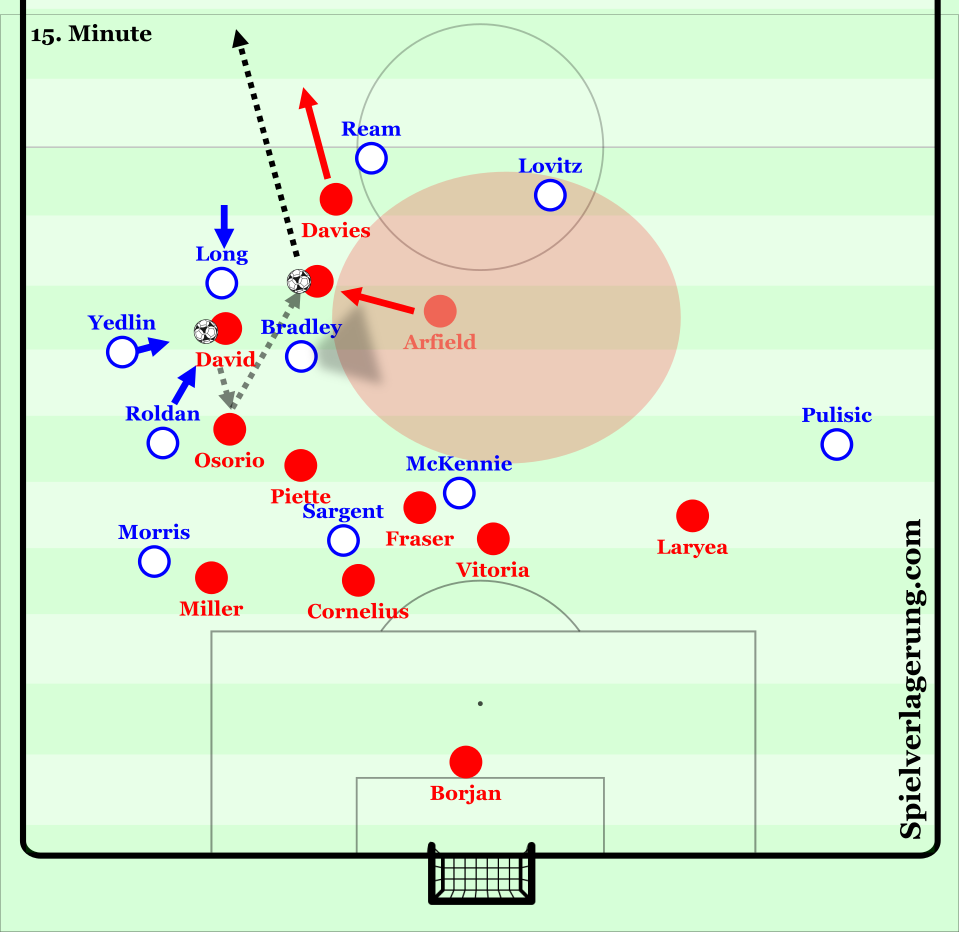 Compounded with Bradley leaving the center to counterpress and Roldan's consistent giveaways with several players ahead of him, the United States right sided focus not only failed to generate many serious scoring opportunities, but also exposed them to considerable risks as Canada were able to progress through the center upon winning possession to then find their targets up front.
After The Hour
Berhalter made his first change of the match at the hour mark, removing Pulisic for Arriola for supposed flu symptoms. Minutes later, Davies scored following the US' inability to manage a second ball from Borjan, giving a well deserved lead.

With changes in the game state and the circumstances, each manager adjusted their team in differing scopes. Berhalter opted not to change his system, choosing to slightly tweak the players and their respective positions instead. Zardes replaced Roldan while McKennie dropped deeper, moving Sargent to the 10, while Yedlin departed for Lima in a like for like switch.

Aside from the natural tendency to push more numbers up when a team is losing, the United States made no notable changes to their positioning, player movements, or ball circulation patterns. The players that moved up were the fullbacks mostly, yet Bradley remained deeper to mirror the same structures as found in previous stages of the game.

Herdman made a series of modifications to his team after gaining the lead. Davies and David were replaced by Hoilett and Cavallini, this provided the team fresh legs to maintain the intensity of the pressing traps. This resulted in the team structure being modified to 4-4-1-1, with Arfield functioning as the lone 10 and Hoilett moving wide right adopting a man oriented focus on tracking Lovits' more aggressive advanced positioning. The final 5 minutes saw the Canadians drop into a lower 4-4-1-1 block to kill of the game and force the Americans into deep crossing situations which were easily managed. Worth noting was that both goals resulted from 2nd ball regains for the Canadians which came as a result of the interior staggering of Osorio and Arfield at the top of the midfield box.
Conclusion
Due to strong midfield occupation, a precise matchplan, and suitable adaptations, Canada exits the international break having secured one of the most important results in their nation's history. The Americans on the other hand, have flung themselves into crisis mode, with this result resembling similar patterns and aspects as the Trinidad and Tobago match two years prior that eliminated them from Russia 2018.

Despite the talent difference between the US and Canada, Berhalter's 4-4-2 relinquished any control that he would've expected to attain in the game, playing into the hands of Canada's box midfield to run (and pass) riot. Sure, some can prescribe some factors to it being an away fixture, an off night, or anything else, but the lack of adaptation to the problems Canada was posing begs questioning. This alongside growing questions about the player selection process puts pressure onto Berhalter.

It was clearly a match of chess against checkers, and Herdman was the grandmaster on the night. For the return fixture next month in Orlando, we eagerly await what adaptations are made from both sides.