Klopp's men seal crucial win in rollercoaster game
Liverpool hosted Salzburg in their gameweek 2 fixture on Wednesday evening. After their 2-0 defeat in Naples, this became a must win. Marsch's side on the other hand, came into the game on the back of a 6-2 win against Genk. With both sides renowned for their ferocious intensity in all phases of the game, a high-octane game was expected.
Liverpool's perfect start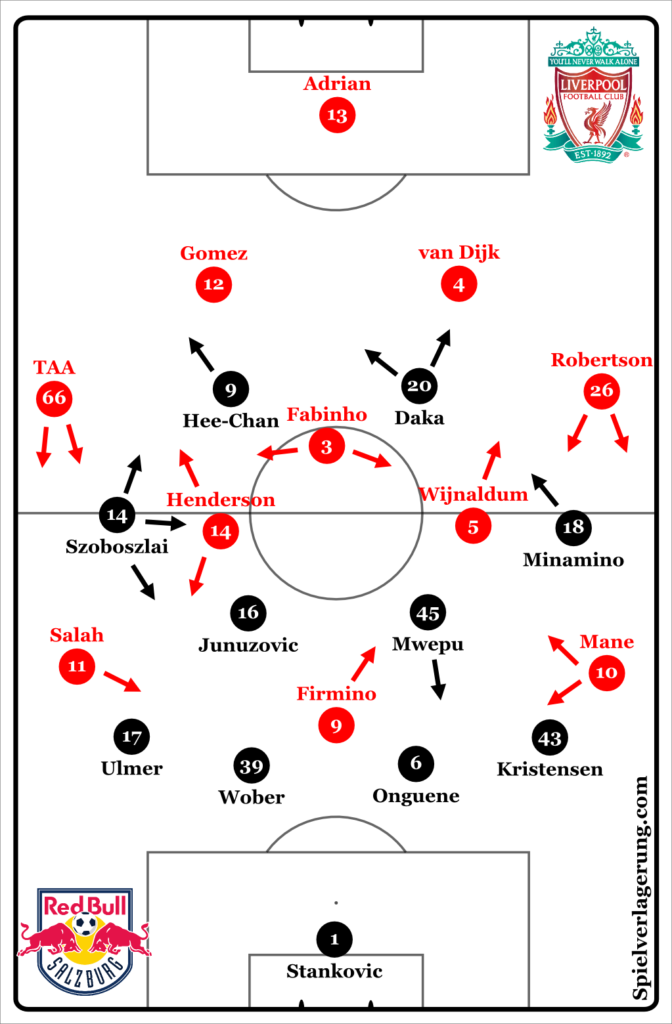 In the opening half hour, Liverpool were in full control of the game, with a well suited structure to outplay Salzburg's pressing allowing them to consistently reach the final 3rd. Within their 4-2-2-2 the Austrian side's forwards sought moments where they could arrive to press Gomez and Van Dijk around the point where they received the ball.
In these moments the near striker would sprint out diagonally towards the centre back in possession, blocking Fabinho behind them. With the far striker remaining high, the centre back switch was blocked, encouraging the pass to the full-back. Due to Salzburg's pressing system(s), this turned out to be a decisive situation in the flow of the entire game.
With the ball on the wing, the near wide midfielder stepped up to press, near striker blocked the back pass, and the far striker would drop to the 6 space from their high position to prevent Fabinho turning out.
However, Liverpool were constantly able to play out of these situations. With Henderson and Wijnaldum positioned in the gaps between Salzburg's wide and central midfielders, Szoboszlai and Minamino were pinned into narrow positions. They thus arrived late to press their respective Liverpool full-back. The movements of Salzburg's front pair meant the lane from full-back infield to Fabinho was constantly open, though he couldn't turn out.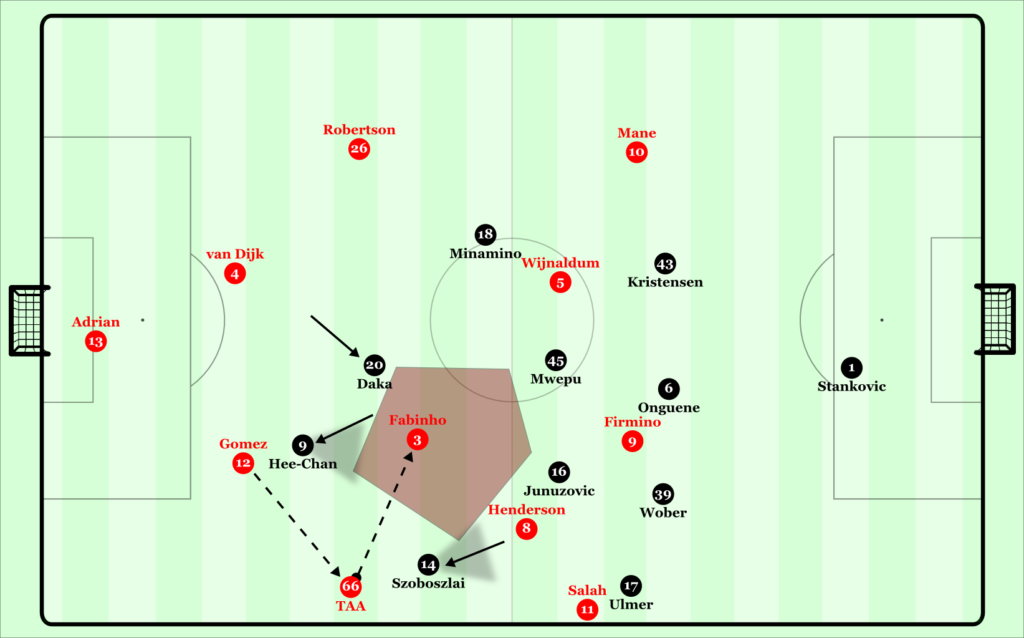 When Fabinho received these inside passes, the near winger and 8 would make quick dropping movements to offer a lay-off option. From here they often played rotary combinations ending with either an 8 or winger receiving facing the centre of the field. From here they sought to play diagonal switches through the channels between Salzburg's central and wide midfielders, often to Salah or Mane in a high and wide position. With these near side combinations and diagonal switches, Liverpool played against the grain of Salzburg's pressing, progressing quickly and reaching dangerous areas with time and space.
Arriving in the final 3rdwith one of their wingers and either an overlapping full-back or underlapping 8 against a shifting defence, the hosts could either reach good cross/cut-back positions, or play 1-2s with Firmino to create direct shooting chances. Many of these aspects were visible in Liverpool's first two goals.
With these centre back to full-back pass situations happening so often and causing Marsch's side so many issues, a couple of in-game variants were attempted. In some situations, Hee-Chan and Daka would start deeper focused on initially blocking Fabinho, before springing out late to attack Liverpool's first line. Yet the problems remained, as they couldn't combine pressure on Liverpool's defenders and blocking the 6 space.
In other moments, Szoboszlai or Minamino stepped higher earlier anticipating the pass to the Liverpool full-back. Yet this sped up Liverpool's build-up, with Wijnaldum/Henderson becoming open earlier in the half space.
Salzburg's other big issue
Another big factor in Liverpool's dominant start was how quickly Salzburg's attacks finished, and how easily Liverpool could outplay the counterpress and start attacks. In the opening period, almost every time Salzburg had/recovered the ball, they played down their left side, either with channel balls for the strikers to chase, or long balls towards Szoboszlai from goal-kicks.
However, Salzburg's structure often lacked presence for 2ndballs, particularly behind the strikers. Minamino would shift and play closer to the strikers, but Liverpool were constantly able to dissolve any pressure on the right and switch to Robertson with huge time and space, reaching the final 3rdagain. Unable to develop attacks, or win balls through counterpressing, Marsch's side couldn't create dangerous situations and were pinned in their half for long periods.
Marsch opts for a diamond
Around the half hour mark, Minamino was given a note and could be seen passing instructions to his team-mates as they switched from 4-2-2-2 to a 4-diamond-2 shape. Minamino moved into the central 10 position with Szoboszlai and Mwepu as 8s either side of Junuzovic.
The immediate improvement was felt in the away side's play after recovering possession, where Minamino was better positioned to take advantage of any positional errors from Fabinho and receive in the space in front of Liverpool's defence. With the two strikers running behind, Minamino was afforded time to carry the ball forwards before releasing one of the forwards. In the rarer long ball situations, the diamond also gave better start positions (central 10 in particular) to give a lay-off option or win 2ndballs.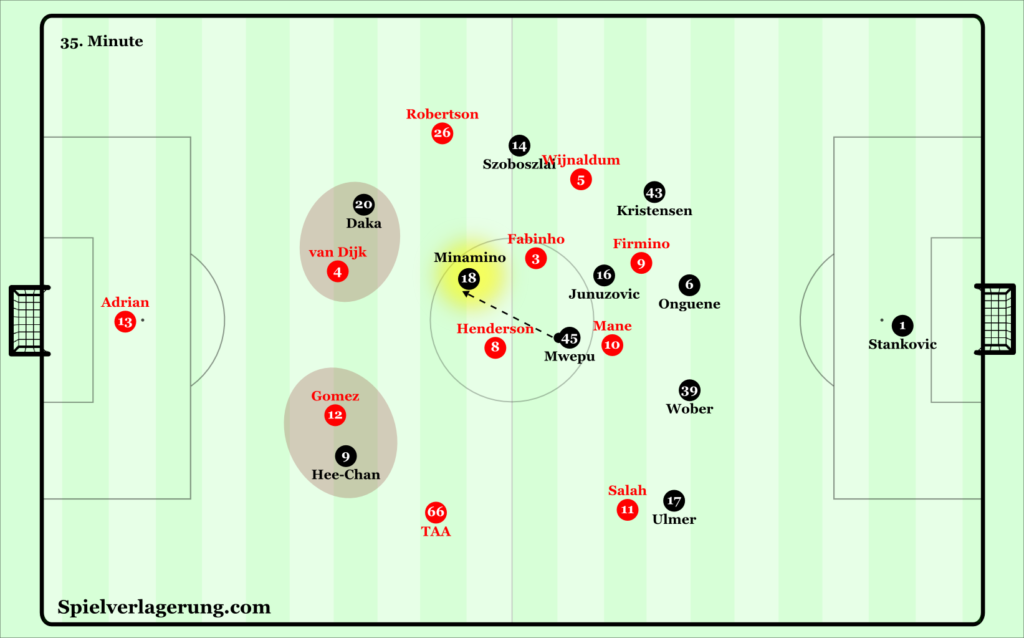 This led to far better counter situations where they reached more dangerous spaces, and created shooting situations.
The effect was also eventually felt in pressing situations, where Salzburg began recovering the ball in higher positions. When Alexander-Arnold or Robertson received passes from their near centre-back, Minamino was now positioned immediately to block the infield pass to Fabinho, with both forwards able to remain high and block switches along the back line. The 8s also pressed diagonally, meaning the only available lane was down the line.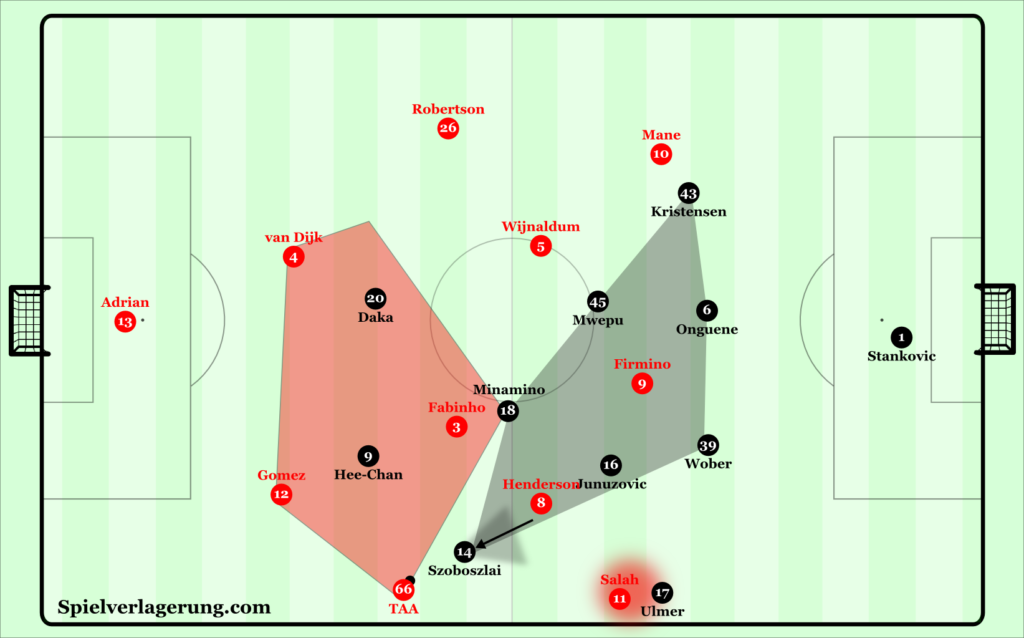 These passes could be far better anticipated and pressed, with the Austrians sending their full-backs up a line to press the next receiver. Forcing the ball down the line meant the receiver would either be facing their own goal (winger) or moving towards the touchline upon receiving (8), with both predictably having ill effects on the next action. Both sides of Salzburg's improvement could be seen in the ball recovery and then counter attack that led to Hee-Chan's goal.
The 2ndhalf followed a similar pattern to the last part of the first half, with Salzburg winning the ball in higher positions and creating more shooting opportunities. Marsch's men were also increasingly able to create more patient wing attacks with Liverpool's midfield and defence dropping deeper and narrower after losing possession. This afforded more time to Salzburg's midfield, in turn giving the full-backs time to get higher to support attacks.
Early in the 2ndhalf Liverpool showed some micro adjustments to play against the 4-diamond-2 press. The full backs, particularly Alexander-Arnold, held a deeper starting position either allowing more time to receive, or forcing the opposing 8s further out, isolating Minamino in the process. The near 8 would move down the line, this along with Fabinho infield created two options for Minamino to defend. With this taking place deeper over a larger amount of space, due to the deeper positions of Liverpool's full-backs, it took longer for Ulmer or Kristensen to move up to block Henderson/Wijnaldum.
However, the excellent flow of Liverpool's early possession play was gone with the shape change removing the orientation points Klopp's side used so well. Along with the 6 space being more permanently closed, the diagonal switches were no longer feasible with the base positions of Salzburg's diamond blocking these options. In the period up to Salzburg's comeback, the hosts made several basic errors in possession partly due to struggles to find the options that previously worked so well.
Klopp throws the dice
With Salzburg clawing back to 3-3, Liverpool needed a response and did so with Milner and Origi coming on and an interesting structural shift in possession.
The asymmetry of the full-back's positions was now exaggerated with Alexander-Arnold forming a back 3, and Robertson high on the left. Milner formed a double pivot with Fabinho, positioned centrally when they played through the right, and moving to the left back space when the ball was on the left. Firmino as a 10 roamed into gaps behind Salzburg's diamond midfield, Origi and Salah as wide strikers with Origi more often touchline wide on the left, Salah narrower on the right and Mane wide on the right.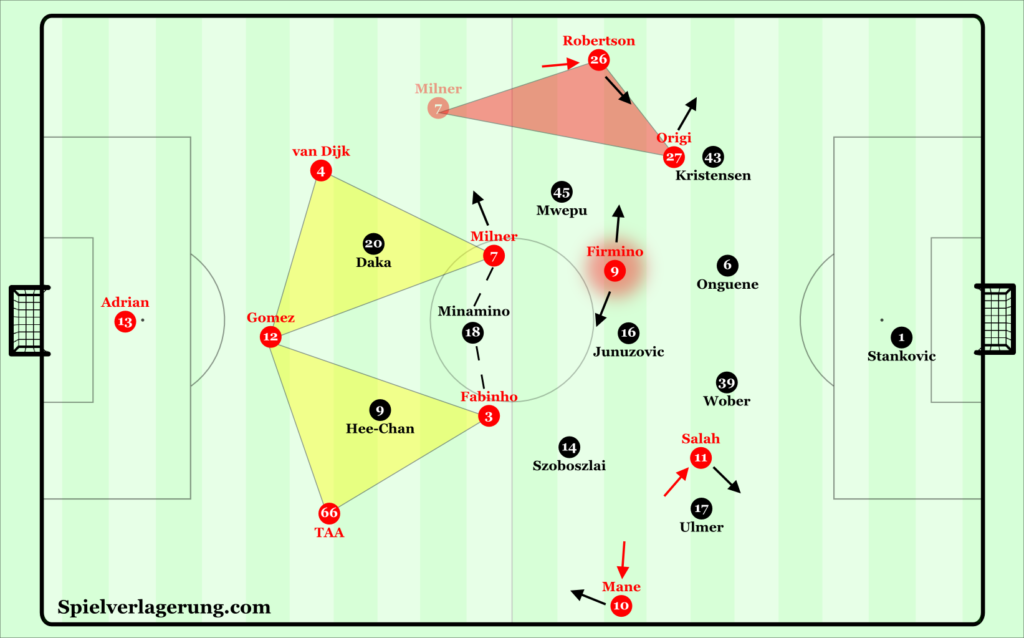 This adapted structure gave Liverpool a wide base in the first line to build-up with, as well as central options either side of Minamino, and a high presence in offensive areas. Moving Salah closer to Firmino paid off quickly with the final goal of the game. Yet the structure shift continued to pay dividends with Marsch's men having issues to press Milner's deep position on the left and block Robertson & Origi higher up.
Conclusion
A game full of micro and macro adjustments ended in favour of the team with the final adjustment. The preparation of both sides for the return game will be interesting. In particular whether Salzburg decide to start with the diamond, and whether Liverpool start with a structure prepared for that, and which (if any) in-game adjustments will be made.