Cote d'Ivoire edge South Africa in scratchy opener
To kick off their 2019 AFCON campaign, South Africa took on traditional powerhouses Cote d'Ivoire in Cairo. Stuart Baxter's charges lined up in a 4-4-2 shape with Percy Tau playing as a secondary striker/playmaker next to Racing Strasbourg's Lebo Mothiba, who occupied a more traditional target striker role.
Cote d'Ivoire on the other hand lined up relatively similarly in a 4-2-3-1 formation with Aston Villa's Jonathan Kodjia playing as a front-man with strong tendencies to drift to either wing, particularly in potential counterattacking moments. His movements would be balanced by Fulham FC's Jean Michael Seri, whilst veteran Max Gardel and Nicolas Pepe provided the threat from out wide.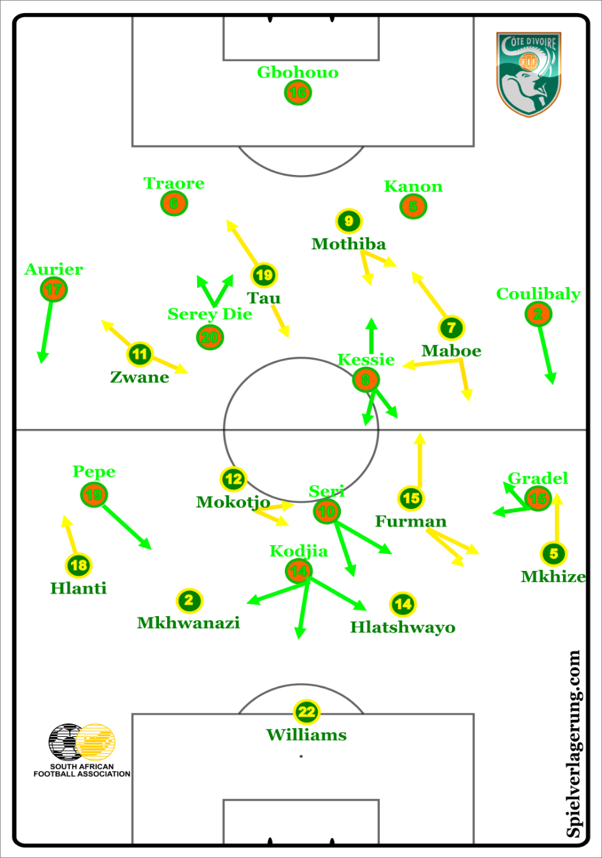 Opening exchanges: Coherent South African pressing stifles Ivorian build up

In the early parts of the encounter, either side looked to press their counterparts high up the field. Here South Africa would look to close down the opposition center backs with their two strikers. Behind that the midfield bank of 4 would start centrally, closing potential vertical ball progressions. They would leave the fullback open on either side, using the pass from center-back to fullback as a clear pressing trigger to advance and apply pressure. Behind the players pressing wide, the rest of the midfield would shift in a ball-oriented fashion, providing cover for any failed pressing attempts. Aiming to keep up the pressure and prevent flat ball progressions as much as possible.
Between the midfield and defensive line Serey Die would be left relatively unguarded, however due to his rather isolated position with several South African's close enough to apply pressure, the Ivorians would rather not risk lost balls in central zones in their own half.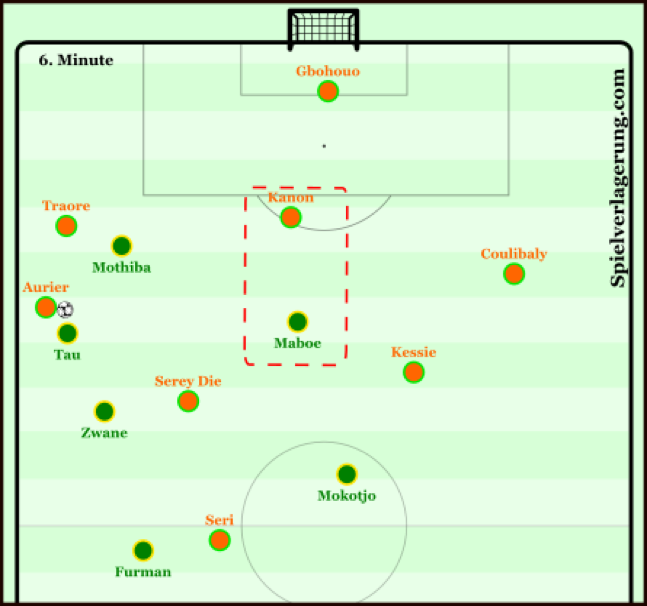 Within the high South African pressing Percy Tau played a particularly prominent role, cleverly using his cover shadow to guard the center initially. The to-be Premier League player also showed great intensity to still backwards press opposing left back Aurier, creating a 2v1 in favor of the pressing team on the left. Zwane's timing in these actions was also on a high level, showing a strong anticipation of the pressing moments, as well as excellent timing, arriving just before Aurier could turn into an open position, all whilst not rushing in in such a way that he could be bypassed with simple body feints or touches.
The evident group tactical coherence of these moments can be further highlighted by the role of right midfielder Lebohang Maboe, who would pick up a very central position, significantly higher than his 2 central midfielders, from where he would aggressively look to sprint out and press any Ivorian switches from the fullback to far-side center back, keeping up the high potential collective pressure for longer phases.
Whilst the above individuals showed excellent activity and competence in the pressing, the collectivity thereof was certainly noteworthy. As soon as one South African player was beaten, the next would generally be there to apply pressure. It is unusual to see the high level of compactness coupled with intensive ball pressure, and good timing in the South African league. An aspect that must have clearly been worked on extensively in preparation for the tournament by the coaching staff. This made it very difficult for the West Africans to advance collectively up the field with flat combinations stemming from their own half.
South African overloads
As the first half progressed, when South Africa had possession, the Ivorians would vary their pressing height to a greater degree, occasionally pressing higher up field, whilst also dropping into a mid-block occasionally. When in a midblock, the West Africans would form a 4-4-2/4-4-1-1 shape. With their pressing scheme being more reactive and man-oriented than South Africa's. Bafana Bafana would look to exploit this with overloads and positional rotations, particularly on the right wing.
Here, Cape Town City Cape Town City captain Thamsanqa Mkhize would take up a relatively advanced position as the right back. Opposing winger Max Gradel would follow him man to man. Central midfielder Dean Furman would in turn look to drop out diagonally into this vacated space, receiving the ball in open space with advantageous open body positions. From there, he would look to advance the ball vertically. Bafana Bafana would look to overload the right wing and halfspace with Furman, Mkhize and Maboe who would occupy a position as an inverted midfielder/winger. Center forward Mothiba would look to join this overload with occasional dropping movements with Tau and Mokotjo providing options to further the attack with a switch of play into central spaces.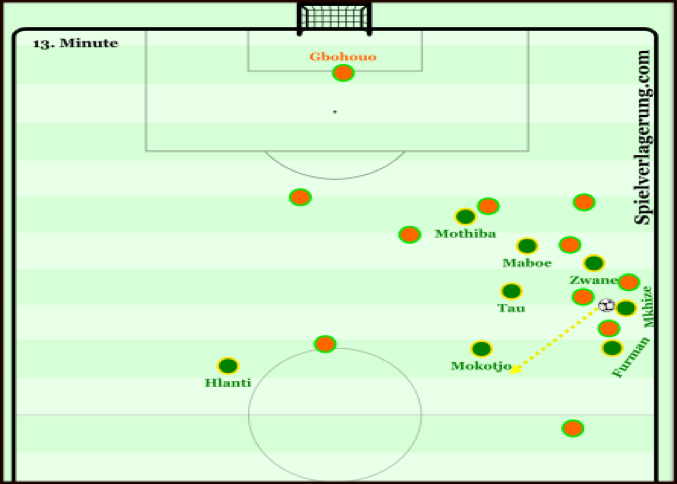 Unfortunately for the South Africans, whilst these moments had promise, combinations were often played far to unclean and hectically with several players over-condensing the space. This accounted for several losses of possession in areas where one initially had promising numerical advantages. Individual deficits can be mentioned here to particularly in terms of the accuracy of passing. It was striking how many passes were slightly behind team-mates or weighted too softly or unnecessarily in the air. This frequently caused precious loss of attacking momentum as the receiving played had to recover. The coordination of passes was also an issue, here the receiving players movement and the moment of the pass were often not timed correctly, causing several receiving players up the field to be in unideal body positions still trying to get into position to receive. This meant that they got the ball facing backwards or towards the sideline with pressure from behind and the sides.
Transition moments: Advantage Cote d'Ivoire
Despite being in good control of the opponents build up, once South Africa won the ball their issues became glaring. In moments of offensive transition, Cote d'Ivoire would counterpress somewhat sporadically and individualistically. Nevertheless, they maintained a strong rest defense with 4, sometimes 5 players occupying positions to secure the counterattack. Instead of looking for horizontal or diagonal switches of play, which were very possible, Bafana would play overhasty vertical passes into Mothiba. Whilst the Racing Strasbourg player offers a strong presence with back to goal, he will not continuously be able to protect the ball in a 1v3/2v4 situation.
When he was able to maintain possession and lay the ball of into the supporting players, a vertical ball behind the Ivorian backline (up-back-and-through), was often the result. In these situations, it didn't help that 3 of South Africa's front 4 players can be classified as more combination-oriented players who have their strengths with ball at feet, especially dribbling in tight spaces against onrushing defenders. None of these are players (Tau, Zwane, Maboe) necessarily enjoy running onto balls behind the opposing defense prolifically. At the same time, it must be said that the Ivorians would be difficult to out-counter for most teams, as their backline is collectively very speedy, physical and strong in duels and anticipation of these moments.
With time these hasty transition moments took their toll on the South African side. Not being able to maintain possession particularly long on too many occasions, the South Africans had to perform several defensive transition moments from disadvantageous positions. A side effect of a rushed offensive transition is that when you most likely loose the ball high up the field, an effective counterpress is difficult to execute usually being outnumbered severely.
South Africa would frequently loose possession whilst their backline and midfield were still advancing. In these situations, Cote d'Ivoire were threating. They would look to quickly switch the ball into Pepe on the right wing. The Lille man is a difficult opponent when afforded space to work up speed in the dribble. Hlanti had problems dealing with these situations and often needed Furman to slide across and help in order to slow down the OSC Lille winger's momentum. If they weren't looking for the switch, the Ivorians would revert for direct balls in behind the South African backline with Kudjia consistently threating on the shoulder. In these moments counter-momentum played a significant role. When a backline is pushing up the field, and an opposing striker receives in behind facing towards the opponent's goal already (almost like a boomerang effect), the backline is at a severe disadvantage.
These frequent transition moments certainly caused the South African team to tire significantly which in turn also affected their intensity (particularly when having to shift horizontally) and compactness of their pressing.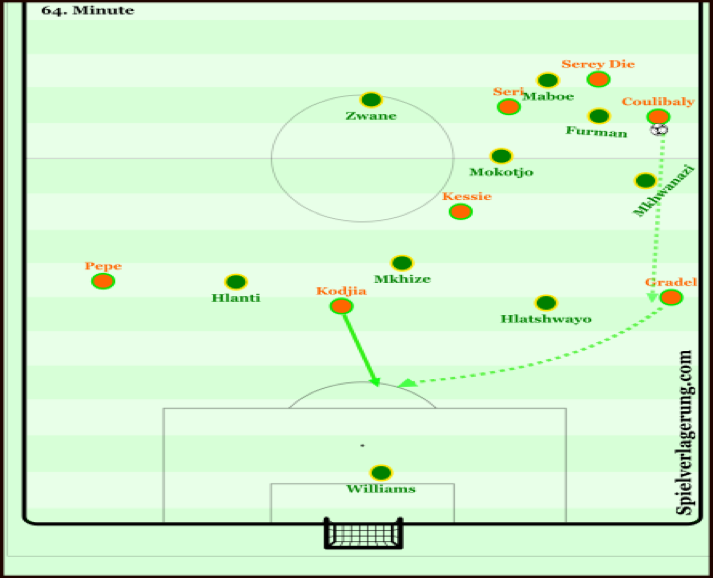 Second half developments
It was one of these transitions that eventually caused Cote d'Ivoire to take the lead. The South Africans visibly tired in the second stanza and were never really able to threaten the Ivorians after the opening goal. The West Africans managed to push Bafana Bafana back more and more, who weren't able to advance threateningly. After taking the lead the Elephants found a healthy mix of strong rest defense to secure the potential counterattack, focused and consequent box defense when required, whilst still creating the better of the chances on the counterattack. Having strong individual quality coming from the bench such as Wilfried Zaha or Maxwell Cornet certainly helps.
In the second stanza the Ivorians lined up somewhere between a 4-1-4-1/4-2-3-1 and 4-4-2 with most offensive players interpreting their roles somewhat fluidly. The clear focal points remained Serey Die as an anchorman in front of the defense and Kudjia as a havoc causing presence in the front line.
Stuart Baxter opted for two like-for-like changes with Netherlands based striker Lars Veldwijk replacing Lebo Mothiba in the frontline and Sibusiso Vilakazi taking Lebohang Maboes' spot. Either of these interpreted the roles very similarly to their substituted team-mates and were not able to affect the creation of chances significantly.
If anything was going to come in the late stages of the encounter it would have had to be from a set piece. However, it was not to be as the biggest chance of the last minutes was a Pepe free kick, denied by a fingertip safe from Ronwen Williams.
Conclusion
Overall the score line was more or less a fair reflection of the encounter. A rather typical AFCON game. Whilst Cote d'Ivoire offered little exciting play from a collective offensive perspective, they did create clear chances in offensive transition. Their dynamic attackers can be severely threatening when dribbling at opponents at high speed or running in behind. Their squad bolsters significant strength in depth which makes them one of the top contenders for continental honors. They are stable enough in terms of box and rest defense and could potentially still improve collectively from here on in.
Its not all doom and gloom for Bafana Bafana on the other hand. Stuart Baxter's charges showed some strong collective organization and individual performances in pressing. As well as a potentially promising scheme of rotation and overload to advance the ball upfield in a collective fashion. More success-stability here would go a long way to highlight the teams undoubted combinative strengths.
Nevertheless, after the opening loss they find themselves with their backs against the wall having to produce results in the next two encounters. If that is going to be the case, they will have to significantly improve their play in offensive transition. The over-vertical nature of their passing into vast numerical disadvantages causes too many needless giveaways of possession. This has a strong accumulative negative effect on all phases of the game and tires the team out as the game advances. Going forward, small switches of play should be a clear focus in these moments. Thereby enabling the team to move forward more collectively.