Tottenham-Liverpool: Champions League Final Preview
After the last years' Spanish domination in the European Cup Finals, English football finally took over for this season, with 4 teams representing in this season's 2 Cup finals. If you followed the development of the english football lately, the shift was quite predicted and inevitable. Both teams have an important thing in common: conscious building in every aspect of the game throughout the last years, mixed with patience, allowing the 2 head coaches to improve their game model -5 years for Pochettino, 4 and half for Klopp.
Expected Line-ups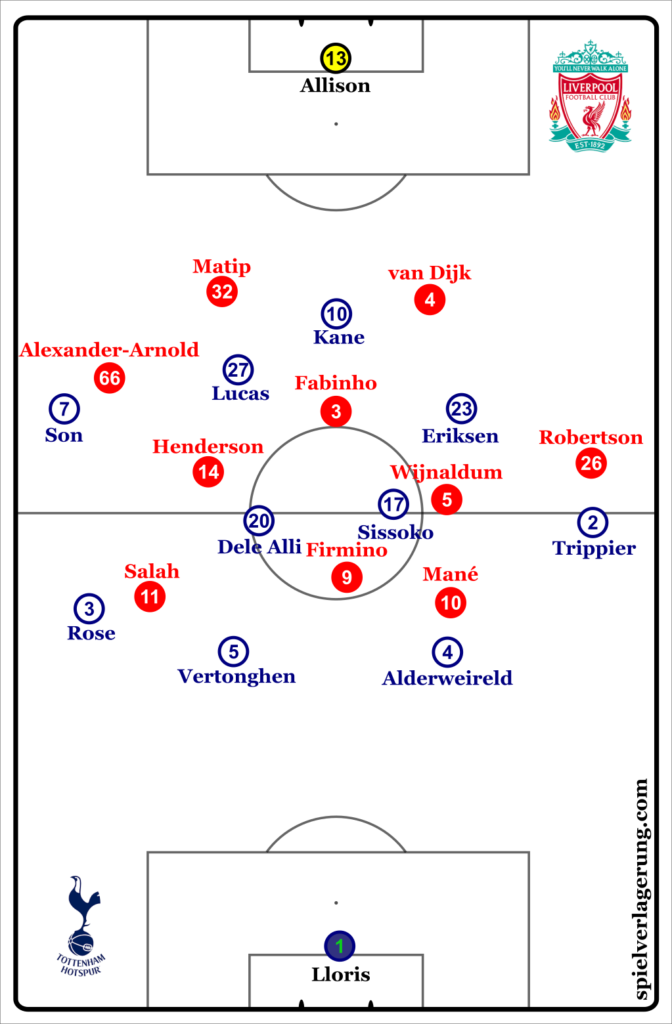 Liverpool has no reason to change their usual 4-3-3 shape, plus with surely having Firmino back the Salah-Firmino-Mané trio should be starting upfront. At midfield Keita is out definitely, therefore his position/role to offer flexibility could be filled by Wijnaldum -especially after his super display against Barca as a substitute-, who is comfortable in not only to make runs behind the last line, but to offer support deeper or wider next to the sidelines. Henderson's change in role -from the #6 to the #8 position- was a key moment in the season, even Klopp told in an interview, how he regrets that Henderson wasn't used in an advanced position earlier. No changes expected in the defensive-midfielder -Fabinho- position and in the back 4.
An alternative for Klopp is to switch to a 4-2-3-1, something he used during their last game (2-1 win, 03.31.), after Spurs got the equalizer. This option could be key, although it mainly depends on Spurs' gameplan if it will be necessary to use or not. System's pro and cons will be elaborated later.
From Tottenham's part their starting formation is quite unpredictable, as they operate with a lot of changes structurally. This offers huge flexibility for the team & Pochettino, being able to switch between the systems fluidly during the game. Despite the flexibility these changes often happen due to selecting a wrong shape initially. Some examples from the last months, where Pochettino had to change, because of the opponent's 1st half domination:
vs. Liverpool 03.31. (A): 3-5-2 -› 4-2-3-1 (half-time change)
vs. Manchester City 04.17. (A): 4-3-1-2 -› 4-2-3-1 (20th minute)
vs. Ajax 04.30. (H): 3-5-2 -› 4-3-1-2 (40th minute)
Although these formation changes were mostly successful, switching to a more functional system, so even if Pochettino sets up the team in a wrong shape, he adjusts well to change the game's dynamics.
In the September home game Spurs used a 4-3-1-2 to start the game against Pool, then started in a 3-5-2 in March, both in order to have a better control at the central zones. Though, their best performance was in the asymmetric 4-2-3-1 they've used in March at the 2nd half, therefore judging from that I expect them to use this system to start. With possibly having Kane back, several personnel is possible behind him, due to having flexible attacking midfielders. Lucas can play left wing & #10 position at the centre, almost same with Son, but he can play at both wings comfortably, Eriksen can play as a #10 & inside winger & central-midfielder in a diamond & holding-midfielder in a 4-2-3-1, whilst Dele Alli can also operate in the aforementioned roles -as Eriksen. Nevertheless, Spurs must be cautious to find an optimal balance, to have a better midfield stability.
Game dynamics, key points
The first minutes will probably be a bit wild and messy without creating longer structured phases, due to both team's pressing approach and intensity, plus the inability to fluently play under high pressure -without having clear patterns & solutions after inviting the press, plus connection issues at the back, suboptimal distances & orientation to effectively play against a high press. On a basic level I expect Tottenham to have a slightly more possession, but with a high-block from Liverpool to disrupt Spurs' build-up and circulation phase. Spurs struggled against the high-block both in their 4-3-1-2 & 3-5-2, but last game's 2nd half showed an example on how to break Pool's defensive system. In both system's Pool could cut Spurs' access to the wide zones, whilst controlling the centre, and putting the ball under pressure from the centre, by Firmino pressing the ballnear CB, whilst closing the lone-DM in behind with his cover shadow. Therefore the ballnear central-midfielder could stay deeper in position to offer central stability, cover passing lanes.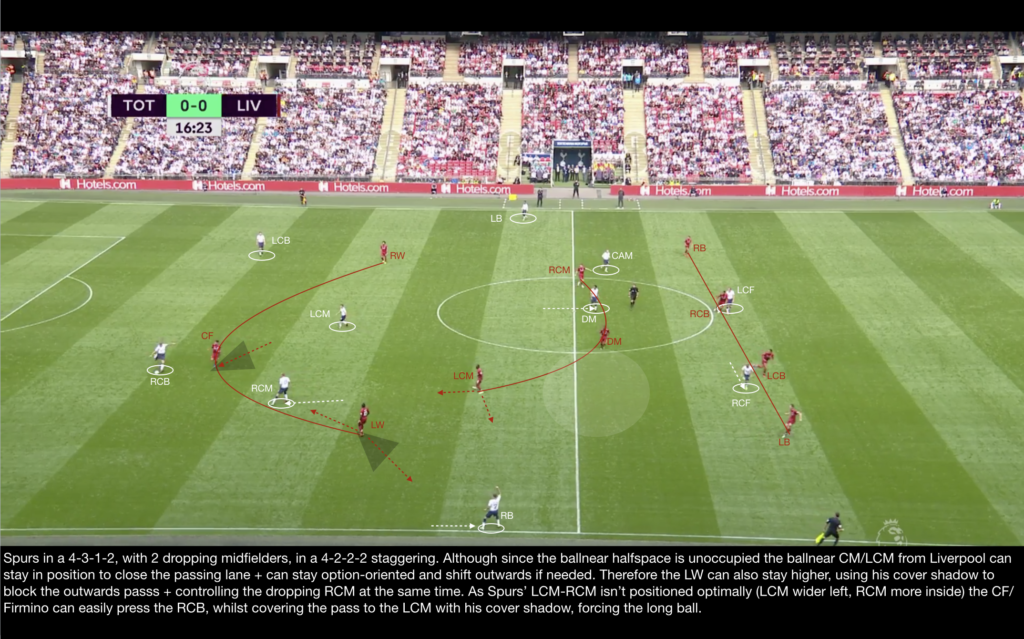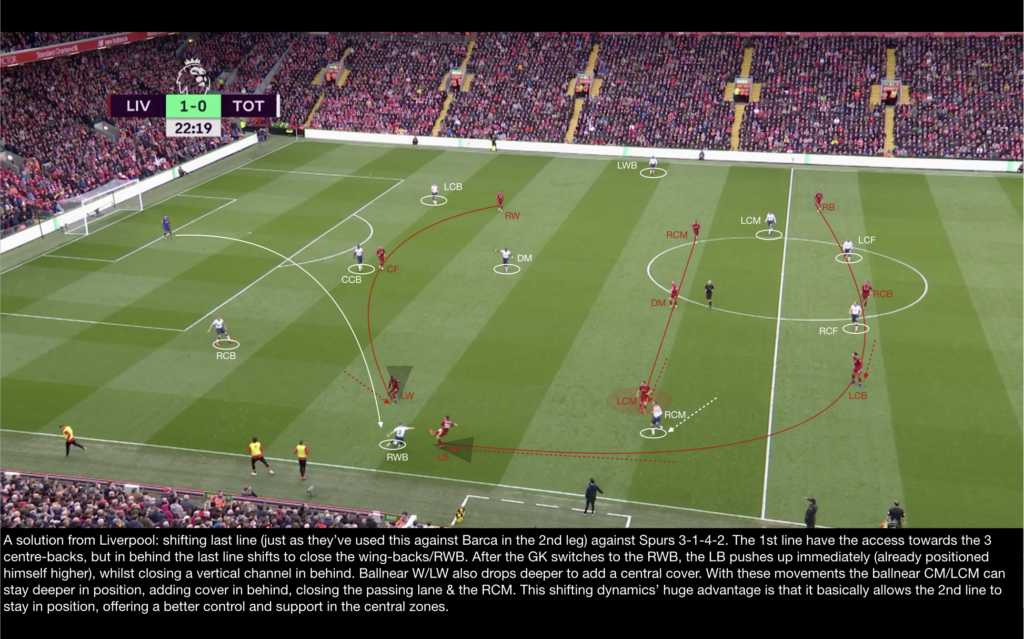 Although with switching the staggering at the back to have 2 deeper central-midfielders – usually in a 2-2 staggering centrally, midfield-box-, Spurs could create orientation issues for the 1st line, eventually reducing the cover & pressure, progressing the ball into advanced positions. With reducing the cover Spurs generally had more time & space at the back to find the wide spaces higher on the pitch, pulling out the full-backs (Robertson & Alexander-Arnold) and exploit the spaces behind with runs, especially from Eriksen. Another scenario is for Pool to defend the wide spaces by shifting the 2nd line, but that could stretch them horizontally, leading to open vertical channels towards Kane and the #10 position. If Spurs want to deliberately exploit this, they can manipulate the last line, with occupying the halfspaces in between the lines, which could pin the full-backs, forcing the 2nd line to close the wide zones -this dynamics was exploited by Barca in several cases, where Coutinho's inside positioning pinned TAA in position, opening up space for Alba wide left.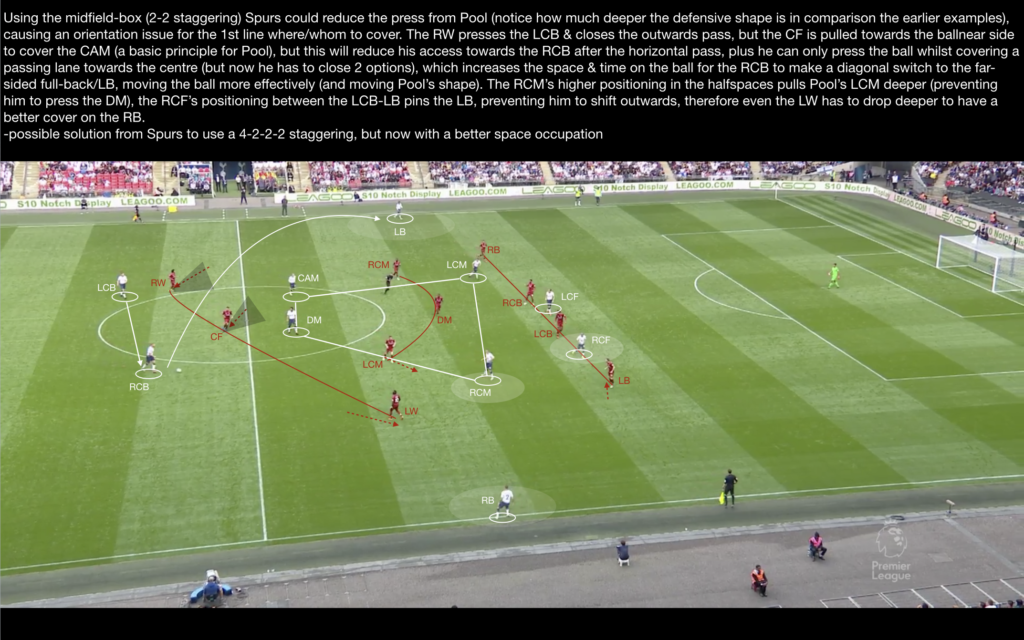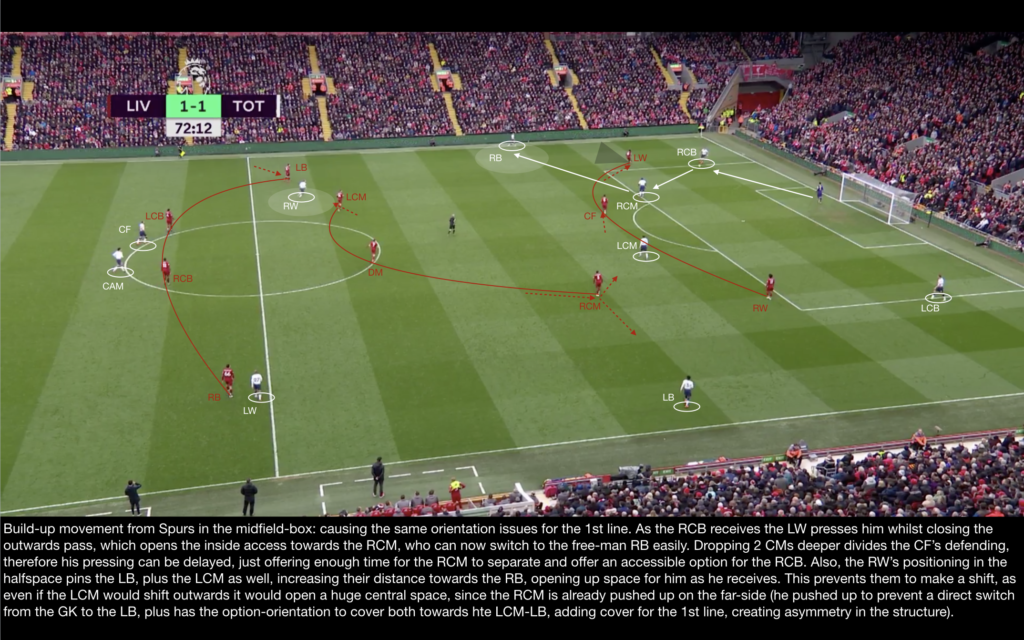 To counter that a possible change from Pool could be to change to a 4-2-3-1/4-4-1-1 in defending, to have a better control at the central zones -preventing the be numerically overloaded, creating equality at the centre. With that the 1st line could press the centre-back frontally, whilst covering both of the Spurs' deeper central-midfielders, allowing the 2 central-midfielders to stay deeper and control the centre in depth. This also helps to put the centre-backs under pressure as soon as possible, whilst their 4-3-3 press usually requires more shifting centrally to achieve that – which could give enough time on the ball to play through the pressure.
Liverpool also have a slight asymmetry in possession, usually creating a 1-2 staggering, with Firmino dropping deeper in between the lines, acting as a false #9 to move into the #10 position, whilst both Mané and Salah moves inside, but the latter positions himself wider, to offer width on the right if needed. This is due to the different characteristics of the full-backs, as Alexander-Arnold -TAA- is also capable to be involved in the circulation phase from depth, operating with quality vertical passes and diagonal switches to the far-side, whilst Robertson's strength is much more to make runs into the vacated space -by Mané-, operate with crosses & diagonal balls in behind from the advanced positions. With this structure Pool is able to pin the oppositional full-backs, tightening the last line, which opens up the wide spaces either for Robertson & TAA or for the central-midfielders, who tend to move out wider to stretch the 2nd line and create decisional-crisis about the shifting due to the wide overload. This dynamics could particularly be functional in case Spurs select a 4-3-1-2 shape.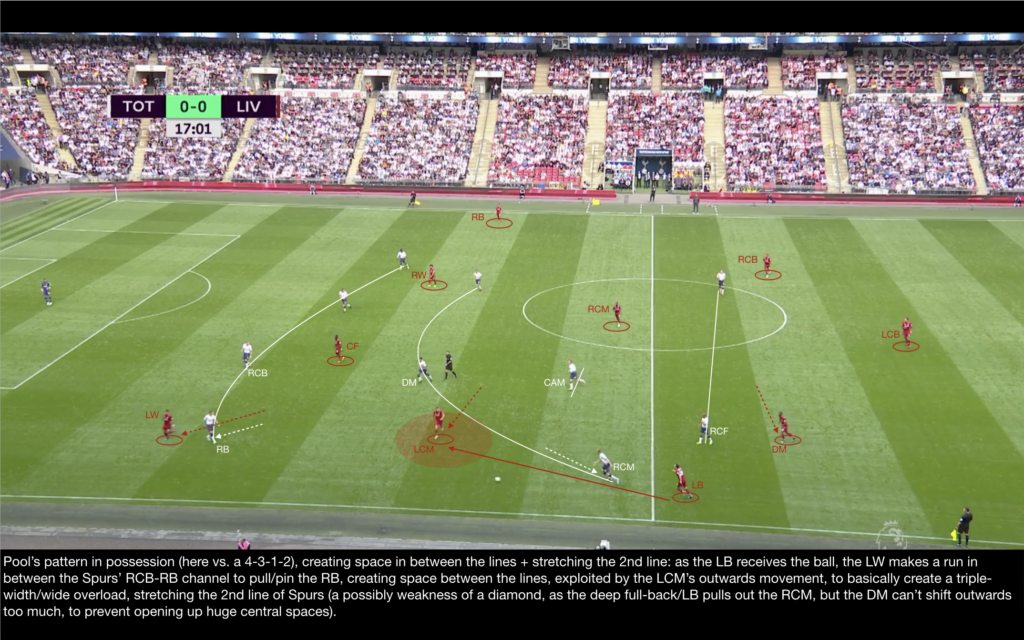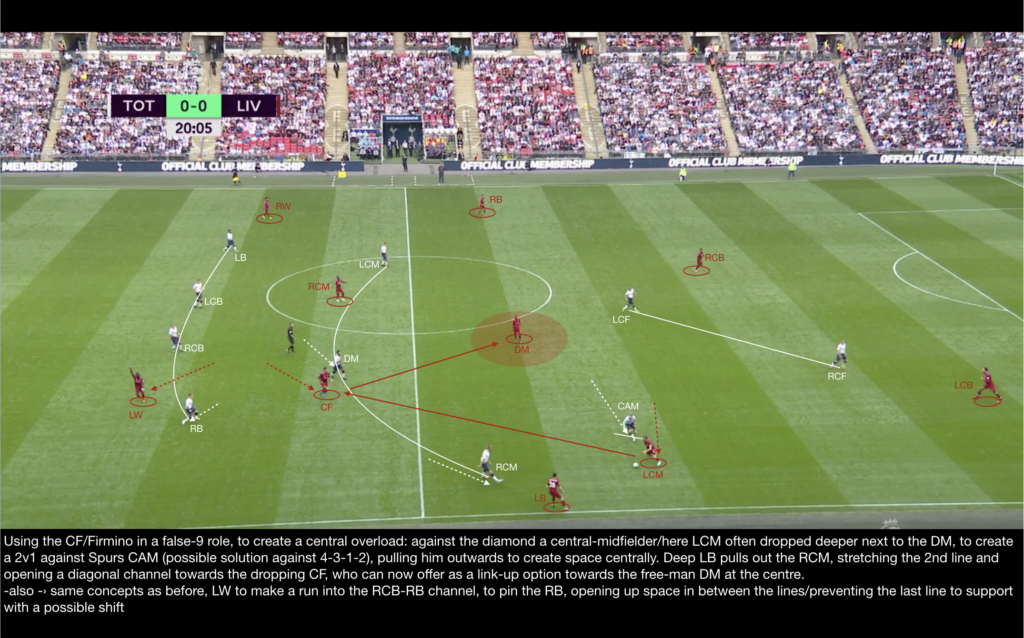 The wingers' narrower positioning can also manipulate the last line's defensive behavior, to pin the centre-back's and divide their attention, or to make runs in behind to stretch the last line deeper, opening up more space in between the lines for Firmino. One of the main issues for Spurs' last line is to defend against these situation, often resulting open spaces at the central zones, which could be exploited by Firmino's deeper positioning. To cause orientation issues for the last line, Pool could also operate with vertical switches, using the central-midfielders' runs in behind from depth & wingers to drop deeper, or the wingers to make a run behind & Firmino to drop is the same pattern.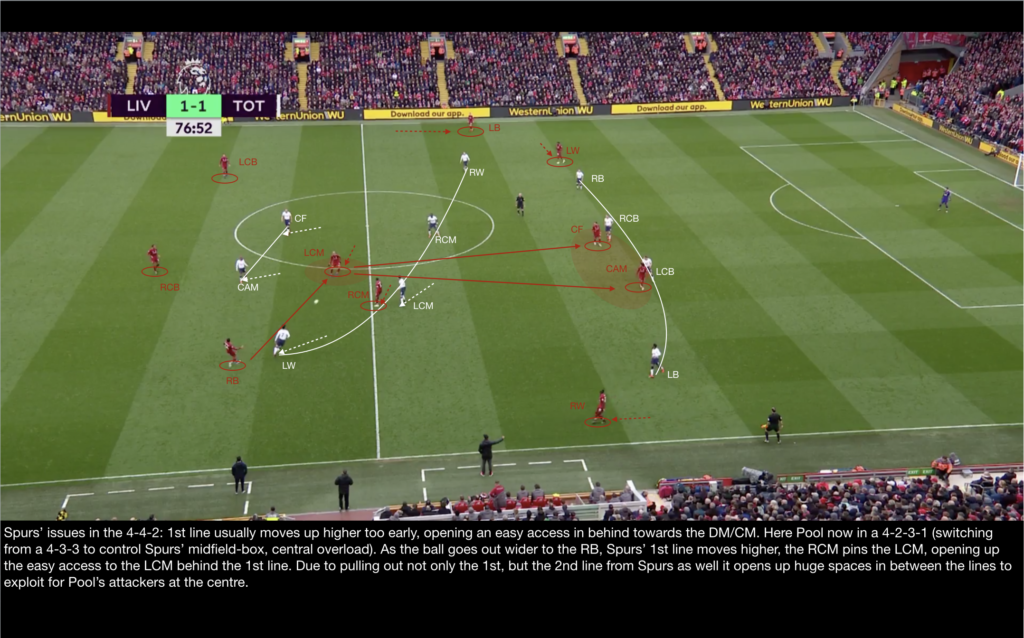 Transition phases – Liverpool counters
From their previous game there was one specific pattern to happen in several cases. Since Spurs tends to push up the full-backs in possession -winger to move inside, central-midfielders drop- it often leaves big gaps in behind to be exploited, without the midfielders being optimally positioned to control these zones after losing the ball. It is also due to the way Pool's wingers position themselves out of possession in the 4-3-3 staggering: staying higher and narrower, from where they can immediately exploit the vacated spaces. The asymmetric shape from Spurs could be a solution for that, to have the left-back -probably Rose- deeper to control Salah better during these phases.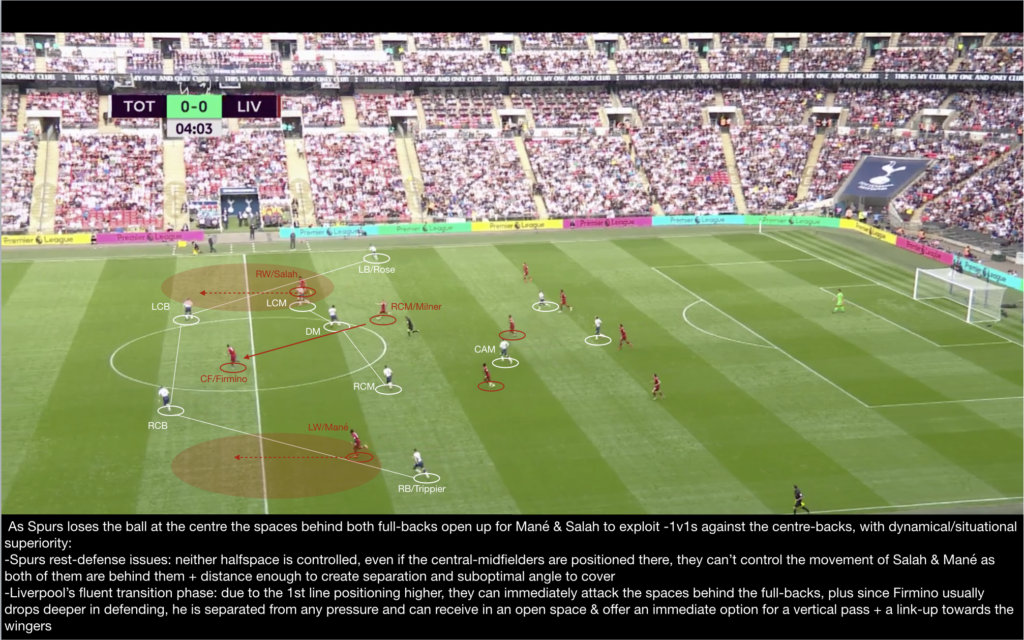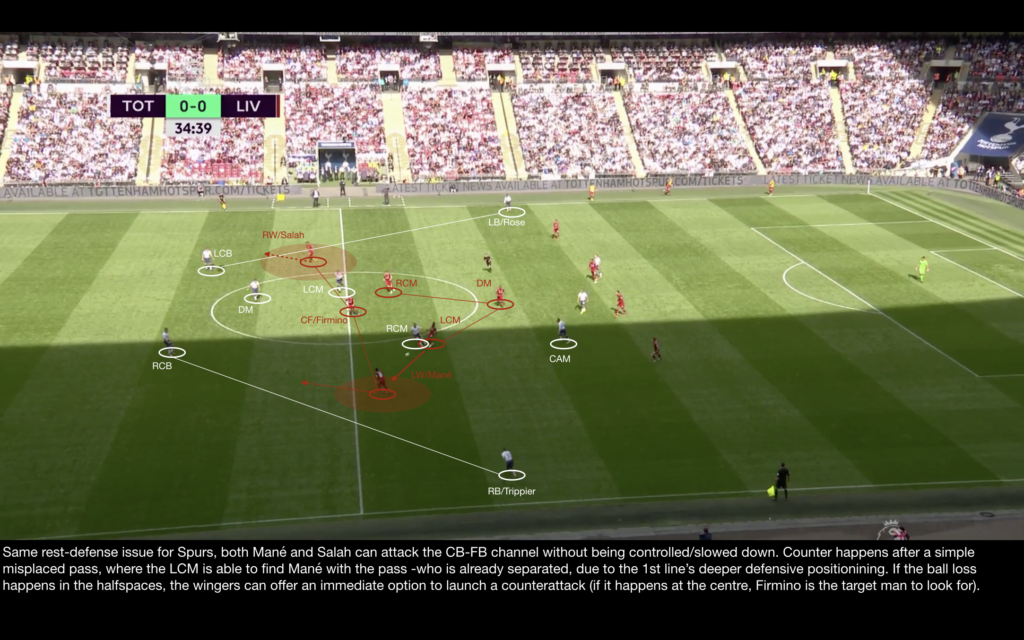 Set-pieces
After such a long break I'm sure that both teams will come up with new set-piece patterns to exploit each other's weaknesses. Tottenham showed vulnerability to defend against blocks at defensive corners -shifting issues-, using the same concept as Ajax did -to create space for de Ligt with a block backwards-, Liverpool could open up valuable spaces for van Dijk & Matip for a possible header or to simply create mismatches, exploiting the man-marking scheme. Apart from that they often leave the rebound zone quite open -only 1 player there- or defend the short-corner with 1 player -as their system usually adapts much to the opponent's positioning, therefore could be manipulated to open specific zones/areas-, and these small mistakes can be easily exploited with the corner-taker's awareness to it, and we can be sure that they will look for these mistakes -TAA's fast-corner against Barca. Not to mention that Pool scored from a corner on both occasions against Spurs this season, both after a 2nd ball situation –where Spurs also showed weakness in the recuperation phase.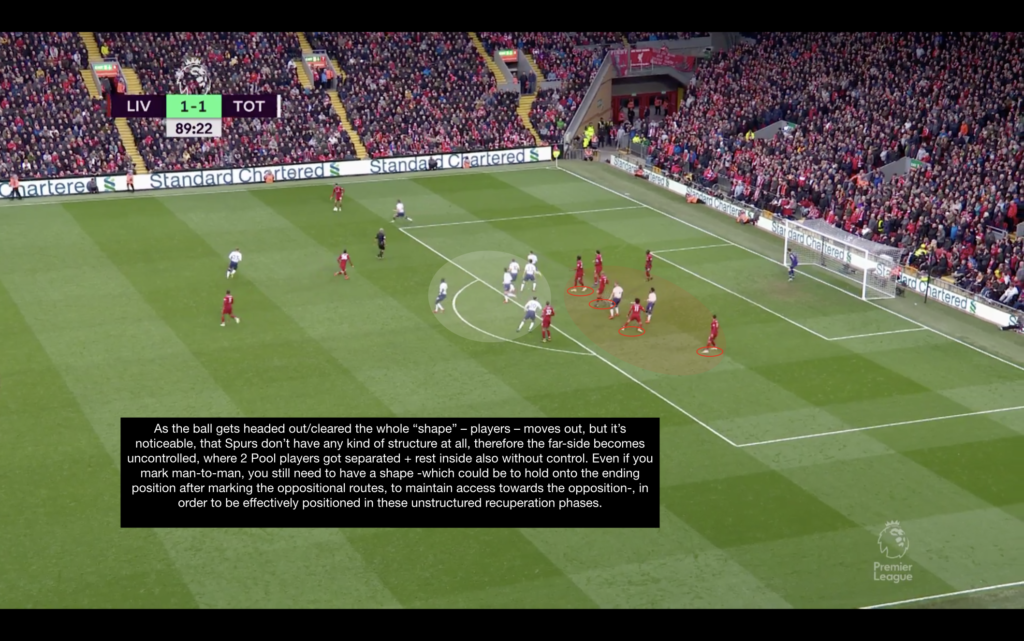 Liverpool also have some weaknesses in their zonal-oriented system. First of all, they tend to keep a relatively high line at defensive free-kicks, plus the line usually starts to move just before the kick, so with a late timing. The function of this is to keep attackers offside, plus to disrupt their movement dynamics, possibly to force them off-balance. Although with optimal movements from depth & far-side and outswing could exploit that, to attack the bigger space between the defensive line and the goal. At defensive-corners Pool uses a zonal-oriented, but mixed system: they usually have a 5-men line to mark the zone at the 6 yard box, plus 2/3 in front to block/slow down the runners -they are also zonal-oriented, but have the responsibility to slow down the attackers. In that zone a simple overload could be created, as if 5 attackers will arrive, 2/3 of them could arrive without getting touched. An often used principle against a zonal-system is to move the shape -outwards at corners- with a short-corner, pulling the line out and possibly to open spaces inside between the defenders . Besides, on the far-side space usually opens up between van Dijk-TAA (last 2 of the line), as van Dijk tends to move towards the short-side a bit too much, which leaves a huge space open between him and TAA, although this space is rarely being exploited by the opponents.