Spurs beat City as Pep's cautious approach backfires
In the 1st leg both team selected a more conventional strategy, which ended up in a pretty slow-paced game, resulting a narrow 1-0 victory for Spurs thanks to a late Son goal. It will be interesting to see how the teams will adjust for 2nd leg, as City has to find how to attack effectively without losing the control the game, whilst Spurs must find the optimal approach and structure to avoid being overly-defensive in protecting their lead.
Line-ups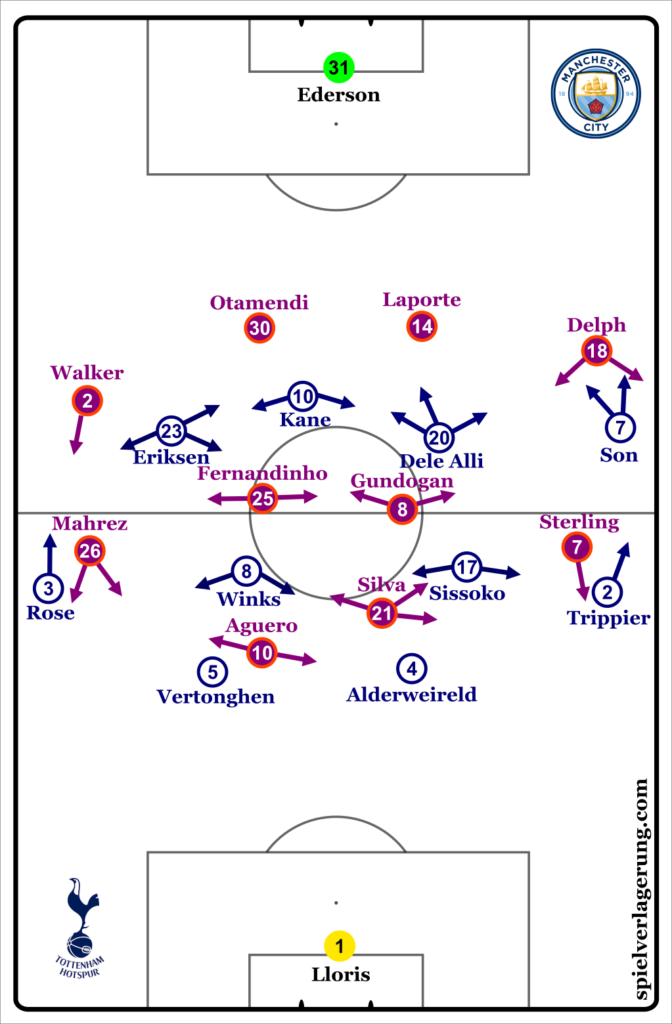 As expected, Spurs had to stabilize their midfield to slow down City as much as possible -plus to offer central control-, therefore Winks got to start next to Sissoko in a 4-2-3-1 formation. There was the possibility that Pochettino will select a 3-4-3 or a 3-1-4-2, but as City showed a very effective positional play against Schalke's 5-4-1, it probably persuaded him to revert to their most usual structure. Without the ball it formed a basic 4-4-2 shape in a mid-block, while in possession an asymmetry was created with Eriksen moving inside on the left, and Son staying out wide down the right hand side -in fact, Son started on the left, Eriksen on the right, but they have switched positions at the 15th minute. This is how Spurs usually looks like in possession, but with varying Son's position according to the opponent. Here, with moving him to the right the strategy probably was to attack Delph's side, City's weakest link in defending.
On the other side Guardiola went for more stability, changing from their usual 4-3-3 to a 4-2-3-1, with Gundogan playing in a deeper position next to Fernandinho -same as Spurs' midfield. Surprisingly Mahrez got to start on the right, probably because of the changing offensive structure, which mostly formed a 4-2-4, where a bigger emphasis from the wingers was to cut or dribble inwards -and less on attacking the goal line with their usual underlap runs from depth and make flat crosses into the box. Out of possession Silva moved higher up next to Aguero to form a 4-4-2 shape, to avoid being moved outwards centrally -which they usually do in their 4-1-4-1 as they press.
City's strategy can be evaluated in a lot of different ways. If we look at the fact, that basically they've controlled the game's dynamics for most of the time, with controlling both Spurs' in possession game and counter attacks, we could say that they have achieved what they wanted to. Although this strategy also decreased their offensive depth, which resulted a less effective positional play in overall, and their inability to put Spurs under pressure in their own third for longer phases – as they are mostly able to do that even against better teams with their usual approach.
Basic dynamics – City with more possession, Spurs defend in 4-4-1-1/4-4-2
In the beginning, Delph moved inwards to create a 3-3-2-2 staggering, to manipulate Spurs' 2nd line defending, trying to open up more space on the left side for Sterling and Aguero to receive. Spurs started the game in a 4-4-1-1, with Dele Alli closing towards Fernandinho -with his cover shadow- in most of the time, leaving Kane higher, which allowed more spaces for Laporte to drive forward. This FB inward movement generally creates a decisional-crisis for the oppositional winger -in this case, Eriksen-, as if he follows the inward movement, it opens up a huge channel towards the winger, but leaving the FB open in the centre if he doesn't follow the move. As Eriksen followed Delph's movement inwards, it opened up the left halfspace, exploited by Gundogan with an outwards movement, allowing City to progress through the 2nd line. Although after a conceded counter in the 8th minute -due to inadequate central positioning to control the attackers- Delph stayed out wide and they've reverted back to a 4-2-3-1/4-2-4 shape -1 minute before Aguero's crucial penalty miss.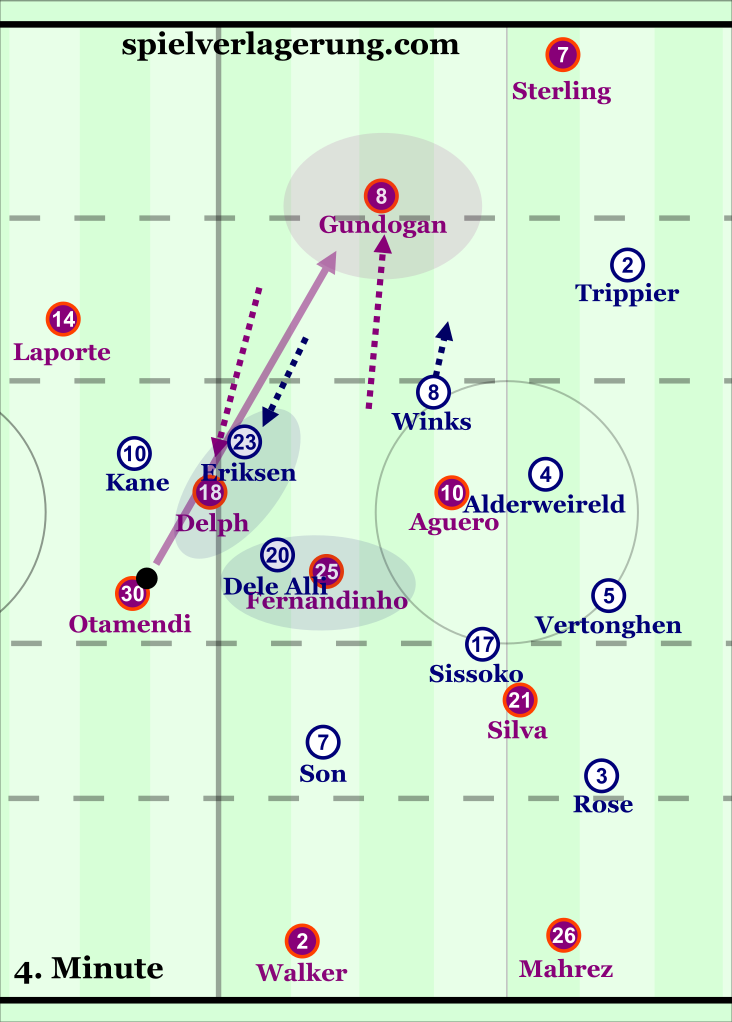 At first with both Silva and Aguero moving outwards wider to occupy the halfspaces, it created a 4-2-4, but as Spurs' 1st line effectively closed towards Gundogan and Fernandinho -changing the 1-1 staggering, as Kane dropped deeper to close towards Gundogan-, the 2nd line could cover towards the halfspace in depth better. Since the distance from the CBs was also higher, they couldn't exploit this 2-2 dynamics at the centre -possibly doubling the oppositional CMs here- to open up accessible passing lanes towards Silva or Aguero. This was also due to the staggering at the back, as with having 2 players in front of the CBs at the centre, Spurs' 1st line could stay a bit wider, preventing the CBs to drive forward on the ball -after Kane dropped deeper-, to decrease the distances and create passing lanes -important to mention: this also affected the way Spurs could counterattack, since with both Kane and Dele being higher, it created a better condition for them to immediately receive in or to attack more valuable spaces. Without occupying the halfspaces optimally, even the FBs could alter their positioning, allowing them to reduce the distances towards Mahrez and Sterling more, preventing them to receive short passes with an optimal body posture, or even preventing the short passes at all. Besides, it also affected their circulation dynamics is a negative way, since the FBs positioned themselves a bit higher they couldn't move the ball -and Spurs' shape- as constant as they usually do, as Spurs often isolated them at the wider areas -especially at the left, because Walker often moved inwards more, creating slightly better connections.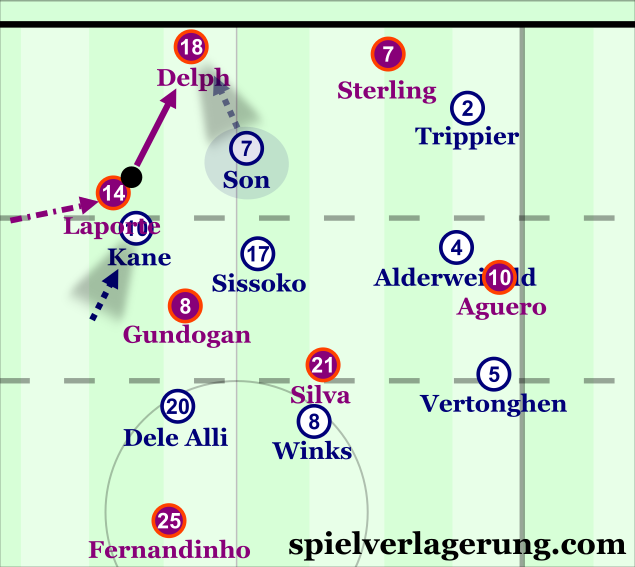 To solve this issue, Silva moved over to the left side dominantly, to offer connection for Gundogan & Sterling, basically leaving the right halfspace unoccupied in between the lines for the rest of the game – apart from some outward movements from Aguero, this space was left empty. Plus, even Gundogan started to position himself a bit wider to allow him receiving in front of the 2nd line, whilst facing the oppositional structure, which also strengthened the left-sided connections – better distances, affordable passing lanes, manipulating Son to defend narrower, opening up space for wide progression through Sterling.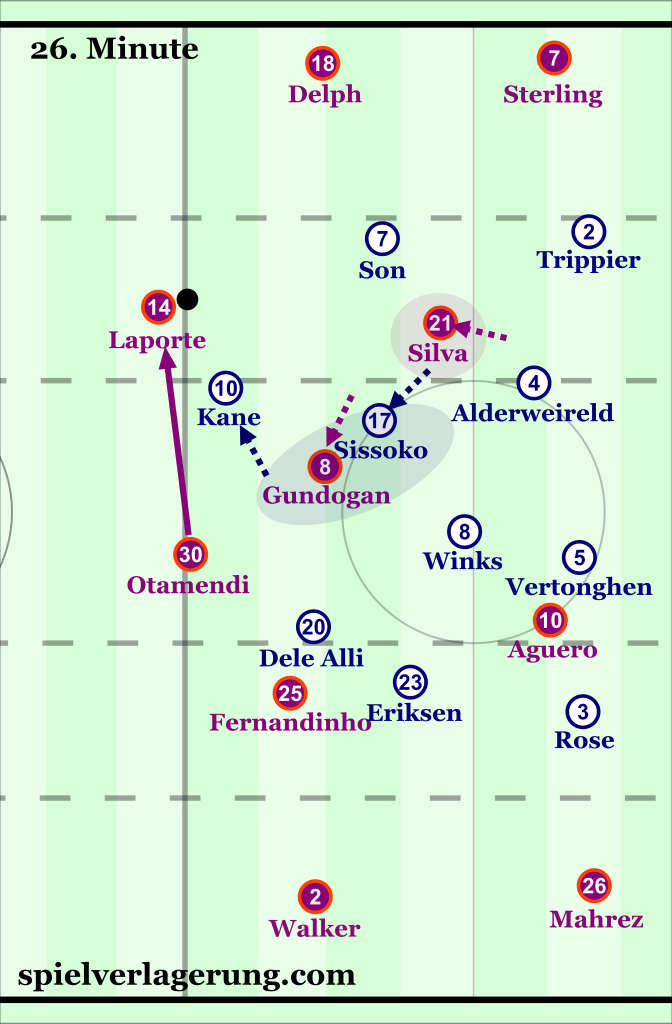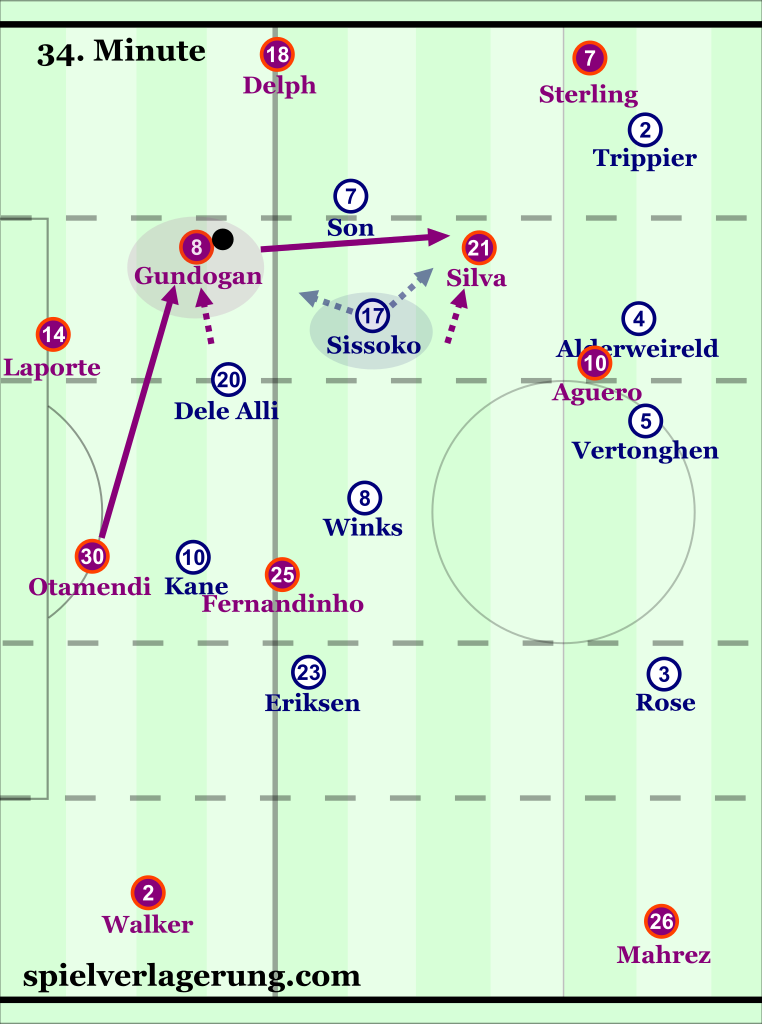 Since the right halfspace was mostly unoccupied, Mahrez often left isolated, with only Walker making movements to support him – under- or overlaps, forcing him to take advanced positions and opening up spaces behind, which was exploited several times at counters with specific runs to attack this space, e.g. Kane moving outwards. This made the right side quite predictable, as the only option for Mahrez was to dribble inside and try to find Aguero & Silva inside the box with diagonal passes. But due to the huge distances, the defenders' had enough time to read and react to these passes.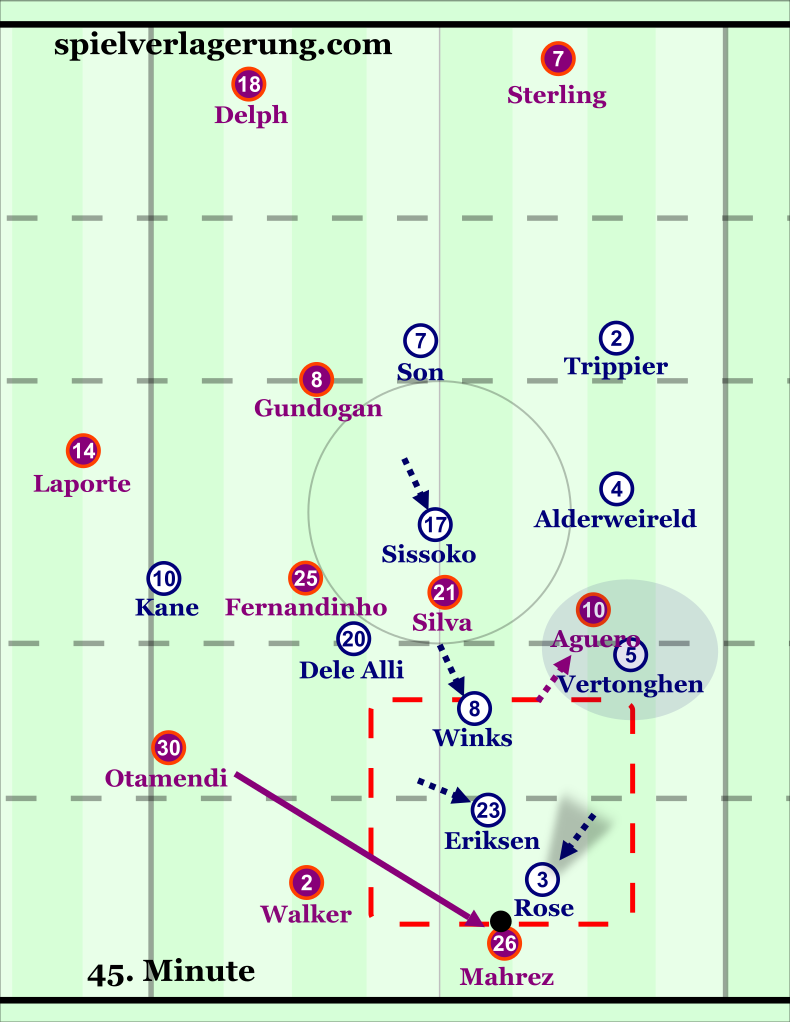 Spurs' in-possession game
Spurs also had their issues in their build-up, due to inadequate distances between the CBs, making it easier for City's 1st line to guide them outwards -both Vertonghen and Alderweireld, who often positioned themselves too wide, closer to the sidelines, weakening the connections- , forcing them to operate with long balls towards Kane. Although since City changed to a 4-4-2, it helped Spurs to better build from these long balls, as the Kane-Dele-Eriksen trio often positioned themselves very closely to each other in between the lines, offering a better access for these passes -this is where City missed their DM in front of the CBs. Apart from that, the CMs were also too far away from the CBs, allowing Silva-Aguero to easily close the passing lane towards them, whilst pressuring the CBs -this also allowed City to effectively press the backward passes. Even though Winks dropped deep a lot to offer an option at the centre behind City's 1st line, the timing was not optimal -mostly because of the higher distances, therefore he needed more time to move into adequate positions- to find these passing lanes. Also, Sissoko and Eriksen made some dropping movements as well, but Spurs could rarely build from these because of the aforementioned reasons. When they could move the ball into advanced areas it mostly happened on the left side, where with a wide rotation -Winks drops, Eriksen moves inside, Rose higher- they could open up passing lanes between Mahrez -this rotation caused him positioning issues, opening up passing lanes at the inner side- and Fernandinho to find Eriksen or Kane in between the lines. After the progression on the left they've immediately tries to switch towards the far-side with diagonal balls -mostly from Eriksen- towards Son or Trippier, attacking City's weaker side. Even Dele Alli made some "fake runs" in between Delph and Laporte, to pull Delph a bit inside and open up more space on the flanks to receive.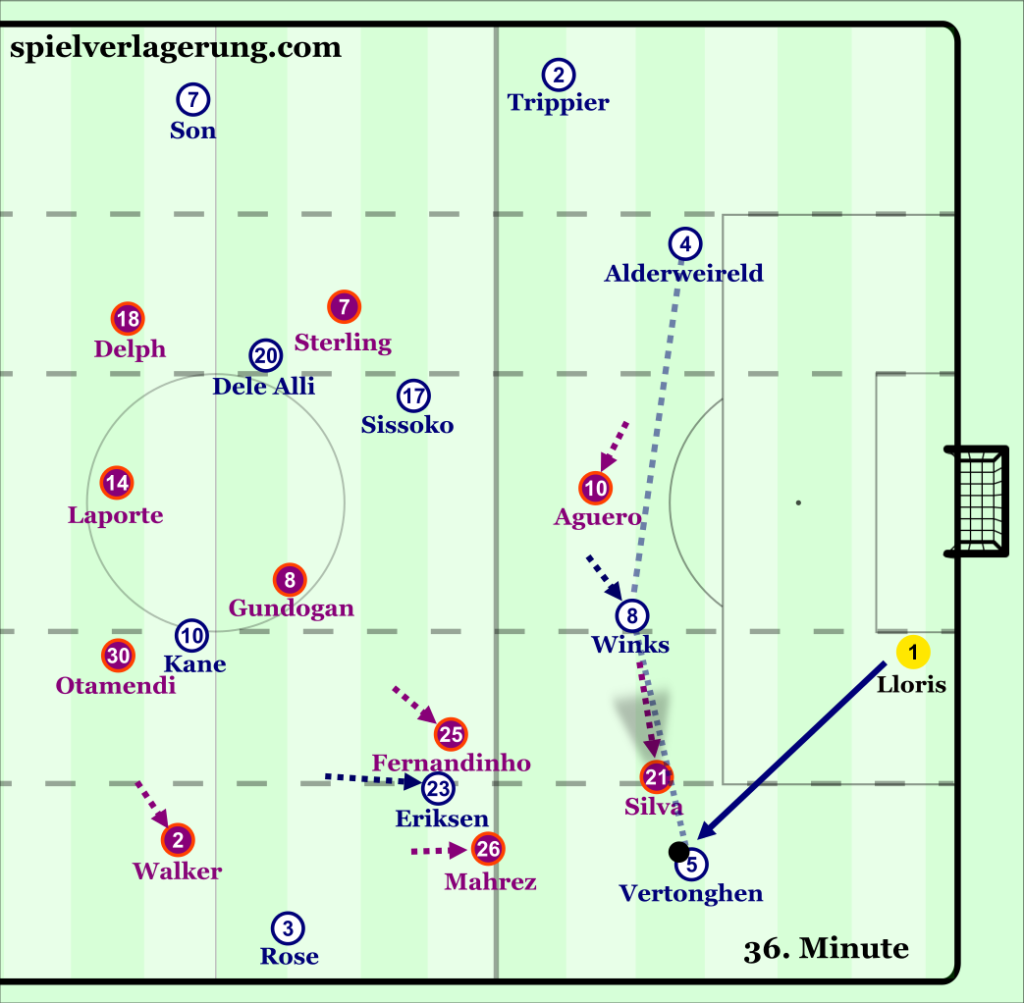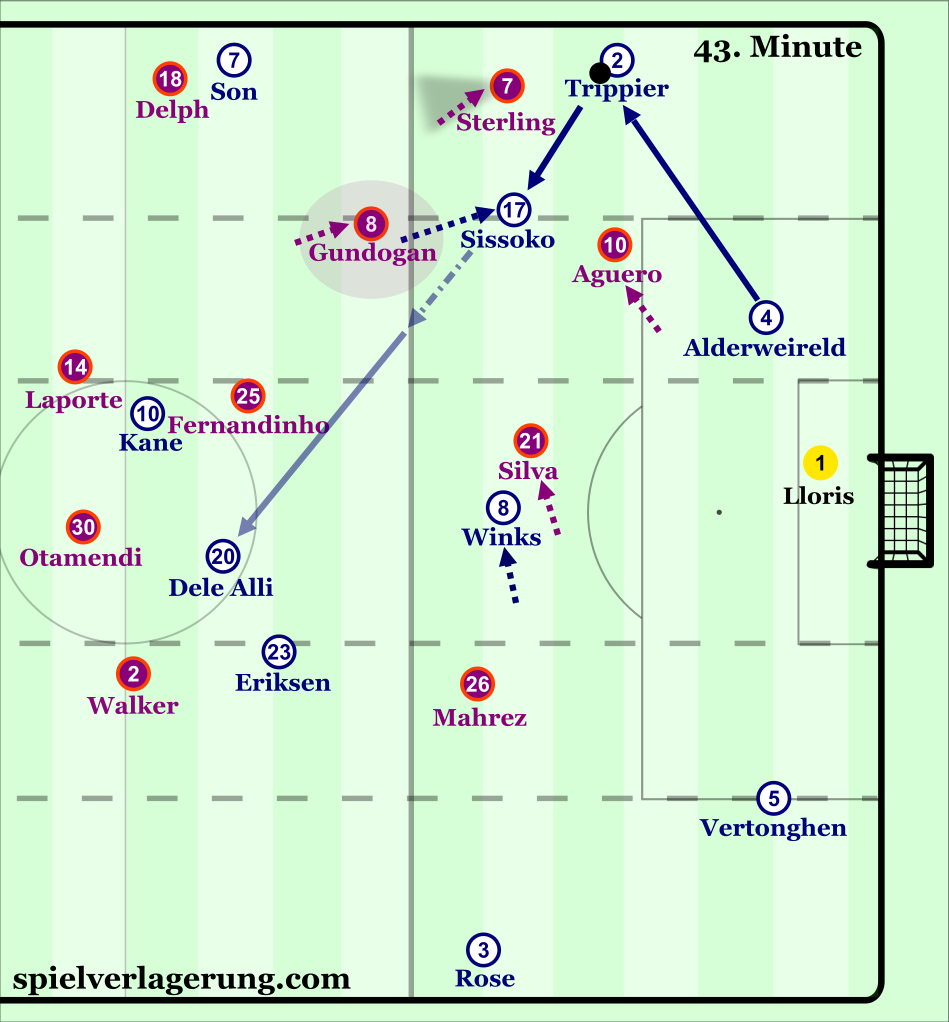 2nd half
City's 1st line covered towards Spurs' CMs better -better pressing movements, plus after Kane's unfortunate injury the ability to build through long balls disappeared understandably, plus City could better pin Spurs deeper in front of their own box. In this phase City dominated with the ball, forcing Spurs much deeper as they could circulate through the wide wingers, having longer possession spells in front of the box. A better dynamics was created due to Aguero's better movement outwards to the halfspace, occasionally pinning Winks and attracting pressure, creating a better situation for Mahrez to receive. The usage of the right-side significantly increased, as also Walker moved deeper to create a better connection towards Mahrez. Also, Spurs' 1st line tended to stay higher, recuperating deeper slowly, which allowed City to use Fernandinho-Gundogan more in front of the 2nd line to circulate the ball. This effectively stretched Spurs' last line, creating better conditions for Sterling and Mahrez to have on ball actions in advanced positions, closer to the goal, allowing them to have shooting positions as soon as they could cut inside or to have better distances to put crosses into the box -although the dynamics to cross was far from optimal, since in most cases only Silva and Aguero/Jesus offered an option inside the box, compared to their usual dynamics to always arrive into the box with at least 3 players.
Even though the increasing City domination, Spurs got the lead in the 78th minute after a brilliantly-timed Son run in behind Delph -attacking him from his outside shoulder, a move they've tried in several cases throughout the game-, eventually exposing City's left-sided defending. Maybe this was the point, where Guardiola should have been more proactive to alter the basic strategy, as no decisive changes have been made -formation – or personal-wise- until the 89th minute. After De Bruyne came in, we could immediately see his signature underlap movement on the right side, getting behind Spurs' last line and making a promising flat cross towards the short-post for Jesus.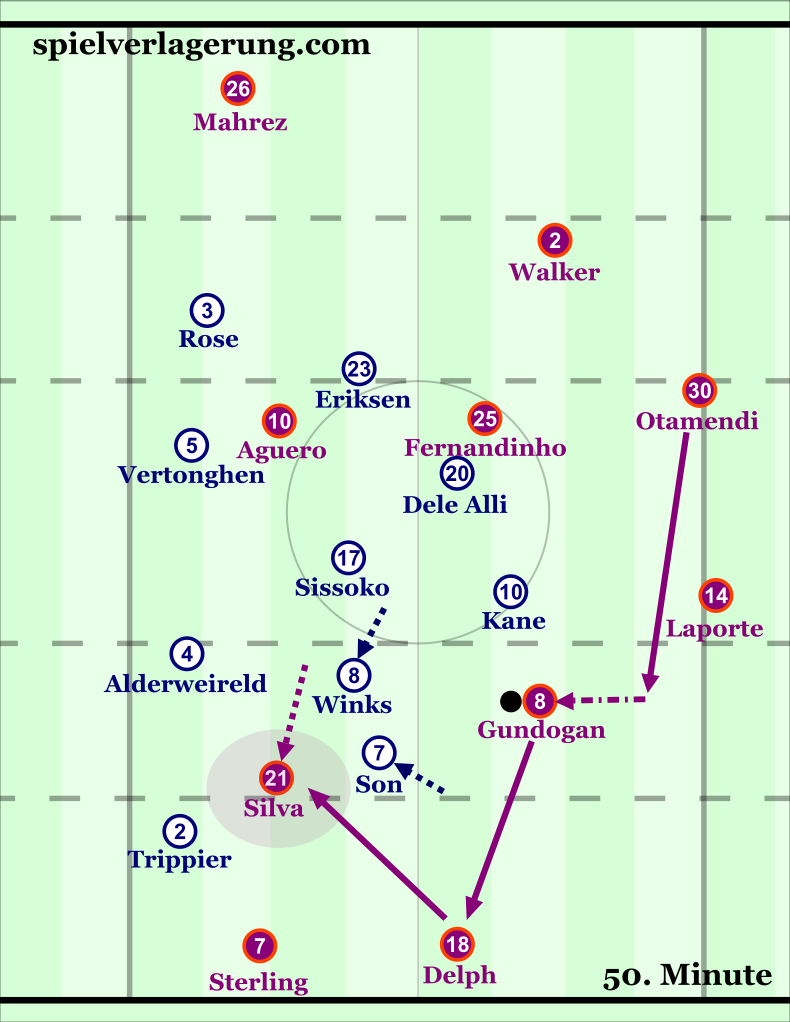 Possible changes for the 2nd leg
City must find an optimal structure to better pin and penetrate Spurs' defensive shape, whilst not losing the balance too early to allow spaces for possible counterattacks. To achieve that a switch back to 4-3-3 looks to be a sensible move, from where tons of different variants are possible. For example a 3-2-2-3 could be formed with the left-back moving inside -manipulating the central defending-, immediately resulting a better occupation in between the lines with both CMs pushed higher up, but with the DM being in behind the 1st line to tighten them, therefore the FB inside could manipulate the oppositional CM. Plus that would also allow the CBs to drive forward with the ball more actively. A 3-2-2-3 can also be created with a CB moving one level higher next to the DM, a movement they've used against Arsenal at home, where Fernandinho moved up next to Gundogan to create this staggering -as Pep stated after the game, it was solution to better control Arsenal's counters, with both FBs pushing up to close the 2 CFs, plus having a free-man at the back to offer stability. Another option could be to use the 2-3-2-3 staggering to improve the wide dynamics, opening up spaces for the wingers to receive directly from the CBs -as the FBs are deeper-, and the CMs -De Bruyne, Silva(s)- to make runs in behind the oppositional full-backs. Both staggerings would pin Spurs' CMs deeper and tighten the 1st line, creating better conditions to circulate the ball better at the back.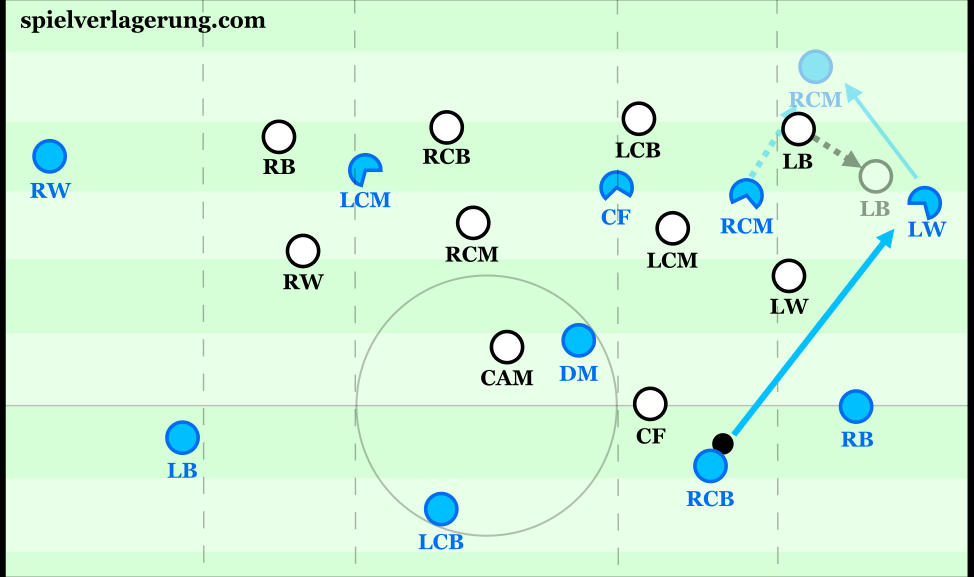 On Spurs' behalf, Kane's possible injury could affect the whole gameplan, since his absence generally weakens Spurs' ability to build through long balls -which is something we have already seen in this game, possibly key to reduce the press on themselves- or to create promising counterattacking situations. A switch to a 5-men last line -5-3-2 or 5-4-1- might force them much deeper too early in the game, therefore a 4-4-2/4-4-1-1 is something that looks to be more optimal to start with -then change, if needed.
Conclusion
Basically it was a draw-ish game -with both teams being pretty average, as it often happens in the 1st legs-, where Guardiola continued his not-so-impressive run in the away games of the CL knockout stages, winning his last away game in quarter-final 8 years ago, in 2011. On a basic level his strategy worked well -limiting Spurs-, but with losing offensive depth for more central control, they were not able to have effective ball possession higher up the pitch, losing their biggest strength. At the same time Pochettino was on point with his team and structure selection to effectively slow down and keep City off-balance.