Tadic propels Ajax at the Bernebeu
For the first time since 2003, Ajax have qualified for the Champions League quarterfinals. Typically, strong Ajax teams are synonymous with youth talents. Yet it was 30 year old Dusan Tadic that pieced together a performance for the ages in the bright lights of the Bernebeu.
Entering the second leg 2-1 down, Ajax managed to defeat Real Madrid in spectacular by four goals to one. Putting four past the European Champions is no easy task, nevermind in a tie they already had a lead in. However, it was made easier by the hosts' lack of defensive cohesion and well timed attacking actions of Ajax's front players, spearheaded by Tadic.
Starting Selections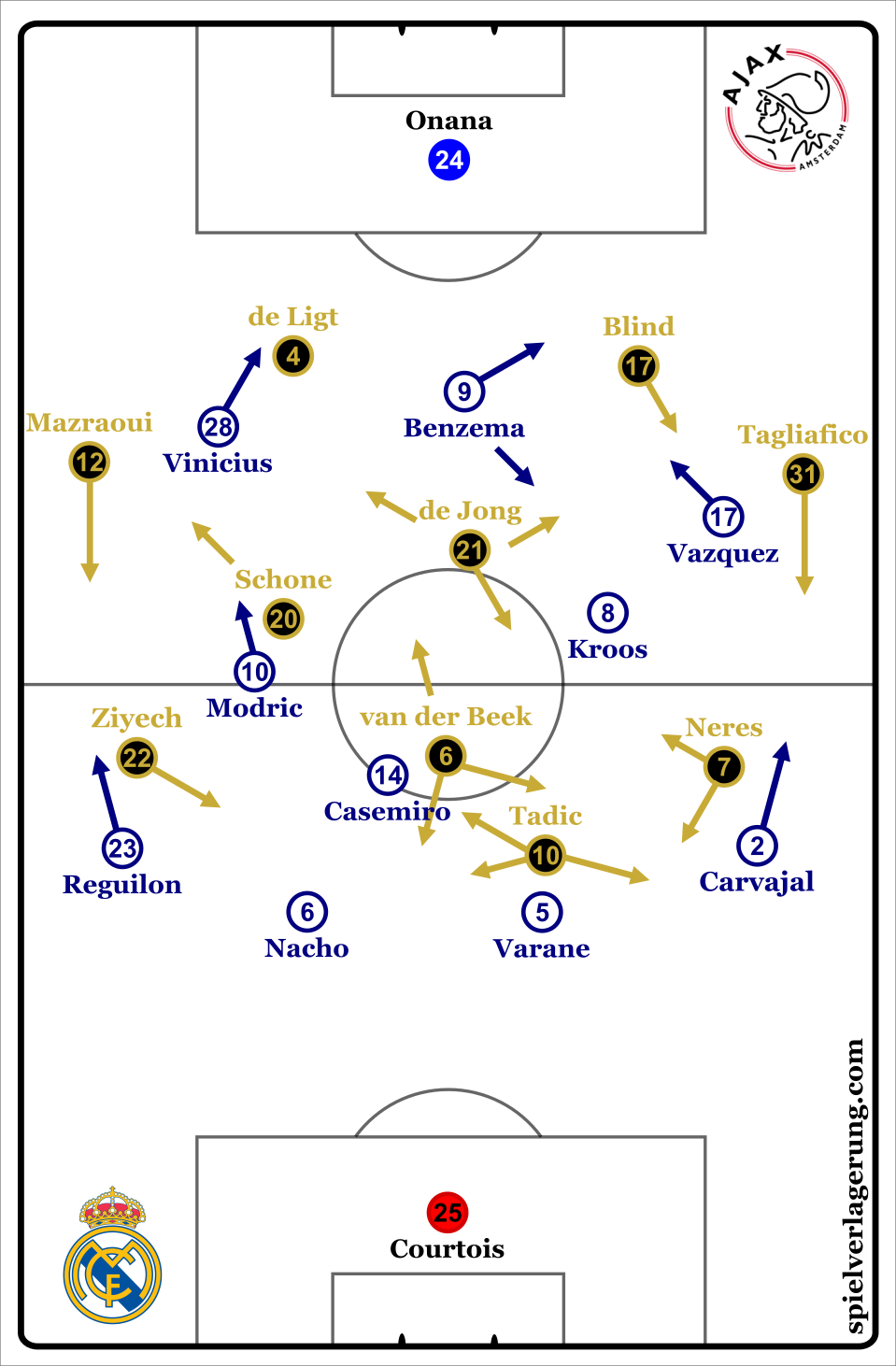 First with the hosts. Captain Sergio Ramos was suspended because of yellow card accumulation, intentionally getting a card in minute 90 of the last match with the presumption of clearing his record for the later stages of the tournament. Consequently, Nacho took his place at centre back. Santiago Solari's 4-3-3 selection was similar to the last few weeks, with his preferred midfield three of Kroos, Casemiro, and Modric. Vinicius Junior and Vasquez took the wings, although each were substituted early in the first half due to injury for Asensio and Bale respectively.
For Ajax, their first eleven was also as expected, with a slight tweak in van der Beek's role – making Ajax appear as a 4-2-3-1 or even a 4-2-4 in attack and pressing. Tagliafico's recent return pushed Blind back to left centre back. With Kasper Dolberg being demoted for both ties against Real Madrid, David Neres took his place in the team, pushing Tadic to be the central frontman.
Tadic's Role in Possession
Throughout most of the season, Tadic has been utilized on the left side of Ajax's attack, coming into the left halfspace to permit Tagliafico to occupy higher lines when in possession. With Tadic as the central player of the front three, the team formed an adjusted shape. De Jong still remained in deeper areas with Schone just slightly further up to his right, De Ligt and Blind split. Mazraoui pushed up to pin Madrid's wingers back into their own half as a consequence of their man-orientations, affording room for Ajax to comfortably progress the ball.
With Solari's pressing structure (or lack thereof), the front players disregarded the overall team compactness in favor of chasing the ball, permitting Ajax to play forwards after few passes since the open spaces they wished to target were expanded because of Madrid's mindless pursuits. When one player in the front went to press, additional player movements were sparingly observed. If multiple players moved toward the front shifted, there was no shift in the back because of excessive man-orientation focus. The access of the ball that is a hallmark of man-oriented team was nowhere to be seen, with the same lack of compactness that is also prevalent.
One of the fundamental components of ten Hag's Ajax is their positional fluidity in possession. Through various series of interchanges, both horizontally and vertically, Ajax are able to create temporary overloads that disrupt man-orientations quite easily. In these situations, marking players are unsure whether to stay with their players, or pass them onto another player, oftentimes creating large gaps in the process. These interchanges mixed with a high ball speed are remarkably difficult for teams with man-orientations to effectively cover, since the dynamic of the opponents outpaces the speed of communication among the defensive team.
Ajax face these man orientations commonly in the Eredivisie, yet are able to maintain their structural integrity in the process, occupying all strategically important zones around the ball and possible solutions further away. Players are more than welcome to move into open spaces, as long as another player moves into the zones that open after those.
As the highest central player, Tadic's movements were largely in response to the players around him. Donny van der Beek functioned as a second striker, frequently interchanging vertically with Tadic, and frequently taking Varane with him in the process. van der Beek would also move forward to the opposite halfspace to occupy Nacho if Tadic drifted to his left. This gave the appearance of two strikers at times, with one of the wingers moving deeper to support the midfielders if the space was available in the second phase of build up.
Tadic's adaptations in response to the wingers were also significant as well. Although mainly situated toward the left in the latter portions of possession, his interactions from the right were key to not only creating space centrally, as his dropping deeper occupied Casemiro. Tadic could then play Schone underneath, able to dismark Madrid through these collective actions as Madrid were constantly left guessing and reacting to the ball. After 3-4 passes of this speed, Ajax were able to quickly break toward Madrid's goal.
Dusan Tadic's role on the evening was unorthodox by his standards, considering he's been mainly implemented as an attacking midfielder for the entirety of his career. Yet Tadic's swift understanding of his teammates positioning relative to his opponents was a paramount piece to how Ajax was able to dismantle the European Champions.
Leftward Pressing impacting Madrid's build up
Tadic's main impact in the match came from his play in possession, as highlighted through his goal and two assists. Nevertheless, through a blend of industry and precise locations during his pressing actions, he was able to create situations later in Madrid's build up that were quite difficult for them to solve and thus concede possession back to Ajax.
In pressing while the ball was with Courtois, Tadic would start centrally, travelling to his right as the ball moved toward Nacho. Through his approach toward the ball, he was able to eliminate passes between centre backs through his cover shadow, yet still maintain a forward facing orientation to be able to quickly step toward any error made in reception.
This small detail in orientation was instrumental for Ajax's first goal, where Tadic's actual position on the throw in blocked Varane. Since Tadic was facing forward when Nacho was unable to receive/pass to Varane, he was able to quickly pounce and generate momentum to pursue the ball. These vital seconds created the disorder in Madrid's defense that allowed for Ziyech to diagonally sprint toward Tadic's disguised set up and put the visitors ahead.
Consequently, these positions would block passing lanes and coerce the ball carrier to play back toward Courtois in build up. Due to Tadic's starting position, he was able to chase down the ball at just the right pace that the Belgian goalkeeper had to open up onto his weaker right foot to buy himself more decision making time. This mixture of pressure and technical discomfort caused for Courtois to distribute long in the early minutes of the match, and often inaccurately.
After a clear pattern of long distribution began to form for Courtois, Varane would remain in his central position and opted to not drop to side of the penalty area to potentially collect the ball. This not only limited the amount of options for Courtois to be able to use, as Carvajal often faced backward upon reception and attracted pressure, but also reduced the total distance needed for Ajax to proficiently press Real Madrid.
Contortionist in Pressure
Tadic's most impressive aspect of his play against Real Madrid was his ability to select the best solutions from challenging spatio-temporal conditions – oftentimes doing so through spectacular means. The Serbian frequently received the ball under the guise of multiple players crowding the area Tadic was able to receive. To buy himself bonus decision making time about where to dribble or pass out of, Tadic proficiently used his arms and his posterior, creating marginal separation which allowed him to perceive his surroundings to make the best decision.
For effectively controlling these circumstances, Tadic's first touches have to both taken away from his nearest defender to create space for himself, yet also away from other players that could pressure him closeby. With more players around, this available radius to manipulate the ball shrinks and shrinks.
However, Tadic was able to navigate these crowded situations with impeccable grace. In moments where the available spaces around him shifted as defenders adjusted their body positions relative to his dribbling, Tadic was able to perceive these changes almost instantly, being able to shift the ball and come with a new mechanism of escaping. These moves required extremely high technical precision, with a quite low margin of error that comes from not only the limiting space of the actions, but also the speed required to set up to escape as well.
Some footballers will be able to sift through these situations through quick feints and bodily shifts. Tadic had several spectacular turns that not only required exceptional control of the ball, but of his body as well, timed right as Madrid's pressure began to step toward him to challenge him. Through roulettes, pirouettes, and unorthodox turns, he represented a high degree of technical variation to solving these evolving puzzles, plus marvelous balance as he contorted his body to execute these movements. These moments were equally unconventional and effective.
His bodily control in itself was great, but the more staggering feat that Tadic was able to continually pull off was his orientation for his next actions. After these difficult actions, Tadic almost always was facing multiple teammates afterward to play to, emphasized by how he was often facing goal in the process with the ball on his front foot. With exception to layoffs to open players as part of group dismarking, Tadic consistently faced directly toward goal when receiving possession, as a result of these turns. If his positioning was off centre, his body shaped was tuned diagonally facing goal, even if his runs started from the centre to create space for himself, maintaining vision of both the incoming pass and options ahead of him.
Magnetism and Accuracy
It was established early into the match that Tadic was a dangerous threat for Ajax when it came to being able to create off the dribble, either for himself or others. Consequently, once Tadic entered the final third of play, Real Madrid's focus began to drift from the players they were marking to the Serbian. This came in multiple forms. The most obvious way this focus shifted was purely in the body shape of Real's defenders, tilting in the direction of Tadic so they can gaze at him and decide whether they need to step to him or now, allowing opponents to now make runs behind them undetected.
Another mechanism Real's focus began to tilt toward Tadic was the number of players gravitated around him once he got the ball. Earlier in the match, thanks to Ajax's well defined spacing, Madrid were spread out, yet still compact by their standards. As the match progressed, more attention was paid to Tadic, compromising the team structure as a result, licensing van der Beek and others to run into more open territory and penetrate the hosts.
Once these effects meshed together, the effects were compounded. With Ajax's front players displaying both tremendous stamina and astute timing onto Tadic's passes, the Serbian became the hub of chances and Ajax found themselves with chance after chance. Even if Madrid was slowly knocking for their way to get back into the match, the instability at which they did so afforded Ajax to be able to continually push with few obstacles in their way.
With Madrid closing and focusing in on Tadic, the results of his passes were stronger than in typical circumstances. Tadic's passes displayed tremendous accuracy, oftentimes splitting two or three defenders at a time. Plus, these balls were weighted so in tune with his teammates runs that they made their next attacking actions easier, directly influencing the number and quality of chances that Ajax yielded. For Tadic's goal, the speed at which the ball left his foot was remarkable in itself, but so was the number of players converging toward him, unintentionally blocking their goalkeeper from Courtois from being able to see.
Conclusion
Fans and pundits often suggest that the best players make the players around them better. What does that mean in terms of a footballing sense though? The best players perform their actions to such precision that their actions are not only correct for the moment, but also make the next action much easier for their teammates. Whether that's through playing to the correct area relative to the run, moving away to create space for another player, or attracting more pressure toward himself to free up teammates. Dusan Tadic did all of these at the Bernebeu, making hard individual situations easy for himself, and even easier for the subsequent actions afterward, which is why Ajax consistently created great chances for themselves.
At the centre of it all for Ajax, both literally and figuratively, was Tadic. Blessed with teammates that possessed remarkable dribbling skills, game insight to be able to read his actions at a moments noticed, and a smooth left foot that was equally aesthetic and productive, his showcase goal and two assists place him in a pantheon of elite European performances, in an unforgettable night for Ajax.