Manchester City beat Arsenal to begin domestic season
Pep Guardiola's Manchester City commenced their Premier League title defence with a secure victory over Arsenal. For the first time in over two decades, a new manager was on the touchline for the Gunners, as former PSG and Sevilla boss Unai Emery made his English debut. However, the Emery honeymoon was interrupted by the Citizens, who showed signs of last seasons dominance in possession and pressing, alongside some details in attack construction that need ironing out over the course of the year.
From this season to last, Manchester City's main addition comes in the form of Riyad Mahrez, adding depth and competition to an already loaded attack. Aside from this, few changes have been made in their player personnel as Guardiola hopes to refine and master aspects of their play based off of last season's performances. On the other hand, Arsenal bought a handful of new players to ring in the new era. Relevant to this match, Sokratis and Guendouzi made their debuts with the club, with Lichtsteiner came on for the injured Ainsley Maitland-Niles after a half hour. Lucas Torreira entered as a substitute later in the match.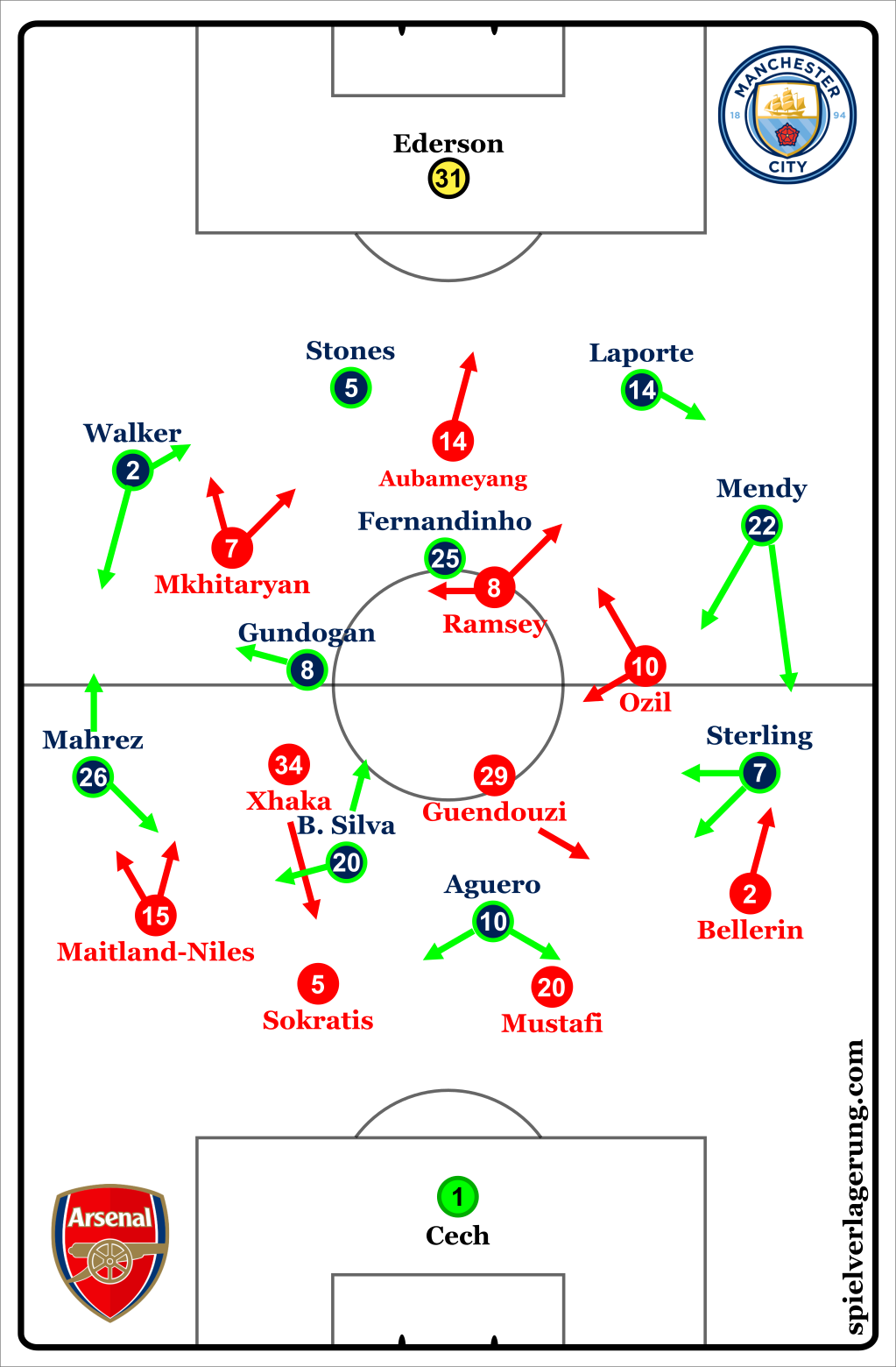 City's Wing Attacks vs. Passive Arsenal
After a breaking in period where they originally deferred a bit of possession, Manchester City exerted their influence through dynamic wing attacks, controlling the flow of possession in the halfspaces as Arsenal aimed to cover the centre through their midfield block. The home side implemented a narrow 4-2-3-1 shape in defense, with Ramsey alternating with Aubameyang as the highest man in pressing. Ozil and Mkhitaryan each prioritized their positioning in the halfspaces at the expense of having easy access to the wings.
Starting in a sort of asymmetric 4-4-2, City's structure in possession shifted to alienate these weaknesses of the passive midfield block of Arsenal. The back four turned into three, with Walker leading the leftward tilt converting Stones into the pivot for recirculation, with Fernandinho in front of him to assist with that same purpose. The City evolution resulted in a 3-1-4-2 in possession, Bernardo Silva acting as a second striker with Aguero making more runs into depth to elongate distances between the midfield and defensive lines.
Mendy and Sterling would alternate between being the left sided winger and the left 8 in a line of 4, typically farther ahead than Gundogan who remained closer to the back three. With Gundogan in the right defensive halfspace, Mkhitaryan remained between him and Walker, drawn out by City's circulation across the back and unable to maintain pressure at high intensity without adequate supporting coverage. Bernardo Silva's primary movements occured further up in the right halfspace, frequently adjusting his positioning to be the centroid between Xhaka, Sokratis, and the left fullback. Bernardo's positioning relative to the ball and the opponent effectively pinned Arsenal's left side of midfield into dropping into deeper territory, with the fullback in particular having to remain cautious in how far wide he tracked Mahrez at the risk of City lasering a line breaking pass into Silva to ignite attacks.
Since the fullback was held spatially captive to Bernardo, Mahrez was an easy option during consolidation to play forward, as he could check into slightly deeper zones along the touchline without the fullback tracking him. Once he received the ball, he had ample space to begin dribbling diagonally toward the centre. By the time he had approached the fullback, he could dribble him to create a shot from himself or a teammate, or the remainder of Arsenal's midfield had adequately shifted to quell Mahrez's isolation. However, the ball far midfielders, in this case Ozil and Ramsey, sparingly tracked ball far runs forward during these situations, promoting the success of long diagonal switches from one side to the other.
An aspect of note: Kyle Walker's movement from rest defence to attacking within a matter of seconds. The England side back continued the same role that was seen from this summer's tournament largely, but during situations where Mahrez entered the penalty area, Walker would sprint from his starting position to overlap, moving from the centre circle to the byline in a matter of seconds. This development is extremely difficult to track and defend, and may be seen more throughout the season with City, giving more players autonomy to decide when they are needed in transition defending versus being valuable attacking assets for chance creation.
Now to the opposite side. Benjamin Mendy was mercurial in his positioning, yet this was effective given the defensive attachment that Ozil had to him. As the half progressed, Mendy spent more time in the left halfspace as a false fullback, dragging Arsenal's principle playmaker with him. During possession, Laporte would widen once Mendy went inside, to ensure that the French tandem and Sterling were not on the same vertical line. Since Ozil was pushed back into midfield now, Ramsey stepped higher, yet the same development that occured on the right manifested on the left because of this alongside Bellerin's hesitance to step up toward the wing.
Yet the left side had an additional dynamic with Mendy, who zoomed up and down in attack similar to how a dog would around after being let outside after a long time inside. Starting from central positions, Mendy was remarkably effective in the timing of his overlaps and underlaps, changing his trajectory between the two in the middle of his runs and picking up his speed as the dribbler approached the defender. This created a decisional crisis about whether to track Mendy or follow the dribbler with little reaction time, disheveling Arsenal's defense when it came to coping with the quality of City's attackers. The second half goal of Bernardo was just one example of many where Mendy was a large influence on attack. However, such activity was likely his own free will and not by designed, reflected by Pep Guardiola in his playful teasing of Mendy's attacking exploits post-match.
With the wingers of City being able to dribble at Arsenal, they elected to absorbing the pressure rather than step up and confront them higher up the pitch, at the risk of losing their organization in defense. Such passiveness caused to the first goal, during which Mahrez entered the final third with little pressure applied. After an intercepted clearance, Sterling was able to dribble inside and shoot to curl the ball far post. This passiveness also led to prolonged durations of defending for Arsenal in the first half, unable to break free because of City's rest defense and consistent wing efforts.
After the first goal, pressure moments from Arsenal became more individualistic with Ramsey a standout in this respect, seeing the one-man pressing efforts that were common when Sanchez was playing for the Gunners. The change in game state also prompted Mkhitaryan and Xhaka to have similar pressing spells, but since distant players failed to maintain the same intensity for closing spaces, City were able to play through these sequences fairly easily and engineer their attacks. Even as the midfield began to participate in higher pressing as City built up from deeper positions via Ederson, Arsenal's backline failed to move up correspondingly, giving the Citizens easy access out through passes into Bernardo or Aguero in front of the defenders, unwilling to step up and pressure at the risk of exposing spaces behind their line.
However, there were some technical errors hindering smooth progression from these sorts of pressured moments, demonstrating some rustiness from City's possession play compared to last season. Arsenal's main attacking chances came from these technical errors during the first phases of City's possession, conceding relatively close to their goal and providing opportunities for Arsenal's attackers to combine. Mesut Ozil in this respect was quite good, moving between players and delicately playing one touch passes into teammates who could quickly take shots, if it weren't for City snuffing them out after additonal touches. City dealt with these situations through pushing Arsenal toward the wings as more central recovery came forth, congesting the more valuable spaces in attack if a last ditch tackle wasn't needed. Arsenal's attacks from these consequently came through crosses that were hardly challenging for the champions to cope with aside from one or two frantic instances.
Arsenal against Manchester City's Pressing
Arsenal's attacking shape was pretty conventional within their shape, as Ozil and Mkhitaryan were more central in their positions as expected given their abilities in tight areas for chance creation. As mentioned earlier, a large share of Arsenal chances originated from giveaways and transitional moments. Against the ball, City were able to control the trajectory and flow of their opponent's time in possession, leading to few moments where City were truly broken down unless it was immediately after losing the ball.
Manchester City opened with a midfield pressing scheme, organized in a 4-4-2 where Bernardo stepped up into Aguero's line while the wingers tucked toward the centre to restrict vertical passes into Arsenal's creators. With Arsenal's defenders and midfielders unwilling to risk playing these sorts of passes that stand a decent chance of being intercepted or given away, their circulation was subsequently pushed sideways and backwards. In response, City would step up their lines with each backward pass and implement their high pressure, culminating with the structure seen when Cech was on the ball for short build ups.
Aguero and Silva took up zones where they could move to pressure both the centre backs and centre midfielders during timed flight of the pass, showing centrally if the line of four was within a short enough distance to immediately step if the ball was played toward Xhaka. As Arsenal played centrally, players were typically double pressed because the line of four maintain distances where they could step to two players at once depending on where the ball was played.
Since Arsenal's corresponding attacking actions were not faster than City's pressing actions, City were able to recover possession frequently in higher zones. In addition, Xhaka and Guendouzi were frequently ill positioned as Xhaka dropped into defensive line during passes toward Sokratis, eliminating a potential forward central options in Xhaka. Plus, Guendouzi would often be in the ball far defensive halfspace, so passes toward him were impractical and quite difficult relative to how much they would accomplish. Central passes were easily cut off using by Aguero and Bernardo through their cover shadow, prompting Arsenal to play direct balls to Aubameyang as an attempt to get in behind City. During pressure moments where the midfield was more distant, Arsenal were shown the wings by the strikers, with a similar outcome when playing mostly longer passes as a means of penetration.
Conclusion
The third consecutive season where Guardiola begins his league season with a win. Compared to this time last year when they played Brighton, the identity of this team and intensity in all phases of play is much more apparent and superior as the principles are more clearly spelled out within the group. With their upcoming league games in the next month teams that occupy midtable, a similar unbeaten run to the beginning would hardly be a surprise. From Arsenal's perspective, Emery does not have the time and luxury of being patient when it comes to implementing his principles, as next week sees them square off against Sarri's Chelsea. Several adjustments, perhaps better personnel for build up play, may have to be made if Arsenal want to change their fortunes in that fixture to avoid two losses in a row to kick of Emery's first year.