Quarterfinals: Uruguay 0-2 France
France progressed onto the semifinals in a cagey affair with Uruguay, where both teams showed a focus stability where chances were few and far between.
Uruguay entered the match as the less likely winner, and with Edinson Cavani absent due to a calf injury, their task to overtake France became more difficult. Stuani replaced him to play underneath Suarez, with the remainder of the team being unchanged from their win against Portugal. France also entered this match making one changed, swapping Blaise Matuidi for Corentin Tolisso. With Uruguay's deep block being the focus, Tolisso's dribbling and play in possession would perhaps be a key that could potentially unlock their opponents.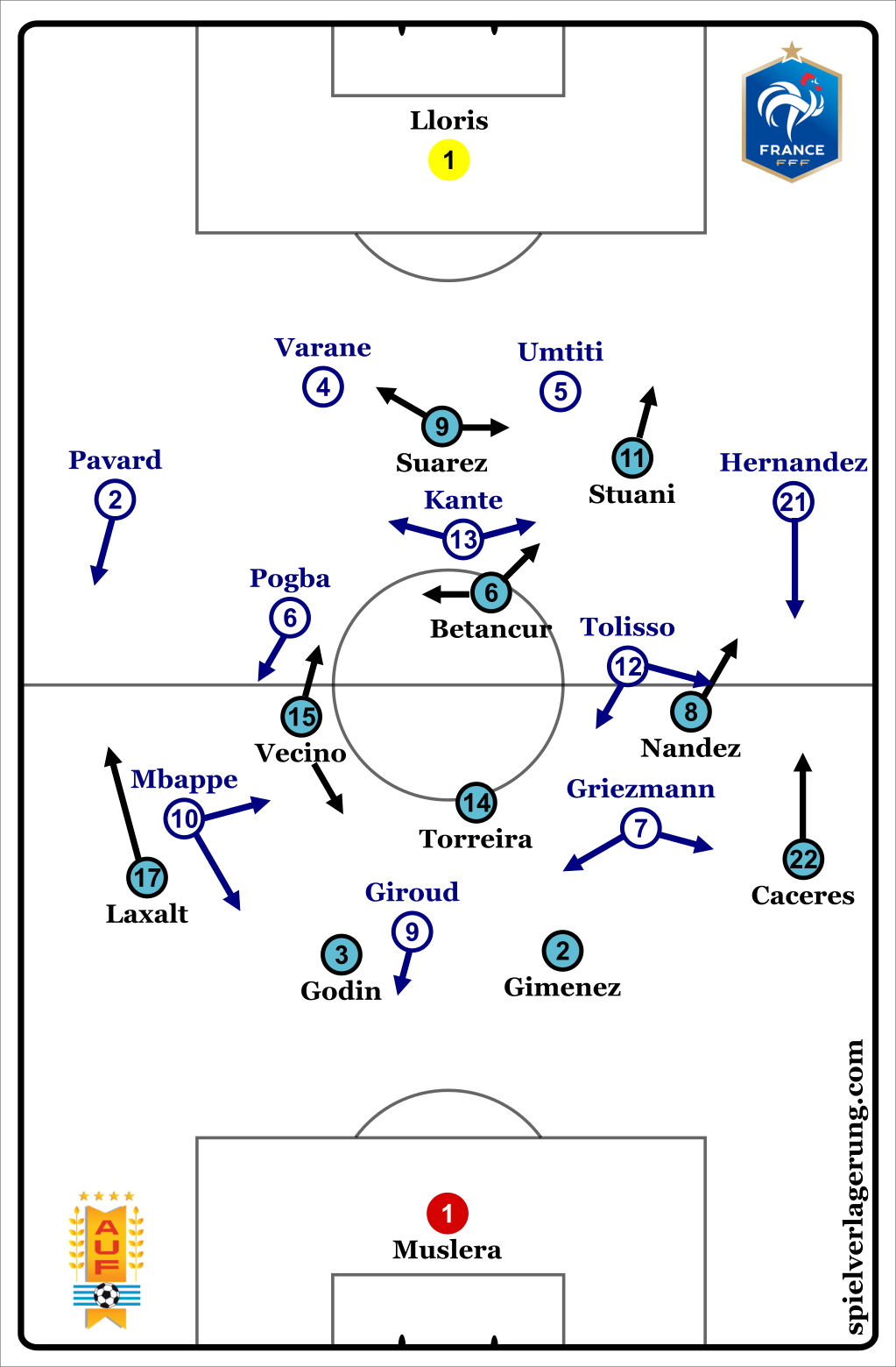 Strategies and Wide Focus
As we tangentially covered in the latest episode of the SV Podcast, Uruguay and France would be an interesting match up considering both teams would prefer to play against opponents who were more bold and expansive in possession. They would elect to defer possession, albeit for different reasons relative to the strengths of each side.
France would prefer to have more space for Kylian Mbappe and his strike partners to counter attack as they did against Argentina, whilst Uruguay have been more snatch and grab with their attacking, with goals coming from set pieces alongside the impressive qualities of Cavani and Suarez. With the team defensive quality linchpinned by Atletico Madrid duo Godin and Gimenez, they could handle attacking assaults to squeak out victories as they did against Portugal. Going into the match, it seemed as if whoever scored first would win, as not only would each team's defensive quality see them through, but they would also manage the clock and possess in a protectionist manner.
France owned the bulk of possession, unsurprising given that most of France's players feature for top clubs that consistently have higher possession figures. They displayed many similar themes in possession of stability focus as they had in their group stage matches against Peru and Denmark. Playing a variant of the 4-3-3/4-2-3-1 of prior matches, the introduction of Tolisso brought about a handful of structural changes.
The Bayern midfielder would alternate between being based in the left halfspace and out towards the wings. He was positioned sometimes as a left winger when the ball was on the opposite side, anticipating switches of play. Him and Griezmann demonstrated fluidity amongst each other, alternating between occupying interior zones and the wings whilst maintaining respective diagonal angles in relation to each other because of the different vertical lines they occupied. Tolisso's range of movements were in front of N'Golo Kante's and just ahead of Paul Pogba's on the opposite side, representing a hybrid role as a the highest player of the midfield three alongside an inside forward during chance creation.
This contest reflected a notable wing focus for both teams. Beginning with the French, their wing tendencies were evenly spread among the sides. The right side, equipped with Mbappe and Benjamin Pavard, was often the first target for moments where possession was just recovered. Especially when mixed with leftback Laxalt's attacking tendencies, Mbappe's dribbling in transition to break away from pressure is useful for getting France to advance the ball in these moments. Mbappe here can either run toward goal if available or recycle possession to consolidate.
Because of the sorts of danger than the 19 year-old possesses in these transitional moments, several Uruguay players would surround him if possible when he would pick up possession. This left the centre open as the midfield diamond shifted to apply this pressure, opening newfound spaces for Kante or others to receive possession from Mbappe. Therefore, it was common to see horizontal passes from the right to the left opening Uruguay, capitalizing on Uruguay's overbalancing toward the individually skillful French players.
Mbappe didn't exclusively play sideways passes however, as that ranks quite low on the list of attributes that has made him so prolific in the tournament. Whilst Mbappe had the ball out right, Griezmann drifted in towards the centre just beneath Giroud, acting as the free roaming ten that has been typical in the last few years under Deschamps. With Pogba on that side as well, the three of them worked to break down Uruguay through combination play, but often drifted too close to each for these passes to succeed. Uruguay's compact midfield and strong anticipation from Godin and Torreira lead to these sequences being snuffed out before many dangerous moments.
The opposite side of France had a similar dynamic. Griezmann acted as the common piece between combination trios on the right and left side. With Lucas Hernandez and Tolisso on the left side, their pieces were oriented around the wing, with promising instances resulting in crosses from the byline or horizontal passes between the lines of the deep block. These horizontal passes put the ball closer to goal, yet did not accomplish much in terms of moving around their opponent to open strategically beneficial spots for attackers since they were covered just by shifting to their left.
France's focus on central stability caused any switches of play when these attacks were stalled to occur through the back end of the team. Most of these passes were played aerially from one outside back to the other, as it was the least time consuming way to move the ball from one side to the other without subjecting themselves to risk of losing the ball. Since Uruguay's block was so deep, they were not close enough to apply pressure to either of the fullbacks when they received these aerial horizontal passes. Thus, France could move up easily during these side to side switches, ensuring they spent a sizable portion of the match in Uruguay's half.
With Uruguay, their wing focus was predominately featured down the right. With a base formation of a diamond in midfield and two upfront, their structure would tilt rightward in possession. A frequent tendency was for Nandez to move wide right, Stuani in the half space, with Suarez moving to either side of his diagonally between centre backs from a central starting position. Benatcur occupied a midpoint between Stuani and Suarez while dropping off slightly to form a triangle – Vecino slid toward the middle to support rest defense in the middle.
With Caceres moving along the wing as well, Uruguay's possession play comprised of a mixture of vertical passes down the wing for the nearest player to run onto, or heavily occupied local overloads where Uruguay did aim to get to goal in as few passes as possible thorough some decent instances of diagonal passing that became more direct as they progressed up the pitch. With the close distances of Suarez and Bentancur relative to Stuani, layoffs were useful and effective for quick penetration. With France's more passive midfield pressure, they were able to circulate effectively around the back without much pressure. However, Godin and Gimenez still played aerial long balls into their two strikers, who were outmatched by Varane and Umtiti.
Flashes of play from the left side had Laxalt move down the wing with the same positioning from Vecino and Torreira to secure the middle for rest defense. Against their prior opponents, this was enough to see them progress and come away with a win. Yet with the French defense, several underlying issues of Uruguay's wing orientation were easy for them to manage considering the individual ability of the players, alongside the French midfield pressing headlined by Kante.
Missing Links and Fortunate France
For all of the focus on the right side of play, it also served as a hindrance for their chance creation. Since Stuani often went toward the right, Suarez was left isolated centrally during most attacking actions, as other midfield runners preferred to stay back for rest defense rather than join him in the penalty area. Consequently, crosses and passes into Suarez were intercepted if the pass was not inch perfect. For the ones that made it into his feet, he had little support to do anything constructive, a difficult situation for Suarez to take care of.
As the match continued, both Pavard and Hernandez moved to join the attacks to pin Uruguay further back into their block, with clearing headers easily being recouped by the French thanks to their numbers advantage outside of the penalty area alongside near the centre circle for their rest defense. Kante would occupy the area just ahead of Suarez, with Varane and Umtiti just behind him. Passes into Suarez's feet would be read and dealt with by Kante, while any balls over the top were handled by Varane and Umtiti.
With Stuani joining the block as an additional screening presence in front of the midfield, it was remarkably difficult for Uruguay to move out of their half upon receiving possession whilst in their deep block. Without Cavani to support Suarez for these ensuing clearances, Uruguay were trapped near their goal.
France were strong with their counterpressure when in their attacking third, with Kante being a headliner because of his relentless application toward the ball. The front three of France additionally reacted fast to apply pressure to the ball after ceding possession, although it was mainly individual. However, it was enough to disturb their opponents and regain the ball to start another attack, or in some cases, draw a foul to get a free kick in a spot of danger.
Just before halftime, Varane gave France the lead from one of these set pieces, flicking on a free kick and gifting France with an advantage before halftime. There was also a brilliant save from Hugo Lloris shortly after the goal during a set piece that is one of the contenders for the best save of the competition, preserving France's lead when other goalkeepers do not make that save.
The second half start was mainly comprised of the French controlling play hardly contested by Uruguay. Plus, there was an increase in Uruguayan direct play through more crosses and vertical play. Cavani's absence handicapped them tremendously in this respect, as his prowess in these situations would have helped chance creation for his team tremendously, and they had no replacements that were suitable for the tasks needed to perform this match.
Just after the hour mark, a howling goalkeeper error from Muslera doubled France's lead. France were strong in the respect that they were not dominated by their opponents, but also the beneficiaries of some luck in terms of how they got their goals. Chances were hard to come by during the contest, and France managed to capitalize on theirs. The remaining spells of the match showcased a fatigued Uruguay, unable to pull themselves up and escape the impending elimination from the tournament.
Conclusion
France move on to their first semifinal since 2006, trumping a nation that consistently produces a pretty good talent pool per capita. While Deschamps is doing enough to have France within touching distance of the trophy, Belgium pose to be the toughest challenge for France since the European Championships. However, France are incredibly difficult to beat for a multitude of reasons, namely because they are incredibly difficult to dominate due to their mixture of stability and squad quality, ensuring a captivating match ahead.
From Uruguay's point of view, they are quite interesting in the respect that Oscar Tabarez has managed a series of Uruguay teams that have been consistently performing with their style of play that is quite indicative of successful international football as a whole: defensively well organized and solid, with an attack that is consistently individual with simple sequences leading to success. What their next steps as a nation are will be curious to see given Tabarez cannot coach forever, as much as his nation may want him to.