World Cup: Day 2
We continue our World Cup analysis by discussing Day 2 of the group stages, covering Uruguay and Iran's last minute wins, alongside a thriller between Spain and Portgual in Sochi.
Egypt 0 – 1 Uruguay
It took Uruguay ninety minutes to break the deadlock against Egypt and win an arguably undeserved three points in the second match of Group A. Tabarez' side lined up in a very basic and unspectacular 4-2-2-2, whilst Egypt used their customary counter-attacking 4-2-3-1 system. Perhaps the only major surprise in both team's line-ups was the absence of Egypt's superstar Mohamed Salah, who was supposedly declared fit to start this match to the media by Egypt coach Cuper himself. His absence was undoubtedly a key factor in determining this match's final score.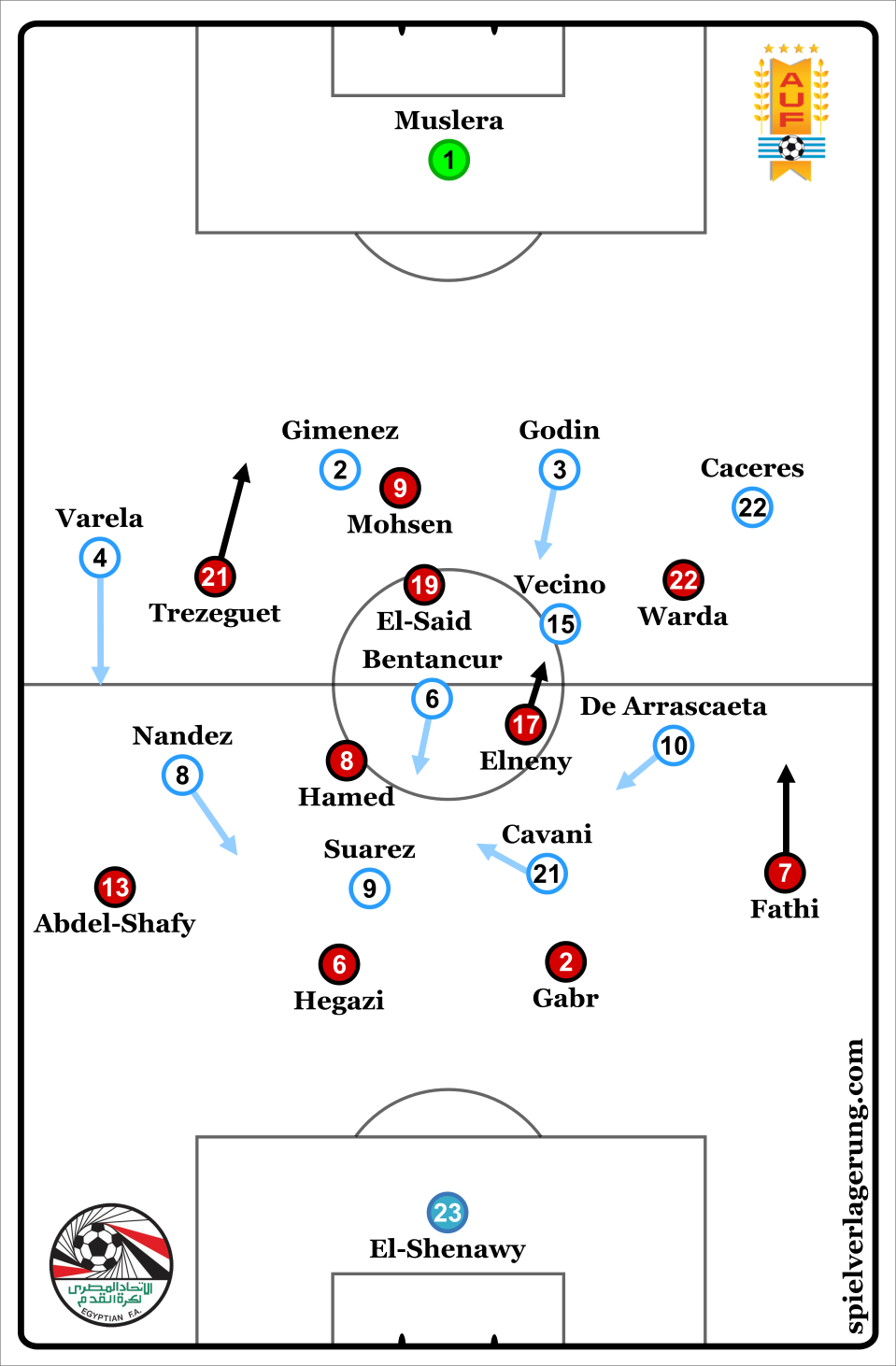 Uruguay's Lifeless Attack
Egypt didn't provide any major pressure on Uruguay's build-up. This gave them the ability to calmly play around Egypt's lone-pressing forward, who usually chose not to press Uruguay's defenders. Uruguay outnumbered Egypt during their build-up, either with all four of their defenders, or the two centre-backs and centre-midfielders.
However, the very slow tempo of Uruguay's attacks after progressing out of defensive phases meant that they struggled to disorganise and penetrate Egypt's defence. Many of Uruguay's players were moving at a walking pace off the ball showing little signs of urgency, even towards the end of the match when the score was still 0-0. Bentancur was slightly more aggressive in possession than Vecino and was often tempted into making vertical runs into depth both on and off the ball, but he showed signs of hesitancy in these movements, meaning they were never very threatening and disruptive to Egypt's defence. Vecino delivered a very mediocre performance, often static in his movements, as well as occupying sub-optimal positions in relation to open space and his teammate's positions. A player like Torreira would have been a much more suitable selection to help break down Egypt's defensive block, and should have been introduced for Vecino at a much earlier stage than the eighty-seventh minute.
Uruguay's wingers, Nandez and De Arrascaeta, mostly operated in the half-spaces, whilst Cavani and Suarez drifted slightly wider. This sometimes meant that forward passing options for Uruguay's midfielders were very limited, as the positions of their forward players in relation to the midfielders was very linear, and therefore easier for Egypt to defend.  When the full-backs Varela and, to a lesser extent, Caceres advanced, the wingers would move wider. This was because they struggled to penetrate Egypt's defence centrally, so they instead made connections with the full-backs in wide areas. Uruguay were forced to the wings to progress attacks, often resulting in crosses into the box, which produced little threat and were ultimately very unproductive.
Godin was noticeably the best player on the pitch. As per usual, he was commanding in every defensive situation that faced him, and his positioning in particular was exceptional. For example, when Trezeguet was dribbling at Uruguay's defence on the counter-attack, Godin moved across to close Trezeguet enough to stop him dribbling, whilst with the same closing movement preventing a potentially decisive inside pass to El-Said from being played. Uruguay's captain was also visibly annoyed at his team's lack of creativity when attacking, leading to him dribbling out of defence every so often to play intelligent defence-splitting through balls, but errant touches from Suarez, Nandez and De Arrascaeta in particular ended these attacks. Although neither of Uruguay's star forwards were playing at their peak levels, Cavani was much more threatening than Suarez, hitting the post and forcing Egypt's goalkeepers El-Shenawy into a good save, whilst Suarez squandered every chance that came his way.
What Could Have Been with Salah On The Pitch…
Muslera was unchallenged by Egypt's attack for the entire match. Their primary method of attacking was playing long passes forward after some ball circulation across the defensive line. Uruguay's compact diamond defensive shape during Egypt's ball circulation, constituted by one of the strikers, one of the wingers and both central-midfielders was very difficult for Egypt to play through.
Perhaps most disappointing for Egyptian fans, as well as neutrals, was that Salah didn't play, leaving him as an unused substitute. This was particularly disappointing because the match was there for Egypt to win in the last twenty minutes, and Salah could have made all the difference in one of the numerous counter-attacks that Egypt had. Their wingers Trezeguet and Warda lost the ball nearly every time they dribbled at Uruguay's defence in attacking transition. Although they were often isolated they tended to make bad decisions with the ball. Again, we can only be left to wonder if Salah might have punished Uruguay in these situations.
Egypt were clearly tiring towards the end of the match, increasing their proneness to making defensive mistakes and fouls, which ultimately led to a set-piece and Gimenez's late goal, leaving Egypt with nothing to show for their resilient defensive performance.
Conclusion
If Salah is fit to play in Egypt's remaining two group games, he could make a big difference to Egypt's counter-attacks and results, especially because of Russia and Saudi Arabia's weaker defences in comparison to Uruguay. If Egypt can repeat this defensive performance, combined with the increased attacking threat that Salah will provide, then it will be very possible for them to qualify for the knockout stages.
Uruguay on the other hand are almost certain to qualify for the last-sixteen after picking up three points from this match, but Tabarez has a lot of areas of his team's performance to improve, namely offensive creativity and stability in defensive transition. They may be able to rely on Godin, Gimenez and Muslera to bail them out of trouble in the group stage, but this will not be the case if they progress to the latter stages of the competition.
Analysis by GT
Morocco 0-1 Iran
Morocco and Iran went into this opener knowing three points was the minimum if they were to have any hope of progressing from a group that contains Spain and Portugal. Both sides approached the game as expected, with Morocco looking to dominate possession and break through a well organised Iran block.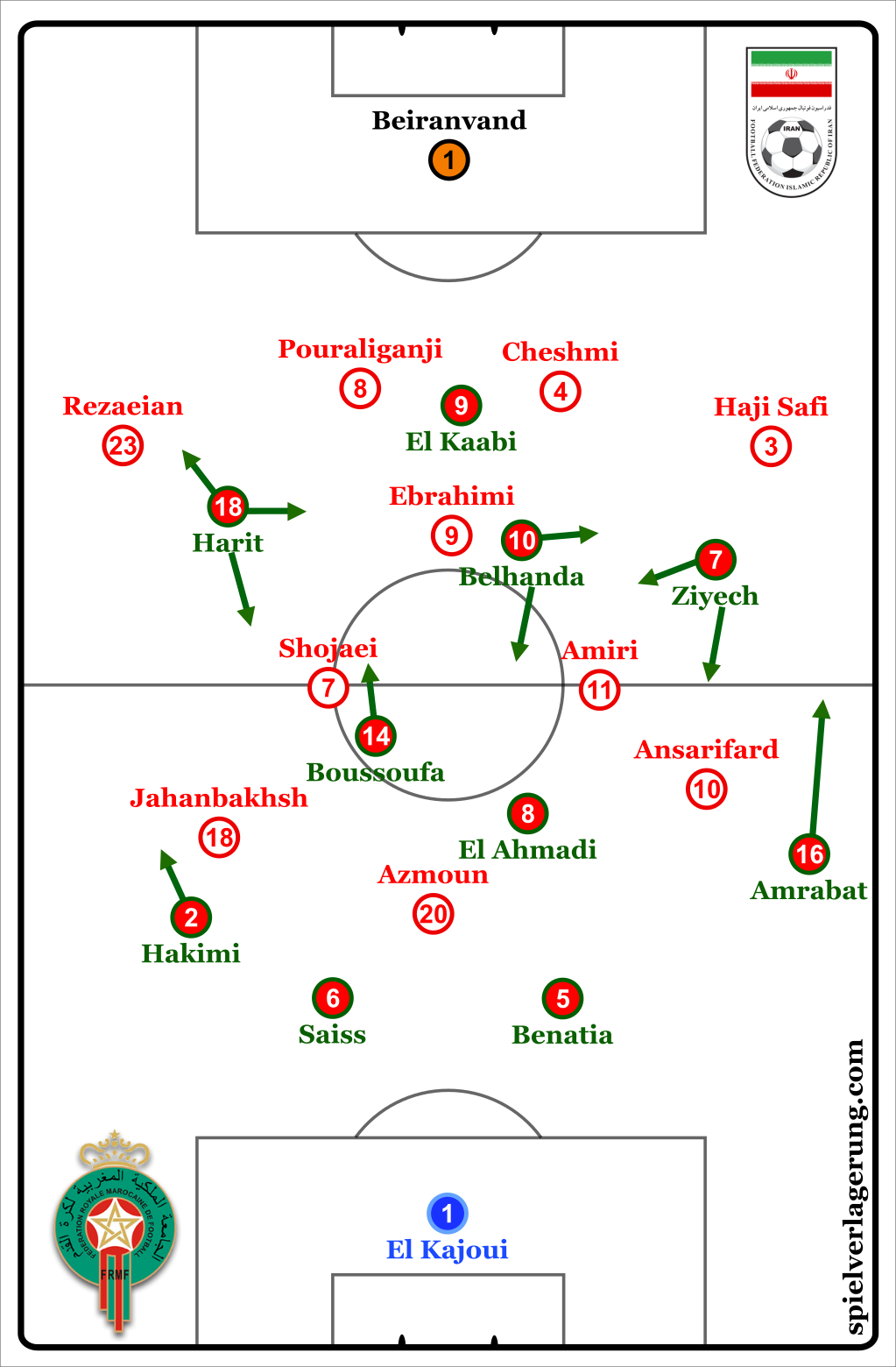 Morocco take control
From the outset it was clear that Morocco would be the dominant side in terms of possession and territory, with Iran happy to defend inside their own half and look to create chances through counter attacks.
Rather than be caught out by the Iranian press, Morocco looked to use long balls behind the defence or to the far side in order to progress. Even when these passes were unsuccessful, the resulting throw in, goal kick or second ball deep in the Iran half were an opportunity for Morocco to press their opponents and win the ball back in an advanced position.
In fact, their compact and intense pressing was the most impressive element of Morocco's game. Iran were rarely able to keep the ball for any length of time, and would often have the ball stolen or be forced into a long aimless clearance.
Morocco: Huge potential, bigger disappointment
Theoretically, Morocco ought to be an impressive, fun to watch team. As underdogs in a group with two tournament contenders, they have a number of good players who could potentially form an interesting collective. On paper, they line up in a 4-2-3-1 high full-backs and a narrow attacking midfield three of Amine Harit, Younes Belhanda and Hakim Ziyech.
This combination of the players (particularly the three mentioned) and the system gives potential for an exciting team based on fast vertical attacking with quick combination play and dribbling through the centre, elements on display during their qualifying campaign.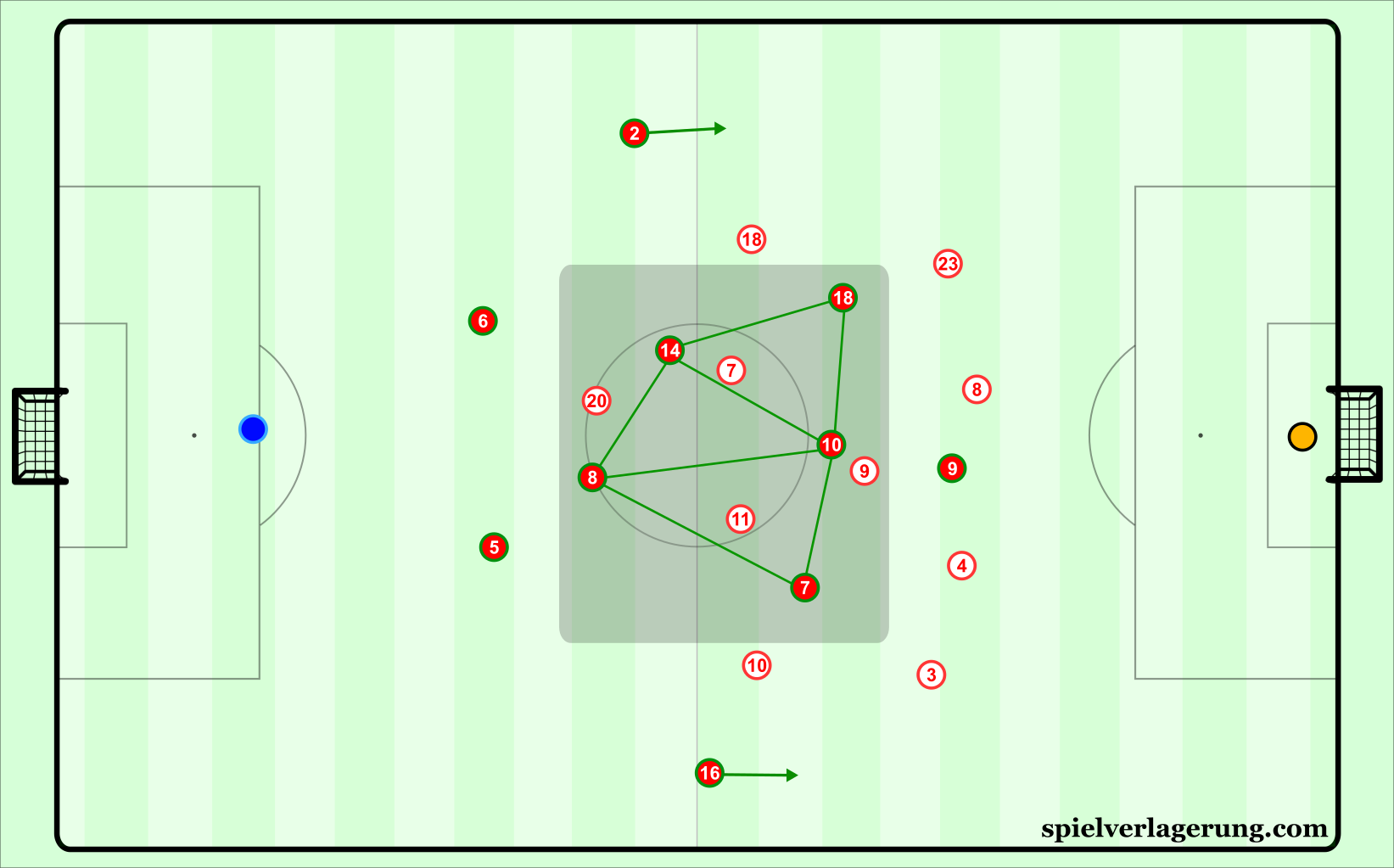 Instead what they served up was something of a disappointment. The aforementioned Harit, Belhanda and Ziyech were given a large amount of positional freedom, as was left side central midfielder Mbark Boussoufa. While it may seem logical to allow freedom to such talented and creative players, the result was in fact a disjointed group of players unable to show their quality in a meaningful way.
When offering players such freedom, it is key to make such rotation functional by ensuring that the players still maintain suitable distances and occupation of positions. In Morocco's case, the structure was inconsistent, making it tough for them to effectively circulate and progress the ball.
In some moments, too many players dropped deep or into wider areas, leaving 1 one isolated player behind the Iran midfield, and at times nobody in this key area. Conversely, on occasion too many players occupied this space, with El-Ahmadi and the centre backs becoming detached with few passing options in build up.
The outcome of Morocco's poor spacing was a rather erratic build up game with too many hopeful long balls. Morocco's clear strength was the creative trio discussed previously, and to bypass them so frequently is to make poor use of your best assets.
Conclusion
For Iran, the rank outsiders, three points takes them to the top of the group, and gives them a chance to pull off a huge shock and qualify for the round of 16. Morocco on the other hand will surely go home disappointed. They do, however, have potential and with some small developments could be a contender for the 2019 African Cup of Nations.
Analysis by JL
Portugal 3-3 Spain
Elsewhere in Group B, the two favorites to advance in the group clashed in what was one of the most anticipated matches of the group stages. What resulted was an entertaining spectacle between a slightly disjointed Spain that took time to gel into the match, and a Cristiano Ronaldo performance for the ages to share the points among the Iberian countries.
Portugal lead early; Threaten on Counter Attacks
Just four minutes into the match, Cristiano Ronaldo scored the first of his three goals from a penalty kick to give the Portuguese the advantage. The sequence of possession that led up to that was a fitting display of Portugal's general strategy throughout the match. In Portugal's 4-4-2, Goncalo Guedes represented the first target upon recovering possession from the Spanish. Either by playing him directly in the air or after a couple of short passes on the ground, the remainder of the team moved to support Guedes. Ronaldo occupied the left side when Guedes broke through the centre with a rightward tilt, whilst Bernardo Silva and Bruno Fernandes were just beneath him and moving toward the middle with his respective movements from width.
As expected though, the Spanish had the bulk of possession, hoping to break Portugal down through their intricate passing and positional game that they have become renowned for over the last decade. To cope with this, the two forwards typically dropped into midfield, sparingly applying pressure onto the centre backs. The bank of four was just behind them, affording little space to work with in midfield
When faced with sequences that had potential to be threatening, Portugal were diligent in getting numbers back to prevent conceding, clearing attacks as a temporary remedy until the next sequence where Spain entered their attacking third. Once Portugal discovered the flaws of Spain's possession when it came to their central presence as they broke towards goal, they nearly managed to nab a second goal.
No longer were clearances just knocked away, instead being directly toward an attacker's feet with supporting runners coming just off of him. Bernardo Silva was great in this respect, checking slightly deeper towards the centre before linking with the oncoming Ronaldo or Guedes. From here, they were able to break toward goal cleanly, unable to get a two goal lead due to last ditch interventions from the Spanish and Guedes unable to execute as if he were a deer in the headlights.
After Spain equalized, Portugal hunkered deeper to cope with Spain's attacking forces to take them into the half. Rather than exclusively rely on incisive counter attacking to create scoring chances, Portugal reverted back to having slightly more possession from their defenders and midfield. This not only would briefly lift the pressure off of the team defensively as they tilted the game back towards their tempo, but also finally involved creative forces like Joao Moutinho in their play. Spain had to subject themselves to what Portugal had done for the previous thirty minutes. In Minute 44, Ronaldo doubled his tally following a lengthy Portuguese attack, with an error from David De Gea to thank.
Spanish Possession Trends
The Spanish national team had a tumultuous week to say the least. Their head coach Julen Lopetegui was announced as the replacement for Zinedine Zidane at Real Madrid, and then promptly fired from his La Furia Roja post two days ago. Former Madrid captain Fernando Hierro took charge afterwards, acting as a stop gap to get the most out of this team. At this point, Hierro can hardly change anything tactically, instead selecting players that fit a particular strategic purpose and hoping their ability and years of experience can take care of the rest.
Spain's most distinctive trait as a team is the depth and quality of their midfielders, having to bench world class talents since they cannot field all of their star men at once (or so they say). Sergio Busquets placed himself put in front of Pique and Ramos during possession, partially as a way to distance himself from Portugal's forwards and to get himself more of an influence on the match. Koke spanned the area to the right of the Barcelona man. Iniesta and Isco shifted between their respective positions, with the former sporadically dropping into the defensive line to get possession. As Isco slid back, Jordi Alba moved higher, clearing the logjam in the back of the team gradually.
Whether it was intended or not, Spain's build up in possession had an extreme left-ward focus that would've trapped most other teams. Isco and Iniesta had some sort of possession bromance, David Silva, feeling left out of the party, floated inward from his right halfspace starting point to add yet another option centrally. In this telephone booth environment, Spain tapped the ball around Portugal's defenders as if it were a game of rondos at times. Pass after pass, they eventually would suck Portugal in before playing penetrative passes to either Diego Costa or Jordi Alba. The ability in tight spaces that Spain carries makes the style achievable, but at times the left preference was absurd and unnecessary.
With Nacho higher up, switching the point of attack from left to right even a couple of times would've compelled Portugal to have to worry about the other half of the pitch. In turn, perhaps David Silva and Iniesta would get more space to work with due to advanced positoning and more balanced distribution in circulation. This makes their dribbling more effective, and permits Diego Costa to be able to run off of defenders as Iniesta and Silva dribble toward goal. This didn't happen, but Spain were alright without it.
In an uncharacteristically Spanish way, Diego Costa was pretty integral to their attacking efforts. In addition to being a physical pest for defenders, he provided a more direct option for long balls from defense for transitions. The first Spanish goal resulted from a combination of these traits, where Costa got on the end of a Busquets long ball for a counter attack, expertly finishing his chance after shielding off multiple challenges.
Spain were able to control the vast majority of the first half in terms of the run of play and territory, but went into halftime down a goal as the consequences of poor central cover in transitions and overzealous committing of defenders on set-pieces, as Portugal's transitions thrived in the moments following these instances.
2nd Half Developments and Cristiano Ronaldo
Spain continued their possession dominance into the second half, as neither side made any cosmic shifts to their teams or strategies moving into the second half. Spain began to use their right side a little bit more, thus improving the spacing among the midfielders as Silva became more utilized. This spacing shift was instrumental in Spain's dominance of the last 45 minutes, since Portugal had to span more area defensively as Spain passed between them. In addition, Nacho and Jordi Alba's reactions to drop into defensive upon losing possession greatly improved, preventing Portugal from getting any sort of meaningful transitions in the opening minutes.
Spain scored two quick goals in succession to move into the lead. The first came from a very well orchestrated set piece, where Busquets was the assist for Costa yet again after knocking down the service from David Silva. The second came from a slight deflection following another left focused attack, where the ball ran across the box and Nacho struck cleanly as an early contender for goal of the tournament.
The minutes that followed were reminiscent of Del Bosque's 2010 side, using possession as a form of defense where Portugal were unable to keep up the intensity to even contest the ball. Bringing on Thiago for Iniesta for this purpose was Spain's way of flexing their midfield superiority over them, as they hoped to secure three points. Costa departed for Iago Aspas, and Spain looked to be in the drivers seat to finish out the match.
But Cristiano Ronaldo shown through yet again. Three minutes from injury time, Ronaldo scored a remarkable bending freekick to equalize and complete his hat trick. Rather than hit his signature power technique where he aims to knuckle the ball down, he cleverly curled the ball around the wall to register his first freekick goal in a major tournament (out of 45 attempts). In the span of one match in Brazil, he managed to double his all-time goalscoring count in World Cups, while also because becoming the first player to score in eight consecutive major tournaments.
In World Cups, Ronaldo has not typically registered his best football. 2006, where he managed to win Young Player of the Tournament, remains to be his best individual showcase alongside Portugal's best result in the Cristiano era. 2018 could be different this time around, as it could mean Ronaldo finally regressing to his mean after underperforming in the last two tournaments. Not being as explosive as he once was, he was quite good at playing in combination with Guedes for counter attacks, being a little more selfless with this Portugal team than in the past.
This occasion managed to get the best out of Ronaldo, who added yet another dominant performance under his belt in the bright lights. With Iran and Morocco to play next, Ronaldo could very well score four goals between those two matches, giving him seven goals in the group stage alone. This would make him essentially a lock for the Golden Boot, and finally have an individual performance in a tournament for the record boots. I'm sure he would satisfied with that, but he would much rather prefer to lift the golden trophy on July 15. Whatever happens, this performance is a nice start to Ronaldo balancing his prior shortcomings on the world stage.
Analysis by AR