1997/98 CL Group C: Lobanovskiy's Dynamo trounce van Gaal's Barcelona
In the span of two weeks, Dynamo Kyiv managed to secure a couple of their most impressive wins in their club history. Through being drawn against FC Barcelona in the Group Stages of the 1997/98 Champions League, some of Europe's managerial titans were able to square off. Valeriy Lobanovskiy would be matched against Louis van Gaal. In the matches, Dynamo were too much for Barcelona thanks to their well-designed strategy, despite having inferior talent.
The Iron Tulip was in his first season in Spain, while Lobanovskiy in the first year of his third spell at Dynamo, following silverware heavy periods during the 1970's and 80's. Entering the matches, Dynamo Kyiv had 4 points in the group, winning their match against PSV Eindhoven and drawing against Newcastle United. Barcelona only had one point, a draw versus PSV. Also of note, Barcelona captain Pep Guardiola was missing from both matches due to a calf injury, which would go on to plague him for most of the season.
Matchday 3 (Dynamo Kyiv 3 – FC Barcelona 0)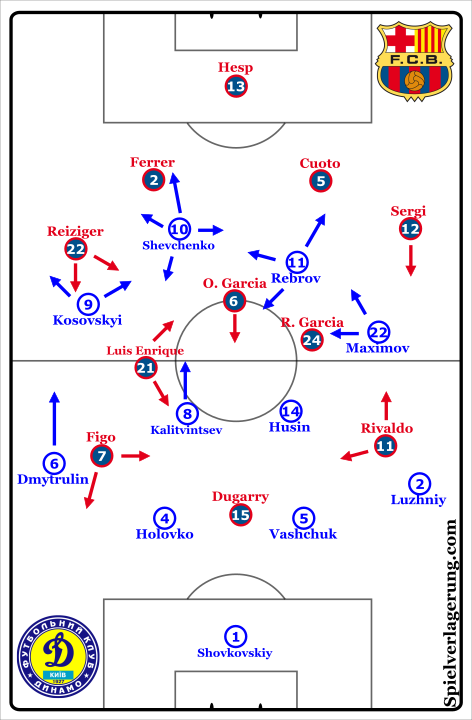 Barcelona were afforded to have the majority of possession in this match, with Dynamo favoring defensive organisation in their midfield and defensive thirds over high pressing. The away side were shaped in van Gaal's preferred 4-3-3. Oscar Garcia played as the number 6 in the opening phases of the match, while his brother Roger played to the left of him. Luis Enrique paired with Roger on the right side. Luis Figo and Rivaldo were the starting wingers, and Christophe Dugarry started at the number 9.
Dynamo Kyiv played what was then described as a 4-4-2, and nowadays is more considered a 4-2-2-2. Kosovskyi would typically stay wider on the left, giving room for Shevchenko to float up high and check into the left halfspace at opportune moments. On the right side, Maximov was positioned in the right halfspace, hardly moving wide and mainly acting as defensive reinforcements for the central midfield tandem. When in attack, he would sometimes move inside and switch places with Rebrov, or act as an option to switch to, but Maximov's primary function was stability.
Dynamo Defending
When defending, Serhiy Rebrov would slide back and the two attacking midfielders would move into line with the center midfielders, creating a 4-4-1-1. Dynamo initiated their pressure around the half line, led by the industrious defensive work of Shevchenko and Rebrov. The midfield four demonstrated excellent understanding of when they needed to help support the strikers in their pressing efforts, or remain closer to the defensive line.
Dynamo aimed to outnumber Barcelona in the middle, and using a mixture of good zonal cover and man-orientations, Barcelona struggled to find valuable space for most of the evening. Dynamo's players were occasionally dragged out of their original positions by Barcelona's movements, hoping to have them not follow into the space they aimed to move into. However, due to the versatility of Dynamo's players, when another player would move centrally from wide for example, they would have no issues with moving centrally. This does sound like man-marking, but Dynamo often maintained exceptional structure and compactness while also staying close to their player. On many occasions though, they were able to pass their player on into the player that traveled into the zone. Essentially, the shape of Dynamo's defense remained the same, while the players may have been in different areas than normal. A summary graphic of how Dynamo defended is below.
Where Dynamo ramped up the pressure was when Barcelona would play entry balls into the middle. In efforts to escape their marks, it was common for the midfielders drop deeper and be facing the receiver of the pass, rather than face forward when getting the ball. In the time it took for the pass to reach the destination, a member of Dynamo would step up to pressure the second the receiver got the pass. Oftentimes, this player would leave their respective line in order to apply said pressure. Depending on the area of the pitch they were in and the surrounding players, a midfielder would drop into the defensive line to provide coverage so they would not be exposed in behind. This pressure would cue to the whole team to move up the pitch once they won the ball.
Barcelona's Attempts to Solve
One of the most interesting characteristics of van Gaal's team in this match was how Michael Reiziger was utilized. Rather than play as a conventional full back that is high and wide which is more common nowadays with four at the back systems, van Gaal had Reiziger move inside as a false full back. In response, a 3-4-3 would form with the remaining back 3 adjusting, while Oscar Garcia would move up to the top of the triangle to play as the 10, instead of the six spot he was listed as playing from the start.
This left van Gaal's team with two conventional outside backs, Ferrer and Sergi, effectively playing center back, and bolstered the central presence during build up to help attempt break down the Ukrainian champions. Since Sergi didn't commit Maximov by taking an advanced position, Maximov often would pinch inside to cover the space that Roger most frequently roamed. To alleviate the problems with Reiziger, Rebrov's positioning became more oriented to the Dutchman. With Shevchenko's positioning on Kyiv's left side, this provided Sergi with a plethora of space on the left side for him to move up or dribble when he got the ball.
However, in these positions, Sergi rarely took the opportunity to engage Kyiv by dribbling at them. Instead, Sergi would play long balls up to Dugarry, whose main function was to act as a target man and get on the end of any crosses from Rivaldo and Figo. Dugarry either aimed to challenge the goalkeeper vertically, or use his physicality to draw multiple defenders to free up other players. Oscar's positioning at the top of the diamond put him in a spot where he could easily get on the end of these second balls or also challenge aerially. Rivaldo also played these passes or looked to take long shots with this space, a less than optimal use of the avenues provided by this space.
This tactic ended up doing more harm than good for Barcelona, as the frequency of the long balls was just enough so that Barcelona could overcommit in attack and create large distances between the forwards and Reiziger with the backs. Dynamo were afforded more space to counter attack with these gaps. In addition, because of the advanced positions, it becomes less likely that Barcelona track back to limit Dynamo's powers in transition.
Dynamic Dynamo
Intensity Differences
The most surprising feature of this match was the stark contrast in intensity between Barcelona and Dynamo. van Gaal has historically implemented solid pressing schemes into his teams defense, but during this fixture, his team were quite passive and slow to react defensively when in transition, and when they were organized. When compared to Dynamo, they were much slower with their pressing actions and timing. Attacking wise, they were also unintense in comparison. This can partially be attributed to how van Gaal wants his teams to play, but the tempo during circulation in possession was much lower than the speed at which Dynamo moved the ball during most phases of their attack.
Dynamo were much quicker to react to almost everything that happened on the pitch, demonstrating a higher level of responsiveness when it came to pressing cues alongside other events. One of the most stark contrasts between Dynamo and FC Barcelona was their approach to fouling and freekicks. Dynamo often used tactical fouling to prevent Barcelona from getting quality shots on goal, frequently conceding fouls just at the top of the penalty area. The logic behind this was that free kicks were much easier for Shovkovskiy to defend that shots in open play. In addition, they also used tactical fouling to prevent counter attacks in the manner Guardiola teams do in the present, by fouling around the halfway line Dynamo's midfield can get behind the ball to defend.
Attack
Lobanovskiy's team also were intelligent in their use of playing short from free kicks. During the 90's, many teams would habitually play the ball long after a foul, using the opportunity to progress up the field as quick as possible. Dynamo recognized that opponents would prepare for this and retreat accordingly. Therefore when they played short, there was no pressure applied to the player with the ball for a long duration, allowing for runs to develop.
Rebrov's opening goal came from such a circumstance, with his run to the byline in the right halfspace creating a scoring angle that was quite difficult to score. The second goal also came from a quick free kick, with the ball reentering play the second the referee blew the whistle. The high degree of responsiveness and fast reaction speeds were traits to marvel at of Lobanovskiy's side, as they frequently looked to increase the tempo and take advantage of teams that used these moments in the game to slow down the match.
Transition moments were instrumental in how Dynamo emphasized their collective superiority, exhausting Barcelona throughout the first match. Upon recovering possession, the home side often played long balls up the pitch into the center forwards when the ball was recovered in deeper areas. These were usually played into space for Shevchenko, who would intelligently open his runs away from Barcelona's remaining back 3 to create space for himself. Combined with his pace advantage, he was the most dangerous player between the two teams during both fixtures. Further discussion of Shevchenko will come later.
As previously mentioned, with Barcelona's gaps due to a lack of staggering, Dynamo were able to effectively and easily counter attack via Rebrov and Shevchenko. It made their long passes more probable of reaching their target, and gave more space for counterattacking runs to develop. Going into the later stages of the match, the desperation of Barcelona to get on the scoresheet made these gaps quite large. As seen with the image below, the lack of midfield presence gives Rebrov time to play the long ball up toward Shevchenko. The isolation of the backs allows Shevchenko to begin his run from a deeper position to pick up speed, allowing him to run by the backs with ease. Hesp is forced to come out and ends up getting sent off in this challenge, which effectively sealed the match.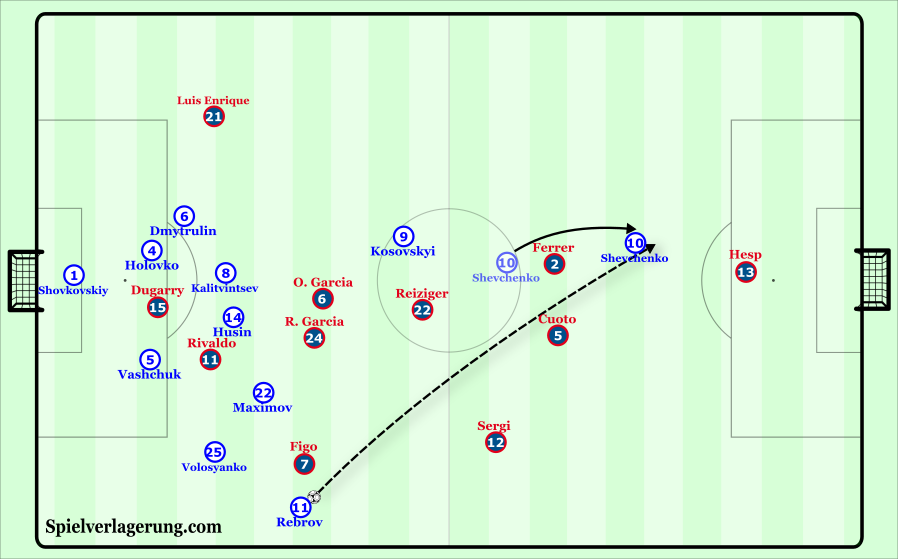 During the moments where Dynamo built up inside Barcelona's half, the best properties of their 4-2-2-2 were showcased. Shevchenko and Rebrov as center forwards had a large amount of freedom in their roles in attack. At certain spells, both of them would be deeper and in front of Barcelona's defensive, occupying positions between the lines. To call them a double false 9 would be extreme, but the duo understood that Cuoto and Ferrer would not follow them up, leaving them with significant amounts of space to receive the ball. Kosovskyi and Maximov started their runs once passes into the strikers were played. Due to good timing of attacking movements, some great combination sequences were seen in Dynamo's chance creation, creating several quality goalscoring chances.
Defensive Transitions
Transitions into attack were not the only marvel of Lobanovskiy's team, as their transitions on the other side of the ball were equally effective as well. Dynamo were strong in their counterpressing when conceding possession, as the attacking players were fast in their reactions to hunt for the ball. During these chases for the ball, Dynamo players frequently would adjust their body positioning to deny passes out of the pressing scheme.
It was common for Barcelona players to not anticipate the pressure coming. The pressure would either come behind them via backpressing, or Barcelona misjudged the speed at which Dynamo players were closing them down. At multiple moments during the match, players can been seen looking at Dynamo while players are counterpressing and not adjusting the speed of their actions. Many won tackles for the Ukrainians originated from this and it appeared as if Barcelona had not faced a team of this intensity level throughout the season.
When Barcelona were able to play through the initial wave, Dynamo would then look to delay while the midfield could catch up or tactically foul as a last resort. During these moments of delaying, Hubin would drop into the back 4 while one of the center backs stepped up to confront the ball carrier. Simulataneously, the remaining midfielders would backpress Barcelona, leading to possession turning over as the away side lacked the ability to play in tight space to solve the problems Kyiv were posing.
Louis van Gaal's team were left with a lot of work to have a shot at qualifying after this match, reckoning many adjustments be made in their approach for the return fixture.
Matchday 4 (FC Barcelona 0- Dynamo Kyiv 4)
Adjustments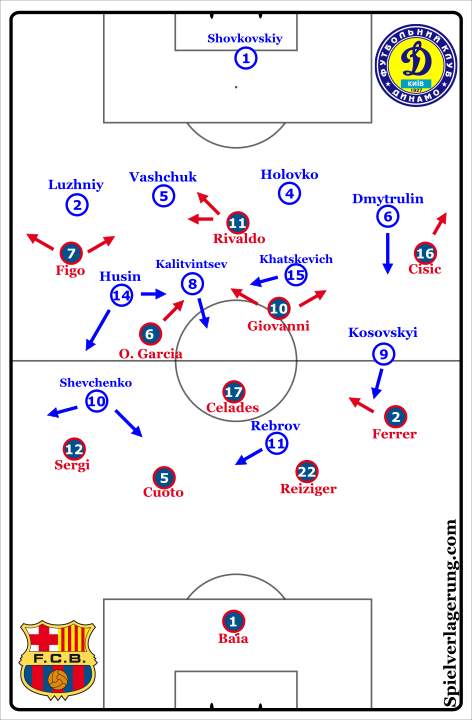 For the must win fixture at Camp Nou, van Gaal made several changes to his team, which are outlined in the team movements found to the right. Lobanovskiy selected the same squad with exception of Maximov being replaced by Khatskevich. The most fundamental of which being the shift to Rivaldo as a center forward, which would go on to be a regular sight for the remainder of Barcelona's season. Ferrer and Reiziger would switch roles, meaning Ferrer would act as the false fullback during Barcelona's build up play.
Barcelona's struggles in the previous fixture were largely mounted toward a lack of presence in connecting the midfield and forwards. Since Dugarry played as a target man, the method of attacking that Barcelona deployed was accommodated toward his skill set, which was not conducive to breaking down a deeper defending team with the intensity of Dynamo. There was one sequence that provided one of the best looks for Barcelona, in which Figo drifted inside from his normal spot on the right flank. After Oscar Garcia received the pass from Cuoto, his quick one touch flick to Figo had broken through Dynamo's lines, and provided a glimpse of how Barcelona would attempt to defeat Dynamo by having the majority of possession yet again.
Barcelona started strong with their attempts to play through Dynamo. They bolstered their presence in creative zones by fielding Oscar Garcia and Giovanni higher up the pitch, while having Rivaldo drop deeper so he can move into open lanes to be found by Cuoto and Reiziger. The Brazilian duo of Giovanni and Rivaldo attempted to interchange early as a means of escaping their man-orientations or dragging out Dynamo defenders.
These movements didn't accomplish much, but both players were frequent targets of passes early to move Barcelona up. Due to their spots in between their midfield and defense, they were hard to cover for Dynamo's mixed marking scheme. van Gaal's team succeeded early thanks to Dynamo being both overzealous in their attempts to win the ball by having multiple players challenge the receiver. Quick layoffs broke through these tight channels between the players, and having a player move forward at the backs of Dynamo's players were the brightest signs of Barcelona potentially getting something in the match. After Barcelona conceded a set piece goal in the 9th minute, Dynamo had more success defensively thanks to a series of defensive adjustments.
Dynamo's Reactions
After having their lines broken often in the first ten or so minutes, Lobanovskiy's team naturally adjusted and became more zonally oriented in their positioning and ball winning efforts. Rather than be concentrated on the particular players to the outside of them, Dynamo focused more centrally. Both wide midfielders tucked inside, while Shevchenko moved to the right to be an outlet for counterattacking. This was designed to limit the access into Rivaldo and Giovanni, leaving the ball to be in the control of less dangerous players in front of Dynamo.
Since passes were more difficult to fit into central zones due to less space being provided, Barcelona turned to dribbling as the primary means of attempt to go forwards. Without Dugarry to potentially be a target man, there was little use for any balls played wide since Dynamo had a physical advantage in the center. Rather than attempt to outnumber Dynamo and space themselves out a bit in the process, Barcelona ended up toppling on top of each other in possession, making it easy for Dynamo to pressure and eliminate several passing options simultaneously. Barcelona's less than optimal spacing made it so by pressing the central players, they could make Barcelona's play more predictable. Thus, Dynamo win the ball and play to Shevchenko easier for their attacks.
Andriy Shevchenko – Mbappe Before He Was Alive
21 years old at the time of these matches, Shevchenko was hands down the best and most influential player for either team in these two games. The first half of Matchday 4 was the Shevchenko show, as he was the primary outlet for all of Dynamo's attacks, alongside their main creator. In the matches played, there were two players that the Ukrainian would eventually finish third in the Ballon D'Or voting to in 1999 and 2000 respectively: Rivaldo and Luis Figo. However, the two of them did not perform to their full ability in these two fixtures. With a hat-trick in the first half of fixture two and a stellar performance in the first, these were the matches that introduced Andriy to the world.
As a player, Andriy had an interesting profile that suited himself very well for the style that Dynamo played. First off, he is quick and has fast acceleration into getting into full stride, allowing him to quickly develop dynamical advantages off the ball. This trait also assists greatly with dribbling by players with the amount of space that was provided for him to work with on the right wing against Sergi and others that would cover him. This made him a constant threat on the counter attack that Louis van Gaal's team had no answer for.
Shevchenko also possess excellent ability in tight spaces and pressing resistance, which prolonged Dynamo's attacks and allowed them to get more numbers up the field. It also allows Dynamo to develop attacks in Barcelona's half without having to maintain long spells of possession to progress up the field. In many teams that aim to play a counter attacking style, their center forward lacks these abilities. During the course of a match, not having a center forward with adequate pressing resistance shortens the amount of time your team has to attack. Out of fatigue, other attackers players eventually come later and later in supporting the striker when it's played up to him, leaving him isolated. This makes it easier for the opposition to win the ball, and thus increases the pressure on the defense to deal with the opponent's attack.
With Shevchenko's strong positional sense about good spaces to go into, he was the problem for Barcelona to deal with during both matches. He regularly solved tight and difficult situations by using slight touches and flicks to find his teammates nearby. When he was alone, Shevchenko also understood excellently where his defender was in relation to his back, and executed some lovely dummies and touches around their defenders that are Dennis Berkamp-esque.
Andriy Shevchenko vs. FC Barcelona, 1997 (Group C UCL)

An excellent example of pressing resistance, strong ability in tight spaces, and wise positional sense, all while being an immense counter attacking threat.

The key to Dynamo Kyiv's attack under Lobanovskiy. pic.twitter.com/pHYPKrfABQ

— Austin Reynolds (@AReynolds70) December 21, 2017
If I were to compare him to a modern player, it is difficult to not see how Kylian Mbappe's game is quite similar to the Ukrainian legend. Irrespective of their backgrounds, both of them are remarkable in transition thanks to their physical traits and abilities to dribble by players on the run. Shevchenko to me exhibited more cleanliness in his technical actions at a younger age than Mbappe, and is better in smaller spaces with multiple players surrounding him. However, Mbappe does have a have a stronger physical profile, and is able to use his body better than 21 year old Shevchenko.
Both of them have an uncanny ability of attracting multiple defenders towards them as a result of their skill to dribble by opponents. With Shevchenko, defenders are drawn to him because just one defender isn't often able to win the ball off him. On the other hand, Mbappe can easily burn by one player so another is needed to support him. Two of these scenes are outlined below. As Mbappe develops, Shevchenko I believe would be a good model for him to improve his game, as if the young Frenchman can fine tune his decision making and pressing resistance in tight spots, when combined with his physical game, it will be difficult to imagine him not winning a Ballon D'Or in the 2020's.
Conclusion
Lobanovskiy is largely heralded as Eastern Europe's greatest manager and considered to be ahead of his time when it came to the application of science in football, and not many analyses of him exist in public circulation. This crop of players at Dynamo would eventually reach the semi finals of the Champions League in 1999. While Lobanovskiy always had an eye to the future, it is worth mentioning at Jose Mourinho was on the touchline for these matches as an assistant for FC Barcelona. One can only speculate how much these performances from Dynamo impacted the development of his own personal game model. However, given his mentors, it is more likely Mourinho would have favored attacking play. Perhaps the football seen from the Mourinho Porto, Chelsea, Inter, and now Manchester United teams is Lobanovskiy's posthumous legacy.
Special Thanks to Footballia for the match footage.