Germany held despite impressive dynamics
Germany met their neighbours Poland at the Stade de France in the 2nd round of the European Championship group stage on Thursday evening. Both teams had won their opening games and went in with an element of security knowing that a draw would virtually guarantee their progress into the next round.
Germany start brightly
Germany began the game in excellent fashion with particularly strong and contextually appropriate collective dynamics. Defending in a base 4-4-1-1 shape, Poland's defensive orientation was fairly diverse from position to position. Collectively it is difficult to say whether they intended to start the game with deep and passive defensive lines, or whether the excellent possession game of the Germans forced them into these positions. Either way they spent large periods of their defensive phases in passive fashion, looking to enforce little pressure on the ball outside of their block.
The orientation of Poland's wide players combined with that of the central midfield players caused large disconnects and sub-optimal spatial compactness within their block. Whilst Krychowiak and Maczynski were quite position-oriented, aiming primarily to cover the centre both within ball-oriented shifting and static defensive phases. The wide players, Grosicki and Błaszczykowski were concerned with maintaining access to Germany's full-backs. Thus Poland often suffered from a lack of access in the half spaces as the two central midfielders, even when helped by the situationally dropping Milik, found it difficult to cover the width of both half spaces alone.
This is where Germany's dynamics were highly contextually appropriate. With a rational occupation of the pitch Germany had a strong framework from which to build their possession game. With situationally advancing full-backs they maintained width whilst using their nominal wingers to provide presence between Poland's midfield and defensive lines. The midfield three reacted well to one another's positioning to ensure Germany had presence both in the centre and the ball-near half space.
The staggering of the double six; Kroos and Khedira was highly strategic and beneficial to the German possession game. With a double six many teams struggle with maintaining central presence, adequate angles and triangulation in relation to the centre backs. A recent example is France in their recent win over Albania whereby the holding midfield pair of Kante and Matuidi spent large periods in their respective half spaces leading to struggles borne out of a lack of central presence.
However with Kroos acting primarily in the left half space and Khedira occupying a position expected from a single holding midfielder Germany managed have two holding midfielders both occupying strong positions in relation to the centre backs whilst retaining a central presence. The advantages were far reaching. From the left half space Kroos was often left to dictate the game unopposed. With Khedira acting as a false pivot drawing the attention of Milik, Lewandowski focused on cutting the connection between the centre backs and Poland's left back and winger focused on their direct opponents Kroos was often left totally free.
The potential structural imbalance in the right half space was often solved by Boateng making forward movements into this space to act as a 6 which, given his passing ability, was a good move. This was a case of excellent structuring creating the platform for the team to take advantage of their individual players' strengths.
The asymmetry of Germany's double six also opened up interesting possibilities in penetrative passes. With the positions they took up the centre backs would often have either of them as short diagonal passing options and their positioning also ensured the players operating in the ten space could be reached directly with passes from the centre backs.
If the positional dynamics gave them the base to create advantages, their passing and possession dynamics allowed them to exploit it. Up against an often highly man-oriented defence Germany used several methods that allowed them to exploit its disadvantages. One of these methods was their diagonal orientation and half space switching. Most man-oriented defences are more opponent focused in their positioning on the ball-near side as it poses the more immediate threat. Therefore the dropping movements often performed by those in the ball-far half space allowed them to escape the man-orientations and offer themselves for switches.
Of course these half space switches were highly appropriate given the orientation of Poland's wingers that meant the half spaces were often open. The diagonal nature of these passes was useful in drawing the opponents forward to press, as it advanced the play, thus creating opportunities to play beyond them. The alternative for these defenders was to allow them to receive and turn which would open up further problematic avenues of attack.
The half space switches were also actively used in build-up. Although Lewandowski attempted to cut the connection between the two centre backs by staying in between them and pressing from this position, this often meant that Kroos or Khedira were open and could connect the play to the other centre back. With the man-orientation needing an overload for stability in defence it suffers from an underload higher up. Thus the half space switching meant Germany could easily find a free man and use them to aggressively push forward and create structural imbalances in the opposing defence.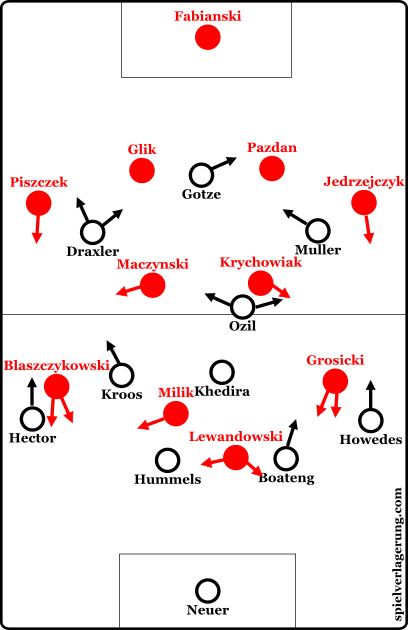 At times the full-backs were situationally used deeper in addition to a deeper ball-near centre back to help create the connection to the ball-far centre back. This was used when Milik was covering Khedira and Germany needed another avenue to connect to the ball-far half space. The deeper full-backs could be used to create a new potential avenue to switch the ball. As it turned out Lewandowski would adjust his positioning to block this avenue which created space for the back pass to the ball-near centre back who could execute the switch himself.
Perhaps most impressive, however, was Germany's willingness to pass to players under pressure. In advanced areas they used quick passing combinations and one-twos to advance past their opponents. Despite the opponents attempting to cover most passing options these combinations were viable due to another characteristic of man-marking.
As part of their man-orientations the Polish players would remain goal side (or behind) of the players they were marking. This meant that although they were not free from pressure the German players could participate in combinations due to the slight temporal disadvantage the man-orientations suffer from. With these combinations taking place at a high speed Polish players were regularly drawn out of position and combined past thus experiencing extreme difficulty in establishing access.
Struggle to break through
Of course with such a high level of performance it is no great surprise that Germany struggled to maintain it for a long periods. It is surprising however how the level of co-ordination dropped so dramatically in their final 3rd actions which led to countless well-structured moves breaking down.
One issue was sub-optimal timing of runs and passes. On some occasions great runs were wasted with passes coming too late or too early, on other occasions this was due to the runs themselves being poorly timed. At other times Germany were either too hasty leading to poor decision making or too patient, again leading to poor decision making.
Some credit has to go to the work of Krychowiak and Maczynski who were usually on hand to apply pressure to the ball carrier and block Germany's access to the centre from whatever angle the ball was located. They performed rather admirably in difficult circumstances with a lack of support from Kuba and Grosicki.
One potential solution to Germany's final 3rd struggles is a strategic usage of dribbles as a means of penetration. With the Polish central midfielders often focused to positioning themselves in the pass line from the ball to the centre they could situationally lack access to the ball. With strategic dribbling Germany could take advantage of their temporary lack of access whilst advancing their attacks.
Furthermore with a frequent shifting of feet, vision and body position Low's men could manipulate their opponents' body position to access the areas they so doggedly aimed to cover.
2nd half developments
After the interval Muller and Gotze seemed to swap roles. Perhaps the idea was to give Germany more of a presence in the box through Muller's superior anticipatory skills and aerial prowess. Such a move could also have been designed to involve Muller more directly in the game and chance creation process.
However the pair still retained the licence to rotate and could thus dynamically take up their old positions. One such move led to one of their better chances of the entire game. With Gotze moving infield he took advantage of the space Muller just left, running through the right half space he was able to receive a precise pass from Kroos.
Although this was also seen later on in the first half, the orientation of Poland's wingers in defensive phases seemed to be fairly flexible. At times they would maintain their coverage of their respective full-backs regardless of the lack of cover in the half spaces. At other times they would be more ball-oriented sliding infield to aid the team's horizontal compactness. However this did not seem to have much strategy to it and some of the issues they experienced earlier still reared its head.
Later in the game Low seemed to adapt the positioning of his wingers. With Draxler and Gotze now operating on a more width-oriented basis Germany's positional structuring became far less well structured. As the wingers were often found on the flanks they suffered from a lack of presence in the 10 space.
This also shifted the axis of their possession game. With less diagonal passing options available their axis became more horizontal, and at times vertical, as the team were now more focused on wing break throughs and crosses. This was perhaps the main issue behind the perceived loss of intensity in Germany's passing.
Conclusion
At times, particularly in the second half, we could see the effects of the new European Championship format. With more teams going through to the newly created round of 16, both teams were safe in the knowledge that a draw practically secures them a place in the next round. This was perhaps a reason behind some of the lacklustre moments in the game, particularly on Poland's side.
However Germany's start and structuring demonstrated Low's competence which will be helpful in their quest to add a European Championship to their 2014 World Cup triumph. As for Poland, unbeaten after two games and a fixture against Ukraine who may see it as a dead rubber does not sound too bad.