Team Analysis: Valeriy Lobanovskyi's USSR
Pressing, Gegenpressing, total football … those are all terms usually associated with the Dutch national team from 1974 or, recently, with Pep Guardiola's Barcelona and Bayern Munich. But, during history, there have been other divisive figures who contributed to modern football. Valeriy Lobanovskyi has long gone underappreciated but he put his mark on the sport, and his USSR team gave a strong contribution to the game.
Lobanovskyi was always an intense, fierce coach and a strict disciplinarian aspiring to control every aspect of his players' life both on and off field. But he still was a genuine lover of the game, an aesthete, ever looking not just for victories but also worrying about the way to achieve them.
Some could argue this way by citing Dynamo Kyiv's 3-0 victory over Atlético Madrid in the Cup Winners' Cup final 30 years ago, but his 1986 World Cup and 1988 Euro USSR teams are the ones where Lobanovskyi's coaching philosophy reached its top.
Team's structure
In typical Lobanovskyi fashion, USSR's shape in possession was linked with strong collective structure and well-coordinated movement. Lobanovskyi wanted his players to strictly follow his tactics, putting emphasis on a quick, vertical playing approach. After a spell as the team's assistant coach, Lobanovskyi took charge of a USSR national team, who failed to get through 1982 World Cup's second group stage on goal difference, with the intention of leading them through the qualifiers for 1984 Euro and 1986 World Cup.
Lobanovskyi, a former engineering student at the Kyiv Polytechnic Institute, immediately replicated the systematic approach he utilised with Dynamo. For him, football was a system of two systems including 22 sub-systems, interacting with each other in a playing area. That complex approach was born early in 1967, when he was the manager of Dnipro and met the sports scientist Anatoly Zelentsov of the Dnipropetrovsk Institute of Physical Science, who became Lobanovskyi's assistant and introduce him to this path through the math.
Jonathan Wilson wisely described Lobanovskyi's approach in his book Inverting the Pyramid: "Everything was meticulously planned, with the team's preparation divided into three levels. Players were to have individual technical coaching so as to equip them better to fulfil the tasks Lobanovskyi set them during a game; specific tactics and tasks for each player were drawn up according to the opponents; and a strategy was devised for a competition as a whole, placing each game in context by acknowledging that it is impossible for a side to maintain maximal levels over a protracted period."
His USSR teams strictly followed these guidelines: they were essentially a team built around two lines of four. Working in a 4-4-2 shape, they were usually concerned about the space they had to cover. Lobanovskyi was a strong believer of the idea that the best way to overcome rivals is to manipulate the size of the playing area, making the field larger when in possession and smaller when defending. In order to do that, full-backs and wingers usually provided width by moving upfield.
Player combinations
One of the basic USSR's attacking approaches was built upon quick counterattacking combinations between both forwards Igor Belanov and Oleh Protasov. Due to Protasov's explosiveness, they were highly effective to progress through the opposition defence. The Soviet defenders often enjoyed some degree of freedom in the initial build-up, and they exploited that well by accurately hittinh long-range passes over the opposing back line. The long balls were accurate to move the ball forward and to throw Protasov and Belanov into the final third of the pitch. Possessing two quick players with great playmaking qualities upfront was a key to USSR's counterattacking play.
Pressing
The most important aspect of Lobanovskyi's philosophy was the way his teams were working in defence. Faithful to his above mentioned principles, the Ukrainian manager wanted his side to make the field smaller.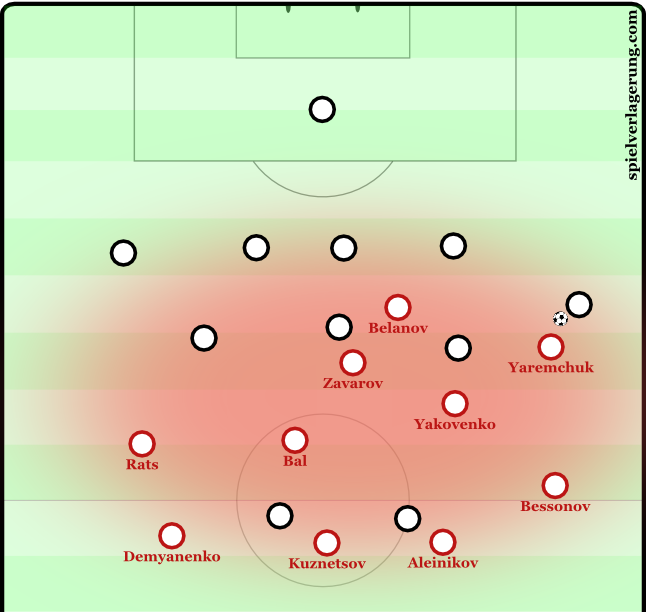 Always emphasising on the fitness of his players, Lobanovskyi enabled his sides to produce intense pressing over the course of 90 minutes. At the same time, as mentioned, it was not rare to see his teams sitting back and counterattacking. Those dividing concepts were linked by his fundamental idea of making out the way an opponent intended to play and then finding ways to destabilise the opponent. It was part of Lobanovskyi's scientific approach.
Therefore, he utilised a variety of defensive strategies during his tenure, e.g. he played man-coverage against Ruud Gullit when USSR beat the Dutch 1-0 in their opening game of the 1988 Euro. Facing the Republic of Ireland in the second group match of the tournament, Lobanovskyi again changed his formation, implementing a defensive low block to contain Jack Charlton's long-ball style. With Ireland leading 1-0 at half time, Lobanovskyi re-modeled his squad, once again, with the Soviet Union increased pressure leading to Protasov's score.
USSR's Gegenpressing and defensive transitions was effective too during this tournament. The diagram below shows how USSR capitalised on Glenn Hoddle's mistakes during their 3-1 win over England in the 1988 Euro group stage. Lobanovskyi's team pressed the opposition right after losing possession in the final third of the pitch, with Sergei Aleinikov regaining the ball and rushing through the England defence to finish past goalkeeper Chris Woods.
Those examples above show Lobanovskyi's brilliance that made him one of the most valuable football coaches of the 20th century. Unfortunately, it wasn't enough to beat the likes of Van Basten, Ronald Koeman, Ruud Gullit, and Frank Rijkaard in the final. Adherent to his principles of players' interchangeability, Lobanovskyi approached the final replacing suspended centre-back Oleh Kuznetsov with midfielder Aleinikov. It did not work. Igor Belanov's missed penalty also didn't help. Looking past their class of 1988, Lobanovskyi's side lost a big opportunity. This team was ahead of its time, and they played the same kind of pressing game that Barcelona and Bayern do right now.
"It was the best chance for the Soviet Union to win a trophy," former Dynamo Kyiv and Soviet defender Sergei Pavlovich Baltacha said. "At that time we were a good team, most of our players were from Kiev and we dominated Europe. We really thought we could win that tournament in Germany."
Conclusion
During the final years of Communism, Lobanovskyi perhaps showed the most intriguing example of football collectivization, prizing team's collective over the individuals. In the same way Karl Marx's intended to create a collective society, Lobanovskyi regimented his squad, modeling a group of 11 individuals into a well-working unit in which every player perfectly understood his team-mates' positions and movements. There was no space for luck or accident in Lobanovskyi's vision.
USSR played some of the best football in 1986 tournament before being dumped out by Belgium after controversial 120 minutes. At the 1988 Euro, USSR were among the favourites and displayed their best performance when they met the Netherlands in their group stage encounter. However, Rinus Michel's Dutch side took revenge in the final. Marco van Basten's amazing volley simply put a fleck of dust into Lobanovskyi's intriguing mathematical approach. By the way, in this on-going age of Moneyball football, it is difficult to not appreciate Lobanovskyi's modern football approach.
Michele Tossani regularly writes for Futbol Tactico and MartiPerarnau.com. Follow him on Twitter @MicheleTossani