Borussia Dortmund – Real Madrid 4:1
Germany 8, Spain 1. Borussia Dortmund dominates the "greatest club in the world."
This analysis summarizes the game tactically and serves as a basis for the more detailed pictorial analysis.
It was a game of chasing for the great Real Madrid. Tactically, Mourinho was desperately looking for the right responses to Borussia's collective game, on the field his charges got no grip on the game and chased Dortmund's moves. In the end Real had to chase a deficit almost the whole game long, even though Mourinho had wanted to be one step ahead even with his starting formation.
Boing: 4-3-3 with Modric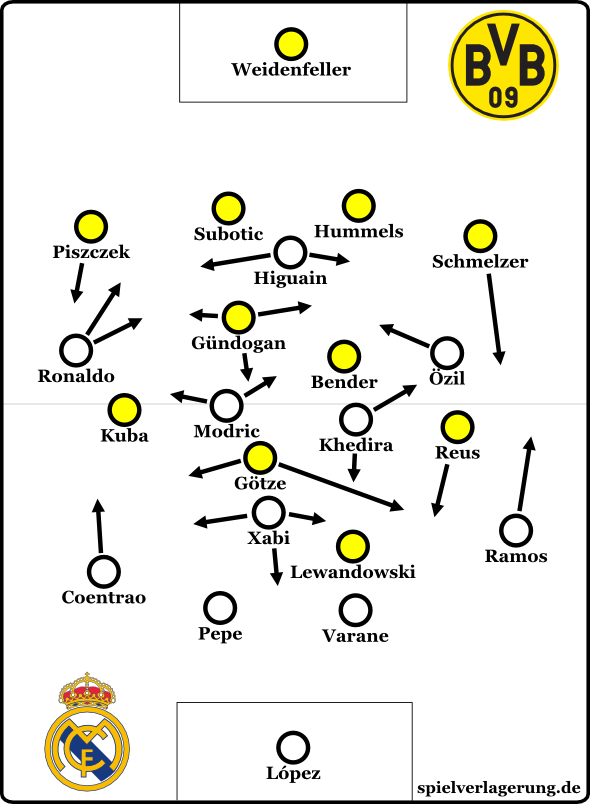 "The Special One" had announced his line-up before the game, with the caveat that Angel di Maria might not be able to play for emotional reasons. Our hunch that this might be a bluff, to divert attention from the possibility of a 4-3-3 with the hurt Modric, was proven with the official announcement. Mourinho wanted to relieve Xabi Alonso with this system and Real was supposed to be more compact against Dortmund's long balls. Both did not work properly and in turn, a whole host of other problems were apparent.
Real's players were not used to the formation without a ten. The flat midfield formation could not be pushed higher up the field with intelligent movement to connect the team in its width. Modric and Khedira moved mostly as individuals and quite independently from Alonso at their back, with and without the ball. Dortmund consequently found space within Madrid's pressing formation.
Dortmund is Allowed Possession
This pressing formation was a 4-1-4-1 with Ronaldo and Özil moving at the same height as the eights. Özil also positioned himself a bit closer to the centre of the pitch. Probably Real was looking to exploit Schmelzer's offensive weaknesses this way. He pushed up further than Piszczek, which opened up much space on the left defensive side, into which Hummels could evade. This is why our prediction of 4-3-3 was only partially correct, because of the deeper outside players it was rather a 4-1-4-1:
"Real naturally would have one more player against rebounds with a 4-3-3 and the three highest players would be able to generate similar pressure. The question would then be how well Dortmund manages to involve their double six and how they react against advances by Real's eights – Gündogan or Khedira could play the decisive part."
Real's basic pressure was not constant, so that Dortmund had more time to actively direct play, especially during the first minutes. Hummels and Subotic could and had to circulate the ball calmly and on the ground. The last point was right anyway: Dortmund's double six had to prove themselves and Gündogan proved decisive.
He dropped a bit from his right-side position and demanded the ball from the centre backs. Although Higuain showed good pressing movement, he was unable to pressure the flexible triangle Subotic, Hummels and Gündogan. Dortmund's play-maker then distributed the ball calmly towards areas higher up the pitch.
Götze Overloading and Real's Weak Half-Spaces
It was there that Real's lack of unity proved the decisive problem, because they rarely managed to be compact close to the ball. They were always a little bit too late, especially on the wings, because they did not conduct themselves well with regards to their group tactics. Ronaldo and Özil were not aggressive enough when defending their zones, where Dortmund were frequently able to free themselves easily.
Dortmund uncovered this weakness most clearly on Özil's flank, where Götze moved outside a lot to combine with Reus. In his advanced position Schmelzer could often be involved as an easy passing option. Lewandowski, playing towards the left as usual, took part in some combinations and caused chaos in the half-space behind Khedira.
This half-space was the epicentre of Real's lack of grip, because they could not close it down without leaving gaps elsewhere. Khedira had to help out on the right against Götze constantly. Xabi Alonso had to cover a lot of space alone and was occupied by Lewandowski dropping. If Modric helped Alonso in front of defence, Real lost any presence in offensive midfield, where Bender and Gündogan were able to do as they pleased.
Appropriately, Dortmund pulled ahead after a cross by Götze from the left flank. Schmelzer had tied up Ramos and cleverly let Gündogan's pass slide by. Gündogan had also initiated this scene – by dispossessing the opposition with counterpressing.
A Victory of Counterpressing
This was probably the most important difference between the teams. Dortmund had rarely executed their pressing, their domain, this brilliantly. Their defensive transition game was pitch perfect.
As usual the basis was the great distribution across space in possession, especially Sven Bender's role fit perfectly. With his advanced basic position he could be bypassed without problems in possession and was able to access all important areas immediately during transition. More details will be discussed in the pictorial analysis.
Real also had problems defensively and during their breaks. The supporting pillars of their quick vertical play were missing, having been ripped out of their usual system: Özil, the first option in transition, was missing in the middle and because Ronaldo did not gamble, quick freeing plays via long balls to the left were impossible. "Hunters" Gündogan and Bender were able to direct their attention forwards without compromise and to rush into tackles with speed, because there was no threat of a ten in their back.
Khedira and Modric were seldom able to attack those high areas either, having to patch up their defence all the time. Additionally Real rarely won the ball in a controlled fashion during overloaded defensive situations. They had to kick, tackle and head away much, so that concise breaks were difficult to come by and Dortmund easily regained control.
Alonso Isolated or Ignored
Their opposition Real never found a stable formation in possession. Play-maker Alonso was crucial for this problem. As in the group stage, Dortmund focused their pressing efforts on this central building block of Real's system. He did not get many opportunities to play dangerous passes, although he was supposed to be supported by Modric as a second play-maker.
If Alonso moved around his basic position, Götze cut him off or handed him over to Lewandowski temporarily. If he dropped into defense, Dortmund's pressing spearhead positioned itself more compactly in front of midfield in a passive and relatively broad 4-4-2 formation.
They rather easily prevented Alonso from having too many passing options vailable this way. There were ten Dortmund players to cover five passing options, sometimes six if one of the fullbacks advanced. The passing distance to the wing was too great for Alonso to attempt his well-known diagonal passes, because he mainly dropped centrally: Dortmund had width and would have had plenty of time to disrupt play when the ball arrived. Real was lacking interplay between its midfield parts.
Mourinho Aims Too High
Those were destroyed by lacking familiarity with the 4-3-3 as well. Mourinho did not let them play the system in their usual style either. Madrid mostly built up via the right flank, instead of overloading the left wing with Modric then establishing connections to the middle. Mourinho's idea was probably to get into the midfield areas from there, so that Dortmund would have to shift and open the left flank for Coentrao. At best Real could have combined the flexibility of the 4-3-3 with the power of the left flank.
They never even got that far. Real rarely penetrated midfield, making the shift a hypothetical situation. Real's build-up was too disconnected to put Dortmund under serious pressure.
Play along the right side was too slow, enabling Reus and Bender to check Khedira and Ramos, whob did not find a solution, again and again. Ramos had a bad day in general. He did not establish a connection to Özil and frequently played hectic vertical passes instead of looking for space in midfield diagonally.
The Royal Disconnect
The movements of Madrid's central midfielders were completely uncoordinated and individual, same as against the ball. It was easy for Dortmund to separate them from each other. For example Khedira received the ball with his back to the attack, with Modric on the far side and Alonso in Götze's covering shadow, so that he had no opportunity to free himself from Dortmund's grasp.
Modric and Khedira even played well individually, but collectively nothing seemed to work. The missing anchor on the ten ruined Real's whole distribution across space and there was barely any interplay. Özil did not find into the game, Modric was on his own too often and consequently Ronaldo did not receive any service.
The BVB was able to show its full quality in pressing. Time and again they created situations that enabled them to isolate the player in possession. They left the innocuous spaces alone and made the dangerous ones extremely tight. Especially impressive was their ability to cut off all passing options when Real intruded in the middle and how they forced their opponents into being badly outnumbered. Sometimes Real was even directed towards goal instead of away from it – brave, aggressive and handy.
BVB Breaks Through the Gaps
Borussia was able to break often because of the many clean dispossessions in Dortmund's midfield and the gaps between the isolated Madrilenians. In contrast to Real they also had two flexible players up front, who enabled them to free themselves vertically.
Götze in particular was looking for free space very attentively and found it behind Ramos on the left several times. As if in possession Reus and Götze combined there and played through the left half-space towards the box with pressure.
The simple advantage in running that the Borussia is able to exploit so often showed there as well. If Real was able to break the counterpressing line after dispossessing Dortmund, the home team swiftly retreated into a compact numerical superiority. Real took much longer, because the players away from the ball moved up less intesively, in both directions.
Dortmund did not exploit the occasionally huge space in an optimal fashion though. As against Malaga, they became fidgety without pressure on the ball – interesting paradox of the Dortmund team. Instead of using the holes on the flank consistently, they sought combinations through the middle, which were too playful. So Real's extremely dynamic defenders were able to stop most breaks – or Higuain cleared in his own six yard box. Borussia did not reward themselves for the great advantages in transition.
Real Find Their Game Through Pressing
This problem and mounting aggression in Real's play prevented a half-time lead by Dortmund. As the first half progressed Real was more often able to pressure the centre backs. Higuain's pressing movement was very strong while Modric supported him more frequently.
The Croat, and sometimes Khedira, increasingly moved up and blocked the first passing option of Dortmund. With the lead in the bag Dortmund was too keen on security during this phase and did not make freeing runs consequently enough in build-up any more. Both together meant they had to play long balls more frequently. Although they still threatened via rebounds, they did not maintain the level of the first minutes.
Real was able to find their stride, but it did not lead to more scoring opportunities. The black-yellow defence was still very stable. Real equalised after a throw-in curious fashion. Apt for this phase of the game, Modric handled the ball ingeniously and Higuain cashed in on Hummels' mistake. Ronaldo's speed meant that Weidenfeller did not get a chance for a one-on-one and Ronaldo just had to touch it home. The goal was Real's first scoring opportunity in the penalty area.
Mourinho Drops the 4-3-3
Real's manager did not rate the first half at all, in spite of the acceptable score, and changed to his usual 4-2-3-1. Özil returned to his standard position and Modric occupied the right wing. He played towards the middle of the pitch while Ramos was supposed to advance even more. Varane moved far outside behind him. The build-up on the right was supposed to be even more focused this way.
Yet, this idea too was doomed by group-tactical details, which destroyed Real's entire game this evening. Modric and Özil did not move harmoniously and could not combine. Ramos positioned himself nonsensically towards the middle, so that Dortmund was able to easily contract space in the left half-space around Bender. Even Schmelzer dared to tackle in the sixes' area, because there was no danger on the outside.
Dortmund Finds the Right Wing
Real pressed more aggressively in their usual formation and Özil, together with Higuain, was able to provoke long balls more constantly now, but Dortmund still monopolized second balls. From those they generated spells of possession, allowing them to calm down more as the second half went on. Real's aggressiveness in midfield waned. Before the 2:1 they defended with all ten field players in their own third, but remained so passive, that Dortmund was able to cross anyway and then got the rebound.
Notable was that the BVB now focused on the other wing, where all three midfielders helped overload the flank at times. This way they evaded Modric's strong pressing on the other side and exploited Ronaldo's total passivity.
Real "panicked" a little when defending the penalty area, because they could not control the game, and concentrated disproportionately in the box, which Mourinho criticized explicitly after the game. The 3:1 was par for the course: Schmelzer was able to hoof a rebound back into the box, because Modric had dropped back to the penalty spot. Lewandowski's brilliant finish concluded that scene and his genius must not go unmentioned.
The penalty leading to the 4:1 was caused after a break following a corned by Real, who lacked the willingness to run back quickly. This problem became more apparent towards the end of the game and Dortmund might have created more clear-cut chances if they had exploited their breaks more consequently.
Real More Offensively-Minded – and Less Structured
Three goals down Mourinho was looking for the simple, aggressive play forwards, which had signified a strong spell during the group-phase return match. Di Maria replaced Modric after all and occupied the left wing to cross from there. Within the 4-2-4-like attacking formation Özil moved to the right again and Ronaldo occupied the forward positions with Benzema, who is more technically able than Higuain. At times Özil and Ronaldo switched positions.
Madrid was now more dangerous than earlier. Özil pushed his team forward with risky passes into the back of defence. With a bit of luck a few situations could have resulted in an important second away goal, but they were less frequent than in the earlier game.
The second time around, Real did not execute this strategy with as much pressure and discipline as in the Santiago Bernabeu. At times they lacked speed going forwards and were seduced by slow dribblings into the ten-space, where Dortmund's double six easily got a grip. Real also focused on the penalty box too much, which caused the wingers to stray too far inside. Dortmund's back four were able to disrupt Real's flow as soon as the wingers received the ball.
Dortmund behaved more cleverly as well. After long balls they did not look to dispossess immediately. Often they remained passive for a short time and retreated to their own box so that the midfielders were able to return, preventing one-on-one situations.
As Kaka replaced Alonso, Real's attacking play finally descended into chaos. They still threatened occasionally and got a few corners, one of which Varane almost nodded in. Still, Real were still unable to keep pressure up constantly.
Dortmund's substitutions prevented this as well: Großkreutz completed some important passes under Madrid's pressure as a right-back and initiated some liberating breaks. In these situations Kehl added calmness to the game and Borussia were sometimes able to keep possession in Real's half. They maintained their lead in a more confident fashion for the rest of the game, whereas in Madrid they had conceded a second goal shortly before the end of the game.
Conclusion
Before the game we were hoping for an entry into the tactics history books – which is not quite what happened. Still, for Real Madrid and Jose Mourinho especially, this duel might have historical dimensions on the tactical level too. The "Royals" and "The Special One" had to look on as Dortmund demonstrated how great the superiority of the collective over the individual can become.
Borussia Dortmund proved unperturbed by external noise, shoved the Götze transfer out of the way and showed a typical BVB performance. It was the essence of the "Full-Throttle-Performances" Jürgen Kloppp had promised when he took over in 2008. Less than five years later his team was able to lay an extremely solid foundation to build their dreams of the Champions League final on.
A few statistics at the end: the number of tackles by both midfields. Borussia's players managed 6, 5, 4, 4 and 3 in this defensive category. Real's managed 6, 2, 0, 0 and 0. There is no less compact way to summarize this game.