World Cup Preview: Egypt
Argentine coach Hector Cuper has led Egypt to its first World Cup since 1990. Despite the fact that Egypt haven't won in their last six matches, they have a very good opportunity to qualify for the knockout stages from what is seemingly the weakest group in the tournament.
Introduction and Squad Description
The seven-time AFCON champions (a record number of times Africa's continental tournament has been won) have failed to win a match in both of their previous World Cup appearances in 1934 and 1990. However, they didn't have a player like Mohamed Salah in either of those tournaments.
Salah changes the way Egypt play both offensively and defensively. Egypt are much more of an attacking threat with him, especially in transition, whilst their opponents can not afford to be as expansive in possession due to the threat Salah provides on counter-attacks. Salah will return from his Champions League final injury in time for Egypt's first match against Uruguay, according to the Egyptian FA and the man himself. It is still unknown as to whether he will be fully fit to face Egypt's toughest opponents in the group, but he should be ready to face Russia and Saudi Arabia, both of which are beatable opponents.
Egypt are a pragmatic counter-attacking team under Cuper. Besides Salah, they usually struggle to score goals, but are a reasonably solid defensive outfit. Egypt sit inside of their half and defend any kind of pass into their penalty area resiliently. Ahmed Hegazi and Ali Gabr form a tenacious centre-back pairing, but the weaker quality of Egypt's full-backs have the potential to be problematic for Egypt at the World Cup. Their midfield and forwards play in a pragmatic no-nonsense manner like the defence, but players such as Salah, El-Said and Sobhi are allowed an extent of creative freedom. Egypt's attack is capable of posing a serious threat to opposing defences, and is much more than a 'give the ball to Salah and hope for the best' approach.
Formations
Egypt's most commonly used system is 4-2-3-1, a reactive system that is suited to Cuper's counter-attacking style of play:
Cuper also uses 4-4-2 (another pragmatic counter-attacking system that will be analysed in greater depth later in the preview), and to a lesser extent, 4-3-3:
Their defensive shape has the propensity to change shape depending on what is required of specific situations within matches. For example, when using 4-3-3 in their match against Portugal, when Portugal's left-back advanced to overlap the left-midfielder, Egypt's right central-midfielder followed him so that Portugal couldn't establish a numerical overload on the left side of the pitch. This meant that Egypt's defensive shape temporarily moved to 5-3-2/5-2-3.
Attacking
Possession Play and Off-Ball Movement
Egypt's #10 and two wingers feed off the forward's hold up play when attacking inside of the opponent's half. The forward's off ball movement and manipulation of opposing defenders is also crucial for players like Salah to receive the ball in larger spaces, in what are more central and threatening positions. For example, Koka's movement towards the right wing against Congo was complimented by Salah's movement in the opposite direction towards the centre of the pitch from the right-wing. This creates circumstances where Salah is open to receive the ball from Elneny in a spacious central position, like in the example below.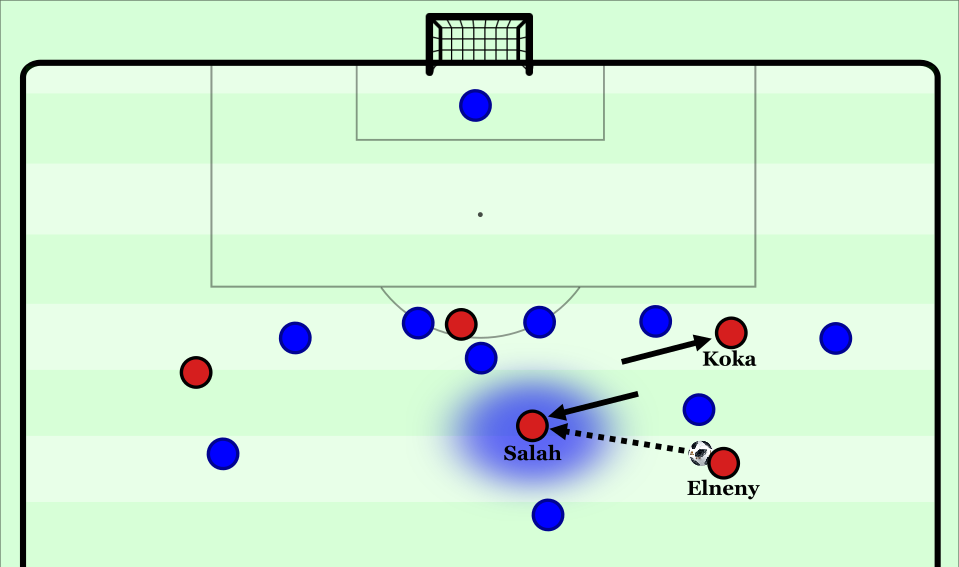 This specific dynamic can be very effective against zonal defences, as it means the two players moving in opposite directions to each other are not immediately man-marked by their teammate's defender after switching positions. This is because of the orientation of opposing defender's positioning to areas on the pitch rather than positions of opponent players. It can also be effective against man-marking because of the confusion between teammates, and whether to follow the player they were just marking, or switch and mark the player moving in the opposite direction.
Off-ball movement is a key to Egypt's offence, and one of the main determinants of Egypt's ability to penetrate opposing defences. This is particularly the case with Salah, but also Egypt's other creative players such as El-Said and Sobhi. The movement of El-Said as Egypt's #10 across the width and depth of the pitch in relation to the team's positional structure, as well as the position of the ball, helps to create passing connections between teammates. Moreover, the two wingers tend to move inside to the half-spaces and more central positions, whilst Egypt's full-backs venture forward to support them in the wing channels. However, they don't always advance forward, meaning the wingers in the half-spaces can occasionally be isolated.
Mohamed Elneny's movement is also an important element of Egypt's off-ball dynamics. He advances from the #6 position through the right half-space to act as an #8 and support the front-four attacking players. He usually stays slightly staggered behind them in order to maintain depth, but also occasionally makes diagonal runs forward towards the corner flag, dragging defenders away from the centre of the pitch to create space for Salah. This is most effective when Egypt's full-backs occupy the wing channel and opposing full-backs' defensive attention.
When positioned as an #8, Elneny also makes direct movements toward the touchline to pull opponent players out of position. By doing this, he can often create a decisional crisis for opponents on where to position themselves and who to mark. This can create scenarios where Salah is open to receive line-breaking passes in the right half-space, like in the example below.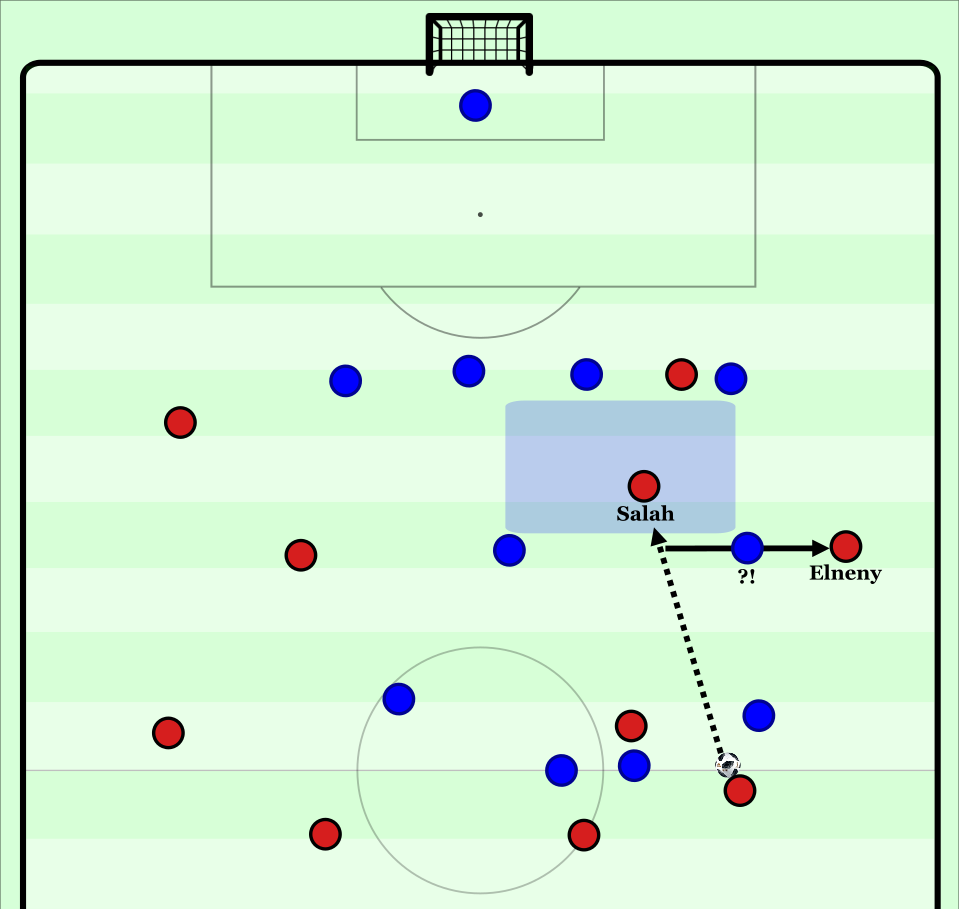 Transition
Egypt pose their biggest threat to opponents when Salah has the ball in a dangerous position on the counter-attack. He makes runs in behind the full-back at almost every opportunity he gets. Whenever Egypt's midfielders receive the ball in the middle phases of the pitch, their first action is always to see if they can find Salah via a quick, vertical pass. He either receives the ball in behind the defence, providing an immediate goal-scoring threat, or he drops slightly to receive the ball in a wide position, creating a situation where he can dribble and isolate against the opposing full-back.
Other than Salah, Trezeguet and Sobhi are Egypt's most dangerous players in attacking transition. Trezeguet is a strong, fast dribbling threat, who adds unpredictability to Egypt's counter-attacks. Sobhi's decision making on the other hand is very inconsistent, both on and off the ball, where he often makes sub-optimal decisions. Nonetheless, when he does makes good choices, he is extremely hard to defend.
The movement of Egypt's forward in relation to onrushing midfielders in attacking transition is very important. By moving wider into the half-spaces, the forward can receive the ball and lay it off to the wingers. This puts them in a position to dribble diagonally at the goal in a more central position, which also puts the defence on the back foot.
The forward can also create exploitable spaces and passing lanes by drifting into wider positions, which can be seen in the example below. This movement is also effective when Egypt are settled in possession rather than in a transitional state.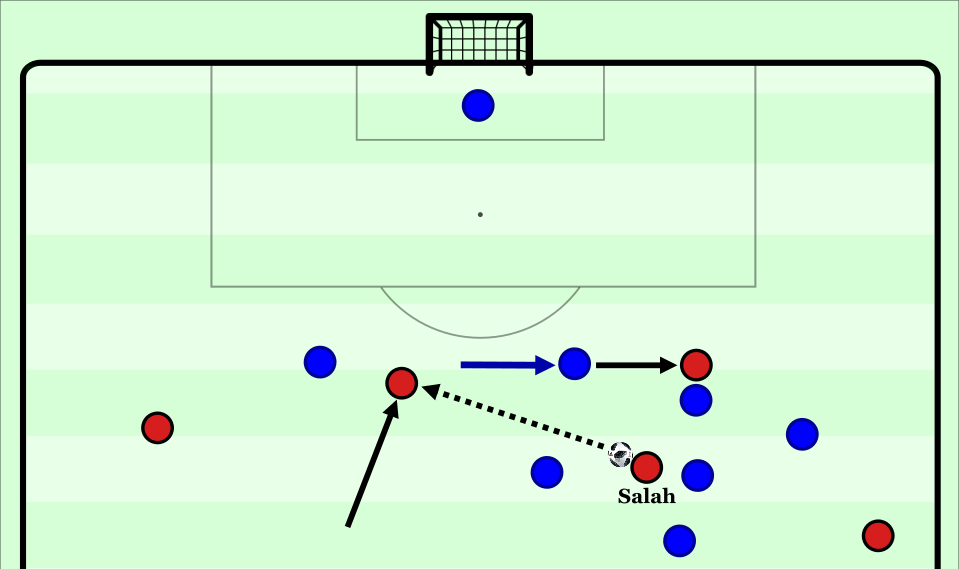 Because the opponents are disorganised in defensive transition, there are larger spaces to exploit between players. It is also unclear to opponent defenders which Egypt player they should be marking. This means that Egypt's midfielders can create goal-scoring opportunities for themselves by running into depth and the spaces between defenders.
The combination in attacking transition of the forward's intelligent off-ball movement manipulating opponent defender's positioning, creating space for teammates to run into and passing lanes to exploit, with players such as Salah, Trezeguet, Sobhi, and El-Said running into depth, using their speed and skill on the ball to dynamically combine with each other, is when Egypt's attack is at their most dangerous.
Build-Up
Egypt are not an exceptional team when playing out from defensive positions. But as mentioned in the introduction of this preview, their aim isn't to retain as much possession as possible. The defenders usually play long passes to the forward or the wingers aiming to run in behind the defence. Nevertheless, when they do decide to gradually build attacking sequences through the defensive and middle phases of the pitch, the team has appropriate structure and positioning to do so.
The #6's Elneny and Hamed drop their positioning to offer a short passing option to the defence during ball circulation across the backline. They often create a diamond structure, increasing the number of passing options for the player on the ball.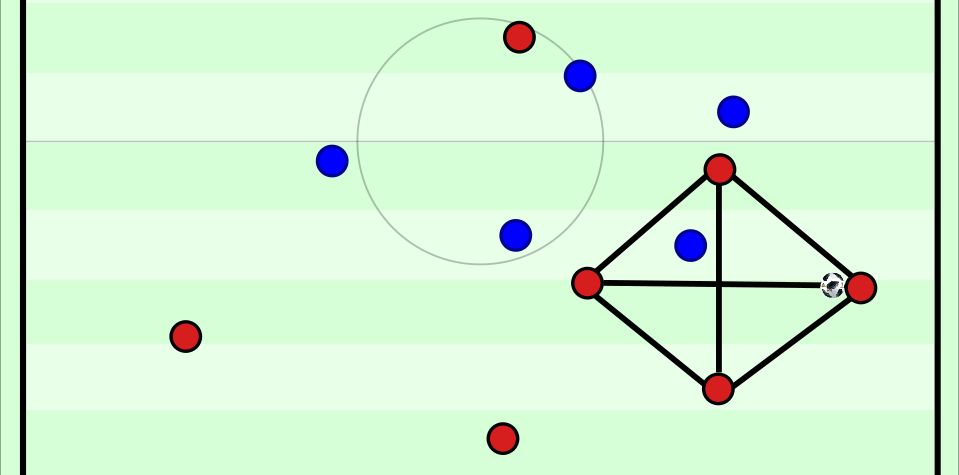 Hamed usually drops slightly deeper than Elneny in build-up play, with the latter occasionally advancing into the #10 position, whilst El-Said as the #10 drops to act as an #8. This combination of movements staggers and triangulates the three central-midfielders. El-Said's freedom to roam from the #10 position to areas of the pitch where he can support build-up and the progression of attacking sequences make him the most influential player for Egypt in terms of managing and sustaining possession. He envisions passes that the majority of his teammates can't see, and is perhaps Egypt's most important attacking player apart from Salah.
Defending
Pressing
Egypt defend in a highly structured manner, both when pressing and defending inside of their own half. When pressing opponents who are playing out from the goalkeeper, Egypt's forward and #10 usually sit off opponent defenders, preventing midfielders in central positions from being passing options. For example, as Egypt's #10 against Congo, Gomaa tightly man-marked Congo's #6 for the majority of the match. The forward also presses opponent centre-backs from the side to prevent the other centre-back from being a short passing option. This often forces opponents into long passes forward, which commonly lead to Egypt regaining possession.
Against Egypt, Portugal attempted to play out of defence from their first goal kick of the match, with the centre-backs positioned wide on the outside of the penalty area. Salah lurked within closing distance of the left centre-back, whilst Koka (Egypt's forward) did the same to Portugal's right centre-back. This was accompanied by Egypt's #10 marking Portugal's #6, meaning they had no short passing options from goal-kicks. Portugal didn't attempt to play out from the goalkeeper again, resorting to long goal-kicks for rest of the match.
Inside of their own half, Egypt's #10 and two wingers backwards press opposing midfielders during the final stages of their defensive transition into more suitable defensive and structural positions.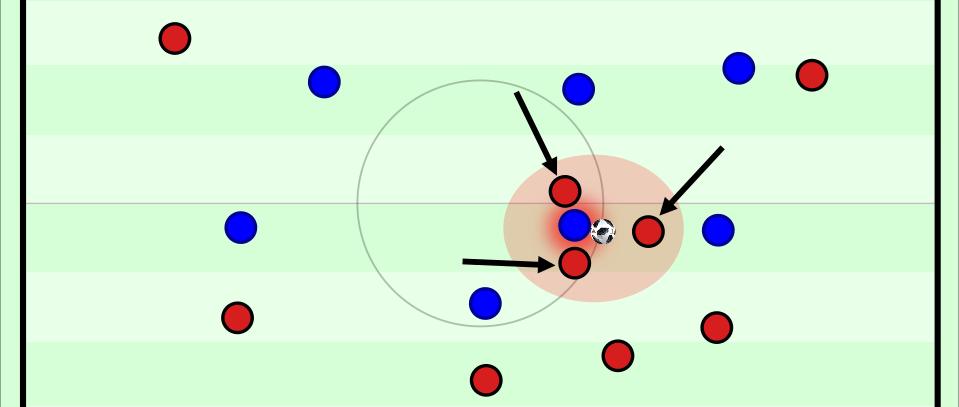 Mid-Defensive Block
When the opponents have advanced into Egypt's half, Egypt's defensive line position themselves in front of the eighteen-yard line, with the #6's around five yards ahead. This leaves an extremely limited amount of space for the opposition to penetrate Egypt's penalty area in central positions. Moreover, Egypt's defensive block are horizontally compact, usually confining their width within the diameter of the penalty area. This generally forces opponents to the wings in order to advance attacks, which against Portugal resulted in them resorting to crosses. Crosses are an inefficient method of attacking and creating high quality chances, which combined with Egypt defending them well, led to Portugal producing little threat on Egypt's goal for almost the entirety of the match.
However, following defensive transitions, the six Egyptian players back in defensive positions (the four defenders and two #6's) are sometimes left vulnerable when the opposition counter-attack at pace. The space between Egypt's #6's and attacking midfielders during defensive transitions leaves a large area of open space for opponents to run at Egypt's defence. By the time Egypt's attacking midfielders get back in defensive position, it can sometimes be too late to prevent the opponent from creating goal-scoring chances.
Nevertheless, when Egypt's defensive block form after swift defensive transitions, they are robust and very difficult to break down and score against. Their main defensive block structures are 4-4-1-1 and, to a slightly lesser extent, 4-4-2 (both can be formed from Egypt's primary base formation 4-2-3-1). The 4-4-2 shape is commonly formed by Salah moving from the right-wing to be alongside the forward. Not only does this aid the forward's efforts in pressing the opponent's defenders and deep midfielders, but also that Salah is in a more advanced starting position for attacking transitions if Egypt are able to win the ball.
In Egypt's match against Portugal, Salah was substituted off with just over ten minutes remaining in the match, with Egypt winning 1-0. They switched their defensive shape to 4-4-2, but were pinned back defending inside their own half for the best part of the last ten minutes, which culminated in Ronaldo scoring in the 92nd and 94th minutes to grab an undeserved win for Portugal.
Part of the reasoning behind the events of the last ten minutes was indeed because Portugal were chasing the game with a limited amount of time in the match remaining, but perhaps more importantly they occurred because Salah wasn't on the pitch anymore. Egypt pose less of a threat when playing without Salah, even when players such as Trezeguet and Sobhi are on the pitch. As mentioned in the introduction to this preview, the decreased threat with Salah on the side-lines means that the opposition can afford to be more expansive when attacking against Egypt. This means that Egypt defend more when Salah isn't on the pitch, and generally under perform compared to when he is playing, much like the difference in Liverpool's performances every so often this past season when Salah was on the pitch compared to when he wasn't. The Portugal match proved that taking Salah off, even when there's only ten minutes of the match remaining, can completely change the result. It will be intriguing to see if Cuper has learned from this situation at the World Cup, or if he's still willing to sub Salah off for the last ten minutes of a match, meaning Egypt become much more defensive, risking their potentially positive results. It would be a surprise if Salah doesn't play every minute of Egypt's matches (providing he is fit) in what is the country's first World Cup in twenty-eight years.
Expected Starting Line-Up
It is very likely that Egypt line-up in a 4-2-3-1 formation. Cuper hasn't rotated the team a huge amount in their warm-up matches, regularly picking the same core of players. Therefore, I expect Egypt to line-up in a similar arrangement to what I have produced below.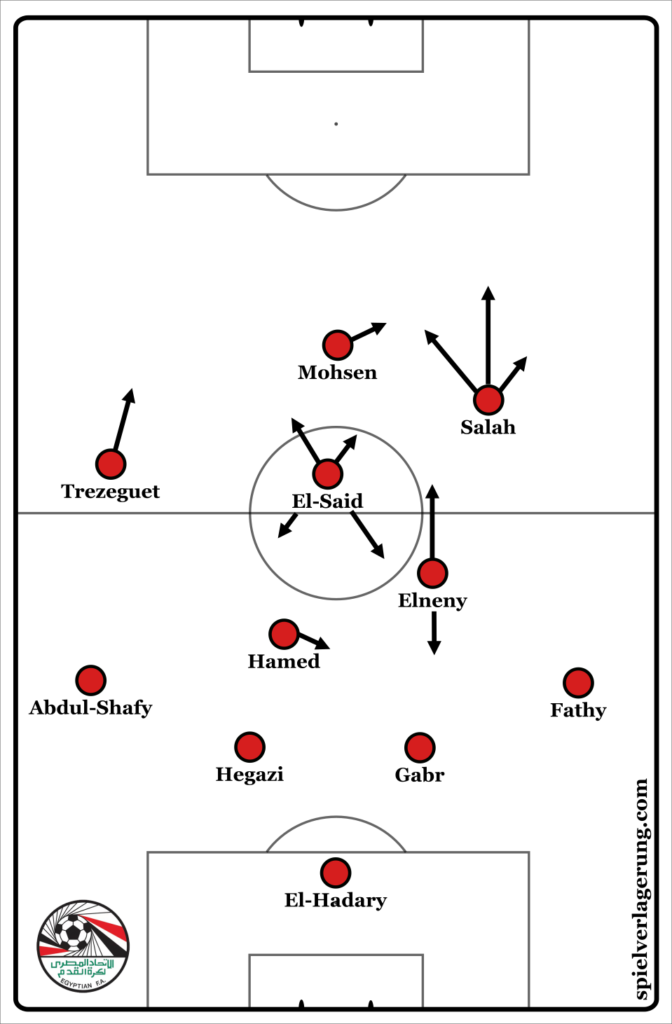 Despite mediocre performances at club level, forty-five-year-old veteran goalkeeper and captain Essam El-Hadary is set to start and become the oldest player ever to play at the World Cup. The back four of Fathy, Gabr, Hegazi, and Abdul-Shafy has been every present in Egypt's line-up, as has the midfield duo of Hamed and Elneny. The team's creative centrepiece Abdallah El-Said should start as the #10, but the selections for the other forward positions are a little more complicated.
The left-midfield spot in the team will be contested between Mahmoud Trezeguet and Ramadan Sobhi. I think Trezeguet will be preferred because of his better consistency and defensive work rate. Whilst Sobhi is more creative with the ball, Trezeguet is a bigger threat in attacking transition. Yet, if Salah misses the opening group stage game against Uruguay, Sobhi is likely to start at left-midfield with Trezeguet on the right. Otherwise, Salah will of course own the right-midfield spot in the line-up.
There are also questions over who will start as the forward for Egypt. Whilst Koka has been the first-choice striker for much of the last year, he didn't make Cuper's final twenty-three-man squad. Therefore, I think Marwan Mohsen will start as Egypt's forward, especially because he was the starter in Egypt's final warm-up match against Belgium.
Conclusion
The seven-time AFCON winners have a realistic chance of making it to knockout rounds from the group they've been drawn into. Egypt have been fancied as the second-best team in the group by many, and if Salah returns from injury to be at his dazzling and unstoppable best, then Egypt will be capabile of upsetting the bigger teams. If all goes well, Egypt will perhaps have an eye on equalling the record for furthest stage progressed to by an African team at the World Cup by reaching the quarter-finals.